Asia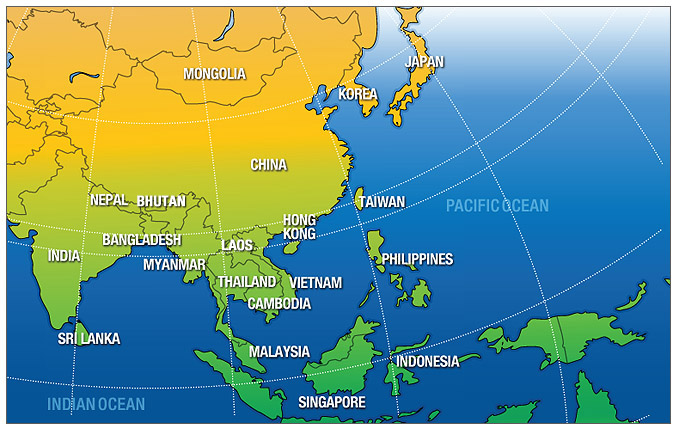 There were 1724 results matching your query.
First Previous 50 51 52 53 54 55 56 57 58 59 60 61 62 63 64 65 66 67 68 Next Last
Kanduboda, Delgoda
Address: Telephone at Centre (94 1) 570 306
Tradition: Theravada, Vipassana Meditation
E-mail: bogoda@cga.slt.lk
Find on:


Notes and Events:
An affiliated Mahasi Sayadaw Meditation Centre, about an hour's bus ride from Colombo catering for foreign meditators. This centre in Kanduboda is a residential vipassana training and retreat centre, open to sincerely interested meditators.
---
Karma Kagyu Dharma Society
Address: No 2, Loring Jubilee, off Jalan Loke Yew MY-55200 Kuala Lumpur Kuala Lumpur
Tradition: Vajrayana, Tibetan, Karma Kagu
Affiliation: Karma Kagyu
Phone: +603 9222 1540
Fax: +603 9221 9810
E-mail: kkdstdkl@yahoo.com
Website: http://www.kagyu-asia.com/kl/
Find on:


Teacher: Lama Skarma Zotpa
Notes and Events:
Weekly Activities

| Day | Time | Activity |
| --- | --- | --- |
| Wednesday | 8-10pm | Chenrezig Sadhana and first foundation practice (Refuge and prostrations) |
| Friday | 8-10pm | First (Refuge and prostrations) and second foundation practices (Vajrasattva purification) |
| Sunday | 10-12am | Green Tara puja |
Monthly Activities

| Day | Time | Activity |
| --- | --- | --- |
| 1st day of lunar month | 8-10pm | Amitabha puja |
| 10th day of lunar month | 8-10pm | Guru Rinpoche puja |
| 15th day of lunar month | 8-10pm | Lineage master Milarepa Tsog puja |
| 29th day of lunar month | 8-10pm | Dharma Protector Mahakala puja |
| Every month 3rd Sunday | 10-12am | Sodjong - Observing 8 precepts |
---
Karuna Lib and Buddhist Center
Address: Taman Lopang Indah FU3 no.1 Serang Jawa Barat 42113
Tradition: Non-Sectarian
E-mail: karuna_lib@yahoo.com
Website: http://www.geocities.com/karuna_lib
Find on:


Notes and Events:
Currently we are trying to establish the most comprehensive library of Buddhism in Serang, Banten Province, Indonesia. This includes the efforts of books/other media collections enhancement. We would greatly appreciate if any of you would like to send us books or any media concerning about Buddhism of any aspects of any languages for our librarys collections.
Please do not feel hesitate to contact us:
When we contemplate and reflect again upon all things...all activities done by people...in the most subtle understanding...in fact, all are about happiness; ...happiness in its various forms, happiness of the happiness itself... (Willy Yanto Wijaya)
---
Karuna Meditation Center
Address: 82/3 Moo 4 Kamala Phuket 83120
Tradition: Non-Sectarian
Affiliation: Summit Dharma Center
Phone: +066-076-278-134
E-mail: info@meditate-thailand.com
Website: http://meditate-thailand.com
Find on:


Teacher: Michael Gregory
Notes and Events:
Karuna Meditation Center is dedicated to the meditations and teachings of the Buddha, with special emphasis on mindfulness and compassion practices.

The center hosts a full program of practice and Buddhist retreats available to students wanting to learn meditation in Thailand, including residential retreats, intensive retreat sessions, and yoga retreats. We have a wide variety of meditation instructors with backgrounds ranging from the Theravadan Buddhist tradition, Zen Buddhist, and Indo-Tibetan Buddhist lineages. Weekly Dharma talks are given as well as personal meditation instruction and interviews in English by native English speakers.
---
KBO Knowing Buddha Organization
Address: 32 Soi Sukhumvit 67 Khwaeng Phra Khanong Nuea, Khet Watthana, Bangkok 10110
Tradition: Theravada
Phone: 66 02-634-7461-3
Fax: 66 02-634-7423
E-mail: info@knowingbuddha.org
Website: http://www.knowingbuddha.org/
Find on:


President : Acharavadee Wongsakon Email (Phone: 66 02-634-7461-3)
Spiritual Director: Acharavadee Wongsakon
Notes and Events:
KBO - Knowing Buddha is a Buddhist advocacy group based in Thailand. It campaigns against disrespectful uses of images of the Buddha, and lobbies for laws to protect Buddhism in Thailand. KBO was established in 2012 by former entrepreneur, vipassana meditation teacher and lay spiritual leader Acharavadee Wongsakon. Wikipedia
---
Kek Lok Si Temple (Temple of Supreme Bliss)
Address: Air Itam Kampong Sungai Keluang 10450 Malaysia K.L. Kuala Lumpur
Tradition: Mahayana, Chinese Pureland
Phone: +60 4 828 3317
Website: http://asiaforvisitors.com/malaysia/peninsula/penang/kekloksi/index.html
Find on:


Notes and Events:
The sprawling Buddhist temple of Kek Lok Si climbs up a hillside near the village of Air Itam, now really a suburb of Georgetown. The temple was begun in 1890 and, from all appearances, construction really has not ever stopped. The temple is supposedly the largest in Malaysia
Reputedly the largest Buddhist temple in Southeast Asia is situated close to the bustling Air Hitam market. The temples enclave includes a prominent statue of the Goddess Kuan Yin. The main hall has colorful souvenir shops. A shrine filled with statues sits next to the courtyard where a large pond full of carp and the tortoises are main attractions. From the courtyard a stairway leads to the seven storey pagoda of 10,000 Buddha images, displaying the essence of an eclectic mix of Chinese, Thai and Burmese architecture.
---
Keleththewa Samadhi International Buddhist Centre
Address: Anuradhapura-Kandy Road Kandy
Tradition: Theravada
Find on:


Spiritual Director: Venerable Rambukwella Gnanaseeha Thera
Notes and Events:
Ven. Gnanaseeha Thera also plans to use this Buddhist centre as a place to teach Buddhist Culture, English and computer to students in Anuradhapura, and as accomodation for up to a thousand Bhikkhus.
---
Keluarga Mahasiswa Buddhis Universitas Indonesia
Address: kampus baru UI depok tromol pos 909 Jakarta 16424
Tradition: Non-Sectarian
E-mail: pengurus@kmbui.net
Website: http://www.kmbui.net
Find on:


Notes and Events:
we are a community of buddhist student in the university of indonesia strive for a holistical improvement for all of our member in the field of spiritual, emotional and intellectual. establish since 1988, our purpose are:
contributing for the nourishment of Triratna (Buddha,Dharma,Sangha) within University of Indonesia (specifically) and Indonesia (commonly)
generate and produce the buddhist human capital
be useful for the happiness of all being
our activities consist of:
buddhist\'s day commemoration
social work (free medical services, foster kid,etc)
spiritual training (weekly dharma class, retreat, puja, etc)
soft skill training (organizational, journalistic, software, communication and many other field of skills)
bulletin and magazine (Khanti, Viryavatta, Paramita)
etc
we are not just a buddhist organization, but we are striving to be budhhist in organization. hope that all of us can eliminate all the constraint for practicing Dharma. may happiness come toward all being!
for further information feel free to contact us at:
www. kmbui.net, pengurus@kmbui.net
---
Kemaman Buddhist Association
Address: 5378, Taman Idaman, Jalan Jakar 24000 Kemaman, Terengganu, Malaysia Terengganu
Tradition: Non-Sectarian
Phone: 09-8594085, 09-8593737
Find on:


Main Contact: Ms Tan and Mr Ang
Notes and Events:
Our Buddhist organization has a kindergarten that caters to the needs of preschooling children of all religious backgrounds, we have weekend Buddhist classes for youths.
---
Kerala Buddhist Temple
Address: Hyderabad Kerala
Tradition: Theravada
Phone: +91-471-25
Find on:


Notes and Events:
KERALA BUDDHIST TEMPLE
Kerala Buddhist Temple is situating at Main Road in Hyderabad
Nearest Airport
Kochi (Cochin) 7140 Kms
Trivandrum - 8125 Kms
---
Kerala Mahabodhi Mission
Address: Prabath Building Priyadharsini Road,Palakkad-Dist,Kerala pin:678001 Palakkad Kerala 678001
Tradition: Theravada
Phone: 9400742264
E-mail: keralamahabodhi@gmail.com
Website: http://www.keralamahabodhi.blogspot.com
Find on:


Teacher: Dr. Rajanandha Moorthi
Main Contact: N.HARIDAS BODH Email (Phone: 91-9400742264)
Notes and Events:

Vision To have Open Arms is to be open to everyone in the general community, to build bridges of understanding and to act compassionately towards all humanity, whether Buddhist or non-Buddhist.



COMMUNITY PROJECTS




ECO LIVING

This program promotes care for our environment and mindful living.

Eco-living means eco-sustainable living, or living in harmony with people and our environment in the long-term. It is based on under-standing of the interdependence of all life on Earth and respect for all species we share this planet with.




EDUCATION

The theme for our Education Program is Values and Life Skills.

Our approach to teaching Dharma to young people is based on the theme Values and Life Skills. This means that there is less emphasis on memorising what's in a book and more on teaching the basic values exemplified by the Buddha's life. Class time shows how the Buddha's teachings can be used as life skills in day-to-day situations to solve "life problems".



HUMANITARIAN CARE

The Humanitarian Care Project is a catalyst for any activity which helps to relieve suffering.

We live in a turbulent age in human history, when the number of humanitarian disasters seems to be increasing. Disasters cause suffering and destroy the fabric of society.



Assisting the aged, the sick, the terminally ill and those in the corrective services system.

---
Khemarama Tinh An Lan Nha
Address: Thon Quang Thanh, nghia Thành, Chau Duc Dist. VIETNAM Ba Ria Vung Tau Province
Tradition: Theravada
Affiliation: Nuns community
Phone: 00841208477645
E-mail: khemarma@gmail.com
Website: http://www.khemarama.com
Find on:


Main Contact: Minh Hoa Pham (Phone: 01208477645)
Ayya Susanta : Sc Như Liên Email
Spiritual Director: Ht Vien Minh
Teacher: Ayya Dhammananda
Notes and Events:
We are a group of Vietnamese Bhikkhuni who establish this place to train young nuns and educate community about Buddhist ethics and practices.
---
Khusangerpara Mohaboudhi Seba Complex & Orphanage
Address: Khusangerpara Mohaboudhi Seba Complex & Orphanage Vill:Khusangerpara Post: Bhabanipur Lohagara, Chittagong
Tradition: Theravada
Phone: +8801814360037
E-mail: info@khusangerparamohaboudhicomplex.org/
Website: http://khusangerparamohaboudhicomplex.org/
Find on:


Spiritual Director: Venerable Jinananda Mahathera Email (Phone: +8801814360037)
Notes and Events:
Khusangerpara Mohaboudhi Seba Complex & Orphanage (KMSCO) is a nonprofit organization devoted to making a difference in the community. The most Venerable Jinananda Mahathera is a devoted bhikkhu, a hard-core disciplinarian, a noble and humble friend, an inspiring spiritual leader, an exemplary teacher, a social worker, and a clever master builder who has long served the "Buddha Sasana" as a cultural attaché by contributing Buddhist Monasteries around the country.
---
Khyenkong Tharjay Buddhist Charitable Society
Address: 26A lor 23 Geylang Singapore 388361
Tradition: Vajrayana, Kargyud
Phone: 67473982
Fax: 67473982
E-mail: adminstrator@khyenkong-tharjay.org
Website: http://www.khyenkong-tharjay.org
Find on:


Spiritual Director: HE Beru Khyentse Rinpoche
Notes and Events:
Khyenkong Tharjay Buddhist Charitable Society is a Buddhist Organization founded by H.E. Beru Khyentse Rinpoche in November 2004, beginning with twelve founding members. The Society was officially registered on 6 July 2005.
The name Khyenkong derives from the names of both Khyentse Rinpoche and Jamgon Kongtrul Rinpoche respectively. During the late Jamgon Kongtruls life, both him and Beru Khyentse Rinpoche were best Dharma friends and mutually relied on each other. Therefore, the name Khyenkong remains a precious remembrance of their unchanging relationship.
The name Tharjay was the name taken from the monastery Pal Karmey Chode Dongak Shedrup Thubten Tharjay Chokhorling, which was named by His Holiness, the 16th Gyalwa Karmapa.
Our Missions:
1. To promote and support the transmission and study of Buddhism in particular Tibetan Buddhism.

2. To pursue and promote all kinds of charitable acts and deeds for the relief of poverty, illness, suffering and distress for people in Singapore, China and India.
---
Koickalethu Buddhist Temple
Address: Koickalethu, Vetticode(PO) Pallickal, Kattanam Kayamkulam Alappuzha Kerala 690503
Tradition: Non-Sectarian
Find on:


Notes and Events:
KOICKALETHU BUDDHIST TEMPLE
Koickalethu Buddhist Temple is situating at Vetticode in Alappuzha District
Nearest Airport
Kochi (Cochin) 130 Kms
Trivandrum - 125 Kms
Railway Station (Kayamkulam) - 12Kms
---
Kuan Yin Buddhist Temple / Buddha Heart Meditation Center
Address: 465 Jaboneros Street Binondo Manila 1006
Tradition: Theravada, Mahayana, Vajrayana, Non-Sectarian
Affiliation: Dharma Wheel Buddhist Learning Center
Phone: 09267232550
E-mail: hsientiaktemple@yahoo.com
Find on:


Main Contact: Rev.Master Co Email (Phone: 09267232550)
Teacher: Rev. Master Co
Spiritual Director: H.E Ven.Master Hsien Tiak Email
Notes and Events:
Welcome to Philippine Kuan Yin Buddhist Temple
We offer free Buddhist chanting and meditation class , vegetarian cooking lesson , Buddhist ritual and healing lesson free of charged.
We also offer prayer and blessing for departed one.
Please do fell free to visit or contact us at : kuanyintemple@yahoo.com
---
Kuan Yin Tong / Lotus Charity Center
Address: 150 N. Domingo St., Cubao, Quezon City 1111
Tradition: Mahayana
Phone: +632-7267696
E-mail: guanshiyin.temple@gmail.com
Find on:


Spiritual Director: Bikshuni Shi Heng Ji (Phone: +632-7267696)
Notes and Events:
This is a monastic residence for Bhikshunis/Nuns and not generally open to the public except on Sundays for free clinic and dispensary, and the 1st & 15th of the lunar month Dharma assemblies in Hokkien. Please call ahead of time if one wants to visit on other days.
---
Kwan Yin Chan Lin
Address: 21 lor 25 Geylang Singapore 388299
Tradition: Mahayana, Chan/Zen
Phone: 63920265
Fax: 63924256
E-mail: kyclzen@singnet.com.sg
Website: http://www.kyclzen.org
Find on:


Spiritual Director: Ven Chi Boon
Notes and Events:
KYCL Story
Kwan Yin Chan Lin Zen Centre (KYCL) was founded by Venerable Chi Boon in 1991. Its objective is to spread the Buddha's true teaching so that we may attain our true selves and help all sentient beings to relieve from suffering. By practicing the correct meditation, we can find the correct direction of our lives and attain our true nature. We can also clearly perceive our correct situation, relationship and function at every moment, live in wisdom and compassion, to help our families, our friends, our country and this whole world to gain peace and happiness.
The name of our Zen Centre, "Kwan Yin Chan Lin", carries a deep meaning. "Kwan" means to perceive and "Yin" means the sound of the world. "Kwan Yin" (in Korean, "Kwan Um") means to perceive the sound within us, to remove our ignorance, attachment and incorrect mindset, and to practice the correct path. In addition, we should also perceive the sound of all sentient beings and help them to relieve from suffering and gain happiness. "Chan", which is the Chinese word for Zen, represents simple and pure life. At present days, our lives are becoming more and more complicated, and many sufferings are made as a consequence. Zen practice can help us return to simple life and let our minds return to peace, tranquility, holiness and freedom. "Lin" means many tree. The many trees that make up a forest give it strength, and cannot be blown away by strong wind. "Chan Lin" represents many people practicing together so we can help each other and give each other strength to fulfil the great Buddhist vow.
---
Labsum Gomdrub Ling International Buddhist Insitute
Tradition: Non-Sectarian
E-mail: LGLinstitute@gmail.com
Website: http://www.LGLinstitute.org
Notes and Events:
His Holiness the Dalai Lama's new vision for the future of Buddhist study and practice…

Labsum Gomdrub Ling, "The Institute for Cultivating the Three Higher Trainings", is an international Buddhist institute currently in development, which will bring all the Buddhist traditions of the world together, in India the land of the Buddha.
Under expert guidance from His Holiness the Dalai Lama (LGL's Patron) and other great scholars, this vision is being developed into a comprehensive curriculum, which will:
· Build a bridge between all Buddhist traditions and nationalities
· Offer in-depth, intensive intermediate and advanced-level study and practice of all the Buddhist traditions, initially in four root Buddhist language mediums - Tibetan, Chinese, Sanskrit and Pali - as well as English, and eventually in other traditions, such as Japanese, Korean, Vietnamese, etc
· Explore the relationship between Buddhism and science, health, psychology, and other religious and philosophical traditions
· Create a truly non-sectarian approach, returning to the texts common to all schools of Buddhism: the Buddha's own words (sutras) and the original Indian commentaries (shastras)
· Follow in the footsteps of the ancient Nalanda Buddhist University, using tools of logic and reasoning to critically examine the teachings and stimulate open debate, questioning and deeper learning
· Be delivered from a modern perspective, taught by a diverse range of scholars and practitioners, all expert in their field
· Be set in a comfortable, modern campus designed to meet the needs of international students – nuns, monks, and lay people of all nationalities and traditions.

Your Part in His Holiness the Dalai Lamas Vision...

Currently Labsum Gomdrub Ling is a small, but growing group of international volunteers in need of many more partners, ideas, volunteers and donations to turn His Holiness the Dalai Lama's vision into reality.

Therefore, Labsum Gomdrub Ling is currently seeking ideas and input from members of the community about all aspects of the institute and invites you to:

1. Learn more about His Holiness the Dalai Lama's Founding Vision at www.LGLinstitute.org.
2. Share your ideas about how to best implement that Vision in LGL's Facebook Discussion Forum -- Your ideas are important and very much appreciated!
3. Sign up for regular email updates via the LGL Community Email List.
4. Tell your friends and contacts about LGL (a sample email is available at www. LGLinstitute.org)
5. Please see www.LGLinstitute.org for information about how to get involved and about urgently needed volunteers and donations.
As LGL builds a large and diverse community of people, each of whom plays a part in bringing His Holiness' vision into reality (from offering one idea or one dollar, to offering full-time volunteer service) it's an exciting time and we hope you'll join us!

For more information and to join the LGL Email List for regular updates…
www.LGLinstitute.org
LGLinstitute@gmail.com
Facebook Discussion Forum at: Labsum Gomdrub Ling International Buddhist Community
---
Land of Comassion Buddha (Singapore) Centre
Address: 27A Lor Bachok Singaapore 387790
Tradition: Vajrayana, Gelug
Phone: 94762588
Fax: 67488456
E-mail: lcbuddha@yahoo.com
Website: http://www.compassionbuddha.com.sg
Find on:


Teacher: Khensur Rinpoche Lobsang Tsephel
Spiritual Director: HH Dalai Lama
Notes and Events:
Land of Compassion Buddha (Singapore) is a registered Buddhist society in Singapore since 18 March 2002. It is a Tibetan Buddhism Centre that uphold the Gelug tradition and are followers of the spiritual head of Tibetan Buddhism, His Holiness the 14th Dalai Lama. The primary objective of Land of Compassion Buddha (Singapore) is to propagate the profound dharma teaching/practice of Khensur Rinpoche Lobsang Tsephel in Singapore, facilitate in organizing Buddhist Talks and Activities so as to bring upon the Buddhism teaching to everyone.
The Centre regularly organized Buddhism practices, such as Praise to 21 Tara prayer, Guru Puja, 1000-armed Avalokiteshvara prayer, Nungdros, White-Tara prayer and animal liberation. All our Dharma activities are under the guidance of Khensur Rinpoche Lobsang Tsephel and we follow H H Dalai Lama's advice exactly for the protector practice.
Khensur Rinpoche Lobsang Tsephel visits the centre on a yearly basis, mainly to conduct teaching on the text by Shantideva's "Guide to A Bodhisattva's Ways of Life. Rinpoche has also confer numerous empowerments, eg 1000-armed Avalokiteshvara, Tara, Vajrasattva, 35-Buddhas, Medicine Buddha, Lama Tsongkapa & Yamantaka Empowerments. Besides, Rinpoche has lead a number of retreats, eg NyungNay, Medicine Buddha, 35-buddhas Confession, Green Tara and 1000-armed Avalokiteshvara retreats.
---
Lanka Vipassana Bhavana Centre
Address: 108 Wijerama Mawatha, Colombo 7
Tradition: Theravada, Mahasi Sayadaw method.
Find on:


Teacher: Ven. Pemasiri
Notes and Events:
This centre in Colombo is a residential vipassana retreat centre, open to sincere male and female meditators who are prepared to do intensive retreats.
---
Laxdip Bauddha Vihar
Address: Siddhartha Nagar Society, pop. I. T. I. Bhiloda(Nr. Dev ni Nori) , Gujarati, India Bhiloda 383245
Tradition: Non-Sectarian
E-mail: skaravallibauddhamahasangh@gmail.com
Find on:


Teacher: Mrs. Pravinaben N. Desai
Main Contact: Mrs. Priyanka G. Priyadarshi Email (Phone: 9409338515)
Spiritual Director: Ms. Dr. Vishaldev Saheb Email (Phone: 9428966969)

---
Lewella Meditation Centre
Address: 160 Dharmasoka Mawatha Lewella Kandy
Tradition: Theravada
Phone: 081-4921814
E-mail: lewella.meditation@gmail.com
Website: http://members.aol.com/Analayo/index.htm
Find on:


Notes and Events:
A centre for experienced male meditators, and for the study of Buddhism, situated on the outskirts of Kandy. In addition to rooms within the centre several individual retreat kutis (huts) are available on the edge of the Udawattakelle forest reserve.
---
Lian Shan Shuang Lin Monastery
Address: 184 Jalan Toa Payoh Singapore 319944
Tradition: Mahayana
Phone: 62595292
Fax: 63529329
E-mail: enquiries@shuanglin.org
Website: http://www.shuanglin.sg
Find on:


Notes and Events:
Lian Shan Shuang Lin Monastery, an architecture masterpiece of the nineteenth century, also represents a unique pageant of Singapore history.
An amazing and eventful history of the Monastery relates back to the year 1858. Low Kim Pong, a young man of twenty from Zhangzhou County in the Fujian province, China , left his hometown and set sail for Singapore in search of a living. Born into a poor family, he was nevertheless generous and industrious by nature. Starting off from small businesses, the devoted Buddhist Low Kim Pong eventually became a successful entrepreneur and an influential leader of the Fujian community in Singapore .
In 1898, both Low Kim Pong and his son dreamt of a sacred man, radiating golden light, approaching from the West to the water front. Believing this to be an omen and with a continuing enthusiasm, they went to the waterfront and waited patiently. A boat finally arrived at dusk, with Venerable Xian Hui and his family of 12 monks and nuns.
They were actually stopping by Singapore , after six years of pilgrimage to India , Ceylon and Burma and were on their way home to Fuzhou County in Fujian.
Venerable Xian Hui and his entourage were invited to Low Kim Pong\\\'s home for a sojourn. During their stay, Low Kim Pong proposed to Venerable Xian Hui his vision of building a monastery in Singapore . So intent on having the familyl to stay, he donated 50 acres of land in the central part of the island (the present day Toa Payoh New Town) to build the monastery and invited Venerable Xian Hui to be the founding abbot of the monastery.
The plan to build the Monastery received overwhelming support from the Chinese community in Singapore , Malaysia and Indonesia .
Apart from monetary support, they also deploy the resources of craftsmen from their hometowns Fuzhou , Quanzhou and Zhangzhou Counties in the Fujian province, as well as Chaozhou County in the Guangdong province to build the Monastery. Together they created a unique blend of architectural styles particular to each region yet harmoniously fused to reflect the immigrant society of Singapore at that time.
Lian Shan Shuang Lin Monastery, with its rich and diverse history, exhibits a magnitude and splendour beyond description. Coupled with the eleven years of restoration work since 1991, this century old Monastery has finally regained its glory. Undeniably, Shuang Lin Shall become a milestone in the heritage of Singapore.
---
Life and Hope Association
Address: # 0211 Wat Damnak Salakomreuk Commune Siem Reap, Cambodia
Tradition: Theravada
Phone: Office (855) 63 761 810 Cell phone (855)92 929 962, Venerable Somnieng, director
E-mail: somniengangkor@yahoo.com
Website: http://www.lifeandhopeangkor.org/
Find on:


Teacher: Venerable Somnieng
Notes and Events:
Connect us via facebook
Based in Siem Reap, Life and Hope Association (LHA) is a Cambodian non-profit, non-governmental and non-political organization. It was established by the Monks of Wat Damnak and friends in 2005. It is our vision to create a Cambodia that is a peaceful and cohesive society built on a basis of loving kindness and compassion, with equal rights and equal opportunity for all.
LHA is an education focused organization committed to alleviating poverty, ignorance and hardship through creating equal access to education for the underprivileged in our community. These efforts are primarily directed towards Khmer youth. Our name aptly states our goal: to give LIFE and HOPE to Cambodia\\\'s needy and vulnerable.
Through its projects, LHA aims to meet the direct needs of the individuals and communities we work with. We believe that it is our responsibility to ensure that the beneficiaries of our projects have access to the information which can guide them into a future of awareness - from health and lifestyle to social responsibilities and rights.
Vision: We envisage a fair and equitable society built on compassion and loving-kindness and offering education for all.
Mission: Our mission is to improve the lives of those most in need by providing compassionate care and educational opportunities, especially to poor and volunerable children and to disadvantaged young women.
Strategic Goal: Our strategic goal is to develop a successful model of change that offers society\\\'s most disadvantaged people a significantly improved LIFE and HOPE for a better future and then to replicate it to bring a transformational change to society.
Values: We provide our sovices with a sense of compassion, respect, and loving-kindness. We run our organization with integrity, professionalism, and accountability.
---
First Previous 50 51 52 53 54 55 56 57 58 59 60 61 62 63 64 65 66 67 68 Next Last