Asia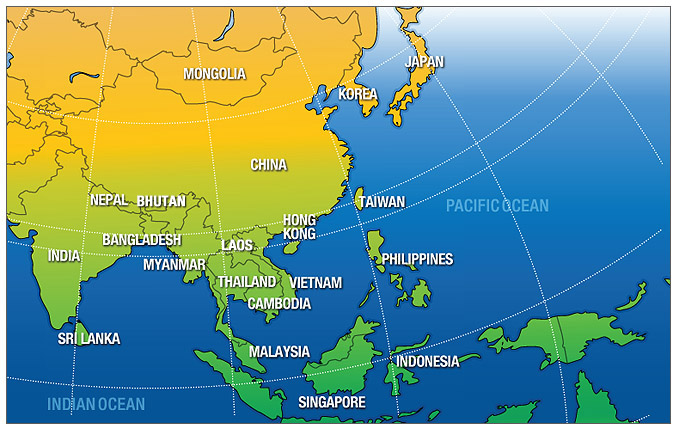 There were 1683 results matching your query.
First Previous 56 57 58 59 60 61 62 63 64 65 66 67 68 Next
Tergar Indonesia - Surabaya
Tradition: Vajrayana
Affiliation: Tergar International
Phone: +628159196868
Fax: +62318420553
E-mail: tergar@mingyur-indonesia.org
Website: http://www.mingyur-indonesia.org
Director: Gunawan Email (Phone: +628159196868)
Main Contact: Gunawan Email (Phone: +628159196868)
Spiritual Director: Yongey Mingyur Rinpoche Email (Phone: +628159196868)
Teacher: Yongey Mingyur Rinpoche
Notes and Events:
Tergar Meditation Community - Indonesia - Surabaya
Under the guidance of Yongey Mingyur Rinpoche, a well-known Tibetan Buddhist meditation master and best-selling author, the Tergar community of meditation centers offers weekly meditation and study groups, as well as regular seminars on meditation and the core principles of the Buddhist path.
---
Tergar Meditation Centre Penang
Address: 33, Lorong Impian Indah 2, Taman Impian Indah, Bukit Mertajam Pulau Pinang 14000
Tradition: Vajrayana
Affiliation: Tergar International
Phone: +604-5889989
E-mail: tergarpenang@gmail.com
Website: http://www.tergarpenang.org
Find on:


Spiritual Director: Yongey Mingyur Rinpoche
Notes and Events:
Under the guidance of Yongey Mingyur Rinpoche, a well-known Tibetan Buddhist meditation master and best-selling author, the Tergar community of meditation centers offers weekly meditation and study groups, as well as regular seminars on meditation and the core principles of the Buddhist path.
---
Thabarwa Centre
Address: ThanLyin Pagoda Hill Thanlyin Township Yangon
Tradition: Theravada
Phone: 95-9-73900629
E-mail: mtsm45@gmail.com
Website: http://www.ThabarwaRatana.org
Find on:


Spiritual Director: Sayadaw Ashin Ottamasara Email (Phone: 95-9-5085212)
Main Contact: Sayalay Khema Email (Phone: 9525047330)
Notes and Events:
At Thabarwa Centre the attention is placed on moment to moment awareness of the right view and the right understanding of the Original Truth which is beyond concepts.
Directions: Thanlyin Thabarwa Centre (Main Center) ThanLyin Pagoda Hill
(Between Kyite Khauk Pagoda and East Yangon University – 1 hour from the Yangon airport or 1 hour south of Sule Pagoda, Downtown Yangon)
Thanlyin Township, Yangon Myanmar.
---
Thai Buddhist Chetawan Temple (Wat Chetawan)
Address: No. 24, Jalan Pantai, Off Jalan Gasing Petaling Jaya Selangor 46000
Tradition: Theravada
Phone: +603 7955 2443
E-mail: watchetawan@gmail.com
Website: http://www.watchetawan.co.cc
Find on:


Main Contact: Phra Woon
Spiritual Director: Ven. Phra Sophitchariyaphorn (Pien Saccadhammo)
Notes and Events:
Temple Services Available
Blessing Services / House Blessing / Funeral Prayers by Monks
Booking for Dana in Temple
Full Moon & New Moon Oil Lamps Lighting
Weekly Sunday Morning Service & Blessing
Weekly Sunday Dhamma Classes
Columbarium Niches to house urns with ashes of the dearly departed
Meditation Hall
Annual Trips to other temples for Sangha Kathina Ceremonies
Herbal Sauna Treatment Centre (Open daily: Tue-Fri 2:00pm to 8:00pm, Sat, Sun & Public Holidays 10:00am to 8:00pm and closed on Mondays)
Amulet Shops.
---
Thai-Sri Lanka Buddhist Cultural Center
Address: 191, Mabima, Heiyanthuduwa, Biyagama Western
Tradition: Theravada
Affiliation: Wat Phra Pathomchedi, Nakorn Pathom 73000, Thailand
Phone: +94 (0)112488196-7
Fax: +94 (0)112914943
E-mail: thailankabcc@sltnet.lk
Find on:


Mr.: A. Jayawardana Email (Phone: +94 (0)112912396)
Main Contact: Admiral Daya Sandagiri Email (Phone: +94 (0)77762087)
Teacher: -Do-
Spiritual Director: Ven. Rassagala Seewali Thero Email (Phone: +94 (0)11 2488196-7)
Notes and Events:
Our programs:
Sunday: -Sunday Dhamma School In Sinhala
Buddhist Cultural training, computer training
Wednesday : Buddhist Discussion from 5.00pm-7.30pm
Saturday : Saturday Dhamma School from 8.45am-11.15am
Buddhist Lecture and Q and A program from 5.00pm-7.00pm
We nominate and invite delegates from Sri Lanka to UN day of Vesak international celebration and conference held in Bangkok
We maintain a Buddhist Bookshop, Thai-Sri Lanka Buddhist Bookshop
at 168, Makola Road, Kiribathgoda
Tel. 011-2910688
---
Thaimeditationcenter
Address: 150/195 rama2 bangkok 10150
Tradition: Mahayana
E-mail: manjarb4@gmail.com
Website: https://thaimeditationcenter.com/
Find on:


Notes and Events:
Finding Buddhist meditation classes in Thailand - in local Temples.
---
Than Hsiang Temple
Address: 132, Jalan Sultan Azlan Shah 11900 Bayan Lepas, Penang, Malaysia. Pulau Pinang
Tradition: Mahayana, Pure Land
E-mail: thanhs@thanhsiang.org
Website: http://www.thanhsiang.org
Find on:


Spiritual Director: Ven. Wei Wu
Notes and Events:
Educational Activities:
• Courses of the Buddhist and Pali University of Sri Lanka Diploma, Degree and Post Graduate Diploma Courses are conducted for systematic study of Buddhism. The degrees are recognized by universities of Commonwealth Countries.
• Kindergarten - We adopt the best of traditional and western teaching methods. In addition to preparing students for primary school education, we also emphasize instilling ethical values as well as developing good character in the children.
• Sunday School - Dharma Classes and recreational activities are organized to instill good values and develop good character in youth.
• Adult Buddhist Classes - English and Mandarin Dharma courses are organized to enhance proper knowledge of Buddhism.
• A.V. Library - Besides a good collection of English and Chinese books, audio and video tapes are available on loan.
• Talks - Talks on marriage, family health care and counseling are regularly conducted.
• Training camps are organized for children and youths to promote healthy educational and recreational activities.
• Welfare Activities: Home for Senior Citizens We provide a comfortable and caring living enviroment for senior citizens and instill hope for their future with religious faith. The Home is also a place for cultivation of the workers and the volunteers. • Mitra Line - We provide telephone and face to face counseling in Penang and Kuala Lumpur. People can also seek help through mail or e-mail.
• Metta Free Clinic - Medical services are provided by doctors and Chinese physicians. A group of volunteers also donate blood for emergency cases.
• Welfare Group - We provide financial and psychological support to people who need help in Penang and Kuala Lumpur.

* Religious Activities: Religious services and lectures are conducted every Friday evening in both Penang and Kuala Lumpur. Eight precept sessions are regularly conducted and special religious ceremonies.
---
Thanyapura Mind Centre
Address: Thanyapura Mind Centre 120 Moo 7 Thepkasattri Road, Thepkasattri, Thalang Phuket 83110
Tradition: Non-Sectarian
Phone: +66 (0)76 336 000
Fax: +66 (0)76 336 069
E-mail: info@thanyapura.com
Website: http://www.thanyapura.com/tmc/home
Find on:


Notes and Events:
Offering daily meditation instruction and ongoing Shamatha and Vipassana retreats.
---
The Buddhabhoomi Dhammadoot Sangha
Address: 168,Buddhabhoomi,Maitriya Buddha Mahavihar, golden buddha statue, Chunabhatti, Kolar Road, Bhopal M.P. Bhopal Madhya Pradesh 462003
Tradition: Theravada
Phone: +919926220408
E-mail: buddhabhoomi2017@gmail.com
Website: http://www.buddhadoot.com
Find on:


The Buddhabhoomi Dhammadoot sangha(rge.): Bhante Shakyaputra Sagar
Main Contact: Bhante Rahulputra Email (Phone: +919826929578)
Teacher: Bhante Shakyaputra Sagar
Spiritual Director: Venerable Bhante aarya nagarjun surai sasai
Notes and Events:
Purpose: Public Welfare.

Aim/Objective/Mission: To promote all the acts responsible for the welfare of mankind. To help disable, patients, weaker sections of society, development of animals and social services to organise conferences and sammelans for public welfare. centre (meditation) for health, establish general libraries, schools for poor students and establish the offices of the institute for benefit of common man to establish national integration. To develop moral and ethical properties in human being To honour and award the knowledgeable person and helpful person in the field of social work.
Current BDS Activities
THE BUDDHABHOOMI DHAMMADOOT SANGHA.
his is the Registered Organisation .Registered under the Government Different 5 laws as a public representative Organisation. The Registered Head office is in BHOPAL MADHYA PRADESH. INDIA .
1.BDS has been undertaken among others following Social, Educational and Cultural Activities:
2. Since last more than 15 years we are working and promoting Buddhism throughout India and abroad
3. We have already built up a huge monastery named as maitriya Buddha mahaVihara in Bhopal city and doing monasterial services for the people in General.
4. We already established a dhammadoot Vipassana Meditation Centre and teaching Vipassana meditation to many, many people .
5. We taught Vipassana Meditation to more than 1000 people and brought them on the sublime path of great Buddha Dhamma .
6. Time to time we organize SAMANERAS and MONKS training programmers and strengthening The Bhikkhu Sangha.
.
7. We organize periodically Samanera Diksha Ordination programme.
8. WE organize Astha Sheela Uposatha, The Sabbath Programme for ladies and gentlemen and teach them the Dhamma
9. We have stated and running a boys hostel for school going students since last 1years. Hundreds of students are getting benefit of it.
10. Since last 12 years we are running a special DEAF & DUMB residential school for handicap children and supporting them
11. Every Sunday we organize a special DHAMMA school for children age group of 8 to 12 years of age and teach them Noble Dhamma.
12. Every day early in the morning at 5.30 AM we do a special prayer and meditation for the peace and harmony to the people .
13. Daily every morning at 6.00 AM and evening 6 :00 PM again we organize prayer and Dhamma discourse for the people .
14. We have built up a guest house and provide lodging and boarding for visiting Monks and lay people at the monastery
15. Time to time we organize Dhamma Seminars and conferences at local level some times An International.
19. We organize inter faith religions Seminars and invite all religions Dharma Leaders and followers and promote the Peace & harmony.
20. We have established about 25 monasteries at different part of madhya pradesh the branches of our monastery.
21. We got about 25 Acres of land as a donation to our organization at Sanchi.

22. Time to time specially we organize Special Dhamma Seminars only for Ladies and teach them Dhamma.
23. Time to time We organize special camps for Collage going students and teach them Meditation And Noble Dhamma.
24. We have established a library as a dhammadoot Library and protect the Knowledge books and TRI PITAKA the Dhamma Books.
25. About 25 lakhs Buddhist people live in madhya prades
26. We organize Buddhist monks and provide them the facilities of learning and education .and try to strengthen Buddhism .
These are the works we do through our Buddhabhoomi Dhammadoot Sangha in bhopal and through out India.
---
The Buddhist Community LK
Address: Ambagamuwa, Sri Lanka Nawalapitiya 0094
Tradition: Non-Sectarian, This is a Buddhist Community Forum!
E-mail: info@the-buddhist.co.cc
Website: http://www.the-buddhist.co.cc
Find on:


Notes and Events:
The Buddhist Community LK is a Buddhist Discussion board FOR sharing Buddhism & clear doubts via discussing!
Come & be a totally free member & Learn or share Buddhism to the world!

---
The Buddhist Society of India - Vissannapeta
Address: D.No 9/209-1, Reddy Gudem Road, vissannapeta, Krishna dt, Andhrapradesh 521215. Andhra Pradesh 521215
Tradition: Non-Sectarian
Phone: 9985468449
E-mail: buddha.vpt@gmail.com
Find on:


Meditation Teacher: A. Prasad (Phone: 9705621162)
Spiritual Director: Vijayaraju Kalathoti Email (Phone: 9985468449)
Notes and Events:
Distribution of Buddhist literature – Celebration of Buddhist festivals.
Training classes on Buddhism, Ambedkarism and Human rights.
Facilitating conversions to Buddhism.
Conducting training classes for meditation, cultural programs, human rights awareness programs.
Construction of Buddhist temple & meditation centre.
---
The Buddhist Society of India - Indore
Address: Anand Bouddha Vihar c/o DINKER RAO AMBORE 216, Siddhartha Nagar, Marimata ka bageecha, Juni Indore, Indore Madhya Pradesh 452007 Indore Madhya Pradesh 452007
Tradition: Non-Sectarian
Phone: +917909343034
E-mail: rajeevambore27@gmail.com
Find on:


Teacher: Dinker rao Ambore (Phone: 9827009583)
Main Contact: Raju Ambore Email (Phone: +917909343034)
Spiritual Director: Bhante bBuddhakirti
Notes and Events:
We are providing education to children's and the other disciples of buddhism.
From time to time we organize a get-together for equality, humanity. We also communicate with society for making our environment neat and clean. With our volunteers we conceive many type of surveys to arise the people living below standards.
---
The Burmese Vihara - Bodhgaya
Address: Gaya Road, Bodhgaya Dist, Gaya, Bihar, India
Tradition: Theravada
Phone: 2400 721
Fax: 200848
Website: http://bodhgaya.myanmarvihara.org/index.php?option=com_content&task=view&id=15&Itemid=1
Find on:


Notes and Events:
Location: In Bihar Sate. Bodhgaya is 13km from Gaya and auto-rickshaws shuttle back and forth. They start from the Kacheri in the city centre at Gaya. Buses depart less frequently.
The Burmese monastery is particularly popular because of its study courses. There are often western visitors here although most of the rooms are very basic. The monastery has a garden and a library with English books. If you stay remember that dignified conduct is expected of the guests. There is no charge for staying here but you should, of course, make a donation.
---
The College of Religious Studies, Mahidol University
Address: Salaya, Phutthamonthol 4, Nakhorn Prathom,73170 , Thailand Tel. (662) 800 - 2630 - 39 Fax. (662) 800 - 2659 Nakhorn Prathom Nakhon Pathom 73170
Tradition: Non-Sectarian
Phone: 02-8002630
Fax: 02-8002659
E-mail: crwww@mahidol.ac.th
Website: http://www.crs.mahidol.ac.th
Find on:


Teacher: Dr.Pinit Ratanakul
Main Contact: Phramaha Boonmee Poungpet Email (Phone: 02-8002630 ex 216)
Spiritual Director: Dr.Pinit Ratanakul Email (Phone: 02-8002630)
Notes and Events:
The College of Religious Studies, Mahidol University, was founded in 1999 and is located at the Namthong Building, just opposite the Faculty of Veterinary Science at Salaya, Nakhorn Prathom, Thailand.

The College is dedicated to the study and research in the field of religious studies and fosters mutual understanding, cooperation, and respect among people of different religious traditions both in Thailand and throughout the world, so that common concerns might be creatively addressed. In teaching and research, the College also strives to nurture global ethical values and promote peace and human well-being.

The 21st Century has come with all its promise and potential. Southeast Asia and the rest of the world are entering a new and challenging historical stage. Accordingly the College has designed its program to meet these challenges.

Continuing in its mission, the College advances the academic study of religion among members of the monastic and lay communities with special emphasis on Buddhism. Its academic programs address emerging issues that are new challenges to religion such as those which concern globalization, women's rights, new scientific discoveries, and the use of modern technology in medicine. Other dimensions of the programs include training students in modern languages, computer, and critical thinking, along with religious studies, to enable them to live meaningfully in the globalized world.

The College of Religious Studies is currently offering Bachelor\\\'s and post graduate degrees to produce competent teachers and scholars of religion as well as chaplains/ counselors to serve modern needs of Thailand and the wider global community.
Job Opportunities
In a globalized world the broad inter-cultural studies of our students prepares them for careers in multicultural settings such as government and multinational corporations. Many of our graduates go on to study in such areas as law, education, management, psychology, political science etc, and then move on to careers in academics, law, counseling, media, banking, teaching, the airline industry etc.

For the graduate monks, they often go on to hold high positions within the Thai sangha serving as abbots, temple administrators, heads of meditation centers and as missionaries in many parts of the world.
---
The International Meditation Centre
Address: P.O. Bodh-Gaya 824231 Dist, Gaya, Bihar, India
Tradition: Theravada
Affiliation: Mahasi Sayadaw Meditation Centre, Burma.
Phone: 200707
Fax: 200707
Find on:


Abbot: Ven. Dr. Rastrapal, Mahathera
Notes and Events:
Meditation System: Mahasi Sayadaw Satipatthana Vipassana
The International Meditation Centre hosts ten-day beginners' courses in Vipassana, and thirty-day courses for the more experienced. Donations are accepted, as there are no fixed fees. Their new and underdeveloped site, 5km away near the university, the Dhamma Bodhi International Meditation Centre, also organises ten-day courses and offers a motley collection of basic bungalows and tents. Several other courses take place throughout the winter.
---
The Minding Centre
Address: Blk 644 #01-68 2nd floor Bukit Batok Ctrl 650644
Tradition: Theravada
Phone: 82110879
E-mail: themindingcentre@gmail.com
Website: http://themindingcentre.googlepages.com
Find on:


Teacher: Mr Piya Tan
Notes and Events:
A still centre in lifes storm
Stress Management & Meditation
Counselling & therapy Psychology in Singapore

Our objective:
To teach self-help and people-helping techniques so that you can help yourself and others. A healthy mind (calm and clear) in a healthy body.
---
The Root Institute for Wisdom and Culture
Address: Bihar 824231, Gaya District, PO Bodhgaya
Tradition: Vajrayana, Tibetan, Gelugpa (FPMT)
Phone: +631 400 714 / - 400 548
E-mail: rifwc@satyam.net.in
Website: http://www.rootinstitute.com/
Find on:


Main Contact: Trisha Donelly (Director)
Notes and Events:
Tradition: Tibetan. Foundation For the Preservation of the Mahayana Tradition (FPMT). Along with seminars, the Root Institute for Wisdom Culture, in a rural setting 1.5km west of the main temple, organises short and week-long residential courses, mostly focussing on the Mahayana tradition. The institute does not belong to any religious order, and has a low-key approach, working with the local community on education and health projects. Mud huts are available for retreats, and guests who appreciate a quiet environment are also welcome.
---
The Singapore Buddhist Lodge
Address: 17-19 Kim Yam Road, Singapore 239329
Tradition: Mahayana, Pure Land, Lay charity organization
Affiliation: Amitabha Buddhist Society
Phone: 67372630
E-mail:
Website: http://www.sbl.org.sg/en/index.php?option=com_content&view=frontpage&Itemid=1
Find on:


Main Contact: president Lee Bock Guan
Notes and Events:
Monday, Tuesday, Thursday, Friday, Sunday (9:00am to 5:00pm)
Wednesday, Saturday (9:00am to 7:00pm)
---
The Ultimate Truth Preaching Mission
Address: Shanti Niketan Bouddha Vihara, Tuichawng, Dist: Lunglei, Mizoram, India. Lunglei Mizoram 796730
Tradition: Theravada
Affiliation: Regd. No. SR/MZ-86 of 29.03.200.
Phone: 9612602899
E-mail: esdip@hotmail.com
Website: http://www.tutpm.org
Find on:


Teacher: Sudip Chakma
Main Contact: Sudip Chakma Email (Phone: 9612602899)
Spiritual Director: RAJESH KUMAR CHAKMA Email (Phone: 9863873175)
Notes and Events:
THE ULTIMATE TRUTH PREACHING MISSION, (a socio-religious organization ) have the honour to state that the SHANTI NIKETAN BOUDDHA VIHARA was established in the year 1968 by a local Managing Committee with a very temporary structure. The village Tuichawng is located in south west corner of Mizoram India near Indo-Bangladesh Border.
Most of the villagers are CHAKMA in tribe and BUDDHIST by religion. About 400 families live at Tuichawng and surrounding villages. The total population is around 2800 who live on shifting cultivation. Due to inavailability of fertile land in the locality, they can not produce enough crops for their livelihood. So, they live a miserable life just hand to mouth. Being poor, our people can not contribute fund to develop the Buddhist monastery. During last twenty five years, it was anyhow constructed with sown timber structure with GCI sheet roofing in 1996. Now it has become very old. The villagers are trying to re-build it with concrete structure. An small amount has already been gathered which is not enough. It has become very difficult to gather more fund.
Beside this, Our organization has started a mission school names as AHIMSA SCHOOL for the needy and privileged children. We also appeal all to extend your helping hands by giving us support to provide education to our unfortunate children. We primarily needs teacher's salary and building grants.
Therefore on behalf of the Buddhist people of this locality, do appeal your organization to look into the matter sympathetically and come forward to provide us financial assistance for the further development and construction of the Buddhist Monastery mentioned above. For the act of which your kindness, we shall remain ever grateful.
---
The Zen Society of Singapore
Address: 41 Ewe Boon Road 05-43 Singapore 259335
Tradition: Mahayana, Zen
Affiliation: Sambo Kyodan, Japan
Phone: 9 665 3556 ( Vivien )
E-mail: mcloong@yahoo.com
Find on:


Main Contact: Ms Vivien
Notes and Events:
Fortnightly sittings every 2nd and 4th Sunday mornings, 6:45am to 8:45am
---
Thekchen Choling (Singapore)
Address: 2 Beatty Lane Singapore 209945 Singapore 209945
Tradition: Vajrayana
Phone: +65 64663720
Fax: +65 64656736
E-mail: contactus@thekchencholing.org
Website: http://www.thekchencholing.org
Find on:


Main Contact: Richard Pang Email (Phone: +65 94312682)
Spiritual Director: Lama Thubten Namdrol Dorje Email (Phone: +65 98317785)
Notes and Events:
On 20th March 1999, the late Geshe Lama Konchog, now reincarnated as Tulku Tenzin Phuntsok Rinpoche, instructed Lama Thubten Namdrol Dorje to start a Dharma Centre. He bestowed the name Thekchen Choling, meaning Great Mahayana Dharma Temples named after the monastery of His Holiness the 14th Dalai Lama.
Geshe-las vision was for the temple to change the current mindset of that one can only practice the Dharma as ordained Sangha. Thekchen Cholings focus is thus to impart ways that lay people can practice the Dharma, integrating it into their everyday lives and learning to realize their inner potential and be happy and fulfilled.
In 2001, Thekchen Choling (Singapore) was formally registered. From a handful of students, the crowd at Thekchen Choling is now several times larger with a mailing list of five thousand and regular students numbering to several hundred.
Thekchen Cholings vision is to Connect All with Divine Hearts. This is a special wish for all members and disciples to develop the divine heart of Buddha and gain enlightenment to benefit all beings.
As earnest practitioners of the Dharma, these aspiring Buddhas and Bodhisattvas can also engage in the activities of divine beings to reach out and touch everyone with the essence of Buddhas teaching - Love and compassion. With this proactive and outgoing aspiration, it is therefore not surprising that Thekchen Choling has a very young congregation. Coming from diverse backgrounds, they range from students to young working professionals under 40 years of age.
The three areas that the temples activities are in
Dharma Development
Healing Services
Community Services for children and youth.
---
Theravada Samadhi Education Assocation
Address: No. 15-1F, 80 Ally, 39 Lane, Shipai Road Section 1 Taiwan
Tradition: Theravada
Phone: +886-2-2820-5242
Fax: +886-2-2820-2173
E-mail: theravada.samadhi@gmail.com
Website: http://sites.google.com/site/samadhi21/Home
Find on:


Spiritual Director: Ven. Dr. Bodagama Chandima Email
Notes and Events:
We are a Buddhist charity organisation based in Taiwan.
Together with the Dharma Chakkra Child Foundation in Sri Lanka, we promote and carry out charity projects in the fields of relief work, health care, education and Buddhist teachings, especially, but not exclusively in Sri Lanka.

Update of our works can found in our blog: http://theravada-samadhi.blogspot.com/.

In addition to the charity and educational works, Ven. B. Chandima also taught Theravada Buddhism and meditation in Taiwan.
---
Thosamling Institute for International Buddhist Women
Address: Thosamling Institute Sidhpur 176057 Dharamsala, Distt Kangra (HP) India Himachal Pradesh 176057
Tradition: Mahayana
Phone: +91 1892 246 731
E-mail: thosamling@gmail.com
Website: http://www.thosamling.org
Find on:


Main Contact: Tenzin Sangmo Email (Phone: 91 1892 246 731)
Notes and Events:
Provides support and training for nuns as well as comprehensive study of Buddhist philosophy and Tibetan language. Female and male lay practitioners also study and practice as part of the community.
Thosamling has a two year Tibetan language study programme and ever increasing Dharma study options within the Tibetan tradition. HH Dalai Lama has visited and recommends us to newly ordained western nuns. He is also one of our main benefactors and it was His Holiness who gave the name "Thosamling." The name means "a place for study and reflection of the Buddhist teachings."
---
Thubten Lekshey Ling
Address: #41, 3rd Cross, Ulsoor Road, Bangalore Karnataka 560042
Tradition: Vajrayana, Practice lineage - Nyingma
Affiliation: Nyingma Tibetan Buddhism
Phone: +91-98802-96930
E-mail: info@lekshey.org
Website: http://www.lekshey.org
Find on:


Teachers: Khenchen Tsewang Gyatso Rinpoche
Teachers: His Eminenace Gyangkhang Rinpoche
Main Contact: Phuntsok Namgyal Email (Phone: +91-9880296930)
Teacher: His Holiness Pema Norbu (Penor) Rinpoche
Spiritual Director: His Holiness Pema Norbu (Penor) Rinpoche
Notes and Events:
Thubten Lekshey Ling is a Nyingma Buddhist Meditation & Study Centre in Bangalore founded by His Holiness Penor Rinpoche, the former head of Nyingma school of Indo-Tibetan Buddhism. The center conducts meditation classes, spiritual discourses and advanced study programs. All senior masters of Namdroling Monastery visits the center regularly and gives teachings and empowerments.
---
Thuru Sevana Art Gallery
Address: Devata Road, Paragastota Horana Western 034
Tradition: Theravada
Phone: 0094 34 2252463
E-mail: info@thurusevana.lk
Website: http://www.thurusevana.lk
Find on:


Main Contact: Sajindra Perera Email (Phone: 0094 777 574230)
Notes and Events:
Our Mission & Vision

We re-cereate and maintain an Art Gallery of ancient Temple paintings of Sri Lanka.

Our Mission is to conserve Temple paintings and re-create disfigured ancient temple paintings and display in one Art Gallery.

Our Vision is to secure the ancient Traditional style of Art and to work hard for the benefit of the Budda Shasana of Sri Lanka.

" Total project 100% not for a commercial purpose"

We request you to go through our web site www.thurusevana.lk and we take this opportunity to invite to visit our Art Gallery when you visit Sri Lanka.

Address - Thurusevana Kalagaraya (Art Gallery)

Dewata Road,Paragastota, Horana, Sri Lanka.
Telephone - 0094 112726281 / 0094 342252463
+94 777574230
(Mobile)
May Triple Gems Bless You.
Sajindra Perera (Founder / Main Artist)
---