Asia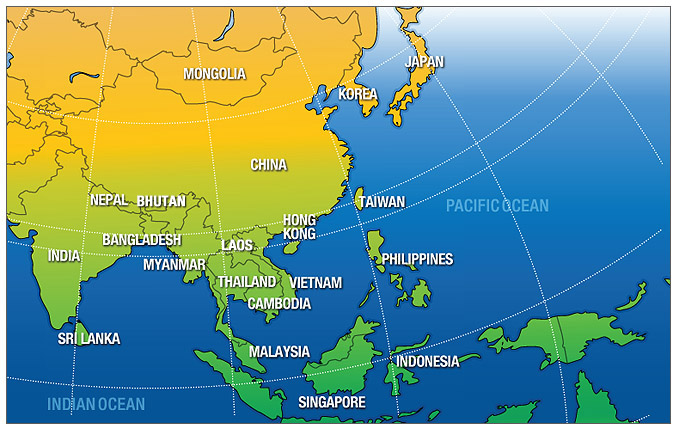 There were 1737 results matching your query.
First Previous 48 49 50 51 52 53 54 55 56 57 58 59 60 61 62 63 64 65 66 Next Last
Dhammakaya Foundation
Address: Wat Luang Phor Sodh Dhammakayaram Dammnoen Saduak District, Rajburi Province 70130, Thailand.
Tradition: Theravada
Phone: 66-81-837-8457;
Fax: 66) 32-740-170
E-mail: bmi@dhammacenter.org
Website: http://www.dhammacenter.org/home
Find on:


Notes and Events:
Introduction to Dhammakaya Meditation

About five hundred years after the Great Decease of Lord Buddha, there remained no evidence of the Dhammakaya meditation technique. After devoted practice, the Venerable Chao Khun Phra Mongkol-Thepmuni restored the principles of Dhammakaya meditation and taught them. Today the approach has become well-known once again.
The Venerable Chao Khun Phra Mongkol-Thepmuni once said that Dhammakaya meditation would be known all over the country, primarily because it penetrates right to the heart of the practice of purification. Defilements such as greed, hatred, delusion, conceit, wrongview, doubt, sloth, restlessness, shamelessness, and lack of moral dread are uprooted naturally and effectively. Avijja or ignorance becomes Vijja or knowledge.
Dhammakaya meditation is not a new practice, as many believe. It is the original Buddha-Teaching. Dhammakaya meditation is the exact path that the Buddha practiced. It is cited many times in the Tipitaka (Buddhist Canon), and directly follows the Noble Eightfold Path which is classified into the three categories of Sila or morality, Samatha or Right Concentration, and Vipassana or Right Wisdom. In combination with the four Satipatthana or Foundations of Mindfulness, the Samatha (concentration) and Vipassana (insight) will advance to Right Wisdom pertaining to the Sankhara or compounds and Visankhara or non-compounds. The Right Wisdom of the Four Noble Truths will be unfolded. Nirvana or freedom from all conditioning and suffering will, thus, be attained.
Without Lord Buddha, this teaching would never have been known and practiced. Without the Venerable Phra Mongkol-Thepmuni, Dhammakaya meditation would never have been well known again. Various benefits will be gained even at the beginning of Dhammakaya meditation practice.
This is for all who seek to understand reality or the true meaning of life as well as those who seek inner purification. Wisdom and virtue develop hand-in-hand. As the meditator progresses beyond the distortions of the passions, insight sharpens and understanding deepens.
Dhammakaya Meditation does not require blind faith. You do not have to believe in Buddhism to benefit from it. It is a method for training the mind to become concentrated and keenly aware, focused inward at the center of the body. With practice, you will encounter new experiences for yourself and will develop confidence.
In 1916, Luang Phor Sodh Candasaro (Chao Khun Phra Mongkol-Thepmuni) rediscovered the Dhammakaya approach to meditation which had been lost sometime during the first five hundred years following the passing away of Lord Buddha. The technique leads the meditator directly along the path to enlightenment and emancipation by combining concentration (Samatha) and insight (Vipassana) meditation techniques. It is, thus, extremely focused and effective.
Dhammakaya Meditation practice has become popular and widespread throughout Thailand. This is intended to make the method more widely available to English speakers.
Meditation begins with turning the powers of observation and awareness inward. We are accustomed to perceiving the outside world, but introspection requires special effort. Steeped in science, we have prided ourselves on "objectivity" while remaining largely unaware of inner biases.
Traditional scientific objectivity required isolation from the object observed. Since quantum mechanics was introduced, science has recognized that we are part of the world we perceive and what we see depends on how we look at it. Meditation is like polishing a lens to enable us to see more clearly. Skill in meditation develops the ability to perceive experience directly without the distortions implicit in conceptualization.
Many seekers turn to meditation because of dissatisfaction with life. This is the universally experienced sadness / suffering / tension (Dukkha) on which Lord Buddha based the Four Noble Truths. But, this motivation to ease tensions or cope with anxieties is only a starting point. Many meditation techniques will provide relief on this worldly level, but the beauty of Dhammakaya Meditation is that it leads directly upwards from this plane to more and more refined, purer and purer levels of awareness.
The effectiveness of the Dhammakaya Meditation derives from focusing attention at the center of the body and combining three meditation techniques simultaneously. Meditators often debate the efficacy of concentration (Samatha) versus insight (Vipassana). Dhammakaya Meditation employs elements of both. Higher and higher levels of concentration enable personal insight to progress from a more worldly view to Right Understanding and ultimately to Supra-mundane Right Wisdom.
---
Dhammaland The Royal Monastic School
Address: Bir Bira-Siripur, Grampanchaayat- Banskuda, POST jalki, P.S. Tumgon Mahasamund Chhattisgarh 493445
Tradition: Theravada
Affiliation: UBNO
Phone: 9340522897
E-mail: dhammamaster@gmail.com
Website: http://www.dhammaland.info/
Find on:


Spiritual Director: Dr. V. Sheelratna Bodhi Email (Phone: 00919340522897)
Notes and Events:
Dhammaland is registered Under Public Trust No.74/2009/Bilaspur India, and Income tax exempt u/s 80G of the IT Act 1961. Dhammalands purpose is to spread Buddhas Teachings and human kind to come out of suffering. Dhammaland is working for development of Buddhist and poor peoples of India through various Programs, seminars, meditation camps all over India. Dhammamaster (Dr. Venerable Sheelratna Bodhi) is the Founder President of Dhammaland. He is a well known Indian Buddhist monk. He has done Doctorate Degree in Meditation. He had completed his B.A. from Buddhist and Pali University of Sri Lanka and M.A. in Buddhist Psychotherapy from Postgraduage Institute of Kelaniya University, Sri Lanka. He learned Buddhist meditation, Buddhist Philosophy, Pali, Abhidhamma at Buddhist Studies International and got six years special Bhikkhu training under the guidance of late Most Venerable Dr. Havanpola Rathanasara Mahanayakthera, Sangha Nayak of western world. He had been awarded as Dhamma Duta Honor (DDH) Doctor of Dhamma, and (MDH) Master of Dhamma by Buddhist Studies International, Sri Lanka in year 2001. He is currently propagating dhamma in India as well as other countries.
---
Dhammapratishtha
Address: Dr. B.r.Ambedkar Library Rajur Rajur Maharashtra 445309
Tradition: Non-Sectarian
Phone: 09420046026
E-mail: dhammapratishtha@yahoo.com
Website: http://www.dhammapratishtha.org
Find on:


Notes and Events:
The Dhammapratishtha has been engaged in its humanitarian work and welfare activities through its branches set up in several parts of India and in other parts of the world. With its faith as the nucleus of universal brotherhood, the society has been working towards spreading the sublime teachings of Lord Buddha and his message of love to all sections of people, irrespective of caste, creed and community. In its efforts at not only preaching, but practically applying the Buddhist values of love, compassion and interdependence, the Dhammapratishtha has been guided by great thinkers and leaders of India.
---
Dhammavassarama
Address: No. 50-6 You-Tze-Zhai Tong-Ren Village, Chong-Pu Chaiayi 606, Taiwan R.O.C 60652
Tradition: Theravada
Phone: (886) (05) 253-0029 day
Fax: (886) (05) 203-0813
E-mail: dhamma.rain@msa.hinet.net
Website: http://www.dhammarain.org.tw/
Find on:


Teacher: Bhikkhu Metta
Contact: Bhikkhu Metta Email (Phone: 886)(05)253-0029 day)
Notes and Events:
Meditation:
First sitting 4:30am
Last sitting 6:00~8:300pm.
---
Dhammodaya Meditation Centre
Address: 45/1 Mu 4 Tambol Tanoun-krat Ampur Muang. Nakhon Pathom 73000
Tradition: Theravada, Vipassana meditation, Mahasi Sayadaw
Phone: (0) 1-810-9632
E-mail: dhammodaya@yahoo.ca
Find on:


Contact: Ms Khun Nay
Notes and Events:
Dhammodaya is a Mahasi Sayadaw based practise Centre with various English speaking teachers, both Burmese and Western, trained in Burma under Sayadaw U Janaka.It is located just outside Bangkok and conducts retreats frequently throughout the year as and when the teachers are available. U Janaka was a disciple of Mahasi Sayadaw himself, and has numerous centres around the world. The approach focuses much on Metta meditation as an aid to Insight. Most of the teachers speak fluent English, which is translated for Thais.
Dhammodaya does not have a website of its own, relying instead on phone and email contact, and the extensive network of the YBAT organisation of Bangkok, and other contacts. The retreats are almost always in English, or English + Thai, with experienced teachers under the tutelage of Sayadaw U Janaka.
---
Dharmadeepam Foundation
Address: PLOT NO-99, SRI NAGAR COLONY Hyderabad Andhra Pradesh 500073
Tradition: Theravada
Phone: +91-40-23744169
Find on:


Mr.: Aajaneya Reddy Email
Spiritual Director: Dr.ch.Srinivas Reddy Email (Phone: +91-9849311810)
Notes and Events:
Dharma deepam is a Buddhist organisation established in hyderabad to preserve and propagate Buddhas teachings and meditation.
The organisation arranges a 10days meditation course once a month starting on the fullmoon day of every month.
There is a growing interest in people to learn more about Buddha and Buddha Dharma.
so the organisation is committed to bring back Buddhas teachings to the land of its origin, and to the land of Acharya Nagarjuna.
BHAVATU SABBA MANGALAM(MAY ALL BEINGS BE HAPPY)

---
Dharmadhatu Foundation
Address: P. O. Box: 19946 Boudha, Kathmandu Nepal Boudha Bagmati
Tradition: Mahayana
Phone: 00977 1 4492 957
E-mail: dharmadhatu@hons.com.np
Website: http://www.dhatu.org
Find on:


Teacher: Nabin Moktan
Spiritual Director: M T Buddha Email (Phone: 00977 1 4474 195)
Notes and Events:
Dharmadhatu Foundation works with the principle of "Engaged Buddhism" for social change. Our field of work is social development among the ethnic buddhist communities in rural himalayan villages of Nepal.
---
Dharmajala
Address: Jl. Mangga III No 12 B Jakarta Barat
Tradition: Non-Sectarian
Phone: +62-21-56944638
Fax: +62-21-56944638
E-mail: dharmajala@yahoo.com
Website: http://www.dharmajala.org
Find on:


Notes and Events:
Dharmajala is a network of communities of mindful living practitioners (engaged Buddhists) that aims to facilitate self-transformation, social transformation, and preservation of nature through learning, practicing, and sharing of mindful living individually, collectively and institutionally.
Dharmajala has three main programs:
1. Bridge In program aims to bridge people into traditional Buddhist schools of his/her own choice (through retreat, training to help the healing process and character building of participants);
2. Root Program consists of programs from traditional Buddhist meditation schools (Theravada, Mahayana, and Vajrayana). It is a process of grounding the participants into Buddhist world views and practices;
3. Bridge Out Program bridges out participants who have been grounded in traditional Buddhist schools into society.
---
Dharmakirti International peace and progress society
Address: Damdama-Nababpur Dharmakirti Buddhist Monastery. Dhamdama, Nababpur
Tradition: Theravada
Phone: 0094 713546555 / 0088 1819626842
E-mail: dkbhikkhu@gmail.com
Website: http://bangladeshdipps.org
Find on:


Spiritual Director: World Citizen, Prof. Dr. Ven Dharmakiriti Mahathera Email (Phone: 0094 713546555)
Notes and Events:
The founder of our society most respectable world citizen,Prof. Dr. Dharmakirti Mahathera locally established many social, religious and cultural developmental associations. The local people of our society are greatly benefited to this association. For long time his contribution is unique and unparalleled in our local area (Especially in Mirsarai and Sitakunda Upazilla). If he is still working with many others national and international organization and there also he has contribution, but for long time he is thinking to establish an organization to extend his own work range Nationally and Internationally. So this society is the fruit of his dream.
He had a plan to declared about this society in the year 2010, in his Mahathera Abhidha conferring ceremony, which was observed Nationally and Internationally. At that time if he could not declared but this society is working from that time. So it was established in a historical and memorial day the 21 January 2010.
Dharmakirti International peace and progress society (abbreviation for DIPPS) begin to consist a DIPPS Central Trust Fund for future all developmental work, except special projects all of DIPPS money will fixed deposit in bank for trust fund. We don't spend capital money of trust fund. we only use yearly interest of fixed deposit for social development work of DIPPS and its Co-organization.
The first work of this society is to start Friday weekly monastic religious schools or Friday Dhamma schools for children. We already start it in Damdhama- Nababpur Dharmakirti Buddhist Monastery. When our fund will increase, gradually we will extend this program all the temples of Mirsarai and Sitakunda Upazilla. After that all the temples of Bangladesh. Because without ethical guidance or religious teachings we can't build a good society as well as a good Nation.
According to our founder's observation, now there have not much financial poverty in the Buddhist community of Bangladesh, but in the field of Buddhist studies of youth there have much poverty. For a lack of moral religious knowledge now many Buddhist youth of Bangladesh are misguide and degenerate to the way of real life. So their families as well as the society are suffering a lot. We think that the Buddha's teaching is the best way to escape to this situation.
The second priority of our society (DIPPS) is to establish Dhamma Duta residential school and college for monks and novices. Because our founder think that except good and skillful religious teacher society cannot be good. Now days there have shortage skillful religious teachers or monks in Bangladesh. So DIPPS will whole heartedly try to fulfill this shortage. You will be happy and glad to hear that by the graces of Triple Gems our founder already get a big land as a donation for this purpose. And building construction also going on at that place. We have a master plan, where we have need near about 250, 00000/- (Two core and fifty lac) approximately USD 320512$ to complete this construction work. within six months we already spent near about 300, 000/- (Thirty Lac). Now its foundation work is completed. Our well wishers from land and abroad are extend their generous helping hand.
After complete this construction work we will start education courses on Tripitaka (Sutta, Binoyand Abhidhamma including Pali and English) to the grass label. This Dhammaduta School and college not only teach them canonical teachings (pariyatti Dhamma) but also emphasis to teach them the strong code of discipline, Sila and Samadhi (Patipatti Dhamma). After finishing their course they will go for preach the Dhamma for the good of many, for the happiness of many, as a Dhammaduta (The messenger of Dhamma).
---
Dharmakirti Vihar
Address: shreega ,Nagal tole Kathmandu Bagmati gpo kathmandu
Tradition: Theravada
Phone: +977 1 4259466
E-mail: dharmakirtivihar@gmail.com, pannya80@yahoo.com
Find on:


Vice president: Drabyaman singh tuladhar Email (Phone: 9851105959)
Secretary: Meena tuladhar Email (Phone: 9841280673)
Main Contact: do Email (Phone: do)
Teacher: do
Spiritual Director: Bhikkuni Dhamavati Email (Phone: 9774259466)
Notes and Events:
Dharmakirti Vihar is established in 44 years ago in Kathmandu, capital of Nepal.President of this vihar is Most recpected Bhikkuni Dhammavati. She was honored SASANDHAJ DHAMMACHARYA from government of Barma.She ha sgot many awards from diffirent association.This vihar has 8 branches and 8 diffirent wings.This is only leading vihar for Nuns.This vihar is completly running by donation.it is just brief information of vihar.
The wings like this
Dharmakirti vihar conservation trust is mean unit. chief of that trust is Bhikkuni Dhamavati and Dhrmanusaak is most respected Bhikku Ashogosh Mahaasthever
1.Dharmakirti Study circle,2Dharmakirti health service.3.Dharmakirti Library.
4.Dharmakirti gyanmala bhajan khala.5Dharmakirti Sisu sadan (Kinder garden)
6.Dharmakirti Magazine and publication 7.repair and maintinace
8.Traning andn public relation
9.Dharmakirti Health care center is going to establish with 10 beds( the plan is going on)It will take some time.
---
Dialogue of Wisdom
Address: A-2/203, PHASE -5 , AYA NAGAR, NEW DELHI NDelhi 110047
Tradition: Non-Sectarian
Phone: +91-981826587 ; +91-9899319360
E-mail: dialogueofwisdom@gmail.com
Website: http://www.dialogueofwisdom.com
Find on:


Main Contact: KAMAL BARUA Email (Phone: +91-9899319360)
Spiritual Director: SUBROTO BARUA Email (Phone: +91-9818265887)
Notes and Events:
Dialogue of Wisdom, formed in 2011, is an non profit organisation working in the field of promoting understanding between individuals, groups and communities through monthly discussions, seminars, meditation camps, social welfare activities and cultural interactions by following the teachings of The Buddha.
---
Diamond Way Buddhism Hong Kong
Address: Unit 3, 2/F, 3-5 Jervois Street Sheung Wan
Tradition: Vajrayana, Karma Kagyu
Phone: 2537 7553
E-mail: info@buddhism.hk
Website: http://www.buddhism.hk
Find on:


Main Contact: Anthony Hopson
Teacher: Lama Ole Nydahl
Spiritual Director: HH 17th Karmapa, Trinley Thaye Dorje
Notes and Events:
There are regular introductions and guided meditations every Monday and Wednesday at 8pm. The medtation which is practiced is called the 16th Karmapa Meditation. The methods employed in this meditation have been used in Buddhism since the time of the Buddha 2,500 year ago. Focused on fully developing the human potential, the meditation brings about lasting results for those who not only want to learn about their minds, but have a direct experience of it.
On Wednesdays, new people are invited to come earlier at 7.30pm for a longer explanation about the meditation and Buddhism more generally before we start. If you are new to Buddhism, it is an ideal place to start.
---
Dikshadam Gujarat
Address: DIXADHAM, Village: Malvan(Chokdi), Ta: Patdi, Dist: Surendranagar. Gujarat 382745
Tradition: Non-Sectarian
Affiliation: TRIRATNA BUDDHIST ORDER
Phone: 09426218205
E-mail: dh.anandshakya@yahoo.com
Website: http://www,dikshadhamgujarat.org www.dixadhamgujarat.org
Find on:


Senior Order Member: Dhammaachari Mitrasen Email (Phone: 09558049517)
Main Contact: Dhammachari Anand Shakya Email (Phone: 09426218205)
Senior Order Member: Dhammachari Ratnakar Email (Phone: 09428120414)
Spiritual Director: Urgyen Sangharakshita
Notes and Events:
Aims & Objectives:
1) To build Stupa on Holy Ashes of Babasaheb Dr. Ambedkar as traditional way of Buddhism.
2) To establish meditation centre for spreading Buddha's welfare teaching and Dr. Ambedkar's Social vision.
3) To run social activities to help needy people of rural areas.
•Dikshadham Project
•Dikshadham Gujarat is a new project of Bahujan Hitay Gujarat (Reg. Trust). The center is working for social awareness base on life and mission of Dr. Ambedkar and committed to spread teachings of The Lord Buddha around the Gujarat.
•Dikshadham Gujarat is situated at Village: Malvan, Tal: Patdi, District: Surendranagar. The location of centre is 90 km away from Ahmedabad and geographically central place in the Gujarat.
The project has been started by arranging opening gathering on 20.02.2011. This is the first phase work. We invite many people and shown details of this project on that occasion.
---
Dorzong Buddhist Monastic Institute
Address: Jangchub Jong - Village Barsar P.O. Jia - 176059 - Teh Palampur Distt. Kangra (HP) - INDIA Himachal Pradesh
Tradition: Vajrayana, Drukpa Kagyu Lineage
Website: http://www.dorzongrinpoche.org/index.htm
Find on:


Spiritual Director: H.E. Kyabje Dorzong Rinpoche
Notes and Events:
Dorzong Monastic Institute (DMI), JANGCHUB JONG, - under the direction of The Eighth Kyabje Dorzong Rinpoche - is located near Gopalpur village in the Valley of Kangra, 20 km from the city of Dharamshala in Northern India, in an extremely beautiful area covered with cedar forests, at the foot of the Dhauladhar mountain range.
The unequalled Buddha Shakyamuni, through his undiscriminating loving kindness and compassion towards all sentient beings, gave many teachings according to each of their abilities in order to find peace and enlightenment. To preserve Buddhism in general and the Drukpa Kagyu Linage in particular as well as to keep its unique tradition alive, for the sake of all sentient beings, The Eighth Kyabje Dorzong Rinpoche decided to create the Dorzong Monastic Institute.
DMI helps interested students of the Himalayan border hill areas like Zangskar, Lahoul-Spiti, Kinnour, etc. , as well as Tibetans residing in India, to study and practice Buddha Dharma, the tradition of their ancestors. The DMI will give seminars and lectures on Buddhist teachings and it will provide Dharma activities, such as Dharma book publications, translation of Buddhist teachings and publishing of rare important Buddhist texts translations; as well as teaching Ethics, Art and Tibetan language. It will also hold Buddhist Festivals, Pujas and Ceremonies. Furthermore, DMI will provide medical aid to the needy local population.
In this way, The Eighth Kyabje Dorzong Rinpoche hopes that the Buddhist doctrine will flourish like fresh beauty in spring and that it will remain so forever.
---
Dr. Ambedkar Student Front of India
Address: Jr hostel UPRIMS&R SIAFAI Etawah 20130
Tradition: Theravada
Phone: 9458657722
E-mail: dasfi.up@gmail.com
Website: http://www.dasfi.in
Find on:


Notes and Events:
Dr Ambedkar Student Forum is is national student organisation working in 13 state of india. it works in the field to guide the youth of Bhahujan student in their pursuit of Buddhism and meditation.
---
Dr. B. R. Ambedkar Group
Address: 702 (1, Baudhraj Compaund) Masihaganj, Sipri Bazar, Jhansi 284 003, India Lalitpur 284403
Tradition: Non-Sectarian
Phone: 9415945895
E-mail: vensumedh12@gmail.com
Find on:


Ven : Uppali
Main Contact: Dr. Banwari Lal Suman (Sramner Sumedh) Email (Phone: cell 919415945895, Phone 9105102360618)
Spiritual Director: Ven Dr Sumedh Thero Email (Phone: +919415945895)
Teacher: Bhante
Notes and Events:
We organized five National meetings under the banner of Panchsheel Parivar. Full address: 702 Baudhraj Conmpaund Masiha Ganj, Sipri Bazar, Jhansi 284 003 India
Past, present and future of Buddhism 1999,
Golden jubilee of Modern Dhammachakka by Dr. B. R. Ambedkar 2000,
Tribute Paid to Ven Sugtanand who Nibban on September 20, 2001,
Buddhism in modern time 2003
Buddhism in Bundelkhand i.e. Central India 2006
International conferences on Buddhism in December 2007
---
Dr.Babasaheb Ambedkar Buddha Vihar, Pune
Address: Dr.Babasaheb Ambedkar Buddha Vihar, Above New Type 1, Rangehills, Khadki, Pune - 411020. MAHARASHTRA (INDIA) Pune Maharashtra 411020
Tradition: Theravada, Buddhagaya Mahabodhi Mahavihar Mukti Andolan, Pune
Phone: 09527484323, 09028284701, 09823404818, 08698692080
E-mail: mahabodhimahavihar_muktiandolan@yahoo.com
Website: http://www.mahabodhimahaviharmuktiandolan.blogspot.in
Find on:


Ayu.: Suhas Popat Gajarmal Email (Phone: 08698692080)
Main Contact: Ayu. Satish Sugrav Gaikwad Email (Phone: 09823404818)
Teacher: Ayu. Ajay Ravikiran Dhende
Spiritual Director: Ayu.Uday Ravikiran Dhende Email (Phone: 09527484323)
Notes and Events:
Organasation :Dr. Babasaheb Ambedkar Buddha Vihar, Pune
Name : Above New Type 1, Rangehills, Khadki, Pune - 411020. MAHARASHTRA(INDIA)
Founder Persons : Ayu. Uday Ravikiran Dhende
Ayu. Ajay Ravikiran Dhende
Ayu. Satish Sugrav Gaikwad
Ayu. Suhas Popat Gajarmal
Ayu. Sachin Patil
Contacts : 09527484323, 09028284701, 09823404818, 08698692080
Website : www.mahabodhimahaviharmuktiandolan.blogspot.in
Email : mahabodhimahavihar_muktiandolan@yahoo.com
Activities : Buddhagaya Mahabodhi Mahavihar Mukti Andolan, Pune
Plans : Bhikkhu Nivas, Buddhist Students Hostel, Buddha Vihar.
---
Dr.Maltesh Motebennur
Address: Librarian, Rajiv Gandhi University, Rono-Hills, Doimukh Itanagar Arunachal Pradesh 791112
Tradition: Mahayana
Phone: 919863570654
Fax: 913602277889
E-mail: maltesh.motebennur@gmail.com
Website: http://www.rgu.ac.in
Find on:


Main Contact: Dr.Maltesh Motebennur Email (Phone: 913602277573)
Notes and Events:
The seed of Buddhism in Arunachal Pradesh, India was sown in the 8th Century, by Padmasambhava, who was responsible for preaching the teachings of Buddha and invoking the tenets of Buddhism in the state. However, with the advent of other religions and the subsequent fragmentation of the traditional Arunachali society into various tribal and religious groups, Buddhism, with the passage of time, has been largely confined to the districts of Tawang, East Kameng, West Kameng, Upper Siang, Dibang Valley, Lohit and Changlang. Arunachal Pradesh, India as per the census of 2001, has the total number of Buddhist population is 1,43,028 which are 13.03% among its total population [Arunachal Pradesh: 2001] of 10,98,000. It can be attested by dozens of Mahāyan Vajrayan Buddhist art and architecture in the western part of Arunachal betraying the influence from Tibet. The famous Tawang Monastery is the best product of Mahayana Buddhist art and architecture of the state. It is second largest monastery in Asia. Even prior to the advent of modern education, the Buddhist monasteries played an important role in imparting knowledge and basic social wisdom. The monasteries used to play an active role in social, economic, religious life of the people.
Arunachal Pradesh, India is fortunate enough to have a rich Buddhist cultural heritage. Here Buddhism is a living religion. The migration of Khamtis brought the religion to the eastern part of Arunachal Pradesh. The Singphos and Tai Tikhaks sub-tribes of Tangsas later adopted Buddhism. The Buddhist tribes of eastern Arunachal Pradesh, India profess Therāvad Buddhism which, they said to have brought from Myanmar. With the coming of the Monpas, Sherdukpens, Membas, Khambas and other Mahayana tribes to the western and central part of Arunachal, Mahāyan Buddhism was introduced in this area.
---
Drikung Kargyu (S) OM Centre
Address: 39 DRIKUNG KAGYU (S) OM CENTRE 直贡噶举(新加坡)嗡中心 24, Lorong 29 #03-00, Geylang
Tradition: Vajrayana, Drikung Kargyu
Phone: 65474337
Fax: 65474337
E-mail: enquiry@dkomcentre.org.sg
Website: http://www.dkomcentre.org.sg
Find on:


Notes and Events:
Medicine Buddha Puja 1 Sat 7.30-9.30pm Guru Yoga, Tsog Offering & Achi Chokyi Dolma Puja 8 Sat 2-4pm Mani Recitation 9 Sun 2-4pm Vajrasattva Retreat (Anniversary of Milarepa) 15 Sat 10am-6pm Vajrasattva Retreat (Cho Trul Duchen) (Buddha's Miracles Day) 16 Sun 10am-6pm Green & White Tara Practice &Dharma Discussion 22 Sat 2-4pm Teaching 23 Sun 2-4pm Visit to Nursing Home 30 Sun 1.30-4.30pm.
---
Drukpa Maha Yoga Ling Buddhist Center
Address: 196, Jalan Midah Besar, Taman Midah, 56000 Kuala Lumpur, Malaysia. Kuala Lumpur
Tradition: Vajrayana, Drukpa Kargyud
Phone: Tel: (603) 931 6333, Fax: (603) 985 4213
E-mail: dmyl@maxis.net.my
Find on:


Notes and Events:
The Drukpa Kargyud lineage originated in the 11th century A.D. as a subdivision of the Kagyud tradition. The unique teachings transmitted through the Kagyud realization lineage are distinguished as the "Six Yogas of Naropa" and the oral pith-instructions of Mahamudra. Supplementing these teachings, the Drukpa Kargyud school also offers special meditative instructions known as "The Six Equal Tastes" and "The Seven Auspicious Teachings". The lineage descends directly through the enlightened masters -- Tilopa, Naropa, Marpa, Milarepa, Gampopa, Phagmo Drupa and Lingchen Repa. Lingchen Repa Pema Dorje, famed as the Saraha (a revered tantric sage) of Tibet popular for his psychic power, was the spiritual teacher and guide of the 1st Gyalwang Drukpa, Tsangpa Gyare Yeshe Dorje. The Gyalwang Drukpas are revered primarily as incarnate embodiments of Arya Avalokiteshvara (i.e. Chenrezig in Tibetan or Kuan Yin in Chinese) and Mahasiddha Naropa. The present Gyalwang Drukpa, Jigme Pema Wangchen, is the recognized 12th incarnation.
---
Ekayana Buddhist Centre
Address: Vihara Ekayana Grha Jl. Mangga 2 No. 8 Kel. Duri Kepa, Tanjung Duren Barat, Jakarta Barat 11510 Tanjung Duren Barat - Green Ville Jakarta 11510
Tradition: Non-Sectarian
Affiliation: Buddhayana
Phone: 62-21-5687921
Fax: 62-21-5687923
E-mail: info@ekayana.or.id
Website: http://www.ekayana.or.id
Find on:


Teacher: Ven. Dharmavimala Thera
Spiritual Director: Ven. Aryamaitri Mahasthavira
Notes and Events:
Sunday Service:
General, 08.00-09.30 & 17.00-19.00
Youth, 10.00-12.00

Sunday School:
every Sunday, 08.00-09.30

Dharma Class:
every Sunday, 08.00-10.00

Meditation:
Ch\\\'an tradition: every Thursday, 19.00-21.00
Mahasi tradition: every Saturday, 17.00-19.00
Vajrayana tradition: every Wednesday, 19.30-22.00

---
Evergreen Buddhist Culture Service Pte Ltd
Address: Block 333 Kreta Ayer Road #02-24 Singapore 080333
Tradition: Non-Sectarian
Phone: 6220 6360
Fax: 62219284
Website: https://www.evergreenbuddhist.com
Find on:


Notes and Events:
Evergreen Buddhist Culture Service Pte Ltd is founded in 1979 by a group of Buddhists who are enthusiastic in propagating the teachings of the Buddha. Our aim is to introduce and propagate the dharma teachings through our products and services.
We have the best collection of Chinese and English Buddhist books in Singapore.
Besides books, we provide a wide range of other products which includes CDs, cassettes, Buddha statues, Buddhist pendants, incense, candles, chanting beads,instruments, rosaries, Buddhist monks' robes, bags, shoes and other Buddhist accessories.
To propagate Dharma, we also print & publish selected Chinese/English Buddhist books and sutras for free distributions.
We aim to provide our best products and services to our customers at the most competitive rates. Our net proceeds, after meeting all operating and development expenses, are used to fund Buddhism and charitable activities.
We would like to thank all Buddhist organizations, Venerable and all brothers and sisters in the Dharma for the kind assistance and support rendered to us.
Please browse at your leisure and should you have any enquiries. Please feel free to contact us at tel: (65) 6220 6360
May All Beings Be Well and Happy!
---
Fo Kuang Shan Tsung-Lin University
Address: FO KUANG SHAN, TA SHU, KAOHSING, TAIWAN, REPUBLIC OF CHINA KAOHSING
Tradition: Mahayana
Phone: 07-6561921
Fax: 07-6561593
E-mail: stnc@fgs.org.tw
Find on:


Main Contact: Short-term Monastic Organizing Committee Email (Phone: 07-6561921)
Notes and Events:
An Extraordinary Invitation for you!
An extraordinary vacation. A transcendental trip.
Fo Guang Shan Short Term Monastic Retreat
– your top choice for a winter vacation
Enter into the monastic life and experience a taste of freedom!
Explore your inner world, and focus your mind.
This trip will energize your life, pave the future with confidence, and let you make the most of your life.
This retreat will be held from Jan 27th ~ Feb 2nd, 2008. This program is especially for young single adult between the ages of 18 and 35, either studying for, or completed a college degree or higher.
Let yourself experience the pure mind and get ready to meet the challenges ahead in the coming New Year with greater physical, emotional, and mental endurance and ability.
Life is a process of experience – what we think will shape our lives. Take the first step and join us through filling in the application form on our Fo Guang Shan Web page http://www.fgs.org.tw and email the completed form to fgsastw88@fgs.org.tw or contact us through: Attn: Short Term Monastic Retreat, Fo Guang Shan, 840 Kaohsiung Ta Shu, Taiwan. Tel: 886-76561921 ext 2011/2022, Fax: 886-76561593
Leaving the home, freedom of body and mind,
Let yourself keep up with flow of the spiritual life!

---
Garden Shartse Dro-Phen Ling
Address: 12 Guillemard Lane Singapore 399878
Tradition: Vajrayana, Gelugpa
Phone: 65 6344 9521
Fax: 65 6345 260
E-mail: contactus@drophenling.com
Website: http://www.drophenling.com/
Find on:


Spiritual Director: HE Lati Rinpoche
Notes and Events:
Introduction
Our Mission
Gaden Shartse Dro-Phen Ling (GSDPL) was established in the aim of propagating the pure teachings of Lord Buddha Shakyamuni, as well as promoting Tibetan Buddhism, especially the Gelug lineage of Lama Tsong Khapa, in Singapore. We hope to provide a conducive environment for one's dharma study and meditation and be a place for dharma friends to gather and practise together.
Our Roots
Gaden Shartse Dro-Phen Ling is a direct collegiate affiliate of Gaden Shartse Norling College. Gaden Shartse Monastery is a distinguished monastic institution originating from Tibet, which later reestablished in Mundgod, South India.
The first part of our name "Gaden Shartse" symbolize that our roots hail from Gaden Shartse Monastery. The second part of our name "Dro-Phen Ling" was auspiciously conferred upon by His Holiness the 14th Dalai Lama in Gaden Monastery in the December of 2001.
We managed to find an appropriate premise for the location of the centre, and officially started in July 2002. Gaden Shartse Dro-Phen Ling continues to grow from strength to strength with a current base of 3,000 members.
What we offer
Other than regular teachings and large-scale pujas held for the public, GSDPL also conduct pujas on a personal basis upon request. Pujas help one increase merits, invokes ripening of positive potential, and pacifies the negative conditions, ultimately helping to clear one's obstacles. We have resident elderly Old Geshes who are very experienced in the art of divination; upon request, they can help determine various pujas that will be beneficial to each individual.
Kindly visit the centre personally should you visit to request for a divination to be done. Thank you.
Join us at no membership fee
Membership is free in GSDPL. Joining us as a member enables you to receive first-hand news of our events or upcoming visits of great Masters. Members can also enjoy discounts on selected items at GSDPL. We are passionate about dharma, and hope that dharma can be shared with as many people, as far as wide as possible. Click here to join as member, or you may sign up directly at our centre. Feel free to contact us at 63449521 / 63420806 for any further information. Thank you.
---
Garia Bauddha Sanskriti Samsad
Address: 21/1 MILON PARK, KOLKATA-700084 Kolkata Bangla
Tradition: Theravada
Phone: 91-033-24300885
E-mail: sugata.barua@yahoo.co.in/ asisbarua@yahoo.co.in
Find on:


Main Contact: MR. ASIS BARUA Email (Phone: 91-9830409576)
Spiritual Director: SAMADHIPRIYA BHIKSHU (Phone: 91-9831781670)
Notes and Events:
This organisation is mainly a monastery/temple oriented buddhist cultural organisation. It is situated at south calcutta. A magazine called ATTADIP is published by this organisation beside holding religious ceremonies within the temple. This organisation also runs a charitable Homeo Dispensary and whenever possible involves in social works. For further information please contact Mr. Asis Barua, General Secretary of the organisation at 91-033-24308907 (after 20 hr.indian standard time) or 91-9830409576.
---
First Previous 48 49 50 51 52 53 54 55 56 57 58 59 60 61 62 63 64 65 66 Next Last