United States of America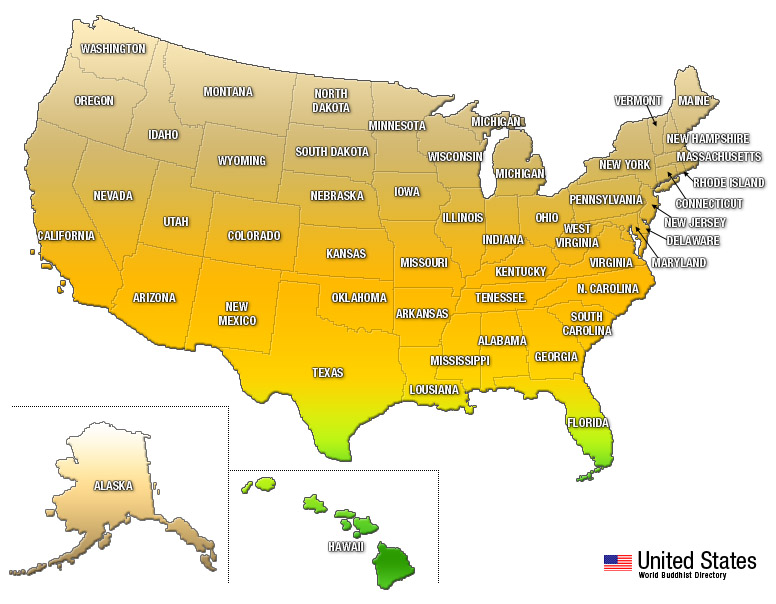 There were 2420 results matching your query.
First Previous 73 74 75 76 77 78 79 80 81 82 83 84 85 86 87 88 89 90 91 Next Last
Ganden Ling Buddhist Center
Address: 4813 North MacArthur Boulevard Oklahoma City OK 73122
Tradition: Vajrayana, New Kadampa Tradition (NKT-IKBU) Tibetan
Affiliation: Manjushri Kadampa Meditation Center, Ulverston, England
Phone: 405-470-5543
Website: http://www.meditationinoklahoma.org
Find on:


Spiritual Director: Geshe Kelsang Gyatso
Main Contact: Kelsang Namdrol Email (Phone: 405-470-5543)
Teacher: Kelsang Namdrol
Notes and Events:
Ganden Ling Buddhist Center is an American Buddhist Meditation Center in Oklahoma City. The Center provides meditation classes and teachings in Oklahoma. Taught by Americans, the meditation classes are very easy to understand and apply in our daily lives. The classes are suitable for both beginners and more advanced meditation practitioners. Do not hesitate to check out a meditation class and see for yourself!
---
Gateless Gate Zen Center
Address: 1208 NW Fourth Street Gainesville FL 32601
Tradition: Mahayana, Korean Chogye Zen
Affiliation: Kwan Um School of Zen
Phone: (352) 336-1517
E-mail: meditation@gatlessgate.org
Website: http://www.gatelessgate.org/
Find on:


Head Dharma Teacher: Janet Griswold
Teacher: KC Walpole, Bodhisattva Teacher
Notes and Events:
Meditation, chanting, and zazen each evening.
Beginners meditation instruction and dharma talk Monday evenings at 6:30.
Prison outreach and retreats on regular basis with Florida Department of Corrections inmates.
Residency program available.
---
Gay Buddhist Fellowship
Address: San Francisco CA 94114
Tradition: Non-Sectarian
E-mail: inquiry@gaybuddhist.org
Website: http://www.gaybuddhist.org
Find on:


Notes and Events:
An Inclusive and Caring Community

The Gay Buddhist Fellowship supports Buddhist practice in the Gay community. It is a forum that brings together the diverse Buddhist traditions to address the spiritual concerns of Gay men in the San Francisco Bay Area, the United States, and the world. GBF's mission includes cultivating a social environment that is inclusive and caring.
Meetings

Every Sunday at 10:30am we meditate together for 30 minutes, followed by a talk or discussion till 12 noon. Everyone is then welcome to stay and socialize over refreshments till approximately 12:30, after which those who are interested usually go somewhere local for lunch.
Please visit our website for an archive of over 300 recorded talks.

Our sittings are held at the San Francisco Buddhist Center, 37 Bartlett Street (between Mission and Valencia Streets) Look for the red door near 21st St.
MUNI: 14/Mission or 49/Van Ness-Mission. Alight at 21st St, walk 1/2 block
BART: 24th and Mission, walk 3.5 blocks
PARKING: on street (meters free on Sundays) or in adjacent New Mission Bartlett Garage.
The Center is handicapped accessible.
Mail correspondence:
GBF
2215-R Market St. #456
San Francisco, CA 94114


---
Gay Mens Buddhist Sangha
Address: 57 Hartford Street San Francisco CA 94114
Tradition: Non-Sectarian
E-mail: gmbsmail@yahoo.com
Website: http://www.gaysangha.org
Find on:


Contact: Albert Kaba
Notes and Events:
Meets every Sunday from 3 to 5 pm in the zendo of the Hartford Street Zen Center
2215-R Market St. #162 San Francisco CA 94114
---
Georgia Meditation Circle
Address: 4522 Tilly Mill Road Atlanta GA 30060
Tradition: Theravada, Dhammakaya Foundation
Affiliation: Atlanta Meditation Center
Phone: 678-887-3828
E-mail: missbee@gmail.com
Website: http://members.tripod.com/dimc_at/main.html
Find on:


Meditation Coach: Nat Intakanok Email (Phone: 404-259-5739)
Teacher: Venerable Bendit
Main Contact: Bee Intakanok Email (Phone: 678-887-3828)
Meditation Assistant: Daniel Prete Email (Phone: 770-864-0868)
Spiritual Director: Venerable Nah Email (Phone: 770-452-1111)
Notes and Events:
The Georgia Meditation Circle an affiliate of the Atlanta Meditation Center Dhammakaya foundation promotes meditation and spiritual awareness. It is said that all happiness, ordinary and sublime, is achieved by understanding and transforming our own mind. The mind is not a physical thing that has thoughts and feelings; it is the totality of our conscious and unconscious experiences.
The mind can be compared to an ocean, and momentary mental events such as happiness, irritation, fantasies, and boredom to the waves that rise and fall on its surface. Just as the waves can subside to reveal the stillness of the oceans depths, so too is it possible to calm the turbulence of our mind to reveal its natural clarity. The ability to do this lies within the mind itself and the key to the mind is meditation.
"Unlocking the door of ancient wisdom for modern times".
Our meditation sessions are conducted by Buddhist monks who have ordained for 10 or more years.
They are eager to teach western people their technique and wisdom on meditation methods, benefits and knowledge gained from meditation, and our true purpose.
Every session will be inspiring and will help encourage one to meditate.
Though many of us are aware that meditation can help with stress, there is still so much more to learn from benefits of meditating.
We constantly need to be reminded and encouraged to meditate otherwise it is very easy to forget and realize how meditating can be beneficial to our overall well being.
Every Wednesday Evening:
7:00-7:10pm Stretching
7:10-7:20pm Orientation Intro
7:20-8:00pm Guided Meditation
8:00-8:10pm Q&A
8:10-8:30pm Buddhist Philosophy Discussion
Location:
4522 Tilly Mill
Atlanta, Ga 30360
---
Glass City Dharma
Address: La Galeria 1224 - 1226 Broadway Toledo OH OH
Tradition: Theravada
Phone: (408) 717-3350
E-mail: stephanie_tate7@yahoo.com
Website: https://www.facebook.com/InsightToledo
Find on:


Teacher: Stephanie Tate
Notes and Events:
Glass City Dharma is a weekly Vipassana Meditation Group based in Toledo, OH. Weekly meditation and Dharma discussion is every Thursday evening from 7 - 8:30 p.m. EST.
Additional day longs and retreats are scheduled periodically.
---
Glen Ard Abbey
Address: 888 Saxtons River Road Saxtons River VT 05154
Tradition: Mahayana, Celtic Buddhism
Affiliation: Celtic Buddhist Lineage
Phone: 802-8694496
E-mail: sistergriffin@glenardabbey.com
Website: http://glenardabbey.com
Find on:


Main Contact: Sr Griffin Email
Dana offerring: A teacher or Senior monk will answer questions on practice Email
Teacher: Ven Seonaidh Perks
Notes and Events:
MAil to PO Box 622 Saxtons River VT 05154
AnaDaire Celtic Buddhist Center and Glen Ard Abbey offer daily morning and evening mediation Monday-Saturday. On Sundays, meditation, liturgy and a dharma talk are given at AnaDaire. Beginning instruction in meditation is always offered.
Glen Ard Abbey offers full time residential Celtic Buddhist training for monastics as well as residential training for lay people interested in coming in for a period of time to explore and strengthen their practice. We also have a cybermonk page for people to ask questions pertaining to their practice.
AnaDaire Celtic Buddhist Center offers various retreats on the Celtic Buddhist Arts, environmental living, family wilderness retreats, and more. AnaDaire also offers various training practices for mendicants, home dwellers, and anyone interested in exploring this world within the context of the Dharma.
AnaDaire and The Celtic Buddhist Lineage also has affiliates in Ireland.
For more information on Celtic Buddhism or on any of our programs, please contact us at:celticbuddhism@gmail.com or at sistergriffin@glenardabbey.com
---
Grafton Peace Pagoda
Address: 87 Crandall Road Petersburgh NY 12138
Tradition: Mahayana
Affiliation: Nipponzan-Myōhōji
Phone: +1 (518) 658-9301. (Please call between 7:00 and 9:00pm)
Website: http://www.geocities.com/dharmadoors/grafton_peace_pagoda.html
Find on:


Spiritual Director: Jun Yasuda
Notes and Events:
All are welcome to attend morning and evening meditation/chanting sessions held at the recently completed Japanese style temple on the Pagoda grounds.

Spring & Summer Schedule:

5:00 AM - 6:30 AM
6:00 PM - 7:00 PM
(During the winter, the morning session begins one hour earlier and the evening session begins one hour later.)
---
Grand Rapids Buddhist Temple
Address: 156 E Fulton Grand Rapids MI
Tradition: Mahayana
Affiliation: Taego Order
Phone: 616-822-2465
E-mail: deokwun@grzen.org
Website: http://www.grzen.org
Find on:


Main Contact: Deok Wun Sunim Email (Phone: 616-822-2465)
Teacher: Deok Wun Sunim
Spiritual Director: Deok Wun Sunim Email (Phone: 616-822-2465)
Notes and Events:
Sunday 10:00am Sunday Service Monday 6:30pm Buddhist-based Addiction Recovery Tuesday & Thursday (45 min) 12:00pm Chanting & meditation 5:30pm Chanting & meditation, except Thursday, which is a public teaching and discussion 3rd Saturday, (Jan – April) 8:00am Morning of Mindfulness Full Moon Each Month 5:30pm Mantra Chanting Meditation.
---
Great Mountain Zen Center
Address: 1110 Sparta Drive Lafayette CO 80026
Tradition: Mahayana, White Plum Asangha, Zen Peacemakers
Affiliation: Zen
Phone: 720-890-1800
E-mail: gmzc@gmzc.org
Website: http://www.gmzc.org
Find on:


Main Contact: Gerry Shishin Wick Email
Teacher: Ilia Shinko Perez
Spiritual Director: Gerry Shishin Wick
Notes and Events:
Traditional Zen practice daily, with weekend or weeklong retreats every month. In addition, Great Heart practice extends traditional Zen to bring non-judgemental awareness to resolve shadow images, fixed beliefs and negative karma. All sincere seekers are welcome to join.
---
Great River Zendo
Address: 156 Sabino Road West Bath ME 04530
Tradition: Mahayana, Shunryu Suzuki Soto Zen lineage
Affiliation: San Francisco Zen Center
Phone: (207) 443-4745
E-mail: info@greatriverzendo.org
Website: http://www.greatriverzendo.org
Find on:


Spiritual Director: Zenshin Tim Buckley Email (Phone: (207) 443-4745)
Teacher: Yozen Peter Schneider
Guest Teacher: Kotatsu John Bailes Email
Main Contact: Zenshin
Notes and Events:
Daily zazen and services, Saturday (West Bath) and Thursday (Portland) talks.

---
Great Wave Zen Sangha
Address: 608 E. Ludington Avenue Ludington MI 49431
Tradition: Mahayana, Soto Zen, White Plum line
Phone: 231-843-7116
E-mail: contact@greatwave.org
Website: http://www.greatwave.org
Find on:


Main Contact: http://greatwave.org/contact Email (Phone: 231-843-7116)
Spiritual Director: John Gendo Wolff, Sensei
Notes and Events:
Located near the shore of Lake Michigan in the city of Ludington, Great Wave is a small Sangha affiliated with the White Plum Asanga, established by Taizan Maezumi Roshi.
Orientations to the zendo generally take place 6:00 – 7:20 PM on the last Sunday of each month. Regular Meditation meetings take place each Thursday and Sunday evening, 7:30-8:30 PM. Occasional Dharma talks are also offered by resident teacher Gendo Sensei. Gendo Sensei is also available for speaking engagements and to perform marriages, funerals, and blessings. Please use the contact form on our website for further information or to make inquiries.
Retreat and other event information is provided on the website at http://greatwave.org.

---
Great Wisdom Meditation Center
Address: 4303 Division Street Wayland MI 49348
Tradition: Mahayana, Resident Head Monk: Thai Tue, student of Tich Thanh Tu; Vietnamese Zen
Phone: 616-877-4075
E-mail: info@greatwisdommeditationcenter.org
Website: http://www.Greatwisdommeditationcenter.org
Find on:


Spiritual Director: Ven. Thai Tue
Notes and Events:
Using a unique blend of Vipassana and Zen teachings, Thai Tue helps students understand the true nature of our lives and our suffering.
Teachings in Vietnamese are 11am-1pm Sundays
Teachings in English are 7pm-9pm Sundays.

---
Green Island Sangha/Community of Mindfulness Long Island
Address: of the Community of Mindfulness/New York Metro 28 Brentwood Road, Bayshore NY 11706 NY
Tradition: Mahayana, The Community of Mindfulness/NY Metro [CMNY]
E-mail: grnislandsangha@aol.com
Website: http://greenislandsangha.blogspot.com/
Find on:


Contact: Karen or Jeanne Email
Spiritual Director: Zen Buddhist Master Thich Nhat Hanh
Notes and Events:
The Green Island Sangha is inspired by the teachings and practice of Vietnamese Zen Buddhist Master Thich Nhat Hanh; we belong to the international Sangha which he founded: the Order of Interbeing, a "fourfold community" of lay women and men, nuns and monks. We are a grassroots Sangha, beginners and more experienced practitioners learning from and supporting one other on the path of awakening. We are also a part of The Community of Mindfulness New York Metro.

Our aspiration is to bring mindfulness, concentration, and insight to daily living. During our sessions, we apply the practice of conscious breathing to sitting and walking, as well as communicating with compassionate listening and loving speech. Our gatherings also reflect the values of openness. For example, many members continue to participate within other religious or ethical traditions. We are a Sangha of practitioners from the entire length and breath of Long Island and consider ourselves to be part of a world wide Sangha. Beginners are welcome.

---
Green Mountain Zen Center
Address: 5014 Sunset Bluff Drive, Huntsville, AL 35803-1941 Huntsville AL 35803-1941
Tradition: Mahayana
Affiliation: Zen Master Bomun, Single Flower Sangha
Phone: (256) 426-3344
E-mail: kawajimg@gmail.com
Website: http://www.gmzc.us/
Find on:


Teacher: Bodhin Gary Beard Email (Phone: 256 655-9017)
Main Contact: Jim Gordon Email (Phone: 256 426-3344)
Teacher: Shogen Jim Gordon
Spiritual Director: Bomun George Bowman
Notes and Events:
A Zen group meeting twice weekly, and practicing an ecumenical form of Zen, affiliated with Zen Master Bomun George Bowman and his Single Flower Sangha. We hold four weekend Sesshin (Zen meditation retreats) per year, with two led by Zen Master Bomun.
Web site: www.gmzc.us
---
Guhyasamaja Buddhist Center
Address: 10875 Main St. Unit 108 Fairfax, VA 22030 Centreville, VA VI 20122
Tradition: Vajrayana, Tibetan, Gelugpa (FPMT)
Affiliation: FPMT
Phone: 703-774-9692
E-mail: director@guhyasamaja.org
Website: http://www.guhyasamaja.org
Find on:


Main Contact: Lorne Ladner Email (Phone: 703-774-9692)
Teacher: Gyumed Khensur Rinpoche Losang Jampa
Spiritual Director: Gabe Mata Email (Phone: 703-774-9692)
Notes and Events:
The Guhyasamaja Center for Tibetan Buddhist meditation is a community of spiritual friends in the Washington DC area dedicated to the practice of Mahayana Buddhism. Our resident teacher, Gyumed Khensur Rinpoche Lobsang Jampa (Geshe Thinley Topgyal), is a retired abbot of Gyumed Tantric College. We follow the Gelugpa tradition, the same lineage as His Holiness The Dalai Lama. Visiting teachers who have graced the Center in the past include Ven. Lama Zopa Rinpoche, Ven. Kirti Tsenshab Rinpoche, and Yangsi Rinpoche.
Our Spiritual Director, Lama Zopa Rinpoche, founded the center in 1994 as part of the worldwide Foundation for the Preservation of the Mahayana Tradition. FPMT is an international family of city and retreat centers, monasteries, publishing houses, hospices, and healing centers established by Lama Yeshe.
---
Habitat of Buddha Yoga Inc
Address: 5908 67th Ave. N. Pinellas Park FL 33781
Tradition: Non-Sectarian
Affiliation: None
E-mail: habitat.usa@gmail.com
Website: http://habitatbuddhayoga.blogspot.com/
Find on:


Main Contact: Reverend Upananda T Dedunupitiye
Spiritual Director: Reverend Upananda T Dedunupitiye Email
Notes and Events:
The Habitat of Buddha Yoga, Inc (HBY) adheres to the Buddha's teaching that one does not have to be initiated or baptized as a Buddhist in order to be a Buddhist. While one adheres to one's religious/spiritual upbringing one has acquired since birth, one must be able to respect all the religions; one can be a Buddhist, as one embark upon and continue a life-long process of self-transformation through Buddha Yoga (=mental cultivation) which is specifically known as "Vipassana" (Insight) meditation only found in the Buddha's Teaching. Just as different rivers flowing from different directions become one on emptying themselves into the ocean, people from different religio-cultural backgrounds become one, as they "sit together" for self-transformation, whose ultimate step is "Absolute Awakening" (Nirvana). Unless Awakening of the moment is achieved in daily life, Nirvana will only be a dream or fantasy. The HBY welcomes people from all walks of life and different religio-cultural backgrounds to congregate together and journey into the mind wherein lays the potential of Nirvana, or Buddha Nature. The Buddha Nature remains hindered by fermentations gradually built up, as life is lived in a stressful and disharmonious way. Buddha's Teaching is not only for Buddhists but also for all beings. The HBY wishes you a life full of wellness, happiness and peace.
---
Healing Springs in the Pines Sangha
Address: Congregational Church of Pinehurst Linden Road Pinehurst NC
Tradition: Mahayana, Zen Buddhist Master Thich Nhat Hahn
Affiliation: Community of Mindful Living
Phone: (910) 9149-2623
E-mail: emilywhittle@centurylink.net or johnrbowman@centurylink.net
Find on:


Spiritual Director: Thich Nhat Hanh
Contact: John Bowman Email (Phone: 910-949-2623)
Teacher: Emily Whittle
Notes and Events:
Meets on Sundays, 4-6 PM in the Fellowship Hall of the Congregational Church of Pinehurst. Activities include sitting and walking meditation, Dharma sharing, and sponsoring Days of Mindfulness.
---
Heart Circle Sangha
Address: 451 Hillcrest Road, Ridgewood, NJ 07450 Ridgewood NJ 07450
Tradition: Mahayana, Zen White Plum Asangha
Affiliation: White Plum Asangha
Phone: 877442-7936
E-mail: info@heartcirclesangha.org
Website: http://www.heartcirclesangha.org
Find on:


Teacher: Joan Hogetsu Hoeberichts, Sensei
Spiritual Director: Rev. Joan Hogetsu Hoeberichts Email (Phone: 201-445-1874)
Notes and Events:
We offer meditation instruction every Sunday morning at 8:45; regular zazen periods, Sundays, Monday evenings, and Weds mornings. Sunday morning programs include service and dharma talks followed by discussion. Residential retreats are twice a year, householder retreats and workshops approximately four a year. Precept study and koan study available.
For more information please go to our website.
---
Heart Of Dharma- Prajna Center
Address: 1109 Main St. Suite 329 Boise ID 83702
Tradition: Vajrayana
Phone: 208 921-4062
E-mail: cdhill@cableone.net
Website: http://www.heartofdharma.org/
Find on:


Main Contact: Charlie Hill Email
Teacher: Dana Marsh
Spiritual Director: Dana Marsh
Notes and Events:
Heart of the Dharma is a 501(c)(3) non-profit organization committed to providing an avenue for spiritual seekers to meet with the liberating wisdom teachings of the Buddha. We are dedicated to sharing the essence, or heart, of Buddhas teachings and making them widely available to everyone regardless of background. The Buddha taught the way out of suffering. Awakening to the truth of the way things are is possible. The result is freedom and happiness.
Venue: Located in the Owyhee Plaza Hotel.
---
Heart of the Dharma Fort Collins Sangha
Address: Fort Collins CO 80521
Tradition: Non-Sectarian, Based on the Prajnaparamita
Phone: 970.818.1278
E-mail: MarissaSutfin@gmail.com
Website: http://www.heartofdharma.org
Find on:


Spiritual Director: Dana Marsh
Main Contact: Marissa Sutfin Email (Phone: 970.818.1278)
Notes and Events:
We meet every Wednesday night from 6:30pm-8pm at a private residence for mediation, tea, and teachings from Dana Marsh. Our practice is rooted in the Prajnaparamita, or the "heart essence" of Buddhas teachings. Everyone is welcome regardless of background! Please contact Marissa, the Fort Collins Coordinator, with questions or for more information on location and practice.
---
Heruka Buddhist Center - Laramie Branch
Address: The Second Story Bookstore 105 Ivinson Ave. Laramie, WY 82070
Tradition: Vajrayana, New Kadampa Tradition Tibetan
Phone: 970-482-7613
E-mail: info@meditateinfortcollins.org
Website: http://meditateinfortcollins.org
Find on:


Teacher: Kelsang Rinzin
Spiritual Director: Geshe Kelsang Gyatso
Main Contact: Education Program Coordinator Email (Phone: 970-482-7613)
Notes and Events:
Weekly drop-in classes in meditation and Buddhism, currently scheduled for 6pm Monday evenings
---
Hokyo-Ji
Address: 2649 County 5 Eitzen MN 55931
Tradition: Mahayana, Dainin Katagiri
Affiliation: Soto Zen
Phone: 507-542-4968
E-mail: hokyoji@lycos.com
Website: http://www.hokyoji.org
Find on:


Teacher: Dokai Georgesen
Notes and Events:
Founded more than 30 years ago by Dainin Katagiri, Hokyoji makes residential practice in a secluded natural setting available to experienced long-term and visiting practitioners from around the country. Hokyoji's connection to nature and its history as a place of inspiration and renewal make it a unique and powerful location for communal practice. In addition, it's the only place in the Midwest where teachers can bring their own sanghas and lead their own sesshins and retreats within their own styles and traditions.
The annual practice calendar includes sesshin, practice periods, work retreats, and a mindfulness weekend. Complete information about practicing at Hokyoji is available at our website.
---
Hollow Bones Sangha
Address: 2020 South Webster Ave. Green Bay WI 54301
Tradition: Mahayana, Founded in 1998 by Roshi Junpo Kando Denis Kelly, dharma heir to Eido Shimano Roshi of the Dai Bosatsu Monastary in New York. The Sangha has centers in Green Bay, Appleton, Oshkosh, Jackson
Affiliation: Rinzai Zen
Phone: 920-562-9727
E-mail: jnemick@new.rr.com
Find on:


Priest: MaDhyana Kathleen Kelly-Hoffman (Phone: 920-445-7221)
Main Contact: Vimala John Nemick Email (Phone: 920-562-9727)
Teacher: Vimala John Nemick
Notes and Events:
With multiple locations in Wisconsin, the Sangha offers a host of events; full seven days Sesshins, week-end sits, one day events, evening presentations and regular meditation schedules.
---
Holston Valley Sangha
Address: 108 W 10th Avenue, Suite 3 Johnson City TE 37604
Tradition: Non-Sectarian
E-mail: dharma4et@gmail.com.
Website: http://www.dharma4et.org
Find on:


Notes and Events:
The Holston Valley Sangha (now called the Western Buddhist Group) meets every Friday evening from 7:00 pm to about 8:30 pm at the Appalachian Dharma & Meditation Center in Johnson City, Tennessee.
Northeast Tennessee area (Sullivan, Hawkins, Greene, Washington, Carter, Johnson and Unicoi counties).
Please visit our web site for details. All are welcome
---
First Previous 73 74 75 76 77 78 79 80 81 82 83 84 85 86 87 88 89 90 91 Next Last