United States of America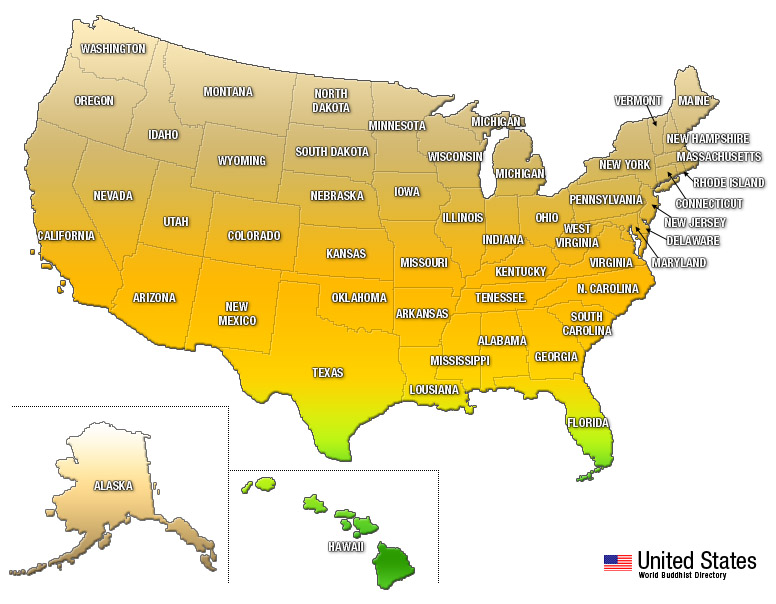 There were 2408 results matching your query.
First Previous 79 80 81 82 83 84 85 86 87 88 89 90 91 92 93 94 95 96 97 Next
Oklahoma Nichiren Shoshu Hokkeko
Address: 2235 W Britton Road Oklahoma City OK
Affiliation: Myohoji Temple, Los Angeles, CA
Find on:


Main Contact: Michael Heffron Email (Phone: 405-751-8360)
Notes and Events:
Contact for Nichiren Shoshu Hokkeko members or persons interested in Nichiren Shoshu Buddhism.
---
Oklahoma Rime Foundation
Tradition: Vajrayana
E-mail: info@oklahomarime.org
Website: http://www.oklahomarime.org
Main Contact: James Martin Email
Notes and Events:
The Oklahoma Rim&eaut; Foundation is a nonsectarian organization whose primary goal is to bring qualified Tibetan spiritual teachers into our communities to live and teach, and to form conditions that will enable dedicated spiritual practitioners in our communities to engage in spiritual study and retreat.
---
One Dharma Nashville
Address: 2301 12th Avenue South, Suite 202 Nashville TE 37204
Tradition: Non-Sectarian, open to all Buddhist traditions
E-mail: lisa@lisaernst.com
Website: www.onedharmanashville.com
Find on:


Spiritual Director: Lisa Ernst Email
Teacher: Lisa Ernst
Notes and Events:
One Dharma Nashville reflects an emerging Western Buddhism that integrates the teachings of the major traditions and focuses on the key practices of mindfulness, lovingkindness and compassion. We meet on Monday nights at the 12South Dharma Center from 7 - 8:30. Our program includes meditation, chanting and discussion. We also meet two Saturdays per month for a dharma study group, 10 - 11:30, and the third Wednesday night of each month 6:30 - 8 p.m for a "new meditators" night. More information is available at our website, www.onedharmanashville.com.

---
Open Door Sangha
Address: Santa Barbara CA 93101
Tradition: Theravada
Affiliation: In the tradition of Spirit Rock, IMC, IMS
E-mail: opendoormeditation@gmail.com
Website: http://insightmeditationsb.org
Find on:


Notes and Events:
We are a peer-led group offering three weekly sitting groups (one including a dharma talk by a senior student), classes and daylongs led by senior students, and weekend non-residential retreats taught by visiting teachers from several streams of Buddhism, but mostly in the Theravadan/Insight tradition.
Details of our current schedule can be found on our website and on our Facebook page, Open Door Sangha of Santa Barbara.
---
Open Heart Sangha
Address: 97 Main Street Yarmouth ME 04096
Tradition: Mahayana
Affiliation: Engaged Zen Buddhism
Phone: 207-774-1599
E-mail: dtrafton@maine.rr.com
Website: http://www.openheartsangha.org
Find on:


Teacher: Thich Nhat Hanh
Main Contact: Dave Trafton Email (Phone: 207-749-3396)
Notes and Events:
Open Heart Sangha is a meditation group that practices mindfulness in the tradition of Zen master Thich Nhat Hanh. We are an open and welcoming community for any and all who wish to practice with us. We offer sitting and walking meditation and dharma study every Monday from 6:30 - 8:00 p.m.
.See our website calendar for additional events.
---
Open Sky Sangha - an LGBT Buddhist Community
Tradition: Non-Sectarian
Phone: 212-989-3456
E-mail: lawrence.grecco@gmail.com
Website: http://www.openskysangha.com
Main Contact: Lawrence Grecco Email (Phone: 212-989-3456)
Notes and Events:
Open Sky is a group of gay, lesbian, bisexual,straight, and transgendered people with a common interest in Buddhism. We are open to newcomers, seasoned Buddhists, and everyone in between. We meet on the 2nd and 4th Sunday of each month at the New York Insight Meditation Center in New York City.
We are dedicated to providing our members with a diverse and inclusive experience of the dharma. This means that we embrace the wide array of lineages and traditions that exist within Buddhism.
We are a completely self-sustaining and independent organization so we have complete autonomy with regard to our meeting formats and speakers. This gives us the freedom to explore and learn about different ways of meditating from different teachers. We have the unique opportunity to meet as peers and to speak freely about our individual approaches to practice.
We provide a space for reflection, discussion, mutual support, and learning. Each meeting begins with meditation instruction and a brief period of sitting. Our meetings focus on assigned readings as well as readings we will do as a group that cover a rich and diverse overview of relevant Buddhist teachings and topics.
Members are encouraged to share their personal experiences regarding their personal practice and spiritual journey.
We realize that all of us are both students and teachers at different moments of our lives--we all have something to teach and we all have something to learn.
Everyone is valuable and everyone is welcome regardless of religion, race, sexual orientation, gender identity, or previous meditation experience.
---
Order of Clear Mind Zen
Address: 642 South Alameda Boulevard, Suite E Las Cruces NM 88005
Tradition: Mahayana, Soyu Matsuoka-roshi
Affiliation: Independent
Phone: 575-680-6680
E-mail: clearmindzen@yahoo.com
Website: http://www.clearmindzen.org
Find on:


Spiritual Director: Rev. Daiho Hilbert-roshi Email (Phone: 575-680-6680)
Notes and Events:
The Order of Clear Mind Zen is an Engaged Zen sangha. We have established sanghas in El Paso, Texas, northern California, and Las Cruces, New Mexico. We provide daily zazen services, educational services, monthly zazenkai and quarterly sesshin. We practice both in Zendo and on the streets.
---
Order of the Lotus Blossom
Address: Lincoln, Nebraska Lincoln NE
Tradition: Mahayana, Hui Neng
Affiliation: Zen Buddhism
Phone: 4024504668
E-mail: sangha@lotustemple.us
Website: http://www.lotusblossom.us
Find on:


Spiritual Director: Ven. Fajian Shakya, Abbot
Notes and Events:
The Order of the Lotus Blossom (OLB) is a Zen Buddhist Brother- and Sisterhood. It consists of novices and ordained members, who are committed to a mindful life style, but not necessarily within the confines of a community, center or monastery.
---
Orgyen Khamdroling Dharma Center
Address: 3300 Josephine Street Denver CO 80205
Tradition: Vajrayana, Nyingma
Phone: 1-720-208-0651
Fax: 1-720-208-0651
E-mail: info@orgyenkhamdroling.org
Website: http://www.orgyenkhamdroling.org
Find on:


Spiritual Director: Anyen Rinpoche
Notes and Events:
Sitting meditation practice is regularly scheduled on Thursday evenings from 6:30 to 7:30
Sunday evening practices rotate between Medicine Buddha, Phowa, Vajrasattva and selected public talks given by Anyen Rinpoche.
Medicine Buddha Monlam occurs every June; Shedra meets for four weekends in the Fall and Winter; a week long Nyungne retreat in July or August is organized yearly; and book study groups are scheduled at various times.
Orgyen Khamdroling, the spiritual community of Anyen Rinpoche, welcomes new Dharma practitioners, and supports lifelong commitment to Dharma. Anyen Rinpoche, a traditionally trained teacher, speaks fluent English and reaches out to his students by name. Rinpoche's strong devotion to his pure lineage of Dharma teaching has motivated him to establish a place for teaching in the US. Seated in Denver, Colorado, the Orgyen Khamdroling Sangha strives to create a warm, friendly and supporting environment.
Please introduce yourself and ask any questions you may have - we are happy you are here.
More information can be found at www.orgyenkhamdroling.org

---
Original Buddhism Society
Address: 30-20 Parsons Blvd. Flushing NY 11354
Tradition: Theravada, Original Buddhism
Affiliation: Original Buddhism Society, Inc.
Phone: 718-321-3380
E-mail: arahant.usa@gmail.com
Website: http://www.arahant.org
Find on:


Main Contact: Bhikkhu Aticca Email (Phone: 718-321-3380)
Teacher: Ven. Bhikkhu Vupasama
Notes and Events:
Friday afternoon in Chinatown, New York
7PM ~ 8:30PM: the original teaching of the Buddha Sakyamuni & mindfulness meditation
9PM ~ 11PM: watch the real-time video lectures by Ven. Bhikkhu Vupasama in
Mandarin
Location: Youth Buddhism Communications (in the basement)
Address: 55-59 Chrytie Street, Suite B101, Chinatown, NY 10002 (212)406-5109
Saturday vegetarian potluck lunch in Flushing, New York
11:30AM ~ 1:00PM: We will share our favorite vegetarian dishes together
Location: Original Buddhism Society
Address: 30-20 Parsons Blvd., Flushing, NY 11354
---
Original Zen Mind - Andre Halaw
Address: 291 Witherspoon Street Princeton NJ 08542
Tradition: Mahayana, Korean Zen in the lineage of Seung Sahn
Affiliation: Five Mountain Zen Order
Phone: 6093758936
E-mail: originalmindzen@gmail.com
Website: http://www.originalmindzen.com
Find on:


Main Contact: Rev. Andre Doshim Halaw
Spiritual Director: Rev. Andre Doshim Halaw Email (Phone: 6093758936)
Notes and Events:
Original Mind Zen Sangha, founded by Rev. Andre Dōshim Halaw, is a community of Zen practitioners in the lineage of Korean Zen Master Seung Sahn. Our purpose is to support one another on the Buddhist Path, to wake up to our true, original mind (Buddha nature), and to manifest this inherent perfection in our everyday lives.
Please come join us for meditation, Dharma talks, and Zen services. We meet on Sunday evenings from 7-9 p.m. All are welcome.
---
Oxbow Zen Sangha
Address: Concord Friends Meeting 11 Oxbow Pond Rd Canterbury, NH 03224 Concord NH NH 03301
Tradition: Mahayana
Affiliation: Vermont Zen Center
Phone: 603-783-04401
E-mail: gregoryheath@comcast.net
Website: http://www.vermontzen.org/lineage_centers.html
Find on:


Teacher: Sunyana Graef, Sensei

---
Oxford Soto Zen
Address: 606 McLarty Oxford, MS 38655 Oxford MS 38655
Tradition: Non-Sectarian
Phone: (662) 816-6370 or (408) 691-3539
E-mail: info@oxford-soto-zen.org
Website: http://www.oxford-soto-zen.org
Find on:


Main Contact: Jimmyle Listenbe Email (Phone: (408) 691-3539)
Notes and Events:
Offering meditation, Zen practice and Dharma study in the lineage of Shunryu Suzuki.
Sunday Mornings:
8:00 Set-up and newcomer orientation
8:30 Zazen (sitting meditation)
9:10 Kinhin (walking meditation)
9:20 Service: Ceremonial bowing & chanting
9:30 Soji (silent work period)
9:40 - 10:30 Dharma study
(lecture and/or discussion, with tea).
---
Ozarks Dharma Community
Address: 205 W. Walnut Street. Springfield MO 65806
Tradition: Theravada
Phone: 417-459-0665
E-mail: hjgraves56@gmail.com
Website: https://sites.google.com/site/buddhistgroupsite/
Find on:


Main Contact: Holly Email (Phone: 417-459-0665)
Notes and Events:
We practice sitting and walking meditation followed by a presentation of a discourse of the Buddha.

When: Saturdays 9 - 10:30 a.m.
and

The 2nd and 4th Wednesdays
of each month, 7 p.m.
(Sept. 2012 and Nov. 2012 only
we will meet the 2nd and 3rd Wed.)
Where:

Saturday group: 205 W. Walnut St. Springfield, MO 65806
We meet in the Body of Work Studio. Please click on the map link for directions. We are at the corner of South Ave and Walnut St. On the ground level is Staxx, we are in the basement of this building. You can park for free in the lot next to the building which is on the corner of Patton Alley and Walnut St.

Come to the Walnut street entrance and enter through the double glass doors, turn to your left and go down stairs. The door at the bottom of the stairs will be propped open. You will see a couple of small rooms one with a couch. Please take your shoes off and leave them there. This small room opens into a large room which is where we practice meditation. The racks to your left have cushions and blankets. We also have folding chairs behind the alcove. We have a couple of kneeling benches as well. Please ask for anything you don\'t see.
If you are new to the group and/or meditation, please arrive 10-15 minutes early for orientation.
---
Pacific Zen Institute
Address: 825 Sonoma Avenue, Santa Rosa, CA 95404 Santa Rosa CA 95404
Tradition: Mahayana, Koan Zen
Phone: 707-544-0540.
E-mail: santarosazen@gmail.com
Website: http://pacificzen.org/
Find on:


Teacher: David Weinstein Roshi Email
Main Contact: Santa Rosa Center director Email
Teacher: John Tarrant
Spiritual Director: John Tarrant Email
Notes and Events:
Pacific Zen Institute was founded by John Tarrant, Roshi 25 years ago as a way to teach that meditation and koans can have a real and direct impact​ on your life in all circumstances. Today there are a number of PZI centers in the US and Canada. Santa Rosa is the location of the original center. ​For more information about Pacific Zen Institute, retreats and programs, go to pacificzen.org .
Our PZI mission is to create a culture for transforming the mind through meditation, koans, conversation and the arts. We believe many impossible things, but the most impossible thing of all, that enlightenment is right here, is also the most true. And it's not so hard to have an experience of enlightenment. The trick is to notice it, and to embody the transformation, to live in the world that is transformed.

---
Padma Rigdzin Ling Buddhist Monastery
Address: 1210 Jessica Ave, Las Vegas NV 89104
Tradition: Vajrayana, Nyingmapa-Longchen Nyinthig
Affiliation: Nyingmapa Buddhist-Longchen Nyinthig
Phone: (208) 819 2205
E-mail: padmarigdzinling@yahoo.com
Website: http://www.padmarigdzinling.wordpress.com
Find on:


Main Contact: Esteban Castillo Email (Phone: (208)8192205)
Spiritual Director: Ven. Lama Jigme Namgyal Rinpoche Email
Notes and Events:
The intention of our Sangha is to help as many beings as possible to cultivate inner wisdom, peace and compassion through the overcoming of the negative emotions.
---
Padmasambhava Buddhist Center of Athens
Address: Sangha Yoga Studio 834 Prince Avenue Athens GA 30606
Tradition: Vajrayana, Nyingmapa Tibetan
Affiliation: Padmasambhava Buddhist Center International
Phone: 706.613.1143
E-mail: pbcathens@gmail.com
Website: http://www.healingartscentre.net/contact.html
Find on:


Spiritual Director: Ven. Khenchen Palden Sherab Rinpoche and Ven. Khenpo Tsewang Dongyal Rinpoche
Notes and Events:
We meet every Saturday from 12:30 pm - 1:30 pm for chanting (in Tibetan and English) and silent meditation. All are welcomed!

We are a Sangha in the Nyingma tradition of Tibetan Buddhism, affiliated with Padmasambhava Buddhist Center International. Our teachers and spiritual directors, Ven. Khenchen Palden Sherab Rinpoche and Ven. Khenpo Tsewang Dongyal Rinpoche, live in upstate New York.
---
Palchen Study Group Battle Creek
Address: 181 North Ave. #2 Battle Creek, MI 49017 Battle Creek MI 49017
Tradition: Vajrayana, Barway Dorje, Karma Kagyu
Phone: (269) 275-0090
E-mail: info@palchenbattlecreek.org
Website: http://www.palchenbattlecreek.org
Find on:


Notes and Events:
We are a Tibetan Buddhist meditation and study group.

---
Palyul Changchub Dargyeling D.C. Area
Address: 211 King Street Alexandria VI 22314
Tradition: Vajrayana, Palyul Nyingma Tibetan
Affiliation: Palyul Nyingma Tradition of Tibetan Buddhism
Phone: 703-370-9363
E-mail: palyuldc@gmail.com
Website: http://www.palyuldc.org/
Find on:


Head of Palyul Lineage of Nyingma: Drubwang Pema Norbu Rinpoche
Main Contact: Janet Borges Email (Phone: 703-370-9363)
Teacher: Khenpo Tenzin Norgey
Spiritual Director: Khenchen Tsewang Gyatso Rinpoche
Notes and Events:
Our Mission
Our mission is to offer authentic teachings and practices in the Tantric Buddhist traditions of the Nyingmapa, the ancient school of Tibet; and to create a gathering place and support structure for the D.C. area community for regular practice, instruction and study; and to preserve the teachings of Lord Buddha and of our lineage masters for future generations.
By following the authentic teachings transmitted to us through our spiritual teachers, our goals are to establish the Dharma in the world and to benefit all sentient beings. To do this, we offer a place for the community and for ourselves to practice the two accumulations — understanding through study, and realization through practice — to discover the living Dharma within ourselves, and to support each other in our practice and our lives.
Our Values
We present these principals to guide our actions: We strive to emulate the values personified by our teachers, including compassion for all beings, equanimity, patience, openness, ethical behavior, non-grasping, generosity, humility and simplicity. We strive to hold respect for each member of the Sangha (community) as a practitioner on the path of enlightenment, with no bias toward anyone who comes seeking Dharma instruction and community. We are committed to a democratic spirit among our members, with oversight and guidance from our spiritual teachers. Decisions are made in an open, honest and cooperative manner with organizational processes as transparent as possible. We conduct the affairs of the organization in compliance with all local, state, and national laws.
211 King Street, 3rd floor Old Town Alexandria, VA -Washington DC
---
Parbawatiya Buddhist Center
Address: 201 6th Avenue S Safety Harbor, Tampa Bay FL 34695
Tradition: Vajrayana, New Kadampa Tradition
Phone: (727) 797-9770
E-mail: info@meditationInTampaBay.org
Website: http://www.MeditationInTampaBay.org
Find on:


Teacher: Kelsang Chokyan
Spiritual Director: Ven. Geshe Kelsang Gyatso
Notes and Events:
At Parbawatiya Buddhist Center in Tampa Bay, we provide everything you will need to begin Buddhist meditation and the Buddhist way of life.
The Teachings and meditations offered provide the following benefits: improved relationships with others; the ability to think more positively; relaxation techniques; freedom from stress and practical advice for solving daily problems.
We organize meditation classes, study programs, special day courses, and retreats.
If you wish to read more about Buddhism we have a resources section and Buddhist books are available in our online shop
Parbawatiya Center offers classes on:

Meditation and Buddhism in Brandon
Meditation and Buddhism in Clearwater
Meditation and Buddhism in Largo
Meditation and Buddhism in Lutz
Meditation and Buddhism in New Port Richey
Meditation and Buddhism in St Petersburg
Meditation and Buddhism in North Tampa
Meditation and Buddhism in South Tampa.

---
Pariyatti
Address: 867 Larmon Road Onalaska 98570
Tradition: Theravada, U Ba Khin, S.N. Goenka
Phone: 360 978-4998
E-mail: info@pariyatti.org
Website: http://www.pariyatti.org
Find on:


Notes and Events:
Pariyatti is a nonprofit educational organization that seeks out, publishes and makes available Dhamma materials. We also offer many free resources (see Resources or click on an icon). Our intention is to inspire, to educate and to illuminate the seekers path.
---
Paths of Growth
Address: Phoenix AZ 85254
Tradition: Non-Sectarian
Website: http://pathsofgrowth.org/AZMedtnGps.shtml
Find on:


Main Contact: Steve Henes Email (Phone: 6029574496)
Notes and Events:
This is the most complete, most thorough, and most up-to-date listing of Buddhist centers, retreats, and other resources in the greater Phoenix area.
---
Peaceful Abiding Meditation Group
Address: 501 N. Broadway Shawnee OK 74801
Tradition: Non-Sectarian
Find on:


Main Contact: Jeff Green Email (Phone: 405-473-4701)
Notes and Events:
St. Augustine Room, Emmanuel Episcopal Church
Every Saturday from 11 to 12:30 p.m.
This is a drop-in meditation group open to people of all backgrounds. No prior experience in meditation is necessary. We focus on basic breathing meditation, walking meditation, and Loving-Kindness meditation.
If you will call or email us prior to your first visit, we will send you some basic instruction guides to help with your learning. Otherwise just come as you are and wear comfortable clothing.

---
Peaceful Heart Sangha
Address: Fort Collins CO 80526
Tradition: Mahayana
Affiliation: Community of Mindful Living, www.ccml.info
Phone: ( 970) 222-5590
E-mail: contact@bemindfulfortcollins.org
Website: http://www.bemindfulfortcollins.org
Find on:


Contact: Viviane Ephraimson-Abt
Notes and Events:
Sangha meets for sitting and walking meditation and dharma teaching and discussion on Sundays from 4pm-6pm
---
Peaceful Heart Sangha
Address: Unitarian Universalist Community Church 69 Winthrop St., PO Box 8 Augusta ME 04332-0008
Tradition: Mahayana
Affiliation: Thich Nhat Hahn - Order of Interbeing - Community of Mindfulness
Phone: 207-622-3232
E-mail: admin@augustauu.org
Website: http://www.augustauu.org
Find on:


Main Contact: Marty Soule
Notes and Events:
Every Mon & Wed 6:30 - 8 PM at UUCC
Sitting & Walking Meditation
readings/recitation 5 Mindfulness Trainings
Dharma Sharing
---
First Previous 79 80 81 82 83 84 85 86 87 88 89 90 91 92 93 94 95 96 97 Next