United States of America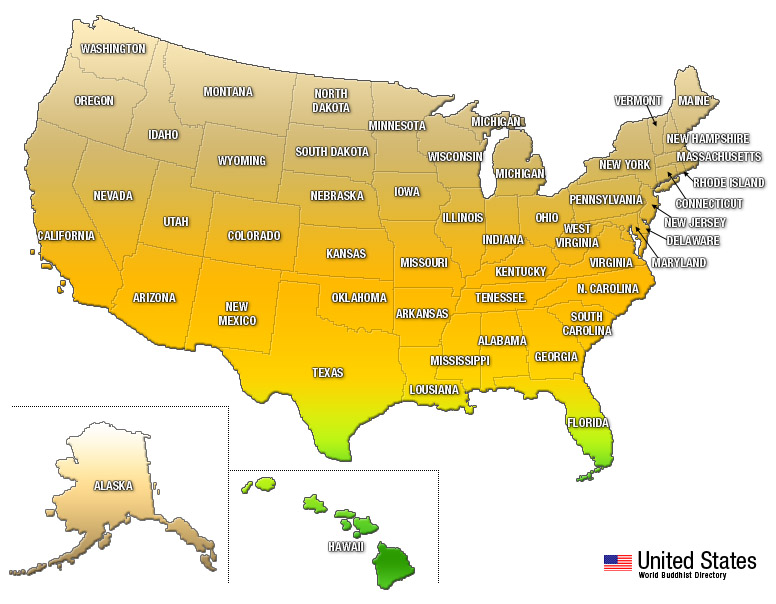 There were 2568 results matching your query.
First Previous 80 81 82 83 84 85 86 87 88 89 90 91 92 93 94 95 96 97 98 Next Last
Meditation in Recovery
Address: 2800 West 15th Street Edmond OK 731013
Tradition: Non-Sectarian
Find on:


Main Contact: Jeff Green Email (Phone: 405-473-4701)
Notes and Events:
Location: Channing Unitarian Universalist Church
Regular meetings of this group have been suspended until further notice. For more information, please contact Jeff Green at 405-473-4701.
---
Melbourne Palchen Study Group
Address: Hoshino Therapy of Melbourne 2115 Waverly Place Melbourne FL 32901
Tradition: Vajrayana
Affiliation: Barom Kagyu
Phone: (321) 720-1519
E-mail: PsgMelb@gmail.com
Website: http://www.PsgMelbourne.com
Find on:


Spiritual Director: Bardor Tulku Rinpoche
Notes and Events:
A Tibetan Buddhism study group that was created, meets, and studies under the guidance of the Venerable Bardor Tulku Rinpoche III.
---
Metta House Meditation Center
Address: 2355 Pecos Boulevard Beaumont TX 77702
Tradition: Theravada
Affiliation: Theravada Buddhist Society of North America
Phone: 409-234-3221
E-mail: Tbsna@tbsna.org
Website: http://www.Tbsna.org
Find on:


Spiritual Director: Kassapa Bhikkhu, Abbot Email (Phone: 409-960-8369)
Notes and Events:
Welcome to Metta House Meditation Center.
Metta House is a Buddhist Meditation Center located in Beaumont, Texas. The center is a not for profit affiliate of the TBSBA, the Theravada Buddhist Society of North America. Metta House is open to all ethnicities as a multicultural center. The operating language is English.
Sunday chanting service is at 11:00 am with luncheon at noon. All members are invited. Yoga classes are offered at 6:00 pm on Wednesday evenings. Meditation sessions are offered on Wednesday evening at 7:00 pm. Beginners and advanced classes and book study are also offered during the week.
Beginner Pali class and Buddhism classes are held Sunday at 1:30 and 2:30 pm.
We are a vibrant community of American monks and lay people, dedicated to teaching Dhamma, training future monastics, community service and practicing Vipassana and Samadhi meditations. Our meditation community is over 50 practitioners. We invite you to participate and grow in Metta with us.
Contact Bhante at 409-234-3221 or bhante_kassapa@yahoo.com

---
Middle Land Chan Monastery
Address: 1173 San Bernardino Ave. CA 91767
Tradition: Mahayana, Zen (Chan) School, Linji, Meditation
Phone: 909-625-0187
Fax: 909-625-0189
E-mail: middleland@ctzen.org
Website: http://www.middleland.org
Find on:


Spiritual Director: Ven. Master Wei Chueh
Notes and Events:
We offer weekly free classes in the fundamentals of Zen Buddhism and meditation throughout the year. The classes and services are given both in English and in Chinese.
We sincerely invite everyone to join our meditation classes and all activities, to enjoy the peaceful atmosphere here, and to find the meaning of life through meditation practice and Dharma education.
All classes and programs are FREE of charge and open to the public.