United States of America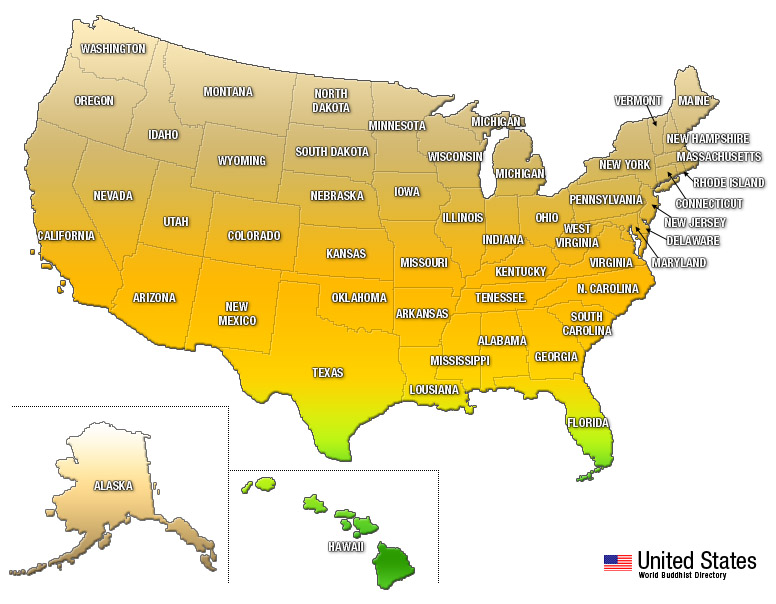 There were 2575 results matching your query.
First Previous 68 69 70 71 72 73 74 75 76 77 78 79 80 81 82 83 84 85 86 Next Last
Buddhist Fellowship of UU Clearwater
Address: 2470 Nursery Road Clearwater FL 33764
Tradition: Mahayana, Non-Sectarian
Affiliation: Associated with the National UU Buddhist Fellowship
Phone: 727-391-1152
E-mail: truedharma108@gmail.com
Website: http://www.uuclearwater.org/content/buddhist.htm
Find on:


Teacher: Rev. Dr. Frank Tedesco
Notes and Events:
Meditation- sitting and walking every Tuesday night 7-10 pm.
We have sponsored teachings from representatives of many traditions including Korean and Japanese Zen, Tibetan Kagyu and Gelug and others.
Active participation in interfaith gatherings.
We sponsored a visit of the Maitreya Project Heart Shrine Relic Tour in November, 2008.
Volunteerism in hospice care and animal refuge work encouraged.
---
Buddhist Global Relief
Address: PO Box 1611, Sparta NJ 07871
Tradition: Non-Sectarian, Humanitarian Organization
Phone: 888.852.7579
E-mail: info@buddhistglobalrelief.org
Website: http://buddhistglobalrelief.org/main.html
Find on:


Chairperson, Founder: Bhikkhu Bodhi
Executive Director: Kim Behan Email (Phone: 888.852.7579)
Notes and Events:
The mission of Buddhist Global Relief (BGR) is to combat chronic hunger and malnutrition. We sponsor projects that promote hunger relief for poor communities around the world. We pursue our mission by: • providing direct food aid to people afflicted by hunger and malnutrition • helping develop better long-term methods of sustainable food production and management appropriate to the cultures and traditions of the beneficiaries • promoting the education of girls and women, so essential in the struggle against poverty and malnutrition • giving women an opportunity to start right livelihood projects to support their families. We also seek to raise awareness of global hunger and advocate for an international food system that exemplifies social justice and conduces to ecological sustainability.
BGR SOCIAL MEDIA LINKS:
FACEBOOK • TWITTER • YOU TUBE • BLOG • PICASA
---
Buddhist Meditation Class
Address: Spiral Tree Yoga Studio 570 Brighton Ave Portland ME 04103
Tradition: Non-Sectarian, Zen & Tibetan
E-mail: ddranetz@hotmail.com
Find on:


Notes and Events:
Synthesizing meditative practices from Theravada (vipassana), Mahayana, Zen, and Indo-Tibetan traditions of Buddhism, this class teaches various ancient techniques to develop greater mindfulness, loving-kindness, compassion, and wisdom. Suitable for both beginners and experienced meditators, classes will include about 45 minutes of guided meditation, followed by a 15 minute period of discussion.
The class is called "Buddhist Meditation", every Tuesday night, from 5:45-6:45, at Spiral Tree Yoga Studio.
Information at spiraltreeyoga.com
About the teacher:
Daniel Dranetz, MS, LCPC-c, has been practicing meditation within Buddhist traditions for over 13 years, including Theravada (vipassana), Zen, and Tibetan Buddhist lineages. He is a former member of the Board of Directors of the Insight Meditation Society in Barre, Massachusetts, and is a disciple of Dzigar Kongtrul Rinpoche. Daniel holds a master's degree in Mental Health Counseling and practices locally as a Licensed Clinical Professional Counselor for teens and families.
Daniel describes Buddhist mindfulness meditation as a saving grace in his life, and he is delighted to share the profound practices that he has learned from his teachers in order to promote greater peace, love, and well-being in the world. Please note that Daniel's classes are meant to only teach meditation, and that he is not offering mental health counseling at Spiral Tree Yoga and Wellness Studio.
---
Buddhist Meditation Coaching
Address: 12217 Pacific Avenue #7 Los Angeles CA 90066
Tradition: Theravada
Phone: (323) 790-6252
E-mail: Matthew@MeditationCoaching.com
Website: http://MeditationCoaching.com
Find on:


Teacher: Matthew Sockolov
Notes and Events:
We offer donation-based one-on-one meditation coaching. Through working with a meditation teacher, we help people develop a daily practice, learn about the Pali Canon, and grow in their personal meditation practice.
---
Buddhist Meditation Group at UUCR
Address: Unitarian Universalist Church of Reading 239 Woburn Street Reading MA 01867
Tradition: Mahayana
E-mail: anfurst@gmail.com
Website: http://readingsangha.wordpress.com/
Find on:


Teacher: Andrew Furst
Main Contact: Andrew Furst Email
Spiritual Director: Master Rich Sittinger
Notes and Events:
Our Sangha is part of Buddha Heart USA. We'd like to extend a heartfelt and open invitation to any and all who would like to experience and learn more about Buddhism and meditation.
Communities Served
We serve the communities of Reading, North Reading, Lynnfield, Wilmington, Stoneham, Woburn, and Wakefield.
Weekly Meetings
We meet weekly (monthly July – August) in Reading Massachusetts at the Unitarian Universalist Church of Reading. You'll find information about our Sangha, location, meeting times, and more on this website. Please see our schedule for more details.
What We Do
It is our intention to provide practices that are simple. They are meant to offer peace and other benefits to our Sangha members and guests. We hope that you might find peace in the Dharma though these efforts.
All are welcome. There is no experience necessary. A typical meeting includes the following activities:
Opening ceremony/invocation
Brief Dharma discussion
Qi-gong exercises
Meditation practice
Closing (recitation of the Five Limitless Thoughts)
---
Buddhist Network of Greater Baltimore
Address: Greater Baltimore Greater Baltimore MD
Tradition: Non-Sectarian
Phone: (410) 467-1817
Website: http://www.bngb.org/
Find on:


Contact: Jeff Covey
Notes and Events:
The Buddhist Network of Greater Baltimore is a loose affiliation of Buddhist centers and practice communities in the Greater Baltimore area.

---
Buddhist Social Action Project
Address: Middletown CN 06457
Tradition: Mahayana, Buddhist Faith Fellowship
Affiliation: North American Shin Buddhist Association (NASBA)
Website: http://buddhistfaith.tripod.com/project/
Find on:


Notes and Events:
The Social Action Project, the socially engaged arm of our spiritual community, the Buddhist Faith Fellowship, which is completely non-ideological and non-political and seeks practical engagement and solutions to the difficult local social and environment problems of the 21st century by using Buddhist principles as our guide for action.
Our members and friends are drawn into active engagement with the social and environmental issues of our times. We believe that humane and compassionate social action naturally unfolds as a response to the incessant suffering and folly in the world. Inspired by the Buddha's teachings of the Bodhisattva way and the teachings of Shinran Shonin, we are compelled to work together in order to alleviate and transform this dukkha (suffering) into the substance of love, wisdom and peace. As our teaching expresses, "let's transform bits of rubble into gold."
---
Buddhist Study Group of Rocky Hill
Address: CN
Tradition: Independent American Shin Buddhism
Affiliation: Buddhist Faith Fellowship of Connecticut
Website: http://rockyhill.bffct.net/
Find on:


Notes and Events:
This group has now integrated with the new England Institute of Buddhist Studies in Middletown.

---
Buddhist Temple of Chicago
Address: 1151 W. Leland Chicago IL 60640
Tradition: Mahayana, Jodo Shinshu (Akegarasu, Kiyozawa)
Affiliation: Administratively Independent Jodo Shinshu (Otani-ha lineage)
Phone: (773) 334-4661
Fax: (773) 334-4726
E-mail: info@budtempchi.org
Website: http://www.budtempchi.org
Find on:


Founder: Gyomay Kubose
Teachers: Yukei Ashikaga, Patti Nakai, Fred Babbin Email
Spiritual Director: Yukei Ashikaga (Phone: (773) 334-4661)
Notes and Events:
Activities: Sunday services at 11 a.m. in English, 1 p.m. in Japanese (monthly).
Meditation: Sunday, 9-10:15 a.m. Thursday, 7:30-8:45 p.m.
Dharma School and Toddler Group reforming, please write
info@budtempchi.org
for info.
Wednesday discussion groups
Monthly meetings:
Shin Sangha, activities group for singles/couples interested in Buddhism.
Asoka, activities group for Seniors.
Weekly classes:
Class in Introductory Buddhism.
Taiko, Iaido and Minyo groups.
Japanese language classes, calligraphy instruction and cultural groups
Special seminars
Natsu Matsuri, annual summer festival of Japanese performing arts, crafts and food.
Publication: BTC Bulletin "Gan Ne" monthly newsletter.
Comments: established in 1944 by Reverend Gyomay M. Kubose.
---
Buddhist Temple of Toledo
Address: 6537 Angola Road Holland OH 43528
Tradition: Mahayana, zen
Phone: 419-861-1163
E-mail: info@toledozencenter.org
Website: http://www.toledozencenter.org
Find on:


Main Contact: Revs. Jay Rinsen & Karen Do On Weik Email (Phone: 419-861-1163)
Spiritual Director: Revs. Jay Rinsen & Karen Do On Weik Email (Phone: 419-861-1163)
Notes and Events:
The Buddhist Temple of Toledo is a beacon to waking up to ones true nature, nestled in Northwest Ohio, at the crossroads of America. TZC is an independent Sangha that provides support for anyone interested in Zen Buddhist practice in the greater Toledo area with weekly services, a childrens Dharma school, zazen, zen talks, practice discussions, monthly workshops and retreats. Much of what happens at the center is available as The Drinking Gourd Podcast via iTunes or you can listen in online at http://www.thedrinkinggourd.org/
---
Buddhist Text Translation Society
Address: 4951 Bodhi Way Ukiah CA 95482
Tradition: Mahayana
Affiliation: Dharma Realm Buddhist Association
Phone: (707) 462-0939
Fax: (707) 462-0949
E-mail: info@buddhisttexts.org
Website: http://www.buddhisttexts.org
Find on:


Spiritual Director: Tripitaka Master Hsuan Hua
Notes and Events:
Buddhist Canon
In order to establish Buddhism firmly in China, scriptures were translated from Sanskrit into Chinese.
Countless people were involved in this task. National Master Kumarajiva (5th century) headed a team of over 800 in a decade-long translation project of the Tripitaka (Buddhist Canon). Because of this work, nearly the entire Buddhist Canon of over a thousand texts exists today in Chinese.
Now as Buddhism is being planted in Western soil, the same translation work is being done form Chinese into English. The Buddhist Text Translation Society (BTTS) founded by Tripitaka Master Hsuan Hua in 1970, is working toward this goal with committees headed by Bhikshus (monks) and Bhikshunis (nuns) devoted to translation, revision, editing and certification of the entire Tripitaka.
Tripitaka Master Hsuan Hua (1918 – 1995)
At first glance, he looked and sounded like any other Chinese immigrant in San Francisco in the 1960s. His humble manner belied his position as the 45th Buddhist patriarch in direct lineage from Shakyamuni Buddha.
Master Hua was born in 1918 near Manchuria, China into a family of frugal farmers. He learned to read at 15, and after his mother's death at 19, he became a monk. He meditated by his mother's grave for three years and practiced other austerities before receiving full ordination.
At Nan Hua Monastery in Canton, Master Hua received the mind-to-mind transmission of the Patriarchs Master Hsu Yun, making him a Patriarch in direct lineage with Bodhidharma, the last patriarch of India, and Hui Neng, the first patriarch of Zen. With the arrival of the communists on the Chinese mainland, the Master went to Hong Kong to promote orthodox Buddhism. In 1962, he brought monastic, Mahayana Buddhism to America. He founded the City of Ten Thousand Buddhas, the International Translation Institute, and over 20 other monasteries and temples all over the globe, with the goal of spreading Buddhism worldwide.
---
Buffalo Zen Dharma Community
Address: Westminster Presbyterian Church 724 Delaware Avenue Buffalo NY 14209
Tradition: Mahayana, Mountains and Rivers Order
Affiliation: Society of Mountains and Rivers
Phone: (716) 655-1856
E-mail: contact@buffalozen.org
Website: http://www.buffalozen.org
Find on:


Main Contact: Ray Ball, MRO Email (Phone: (716) 655-1856)
Notes and Events:
Zen Buddhist practice group meets weekly at 7PM on Tuesday evenings for liturgy, zazen, and recorded Dharma talks by the teachers of Zen Mountain Monastery. Orientation and introductory instruction given on the first Tuesday of every month at 6:45PM. Annual visit by an MRO teacher every spring.
---
Burning House Zendo
Address: 3504 Harford Road Baltimore MD 21218
Tradition: Mahayana, Rinzai Zen
Affiliation: Dai Bosatsu Zendo
Phone: (410) 698-4648
E-mail: jeff.covey@pobox.com
Website: http://www.burninghousezendo.org/
Find on:


Teachers: Eido Shimano Roshi, Jiro Osho Fernando Afable
Spiritual Director: Mutei Doug Murphy
Contact: Renshin Jeff Covey
Notes and Events:
We are a lay Zen community which meeting for meditation several times a week and for weekend and week-long retreats several times a year.

---
Buu Mon Buddhist Temple
Address: 2701 Procter Street Port Arthur TX 77640
Tradition: Theravada, Vietnamese
Phone: (713) 376-4207
E-mail: cbmtemple@yahoo.com
Website: http://www.buumon.org
Find on:


Abbot Assistant: Charles Troung (Phone: (409) 673-6625)
Teacher: Venerable Abbot Tri Quang
Spiritual Director: Most Venerable Huyen Viet (Phone: 409-960-1462)
Notes and Events:
Vipassana Meditation in English on Wednesdays at 7:00 pm
Weekly Services on Sundays in Vietnamese at 11 am, English at 2:00 pm,
Pali Class from 6:30 pm to 7:30 pm,
Vietnamese Meditation Instruction from 8 pm to 9 pm.
---
Calm Clarity Temple
Address: 421 Stonehaven Dr., #306 Ames IA 50010-6791
Tradition: Mahayana, Linji, Pure Land, Vinaya
Affiliation: Bhikshuni
Phone: (515) 337-2698
E-mail: calmclairitytemple@outlook.com
Website: http://www.sanghawalks.org
Find on:


Spiritual Director: Ven. Hongyang Email (Phone: (515) 337-2698)
Notes and Events:
This temple is a hermitage for the purpose of translating the Mahayana Chinese Tripitaka. It's only by appointment that you may meet the master, Ven. Hongyang. She available for traditional Buddhist services, Dharma Talks on Buddhism or its practices, celebrations, Baby Blessings, Home Blessings, Business Blessings, Refuge and Five Precepts (to become Buddhist), Bodhisattva precepts, Weddings, Funerals, and counseling. Periodically other monastics may be invited to give dharma talks and a larger space will be provided for bigger groups at that time. Small group dharma study programs for women, women interested in monastic life, and dharma instruments will be offered to mixed groups. At this time men interested in monastic life will be referred to other temples.
---
Calm Village Buddhist Temple
Address: 726 West Baseline Road, Phoenix AZ
Tradition: Non-Sectarian
Phone: (602) 305-9115
Website: http://www.sites.google.com/site/calmvillage/
Find on:


Notes and Events:
Day: Saturday (English Language)
Sunday (Vietnamese Language)


Time: 10:00 am
---
Canyon Mountain Centre
Address: 511 S E Highland Road John Day OR 97845
Tradition: Non-Sectarian, Suzuki Roshi & Baker Roshi
Phone: 541-932-2725
E-mail: jim@canyonmountaincenter.com
Website: http://www.canyonmountaincenter.com
Find on:


Main Contact: Jim Bauy Email (Phone: 541-932-2725)
Notes and Events:
We are a non-sectarian group.
We sit 3 days a week at 5:30 pm, non-wed-fri
We read and discuss and share on Mondays for a short time after mediation.
The space is used by a few others as meeting or practice spaces such as the local community garden, a yoga teacher, an accupuncturist and a family mediator.
The space is free.
---
Carolina Buddhist Vihara
Address: 113 Woodridge Circle Greenville, SC SC 29607
Tradition: Theravada, Sri Lankan
Affiliation: A branch temple of New Yor Buddhist Vihara
Phone: 864.329.9961
E-mail: dhammasc [ at ] hotmail.com
Website: http://www.carolinabuddhist.net
Find on:


Spiritual Director: Bhante Kurunegoda Piyatissa Maha Nayaka Thera
Teacher: Bhikkhuni Sudhamma
Notes and Events:
The Vihara is the dwelling of monastics; it is a community-supported house that is used for gatherings of Buddhists and friends. We hold monthly Poya observance; monthly childrens program as announced; evening teachings Monday-Wednesdays 6:30 pm - 8:30 pm (telephone to confirm), and weekly meditations for women on Tuesday mornings.
---
Cedar Rapids Zen Center
Address: P.O. Box 863 Cedar Rapids IA 52406-1248
Tradition: Mahayana, Soto Zen
Phone: (319) 247-5986
E-mail: crzc@cedarrapidszencenter.org
Website: http://www.cedarrapidszencenter.org
Find on:


Teacher: Zuiko Redding
Notes and Events:
Small center offering zazen, dharma talks, sesshins and all-day sittings. Schedules of our events are available on our web site.
---
Center for Pragmatic Buddhism
Address: First Unitarian Church of St. Louis, 5007 Waterman Blvd., St. Louis, MO MO
Tradition: Non-Sectarian, Order of Pragmatic Buddhists
Phone: (864) 525 4564
E-mail: jim.eubanks@gmail.com
Website: http://www.pragmaticbuddhism.org
Find on:


Anchorage, AK Representative: Andrew Weare (Shi Cheng Bei) Email
Teacher: Jim Eubanks (Shi Yong Xiang)
Main Contact: Jim Eubanks (Shi Yong Xiang) Email (Phone: (864) 525 4564)
Notes and Events:
The Center for Pragmatic Buddhism (CPB) is a Western Buddhist school that emerges from a Chinese Chan, Japanese Zen and American Pragmatist lineage. We offer weekly practice of zazen ("just sitting"), bell meditation, walking meditation, dharma talk and group discussion. We have locations in St. Louis, MO and Anchorage, AK.

---
Center of Harmony Chan Buddhist Sangha
Address: 1040 Winton Road North Rochester NY 14609
Tradition: Mahayana
Phone: 585-482-4872
E-mail: sangha@centerofharmony.com
Website: http://www.centerofharmony.com/meditation/sangha.html
Find on:


Spiritual Director: Shi Fa Neng Email (Phone: 585-482-4872)
Notes and Events:
Sangha

Many people come to meditate for different reasons. Some are stressed out from work, others are looking for enlightenment (good luck!) and others want to cultivate their meditation practice with the support of other practitioners. The Characters to the left translate as "Harmony at the Center of the Heart Chan Buddhist Temple". Our Sangha (community of practitioners) was formally established in March 2008 to serve those students and community members who wish to pursue in-depth study and training in Chan Meditation and Buddhist studies. We are a lay order, not monastic. There are no monks, nuns, or ascetic people wandering around. We emphasize the cultivation of insight and clarity through meditation practice; something accessible to anyone regardless of their background or religious convictions. Our Sangha is not affiliated with any other organization or temple, in China or elsewhere; however, because Master Fa Neng (法能師範) is a precepted Buddhist (via Shi Chuan Xue) in the lineage of Great Chan Master Hui Neng (慧能) (638-713 CE) and in the tradition of Great Chan Master Yunmen (雲門) (862-949 CE), our Sangha exists as a bead on a string of a long line of Buddhist practitioners dating back to Shakyamuni Buddha over 2,500 years ago.

Services: There are several courses of study and practice that are extracurricular to both Martial Arts and Meditation. They complement and add depth to ones practice. The following services are offered apart from our normal programs, and are offered free of charge as a gift of dana:


Triple Refuge Ceremony: This ceremony is all that is required to become a Dharma student/ practitioner of Buddhism. It is not a conversion, as we practice Buddhism as a practice... not as a religion. Buddhist practice can cultivate discipline and peace of mind through mindfulness and meditation, things which certainly do not conflict with most religions. At this occasion, people formally take "refuge" as a student of the "Three Treasures"... The Buddha (guide), Dharma (instruction), and Sangha (group of practitioners). It is at this time when one receives the black Hai Qing Robe (long Daoist-type robe with draping sleeves). This event is held quarterly, in the months of January, April, July, and October, as well as during the biannual precepts ceremony. Those wishing to take refuge and receive the precepts simultaneously, may do so at the June and December precepts ceremonies.
Precepts Ceremony: This ceremony is when people take 5 vows; to abstain from taking life, to refrain from lying, to abstain from stealing, to refrain from taking intoxicants to produce heedlessness, and to abstain from misconduct done in lust. At this time, they receive a Dharma Name / fo hao (佛號), a certificate to mark the occasion, and the 5 precepts in print with explication and significance. This ceremony is conducted biannually on the summer and winter solstices. In 2008, these will be held on June 20th and December 21st.
Interviews: Chan interviews are conducted weekly, after the meditation session.
Extra Practice: Students who have already taken refuge are welcomed to attend extra practice. This is held on Sundays a short while after meditation practice concludes. Those who attend the meditation practice are not required to attend extra practice. It is here when students do chanting practice (using those chants which are philosophically relevant to practice), bowing practice (moving exercise for the body/mind), in-depth philosophical analysis of various topics, and sutra study (using those classical texts which are useful for modern practice).
---
Centered Path
Address: 12539 n. hwy 83, Unit B-1 Parker CO 80134
Tradition: Non-Sectarian
Phone: 720-325-9886
E-mail: working@thecenteredpath.org
Website: http://www.thecenteredpath.org
Find on:


Spiritual Director: Rev. Dr. Sean H. Thompson Email (Phone: 720-388-5774)
Notes and Events:
We are a 'micro' church, non-denominational, trans-cultural Buddhist practice group that embraces the teachings of the Buddha without discrimination of lineage, tradition, culture, faith, or nationality.
Founded in 2015, The Centered Path has been a development of the work of Reverend Dhammajivaka (Rev. Dr. Sean H. Thompson) over the past decade. Fostering a belief that Buddhism should not be sectioned down to lineages and sub-groups, Reverend Dhammajivaka has made it his passion to offer the teachings and practice of Buddhism for the modern daily life of a regular person, just like you or me.
---
Central Michigan Sangha
Address: 319 Sout University Street Mount Pleasant MI 48858
Tradition: Theravada, Non-Sectarian, includes Shambala, Dalai Lama style, Order of Interbeing and other practitioners practicing together
Affiliation: Unitarian Universalist Fellowship of Central Michigan
E-mail: newla1gm@cmich.edu
Find on:


Main Contact: Guy Newland Email
Notes and Events:
At 7 PM every Tuesday throughout the year we have a short Dharma talk followed by 30 minutes of meditation and then questions and discussion. Facilitation rotates among experienced practitioners from diverse Dharma traditions.
---
Chagdud Gonpa Amrita - Edmonds WA
Address: 9653 Firdale Avenue Edmonds WA 98020
Tradition: Vajrayana, Tibetan, Nyingma
Affiliation: Chagdud Gonpa Foundation.
Phone: (206) 546-8095
E-mail: info@amritaseattle.org
Website: http://www.amritaseattle.org/
Find on:


Notes and Events:
Chagdud Gonpa Foundation was established in 1983 by Chagdud Tulku Rinpoche to preserve Nyingma teachings and to provide instruction in the traditions of Vajrayana Buddhism, especially the arts, philosophy, and meditation practices.
Chagdud Gonpa Amrita is the Seattle branch of Chagdud Gonpa Foundation. Since 1983, it has provided a place for beginning students and long-time practitioners to gather for teachings and practice in the Nyingma lineage of Tibetan Buddhism.
---
Chan Meditation Center
Address: 90-56 Corona Ave. Elmhurst NY 11373
Tradition: Mahayana, Chan/Zen
Affiliation: Dharma Drum Mountain
Phone: 718-592-6593
E-mail: ddmbaus@yahoo.com
Website: http://www.chan1.org/
Find on:


Dharma Teacher: Guo Gu Email
Teacher: Ven. Guo Ming
Main Contact: Ven. Chang Wu Email
Spiritual Director: Master Sheng Yen
Dharma Teacher: Ven. Guo Chian Email
Notes and Events:
Welcome to the website of the Dharma Drum Mountain Buddhist Association, the Chan Meditation Center (CMC). Our prime teacher is Ven. Master Sheng Yen (Shifu), who has taught Buddhism in the West since 1976. We offer ongoing programs (which include retreats at the Dharma Drum Retreat Center, located south of the Catskills, NY), publications (which include teachings of Master Sheng Yen in text and multimedia formats for free distribution), as well as other original material that you will find useful in your practice.
Our mission is to bring about the caring of life as a whole through cultural and educational activities, as well as the practice of meditation. We promote four environmental goals -- spiritual, social, living, and natural -- to help practitioners achieve peace and harmony of the body, the mind, the family and their careers. it is hoped that upon participating in our activities, practitioners from all over the world will be able to enjoy tranquility and peace, and live a life full of respect and security.
---
First Previous 68 69 70 71 72 73 74 75 76 77 78 79 80 81 82 83 84 85 86 Next Last