United States of America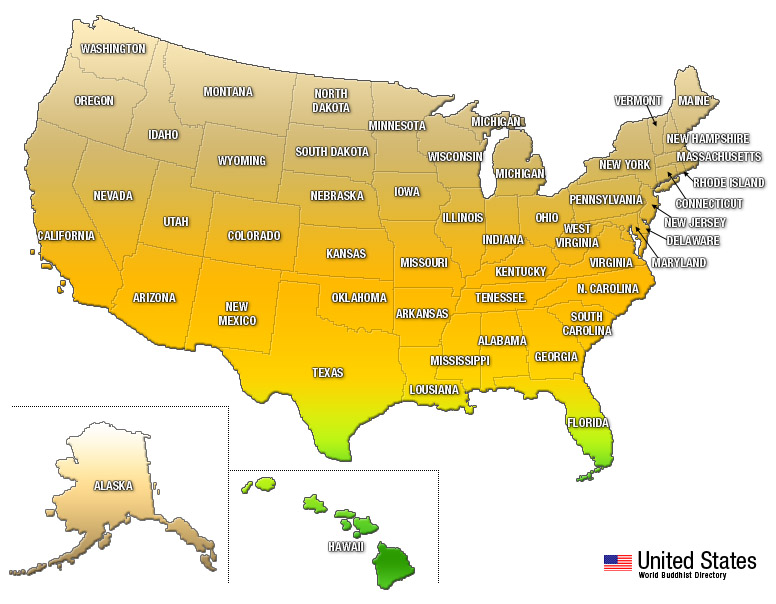 There were 2407 results matching your query.
First Previous 67 68 69 70 71 72 73 74 75 76 77 78 79 80 81 82 83 84 85 Next Last
Center for Pragmatic Buddhism
Address: First Unitarian Church of St. Louis, 5007 Waterman Blvd., St. Louis, MO MO
Tradition: Non-Sectarian, Order of Pragmatic Buddhists
Phone: (864) 525 4564
E-mail: jim.eubanks@gmail.com
Website: http://www.pragmaticbuddhism.org
Find on:


Anchorage, AK Representative: Andrew Weare (Shi Cheng Bei) Email
Teacher: Jim Eubanks (Shi Yong Xiang)
Main Contact: Jim Eubanks (Shi Yong Xiang) Email (Phone: (864) 525 4564)
Notes and Events:
The Center for Pragmatic Buddhism (CPB) is a Western Buddhist school that emerges from a Chinese Chan, Japanese Zen and American Pragmatist lineage. We offer weekly practice of zazen ("just sitting"), bell meditation, walking meditation, dharma talk and group discussion. We have locations in St. Louis, MO and Anchorage, AK.

---
Center of Harmony Chan Buddhist Sangha
Address: 1040 Winton Road North Rochester NY 14609
Tradition: Mahayana
Phone: 585-482-4872
E-mail: sangha@centerofharmony.com
Website: http://www.centerofharmony.com/meditation/sangha.html
Find on:


Spiritual Director: Shi Fa Neng Email (Phone: 585-482-4872)
Notes and Events:
Sangha

Many people come to meditate for different reasons. Some are stressed out from work, others are looking for enlightenment (good luck!) and others want to cultivate their meditation practice with the support of other practitioners. The Characters to the left translate as "Harmony at the Center of the Heart Chan Buddhist Temple". Our Sangha (community of practitioners) was formally established in March 2008 to serve those students and community members who wish to pursue in-depth study and training in Chan Meditation and Buddhist studies. We are a lay order, not monastic. There are no monks, nuns, or ascetic people wandering around. We emphasize the cultivation of insight and clarity through meditation practice; something accessible to anyone regardless of their background or religious convictions. Our Sangha is not affiliated with any other organization or temple, in China or elsewhere; however, because Master Fa Neng (法能師範) is a precepted Buddhist (via Shi Chuan Xue) in the lineage of Great Chan Master Hui Neng (慧能) (638-713 CE) and in the tradition of Great Chan Master Yunmen (雲門) (862-949 CE), our Sangha exists as a bead on a string of a long line of Buddhist practitioners dating back to Shakyamuni Buddha over 2,500 years ago.

Services: There are several courses of study and practice that are extracurricular to both Martial Arts and Meditation. They complement and add depth to ones practice. The following services are offered apart from our normal programs, and are offered free of charge as a gift of dana:


Triple Refuge Ceremony: This ceremony is all that is required to become a Dharma student/ practitioner of Buddhism. It is not a conversion, as we practice Buddhism as a practice... not as a religion. Buddhist practice can cultivate discipline and peace of mind through mindfulness and meditation, things which certainly do not conflict with most religions. At this occasion, people formally take "refuge" as a student of the "Three Treasures"... The Buddha (guide), Dharma (instruction), and Sangha (group of practitioners). It is at this time when one receives the black Hai Qing Robe (long Daoist-type robe with draping sleeves). This event is held quarterly, in the months of January, April, July, and October, as well as during the biannual precepts ceremony. Those wishing to take refuge and receive the precepts simultaneously, may do so at the June and December precepts ceremonies.
Precepts Ceremony: This ceremony is when people take 5 vows; to abstain from taking life, to refrain from lying, to abstain from stealing, to refrain from taking intoxicants to produce heedlessness, and to abstain from misconduct done in lust. At this time, they receive a Dharma Name / fo hao (佛號), a certificate to mark the occasion, and the 5 precepts in print with explication and significance. This ceremony is conducted biannually on the summer and winter solstices. In 2008, these will be held on June 20th and December 21st.
Interviews: Chan interviews are conducted weekly, after the meditation session.
Extra Practice: Students who have already taken refuge are welcomed to attend extra practice. This is held on Sundays a short while after meditation practice concludes. Those who attend the meditation practice are not required to attend extra practice. It is here when students do chanting practice (using those chants which are philosophically relevant to practice), bowing practice (moving exercise for the body/mind), in-depth philosophical analysis of various topics, and sutra study (using those classical texts which are useful for modern practice).
---
Chagdud Gonpa Amrita - Edmonds WA
Address: 9653 Firdale Avenue Edmonds WA 98020
Tradition: Vajrayana, Tibetan, Nyingma
Affiliation: Chagdud Gonpa Foundation.
Phone: (206) 546-8095
E-mail: info@amritaseattle.org
Website: http://www.amritaseattle.org/
Find on:


Notes and Events:
Chagdud Gonpa Foundation was established in 1983 by Chagdud Tulku Rinpoche to preserve Nyingma teachings and to provide instruction in the traditions of Vajrayana Buddhism, especially the arts, philosophy, and meditation practices.
Chagdud Gonpa Amrita is the Seattle branch of Chagdud Gonpa Foundation. Since 1983, it has provided a place for beginning students and long-time practitioners to gather for teachings and practice in the Nyingma lineage of Tibetan Buddhism.
---
Chan Meditation Center
Address: 90-56 Corona Ave. Elmhurst NY 11373
Tradition: Mahayana, Chan/Zen
Affiliation: Dharma Drum Mountain
Phone: 718-592-6593
E-mail: ddmbaus@yahoo.com
Website: http://www.chan1.org/
Find on:


Dharma Teacher: Guo Gu Email
Teacher: Ven. Guo Ming
Main Contact: Ven. Chang Wu Email
Spiritual Director: Master Sheng Yen
Dharma Teacher: Ven. Guo Chian Email
Notes and Events:
Welcome to the website of the Dharma Drum Mountain Buddhist Association, the Chan Meditation Center (CMC). Our prime teacher is Ven. Master Sheng Yen (Shifu), who has taught Buddhism in the West since 1976. We offer ongoing programs (which include retreats at the Dharma Drum Retreat Center, located south of the Catskills, NY), publications (which include teachings of Master Sheng Yen in text and multimedia formats for free distribution), as well as other original material that you will find useful in your practice.
Our mission is to bring about the caring of life as a whole through cultural and educational activities, as well as the practice of meditation. We promote four environmental goals -- spiritual, social, living, and natural -- to help practitioners achieve peace and harmony of the body, the mind, the family and their careers. it is hoped that upon participating in our activities, practitioners from all over the world will be able to enjoy tranquility and peace, and live a life full of respect and security.
---
Changchub.com
Address: 183 15th Street Brooklyn 11215
Tradition: Non-Sectarian, Karma Kagyu
E-mail: justin@changchub.com
Website: http://changchub.com
Find on:


Spiritual Director: Justin von Bujdoss Email
Notes and Events:
Changchub.com is a web-based service providing a wide variety of Buddhist prayer and ritual for those who are facing obstacles, ill, dying, or have passed away. We pride ourselves with providing nuturing support in faciliating the appropriate spiritual care.
---
Chapel Hill Zen Center
Address: 5322 NC Highway 86, Chapel Hill, NC 27514 NC
Tradition: Mahayana, Soto Zen
Affiliation: San Francisco Zen Center
Phone: (919) 967-0861
E-mail: info@chzc.org
Website: http://www.chzg.org
Find on:


Teacher: Josho Pat Phelan
Notes and Events:
The Chapel Hill Zen Center offer meditation eight times throughout the week. Meditation instruction is given on Sunday mornings at 9:00 and on Tuesday nights at 7:00. Please plan to arrive about 10 minutes before the instruction begins.
Guest Teachers visit several times a year, leading weekend retreats. The Chapel Hill Zen Center also offers a 5-day and a 7-day sesshin or meditation intensive each year.
---
Charlottesville Buddhist Association
Address: Charlottesville, Virginia Charlottesville VI
Tradition: Non-Sectarian
E-mail: buddhanews-subscribe@yahoogroups.com
Find on:


Notes and Events:
Members of the Charlottesville Buddhist Association meet on an irregular basis to meditate and discuss how to further the common goals of the diverse Buddhist traditions in Charlottesville, Va. To learn about any upcoming meetings or other Buddhist-related activities/teachings in the Charlottesville area, join the CBA\'s "BuddhaNews" email announcements list by sending a blank email to buddhanew-subscribe@yahoogroups.com
---
Cherry Tree Sangha of East Tennessee
Address: Oak Ridge UU 1500 Oak Ridge Turnpike Oak Ridge TE 37830
Tradition: Mahayana, Chan / Zen
Affiliation: Zen Buddhist Order of Hsu Yun
Phone: (865) 435-4135
E-mail: faliang@live.com
Find on:


Main Contact: Rev. Fa Liang Shakya, OHY Email
Notes and Events:
The Cherry Tree Sangha meets in Oak Ridge for meditation and Dharma talks. Everyone is invited to join us for meditation and open discussions. Wear comfortable clothing and bring a cushion if you would like to sit on the floor.
Beginners and seekers are especially welcome! No prior meditation experience required.
Currently meeting on Wednesday evenings from 7-8 p.m. If you would like to join us or have questions about our group, please send an e-mail to Rev. Fa.
---
Cheyenne Kadampa Meditation Group
Address: 113 E. 17th Street. (RubyJuice) Cheyenne WY 82001
Tradition: Vajrayana, New Kadampa Tradition
Phone: (970) 482 7613
E-mail: info@meditateinfortcollins.org
Website: http://meditateinfortcollins.org/meditation-and-buddhism-in-cheyenne/
Find on:


Teacher: Gen Kelsang Rinzin
Main Contact: Kelsang Thaye Email (Phone: 970-482-7613)
Spiritual Director: Venerable Geshe Kelsang Gyatso
Notes and Events:
Weekly Drop-in Meditation Classes at 7:15 pm Wednesdays

---
Chicago Ratna Shri Sangha
Address: 5337 W. Cullom Ave Chicago IL 60641
Tradition: Vajrayana, Drikung Kagyu Tibetan
Affiliation: Drikung Kagyu
E-mail: ratnachi@hotmail.com
Website: http://www.chicagoratnashri.org
Find on:


Main Contact: Bill Pope Email
Teacher: Drupon Rinchen Dorjee Rinpoche
Spiritual Director: Drupon Rinchen Dorjee Rinpoche
Notes and Events:
The Chicago Ratna Shri Sangha is a non-profit organization dedicated to the practice of Tibetan Buddhism as passed down in the Drikung Kagyu Lineage founded by Lord Jigten Sumgon in the 12th Century. Born in Tibet Lord Jigten Sumgon (Rinchen Phel or Ratna Shri in Sanskrit) was an emanation of Buddha Shakyamuni and was considered to be one of the greatest disciples of Phagmo Drupa, who named him as his successor.
Founded in 1994 by the Venerable Khenchen Konchog Gyaltshen Rinpoche, Chicago Ratna Shri Sangha has sustained itself with regular practice in the homes of local practitioners and teachings given by the precious lamas of the Drikung Kagyu lineage, who have been invited several times yearly.
Under the guidance of our spiritual director, Drupon Rinchen Dorjee Rinpoche, we are striving to establish a strong center dedicated to serving the Chicago area as a place for teachings, practice, contemplation, and meditation. Under the guidance of Drupon Rinchen Dorjee Rinpoche, our goal is to sponsor regular retreats, teachings, and to maintain our regular weekly practice. In the future we hope to establish a broader spectrum of activities to benefit both the local community and other communities worldwide.
---
Chicago Zen Meditation Community
Address: Chicago IL 60602
Tradition: Mahayana, Dainin Katagiri
Affiliation: Soto Zen
Phone: 312-576-3582
E-mail: info@zenchicago.org
Website: http://www.zenchicago.org
Find on:


Main Contact: Myoshi Roger Thomson Email (Phone: 312-576-3582)
Notes and Events:
We are a diverse group of Chicagoans committed to practicing the Zen way of awakening together, and to providing a place for others to come to and deepen their own practice. See our website at www.zenchicago.org for additional information.
We meet twice per week: Sunday evenings at 7:00 p.m. in the Lincoln Park neighborhood and Wednesday afternoons at 2:15 p.m. in the Chicago Loop.
On Sunday evenings, we meet for zazen, chanting and a dharma talk. We meet at the Cenacle Retreat Center, 513 W. Fullerton, in Chicago\\\'s Lincoln Park neighborhood. Meditation begins promptly at 7:00 p.m. Meditation instruction is available for newcomers every week at 6:40 p.m.
On Wednesday afternoons, we meet for zazen, kinhin, and a dharma talk. We meet at 30 N. Michigan Ave., Room 1111 (across the street from Millennium Park). Meditation begins promptly at 2:15 p.m., so please plan to arrive early. If you are new to Buddhist meditation, please plan to attend a meditation instruction session before your first visit. Our teacher, Myoshi Thomson, offers meditation instruction to newcomers every Wednesday at 1:30 p.m. in Suite 1008 of the same building. If you are planning on attending meditation instruction, please email us at info@zenchicago.org so we know to expect you.
We practice in the Sōtō Zen Buddhist tradition, which traces its heritage back to Buddha through a 2500-year history of fellow practitioners, including our ancient teachers Bodhidharma, Caoqi Huineng, Dongshan Liangjie, and Eihei Dōgen, and our modern teachers, Dainin Katagiri, Shoken Winecoff, and Myoshi Thomson, who guides our practice here in Chicago.
We welcome all to join us in our practice of the way of Zen. What is this practice? The founder of our lineage in Japan, Eihei Dōgen (1200-1253), put it simply: "To study the Way is to study the self; to study the self is to forget the self; to forget the self is to be awakened by all things." Our practice, then, starts with ourselves, with seeing clearly who we are, and how we are, right now, in this moment.
Our basic activity together is quiet seated meditation. Indeed, the word "Zen" itself is derived from a Sanskrit word for meditation, and sitting in silent meditation has always been the central practice of awakening in Zen. But together we learn to practice the way of awakening in all our activities, and indeed to make our very lives themselves expressions of the awakened mind and heart.
---
Children of Light Way Sangha
Address: 2727 E. University Drive. Tempe AZ 85281
Tradition: Mahayana, Buddha Buddies - Boston, MA
Phone: 480-964-5178
E-mail: childrenoflightway@yahoo.com
Find on:


Spiritual Director: Br. Bruce J. Donegan Email (Phone: 480-964-5178)
Notes and Events:
Venue: 2727 E. University Dr. Tempe #112

We are starting in Mesa, Arizona a new Sangha interested in the study of Zen Meditation with weekly meetings on a Wednesday at 7pm. Any questions please contact Spiritual Director : Br. Bruce J. Donegan Bodhisattva.

---
Cincinnati Zen Center
Address: 3647 West 8th Street Cincinnati OH 45205 OH
Tradition: Mahayana, Kwan Um School of Zen
Affiliation: Furnace Mountain Sangha
Phone:
E-mail: info@cincinnatizencenter.org
Website: http://www.cincinnatizencenter.org
Find on:


Teachers: Mark Davis
Main Contact: Abbot Annie Weisbrod
Spiritual Director: Zen Master Dae Gak
Abbot: Todd Juengling
Notes and Events:
Directions to the CZC: From I-75 take 50 West / River Road. From 50 West take the split to Elberon Ave., which winds up the hill and intersects with W 8th St. Go left on W 8th St. The CZC is in the storefront on the left at the intersection with Enright and St Joseph Cemetery.
---
City of Peace Sangha
Address: 2230 S. Patterson Blvd. #11 Kettering OH 45409
Tradition: Mahayana, Zen Buddhist Master Thich Nhat Hahn
Affiliation: Community of Mindful Living
Phone: 9374795598
E-mail: robert.guehl@gmail.com
Find on:


Contact in Salem: Cathy Hale Email (Phone: 3303321727)
Notes and Events:
Group has meetings in Dayton and Salem, Ohio (both "City of Peace") - Salem area group (Northern branch) still meets weekly on Sunday evenings @6 pm.
---
Clear Light Buddhist Center
Address: 614 E. Townley Avenue Phoenix AZ 85020
Tradition: Vajrayana
Affiliation: New Kadampa Tradition
Phone: 602-243-5220
E-mail: reply@meditationinarizona.org
Website: http://www.MeditationInArizona.org
Find on:


Teacher: Kadam Michelle Gauthier
Notes and Events:
Clear Light Buddhist Center offers weekly class, study programs, retreats as well as workshops on Buddhism and meditation. All classes are aimed at helping to achieve inner peace for the benefit of others. Everyone is welcome to attend.

---
Clear Water Zen Center
Address: 2476 Nursery Road Clearwater FL 33764
Tradition: Mahayana, Philip Kapleau
Affiliation: Windhorse Zen Community
Phone: 727-391-5735
E-mail: clearwaterzen@gmail.com
Website: http://www.clearwaterzencenter.org
Find on:


Main Contact: Ken Rosen Email (Phone: 727-391-5735)
Spiritual Director: Ken Rosen Email (Phone: 727-391-5735)
Teacher: Lawson Sachter
Notes and Events:
The Clear Water Zen Center meets every Sunday morning at 8:30. The first Sunday of each month includes two rounds of zazen and a chanting service. The second Sunday of each month includes two rounds of zazen and a Dharma talk by Ken Rosen, senior student of Roshi Philip Kapleau, deceased, and Sensei Lawson Sachter. The third Sunday of each month is for beginning meditation and includes several short rounds of meditation with question and answer periods between the sittings. The fourth Sunday of each month includes three rounds of sitting with daisan offered by Ken Rosen. The fifth Sunday, if any, includes three rounds of meditation. Sensei Lawson Sachter leads multiple day meditation retreats three or four times per year and has been doing so since 1999. The Center participates in annual Buddhist activities such as Vesak and Change Your Mind Day. Many members of the Center are also members of the Buddhist Peace Fellowship.
---
Cloud Cottage Sangha
Address: 219 Old Toll Circle Black Mountain, NC NC 28711
Tradition: Mahayana, Thich Nhat Hanhs Order of Interbeing
Affiliation: World Community of Mindful Living
Phone: 828-669-0920
E-mail: cloudcottage@bellsouth.net
Website: http://www.cloudcottage.org
Find on:


Teacher: Thay Nhat Hanh
Main Contact: Judith & Philip Toy Email (Phone: 828-669-0920)
Spiritual Director: Judith & Philip Toy Email (Phone: 828-669-0920)
Notes and Events:
Cloud Cottage Sangha
Mindfulness Practice in the tradition of Thich Nhat Hanh
"Our actions are our only true belongings"
–Shakyamuni Buddha
We are a group of mindfulness practitioners–not bound by any ideology–who come from various backgrounds. We meet often to enjoy seated meditation, sutra readings and study, dharma talks, chanting, singing and dharma discussion. Striving to incorporate our spirituality into everyday life, we look for ways to cultivate peace and loving kindness and to work for the well being of all life on the planet. We believe in a supportive community, social engagement, right livelihood, simple healthful living and learning to dwell happily in the present moment.
Cloud Cottage offers a Zen lending library, a rich schedule of retreats, an annual mindfulness healing fair, and talks and retreats by visiting teachers.
Our teacher is a gentle monk, Vietnamese Zen master and peace maker, the Venerable Thich Nhat Hanh, whose home monastery is Plum Village in Southern France. (For more information, we refer you to www.iamhome.org.) He is a best-selling author who was nominated for the Nobel Peace Prize by Dr. Martin Luther King, Jr., and who is known for his socially engaged practice.
Our lay ministers are Judith and Philip Toy who were ordained by Thich Nhat Hanh as members of the Order of Interbeing, founded by our teacher during the Vietnam War but tracing its roots back to the Buddha. Judith and Philip have founded two sanghas–communities of practitioners–in the US as well as one prison sangha in a medium security prison in Pennsylvania.
DIRECTIONS TO CLOUD COTTAGE:
FROM ASHEVILLE, Travel East on Rte I-40 to Exit 66, Ridgecrest (one exit after Black Mountain). Take a left at the top of the ramp and proceed across the bridge. At the stop sign at the end of the bridge, turn left and travel exactly seven-tenths of a mile to Old Toll Rd. (Street sign on left, road on right.) Take a right onto Old Toll Rd. (You will also see a Mt. Mitchell Railroad plaque and a Burgin's Chapel sign there.) Immediately you will see that you have three options; take the middle way! (Old Toll Circle) We are the second drive on the left (you will not see the house). On the mailbox is printed 219 Cloud Cottage.
JUST AFTER YOU TURN ONTO OLD TOLL RD., THERE IS A FLAT GRASSY AREA NEAR A TELEPHONE POLE ON YOUR RIGHT. YOU MAY PREFER TO PARK THERE AND WALK UP THE ROAD AND UP THE DRIVE (IT'S A VERY STEEP BUT BLESSEDLY SHORT DRIVEWAY.)
OR IF YOU COME UP THE DRIVE AND PARK, you will know you're in the right place when you see the big folk art sun. It's a good idea to turn your car around so that you're facing out. There are also three or four parking places in front of the cottage. Walk up the outside stairs of the two-story building behind the cottage. We will meet there, always in silence. Please remove your shoes after you come in the door and find a seat. There are no assigned seats. We have cushions, benches and chairs available. (If we are expecting a large group, we'll advise you ahead of time to park at the grassy area on your right just at the turn onto Old Toll Rd., and to walk up the drive.) Enjoy your breathing!
THE BATHROOM is in the cottage, through the kitchen and turn left into the hallway off the livingroom, first door on your left. No need to knock. The best times to use the bathroom are before or after meditation, or during walking meditation.
FROM BLACK MOUNTAIN: Travel East on Route 70 from Montreat Rd. (Route 9) past the Black Mountain Primary School on your left and past the Super 8 Motel. At that corner, take the left-right jog in the road and continue to travel East parallel to the highway. DO NOT ENTER THE HIGHWAY, but stay on 70 which looks like an access road at this point. Our road, Old Toll Rd., is located exactly seven-tenths of a mile beyond the Super 8 Motel. You'll notice the Mt. Mitchell Railroad plaque and the Burgin's Chapel signs there. Take a left onto Old Toll Rd. Immediately it becomes Old Toll Circle. You may wish to park in the grassy area near the telephone pole and walk to the drive and up to the meditation hall because the drive is very steep. Or, stay straight, and we are the second drive on your left–219, Cloud Cottage. (See above for parking and bathroom instructions.)
OUR TELEPHONE: 828-669-0920
OUR SCHEDULE: Wed. 6:00-7:30 PM in the style of Thich Nhat Hanh (Please call if you wish instruction during the pre-sit at 5:30) at Cloud Cottage

LEARN TO MEDITATE CLASSES fourth Wednesdays at 6:00-7:30 at Cloud Cottage
AA MEETING Sunday mornings, weekly 11:00 - 12:15 Eleventh Step Study, Open to all 12-step groups at Cloud Cottage

Sundays, weekly 4:15 - 5:15 Cheshire Fitness Club, Black Mountain, Judith teaches a Meditation for Health class.

Sun. 8:00-9:00 AM in the Japanese Zen style, followed by informal tea (pre-sit 7:30; no instruction) at Cloud Cottage

--Days of mindfulness and retreats
–Monthly beginners' class
–Monthly e-newsletter: cloud water
–Dharma interviews with Philip and Judith by appointment
--Zen lending library.
---
Coeur d Alene Dharma Friends
Address: 1319 Government Way Coeur d\'Alene ID 83815
Tradition: Mahayana
Affiliation: Sravasti Abbey
Phone: (509) 447-5549
E-mail: cdadharma@earthlink.net
Website: http://www.sravastiabbey.org
Find on:


Lead Student:: Susan Mitchell
Spiritual Director: Venerable Thubten Chodron Email (Phone: (509) 447-5549)
Notes and Events:
We meet every Thursday at 5 PM (for the foreseeable future) to listen to teleteachings by Venerable Chodron from Sravasti Abbey. See www.sravastiabbey.org or www.thubtenchodron.org for more information on her teachings.
---
Community of Peace and Spirituality
Address: 5 West 86th Street #14C New York NY 10024
Tradition: Theravada
Phone: 212 787-7272
Fax: 212 877-4655
E-mail: ourcommunity@earthlink.net
Website: http://interfaithhome.org/index.htm
Find on:


Main Contact: Allan Lokos Email
Teacher: Allan Lokos
Spiritual Director: Rev. Susanna Weiss Email
Notes and Events:
Meditation and teaching most Sunday mornings from 10 AM to Noon. Place: 593 Columbus Ave. (88th St.) New York City. Check web site for details and exact schedule: www.interfaithhome.org. or cal 212 787-7272.
---
Compassionate Service Society East (CSS East)
Address: 5006 Roslyn Road Annandale VA 22003 Annandale VI 22003
Tradition: Mahayana
Affiliation: Compassionate Service Society (CSS)
E-mail: csseast@gmail.com
Website: http://www.csseast.org
Find on:


Treasurer: Chinhtin Bui Email
Spiritual Director: Hang Truong Email
Main Contact: Dyung Le Email
Notes and Events:

The Compassionate Service Society is a non-profit 501(c)3 Organization based in Southern California, USA. CSS was founded by Master CE Hang Truong in 2002.

Born in Vietnam, Venerable Hang Truong grew up during the war, and was educated in United States,. He was ordained under Chinese tradition and educated in the Dharma under the direct tutelage of Master Hsuan Hua, the founder of the City of Ten Thousand Buddha Chinese Zen lineage. Master Hang Truong has worked and served multiethnic communities across Asia, America and Europe.

The Master embodies, teaches, and lives by multicultural, multi-disciplined, global centric values. He is very well known for his holistic, integral approach to modernize and integrate Buddhism into the fast changing world.

Though founded on Buddhist principles, CSS takes an ecumenical and all-inclusive approach that transcends religious and cultural boundaries. By integrating the ancient teachings of Buddhism with the best of 21st century thought, practices, philosophies, and knowledge, CSS seeks to bring unity and healing to the body, mind and spirit.

CSS' Services Group consists of volunteers who dedicate their time, energy and care towards giving service to the community. CSS volunteers have taught Integral Tai Chi and Yoga classes, sponsored humanitarian relief and charity projects, led family summer camp, and organized many meditation and spiritual retreats.
---
Dari Rulai Temple
Address: 148 S. 8th Ave, Ste. A La Puente CA 91746
Tradition: Mahayana, 49th MahaAcharya, the Dharma Lineage Holder of the Esoteric School, AND the 47th Lineage Holder of the Linji School of Chan/Zen Buddhism, and the 16th Linage Holder of the renouwned Zhaojue
Affiliation: MahaVairocana Dharma King Dechan Jueren
Phone: 626-330-0921
Fax: 626-330-4971
E-mail: darirulaitemple@hotmail.com
Website: http://www.dari-rulai-temple.org
Find on:


Abbot, Vajracharya: Dan Kendall, Chanzhi Decheng
Main Contact: Abbot of the Temple Email (Phone: 626-330-0921)
Teacher: Zanze Pandit, Chanzhi Dezhi
Spiritual Director: Maha Vairocana Dechan Jueren
Notes and Events:

Teachings

Buddhist esoteric practice involves the use of mantras, mudras, and visualizations to go from an ordinary state of mind to a higher state. A daily meditation practice is essential to greatly speed the natural self-healing process of the body.

Foundation Practices:

Treasure Vase
Calming and Relaxing
Diamond Wisdom
Dhyana Yoga
Prajna Akasagarbha

Advanced Practices:

Medicine Buddha Dharma
Buddhist Healing Techniques
Black Furious Manjusri Dharma
Ucchusma Vajrapala Sutra
Dharma Instruments
Dharani Cover Mala Dharma

Treasure Vase
This Dharma has been used by many practitioners to keep their bodies warm in the cold Himalayan snows, and cool in the blazing heat of the Gobi desert.

The practitioner develops purity and stillness of being, which brings the body under the complete influence of the mind. When the mind is in complete stillness, the body will not change as the environment changes.

Practice the Outer Qi Generating and Releasing dharma for self-healing and to cultivate the ability to heal others. Learn to adapt to extreme weather with the body warming and cooling meditation techniques.

Calming and Relaxing
The first state of Zen (Chan, or Dhyana) meditation. Learn how to enter into state by eliminating the resisting mind through the practice of Guided Calming, Body Relaxation, Mind Relaxation, and Mind Transcendence.

Diamond Wisdom
The second state of Zen meditation. Learn to firm the seed through the state of motion and stillness, being and non-being, called. Contains the Interflow of the Four Links, the Simultaneous Rotation of the Five Wheels, the Illumination of the Nine Suns, and the Observation of One Unified Body.

Dhyana Yoga
The fourth state of Zen Meditation. Attain direct knowledge and insight into the ineffable using the Eight Word Heart Dharma. Tranquil Contemplation, or Diamond Yoga Method: Calm, Null, Sink, and Fall. Transcendental Meditation, the main content of Dhyana cultivation: Chan, Din, Know, and Wisdom/Insight.

Prajna Akasagarbha
The Prajna Akasagarbha is an esoteric Buddhist healing dharma practice which literally means, wisdom hidden in the womb of space. This ancient dharma practice of Akasagarbha Bodhisattva, which was hidden in China for centuries, is considered a key to enlightenment, valued for its ability to increase physical vitality and energy, and bring forth rapid spiritual progress.

In essence, it is a sequence of movements (mudras) combined with visualizations and a mantra that help to align the individual to the universe and awaken the sleeping seeds of Alaya consciousness in the body.

The 16 basic mudras, when practiced diligently, will help the practitioner experience the gravitational pulls of the heavenly bodies, grasp the rhythm of nature, and attain health, prosperity, and wisdom. It flows like water and moves slowly with great depth. It is fun to do and suitable for all ages and abilities. Wear comfortable clothing.

Medicine Buddha Dharma
The sanskrit name of the Medicine Buddha is Bhaisajyaraja. The Chinese call him Yao Shi Fo, the Tibetans Sangye Menla, and the Japanese Yakushi. He is a great Master who made many vows to alleviate the suffering of all beings. The Medicine Master Lapis Lazuli Light King Buddha Extinguishing Disaster and Prolonging Life Dharma is for healing, protection, and prevention of illness and disease, as well as for extinguishing disaster, extending life, and bringing forth good luck. Includes separate purifying techniques for food, water and air.

Buddhist Healing Techniques
This workshop contains various meditations, applications, and techniques used by Buddhist healers to handle situations ranging from a simple headache to tumors and cancer.

Black Furious Manjusri Bodhisattva Bodyguardian Dharma
Currently not available to non-disciples.
This teaching was brought from India to China in 749 AD, and was traditionally taught only to initiated disciples. This dharma is used for spiritual protection from negative forces, and to extinguish accidents, disasters, and bad fortune.

Black Manjusri builds a foundation for advanced Feng Shui, space clearing, and dealing with problems associated with unusual phenomenon.
---
Davis Buddhist Meditation and Study Group
Address: 27074 Patwin Road Davis CA 95616
Tradition: Theravada, Peer led Buddhist meditation and study group
Affiliation: Mountain Stream Meditation Center
Phone: (530) 219.7900
E-mail: auctionjack@gmail.com
Website: http://davisinsightgroup.org
Find on:


Main Contact: Jack Young Email (Phone: (530) 219.7900)
Notes and Events:
Who and what...
We are a lay Buddhist meditation and study group. We have been meeting regularly since 1994. Generally, we follow a Theravadan practice but all are welcome and will find a comfortable environment for following their Buddhist practice. There is a sitting meditation for 30 minutes, 10 minutes of walking meditation a peer led Dharma discussion and tea / conversation time. Meditation instruction available weekly.
Zafus and zabutons are available.

Where...:
Unitarian Universalist Church of Davis
27074 Patwin Road, Davis, California

Directions:
Patwin Road is 1.5 miles west of Hwy 113 off Russell Blvd. After turning south on Patwin road, the Church is 100 yards on the right. Our group meets in the main hall (through main entrance, then turn right).

When...:
Weekly Meditation - and discussion every Thursday evening: 7:30 to 9:00.
***Beginning March 6, 2008, the time will change to: 7pm to 8:30pm.***
Monthly Potluck - Third Thursday of each month at 6 pm (meet in the kitchen (through main entrance and to the left).
Monthly 'Morning of Mindfulness' (half-day sitting) - Second Saturday of each month from 9:00 AM to 12:30 AM.
---
Dawn Mountain Tibetan Temple Community Center & Research Institute
Address: 1925 B Richmond Avenue Houston TX 77098-3401
Tradition: Vajrayana, Mindfulness, Dzogchen,
Phone: (713) 630-0354
Website: http://www.dawnmountain.org/
Find on:


Spiritual Director: Founder Anne Klein
Notes and Events:
Guided meditation is offered 11 a.m. to noon Sundays,
Teaching Tuesdays are 7 to 9 p.m. the first and third Tuesdays of the month.

---
Dayton, Ohio Miami Valley Meditation at SKH Quest Center
Address: c/o SKH Quest Center 6236 Far HIlls Avenue Dayton OH 45459
Tradition: Vajrayana, Japanese Tendai and Tibetan Sakya traditions
Affiliation: Tendai Mitsugon-An and Vikramasila Palden Sakya Centers
Phone: (937) 436-9990
E-mail: info@bluelotusassembly.org
Website: http://www.BlueLotusAssembly.org
Find on:


Spiritual Director: An-shu Stephen K. Hayes
Notes and Events:
Chenrezig - Kannon - Avalokiteshvara yoga meditation 8:30 - 9:30 pm on Wednesday closest to the full moon. Join us for a full moon meditation practice in generating awareness of our inherent proclivity towards compassionate intelligent encouraging engagement with the world, through identification with our own inner nature of being a "heroic bright light who hears the sorrows of the world".

This center also known as Blue Lotus Assembly

---
Deep Streams Zen Institute
Address: 1801 Bush Street, Suite 213 San Francisco CA 94109
Tradition: Mahayana, Zen
Affiliation: Diamond Sangha
Phone: (415) 353-5363
Fax: (415) 353-5794
E-mail: admin@deepstreams.org
Website: http://www.deepstreams.org
Find on:


Spiritual Director: Joseph Bobrow Email (Phone: (415) 353-5363)
Notes and Events:
Join us on Tuesday evenings, 7 pm, at the Cultural Integration Fellowship at Fulton and 3rd. Ave. for regular zazen sittings. Sittings include zazen (zen meditation), brief talk by Joseph, and tea to follow. Meditation periods are 25 minutes long and you may sit in any position you like, including a chair. Beginners as well as seasoned practitioners are welcome, and instruction is provided. Please plan to arrive by 6:50 pm.
---
First Previous 67 68 69 70 71 72 73 74 75 76 77 78 79 80 81 82 83 84 85 Next Last