United Kingdom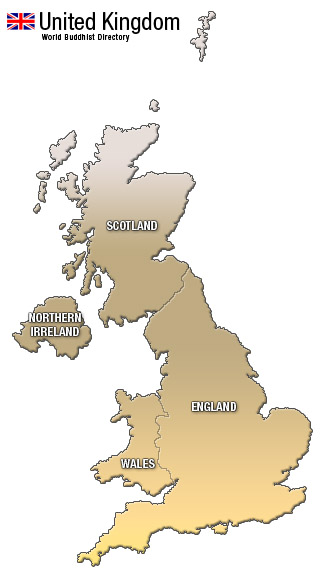 There were 531 results matching your query.
First Previous 9 10 11 12 13 14 15 16 17 18 19 20 21 22 Next
Diamond Way Buddhist Group Brighton
Address: 25 Baker Street, Brighton, BN1 4JN Brighton East Sussex BN1 4JN
Tradition: Vajrayana
Phone: 01273202871 and 07736061108
E-mail: brighton@dwbuk.org
Website: http://www.dwbuk.org/centres/brighton/
Find on:


Teacher: Lama Ole Nydahl
Spiritual Director: H.H. 17th Karmapa Trinley Dorje
Main Contact: Ingrid Gegner
Notes and Events:
The group represents more than 600 lay Diamond Way Buddhist Centers of the Karma Kagyu Lineage under the patronage of H.H 17th Karmapa Trinley Thaye Dorje and directed by Lama Ole Nydahl. Our Centers are friendly places where people get an easy access to Buddha's timeless wisdom, meditate together, share experience and actively participate in the Center activities. We offer meditations, meditation courses, retreat places, study courses and lectures by more than 300 international Lay Buddhist Teachers.
The Brighton group has been established in 2003. We are currently meeting in a small lock-up shop off Baker Street in the London Road area. There is always a short introduction, followed by a guided meditation. Newcomers are always welcome, and there is lots of time to ask questions over a cup of tea after the meditation. We also have a small library and shop with Buddhist books and meditation texts.
---
Dogen Sangha Buddhist Group
Address: 21 Melbourne Road Bishopston Bristol BS7 8LA
Tradition: Mahayana, Soto Zen
Website: http://www.dogensangha.org.uk/
Find on:


Main Contact: Mike Eido Luetchford Email (Phone: 0117-924-3828)
Teacher: Mike Eido Luetchford
Spiritual Director: Nishijima Roshi
Contact: Eido Michael and Yoko Luetchford
Notes and Events:
Dogen Sangha Buddhist Group follow the practice and teachings of Zen Master Dogen, the 13th Century Japanese monk and philosopher. We hold regular zazen practice in Bristol. London, Bridlington, and Glasgow, and monthly one-day sesshin (intensive practice) in Bristol and London. Open to all. We also hold longer sesshin 3 to 4 times a year. See our website for details.
---
Doncaster Zen Group
Address: Doncaster Yorkshire
Tradition: Mahayana, Taizan Maezumi
Affiliation: Dana Sangha - White Plum Asangha
Phone: 07789 501928
E-mail: williams7477@tiscali.co.uk
Website: http://www.doncasterzen.co.uk
Find on:


Group Leader: Scott Williams Email (Phone: 07789501928)
Notes and Events:
Practice of Zen meditation with group discussion and the opportunity for private discussion of practice.
All are welcome and beginners will be given full instruction.
---
Dzogchen Community UK
Address: Flat 5 Bernard Hegarty Lodge 81 Lansdowne Drive London E8 3EP
Tradition: Non-Sectarian
E-mail: amely.becker@dzogchencommunity.org
Website: http://www.dzogchencommunity.org
Find on:


Spiritual Director: Chogyal Namkhai Norbu
Notes and Events:
Dzogchen is an ancient spiritual teaching developed in Tibet within the Tibetan Buddhist tradition. It does not belong to a school or religious system. Rather, it is the knowledge that Tibetan masters have transmitted without being limited by sectarianism. The word \\\'Dzogchen\\\', meaning \\\'total perfection\\\', actually refers to the true inherent nature of all beings, their primordial state, which is free from all limitations and conditioning. The master\\\'s transmission of this state of knowledge lies at the very heart of the Dzogchen teachings.
The Dzogchen tradition has been passed from master to student in an unbroken lineage over the centuries, right up to the present day. Due to its direct and unelaborate approach, it transcends cultural boundaries making it accessible to all nationalities alike regardless of their spiritual background.
The Dzogchen teachings are divided in three series: Semde, Longde and Mennagde. The three series are three ways of presenting the teaching, each with its corresponding methods of practice; the aim of all three, however, is to lead the practitioner to final realization.
In Semde, the \\\'mind series\\\', the practitioner is introduced to the nature of mind in order to have a actual experience of it.
Longde means the \\\'space series\\\': in this instance space refers to the primordial dimension of emptiness which serves as a base for manifesting the clarity of the practitioner, and for developing their understanding.
Mennagde, the essential series of \\\'secret instructions\\\' or Upadesha, comprises special teachings and methods based on the experiences of masters, with the aim of helping the practitioner progress up to complete realization.
---
East Dorset Buddhist Group
Address: c/o St. Michael's Church Centre Colehill, Wimborne Dorset BH21 7AB
Tradition: Non-Sectarian
Phone: 01202 304207
Find on:


Contact: Steve Wilkens (Phone: 07910417617)
Notes and Events:
Group meets for meditation and discussion at St. Michael's Church Centre on the second and fourth Thursdays of each month between 10.30am and 12.30pm. The group supercedes the Bournemouth area Buddhist Group which no longer meets. No experience is necessary and all are welcome.
---
East Kent Soto Zen
Address: Nonington, Dover Kent CT15 4HH
Tradition: Mahayana, Japanese Soto Zen: Gudo Nishijima, Kodo Sawaki
Affiliation: Treeleaf Zendo (http://www.treeleaf.org)
Phone: 01304 842673
E-mail: amclellan70@gmail.com
Website: http://eastkentsotozen.wordpress.com
Find on:


Main Contact: Andy
Notes and Events:
Just sitting (Shikantaza) meditation in the tradition of Soto Zen.

---
Edinburgh Theravada Buddhist Group
Address: 0131 337 0901 (Muriel Nevin) or 0131 556 7000 (Myint Su) Scotland
Tradition: Theravada
Affiliation: Harnham Buddhist Monastery
Website: http://www.theravadanbuddhists.co.uk/home
Find on:


Contact: Neil Howell (Phone: 0131 226 5044)
Notes and Events:
The Edinburgh Buddhists practice in the Forest Sangha tradition of the venerable Ajahn Chah of Thailand. We are affiliated with the Ratanagiri monastery in Harnham and Amaravati in Hemel Hempstead.

We meet every Thursday evening for meditation and group discussion. All are welcome, whether you\\\\\\\\\\\\\\\\\\\\\\\\\\\\\\\'re looking for a regular practice or an occasional meditation. We begin the evening with chanting and meditation, followed by group discussion or a dhamma talk.

7:30 - 9:30 pm, Christ Church Hall, Holy Corner, Bruntsfield Place in Edinburgh. Every Thursday, by donation.
---
Gaia House
Address: West Ogwell Newton Abbot Devon TQ12 6EW
Tradition: Theravada, Mahayana, Non-Sectarian
Affiliation: Insight Meditation / Vipassana / Zen
Phone: +44 (0)1626 333613
E-mail: info@gaiahouse.co.uk
Website: http://www.gaiahouse.co.uk
Find on:


Teacher: Christina Feldman
Spiritual Director: Yanai Postelnik Email (Phone: +44 (0)1626 333613)
Notes and Events:
Gaia House is an old Georgian country house set in its own mature parkland gardens amongst the rolling hills of Devon, deep in the English countryside.
We provide a year-round timetable of Group Retreats, mainly in the Insight Meditation tradition but with many Zen retreats. Additionally, we also provide an extensive facility for Personal Retreats, where individuals can conduct solitary retreats within the house and grounds for up to 3 months.
---
Gomde Lindholme Hall
Address: Lindholme Island, Hatfield Woodhouse, Doncaster,Yorkshire UK, DN7 6DT Doncaster Yorkshire DN7 6DT
Tradition: Vajrayana, Chokling Tersar - Chokyi Nyima Rinpoche
Phone: +44 (0)1302 842503
Fax: +44 (0)7880 705440
E-mail: national@gomde.org.uk
Website: http://www.gomde.org.uk
Find on:


Notes and Events:
International Centre for the Study & Practice of Tibetan Buddhism

We have a new centre established under the guidance of Chokyi Nyima Rinpoche to help others understand more about Buddhism.

Our aim is to celebrate the teachings of the Buddha and other realised masters of Vajrayana Buddhism. We would like everyone, wherever they are, to feel included in this project so come and visit us.

Regular Meditation Groups: Tuesday evenings 7-9pm.

All are Welcome (please call 01302 842503 for bookings)

---
Hampshire Buddhist Society
Address: 32 Norfolk Road Southampton Hampshire SO15 5AS
Tradition: Theravada, Non-Sectarian, and Rinzai Zen
Affiliation: Chithurst Buddhist Monastery; The Zen Centre, London;
Phone: 023 8055 6817
E-mail: hampshirebuddhistsociety@gmail.com
Find on:


Main Contact: Honorary Secretary Email (Phone: 023 8055 6817)
Notes and Events:
The Society

The Hampshire Buddhist Society was founded in 1966 as a local affiliate of the Buddhist Society, founded in 1924. It is not, as the name suggests, an umbrella organisation for Buddhists in Hampshire. It consists of two groups that meet in Southampton, offering two of the traditional forms of Buddhism, both rooted in the Buddha's ancient teachings.

The Theravada Group

Theravada Buddhism developed in Sri Lanka, Burma, Thailand, Laos & Cambodia. The group is affiliated to Chithurst Forest Monastery in West Sussex. Meetings are held twice a month at the Friends Meeting House. Several times a year, a monk or nun from Chithurst will lead the meeting and give specific guidance on the practice.

The Zen Group

Zen Buddhism developed in China, Korea & Japan. The group is affiliated to the Zen Centre in London, which offers traditional Zen training in the Rinzai school. Meetings are held on Wednesday evenings at a member's house. Twice a year, a teacher from the Zen Centre visits the group for a day. There are monthly all-day meetings in London and many other opportunities to train.
---
Harrogate Zen Group
Address: 46 St Clements Road Harrogate HG2 8LX
Tradition: Mahayana
Affiliation: Zen River Buddhist Training Temple, Uithuizen, NL
Phone: 01423884000
E-mail: hilaryandstephen@googlemail.com
Find on:


Notes and Events:
Weekly meditation group within the Soto Zen tradition open to people of all faiths or none.
---
Hastings Buddhist Meditation Group
Address: 4 St Marys Terrace Hastings East Sussex TN34 3LS
Tradition: Non-Sectarian
Phone: 00441424460707
E-mail: p.eas7er@gmail.com
Find on:


Group Faciltator: Peter Easter Email (Phone: 01424460707)
Notes and Events:
Wednesday evenings (not weekly) at St Marys Terrace, Hastings. Silent meditation followed by a led discussion on an aspect of the Buddhas teaching, how to apply this in everyday life and the benefits of such application. There is no charge. Facilitated by an experienced practitioner of 25+ years standing and ordained in the Soto Zen tradition. Ring or email for further details.
---
Hazy Moon Zen Sangha - North London
Tradition: Mahayana, Non-Sectarian
Affiliation: White Plum Soto and Rinzai
Phone: 0781 7382910
E-mail: hazymoon@onetel.com
Website: http://www.manubazzano.com
Main Contact: Manu Email (Phone: 0781 7382910)
Teacher: Manu Bazzano
Notes and Events:
We sit every Thursday from 7pm to 9pm and on the last Saturday of each month from 10am to 4pm. Atmoshpere is informal and friendly. We practice zazen, open discussion and reading from Dharma texts. On Saturdays a vegetarian lunch is provided.
---
Hermitage of the Awakened Heart
Address: Ynys Graianog, Ynys, Criccieth, Gwynedd Wales, U.K. Criccieth Wales LL52 0NT
Tradition: Mahayana, Tibetan, Kagyu/Nyingma
Affiliation: Awakened Heart Sangha
Phone: 01766 530 839
E-mail: hermitage@ahs.org.uk
Website: http://www.ahs.org.uk/
Find on:


Spiritual Director: Lama Shenpen Hookham Email (Phone: 01766 530 839)
Main Contact: Dashu Email (Phone: 01766 530 839)
Contact: Tara Email (Phone: 01766 530 839)
Notes and Events:
We run monthly open meditation days on or around the full moon, daily meditation sessions morning and evening.
We are available for group and solitary retreats for practitioners. Usually these are for students of Lama Shenpen Hookham, however, practitioners are welcome to stay by appointment.
Please contact us for more information.
---
Jamyang Buddhist Centre Leeds
Address: 31 St Pauls Street Leeds LS1 2GJ
Tradition: Vajrayana, Tibetan, Gelugpa
Affiliation: FPMT
Phone: 07866 760460
E-mail: smile@jamyangleeds.co.uk
Website: http://www.jamyangleeds.co.uk
Find on:


Main Contact: Wendy Ridley Email (Phone: 07866 760460)
Teacher: Ven Mary Reavey
Spiritual Director: Lama Zopa Rinpoche
Notes and Events:
Jamyang Buddhist Centre Leeds was founded in 1996 under the spiritual direction of Lama Zopa Rinpoche. As a non-residential centre run by volunteers, our aim is to provide a peaceful place for meditation and a community of support for the study and practice of Tibetan Buddhism. We honour the work of His Holiness the Dalai Lama and are affiliated to the Foundation for the Preservation of the Mahayana Tradition (FPMT) which is part of the Gelugpa tradition of Tibetan Buddhism.
We regularly host Geshe Tashi Tsering, the resident teacher at Jamyang Buddhist Centre in London, and other highly respected teachers - both lay and ordained - from the FPMT network. As a registered charity, our aim is to make meditation and Buddhist teachings available to anyone who requests them.
In a typical week our programme includes:

Monday 18:30-19:30 Meditation for Beginners
Tuesday 18:30-19:30 Chanting Meditation/Puja
Thursday 12:30-13:00 Lunchtime Meditation 18:30-20:00 Discovering Buddhism
Sat & Sun Varied programme.
---
Jamyang Coventry
Address: c/o The Koco Building The Arches Spon End (Mail Address Only) Coventry Warwickshire CV1 3JQ
Tradition: Vajrayana, Tibetan
Affiliation: FPMT, Jamyang Buddhist Centre London
E-mail: coventry-buddhists@hotmail.co.uk
Website: www.coventry-buddhists.com
Find on:


Tutor: Ven. Lobsang Dawa Email
Main Contact: Ven. Lobsang Dawa Email
Teacher: Geshe Tashi Tsering
Spiritual Director: Lama Zopa Rinpoche
Notes and Events:
Classes in Buddhism and Meditation are held on Monday nights during term time. Additional Saturday Morning classes are also planned. For times and dates, please look up the website, or Email us.
---
Kagyu Samye Dzong London
Address: 15 Spa Road London London SE16 3SA
Tradition: Vajrayana, Kagyu Lineage
Phone: +44 (0)20 3327 1650
E-mail: ksdlondon@samye.org
Website: http://www.london.samye.org
Find on:


Spiritual Director: Lama Zangmo
Notes and Events:
Our centre in Spa Road opened in 2010 and we offer teachings and courses on meditation and Tibetan Buddhism. Visitors are encouraged to join in the regular meditation practices, there is a Tibetan tearoom and yoga, martial arts and alternative medicine consultations are also being offered. Please see our website for more information.
---
Karuna Institute
Address: Natsworthy Manor, Widecombe-in-the-Morr Nr. Newton Abbot Devon TQ13 7TR Devon
Tradition: Theravada
Phone: 01647 221457
E-mail: karuna@eurobell.co.uk
Website: http://www.karuna-institute.co.uk/contact.html
Find on:


Notes and Events:
The Institute provides opportunities for deepening embodied awareness and cultivating presence and open-heartedness in relationship.
The integration of mindfulness practices with western psychotherapeutic and Craniosacral Biodynamic practices is entirely unique. The Institute is evolving its own wisdom tradition, which acknowledges its ancient roots in Buddhist psychology, ethics and practice and also its roots in western psychodynamic psychotherapeutic practice. It provides unique contemporary trainings at the forefront of orthodox and complementary healthcare.
There are three complementary streams of activity generated within the Institute:
More specifically, the Institute offers the following core Trainings:
MA Programme : 4 year Professional Training in Core Process Psychotherapeutic Practice (Validated by Middlesex University)
MA Programme : Post-Qualification Training in Mindfulness-Based Psychotherapeutic Practice (validated by Middlesex University)
CPD courses in Core Process Psychotherapy and Supervision Training
The Primal Sympathy: an Interdisciplinary Post-Graduate Training in Pre- and Perinatal Therapy : 2 Year Continuing Professional Development (CPD) Course
Craniosacral Biodynamics : Diploma Course 2 Year Professional Training
Advanced Seminars and Diploma in Cranioscaral Biodynamics
As well as
retreats
training in Kum Nye Tibetan Yoga
---
Kidlington Zendo
Address: 23 Osborne Close Kidlington Oxfordshire OX5 1TU
Tradition: Non-Sectarian
Phone: 01865 371109
E-mail: michael@pockley.plus.com
Website: http://www.kidlington-zendo.org.uk
Find on:


Teacher: Michael Pockley
Main Contact: Michael Pockley Email (Phone: 01865 371109)
Notes and Events:
We meet as a group twice a week, plus about three half-day sesshins per year.
The accent is on silent meditation, although newcomers are given whatever instruction they need to get started and occasionally one of the more experienced meditators will offer instruction upon a particular technique.
However, while we are all sitting there silently, what people do inside their own minds is entirely their affair!
Meditations tend to last 30-40 minutes and are preceded by tea and chat.
KOAN TRAINING is offered by the teacher, Kaishin Inshu, aka Michael Pockley.
Details of upcoming meetings are posted on www.kidlington-zendo.org.uk
---
Lancaster Serene Reflection Meditation Group
Tradition: Mahayana, Order of Buddhist Contemplatives, Soto Zen
Affiliation: Throssel Hole Buddhist Abbey
Phone: (0) 1524 593621
Website: http://www.lancasterserenereflection.org.uk
Contact: Kate (Phone: +44 1524 39918)
Contact: Paul (Phone: +44 1524 593621)
Notes and Events:
The Lancaster Serene Reflection Meditation Group was formed in 1980. We meet on Mondays at 7.30pm at the Friends Meeting House in Lancaster, which is next door to the railway station. The first time you come, one of our experienced members will talk to you about our practice and give you meditation instruction. The style of meditation we practice is called 'serene reflection meditation' – we are part of the Soto Zen tradition of Buddhism.
The group is affiliated to The Order of Buddhist Contemplatives. The Order is dedicated to the practice of the Serene Reflection Meditation tradition, known as Ts'ao-Tung Ch'an in China and Sōtō Zen in Japan. The Order was established by Rev. Master Jiyu-Kennett to serve as the international umbrella organization for the monasteries, priories (local temples), and meditation groups led by priests of our lineage in Britain, Canada, Germany, the Netherlands, and the United States. The group has strong connections with Throssel Hole Buddhist Abbey, a Zen Buddhist monastery and retreat centre situated in Northumberland - its Abbot is Rev Master Daishin Morgan. Senior members of the monastic community there, regularly visit the group, and also lead short retreats in Lancaster. They are also available on request to give private spiritual counselling to group members.
---
Learn Mindfulness
Address: 13 Taylor Close Hampton Hill Middlesex Middlesex TW12 1LE
Tradition: Non-Sectarian
Affiliation: Secular Mindfulness/Insight Meditation
Phone: 07903343893
Website: http://www.learnmindfulness.co.uk
Find on:


Teacher: Shamash
Notes and Events:
We offer three things mainly
1. Monthly drop in sessions where all are welcome. This lasts about a hour and a half where I guide either a 30 minute sitting meditation or lying down body scan meditation
2. 8 Week Mindfulness Courses usually run over four session, with each session lasts 4 hours (with breaks of course!)
3. Mindful Coaching - One to one instruction in Mindfulness Meditation for those that want it.

---
Leeds Dharmamind Buddhist Group
Address: 107 Parkland Drive, Meanwood Leeds Yorkshire LS6 4PT
Tradition: Mahayana
Phone: 0113 2662678
E-mail: leedsdharmamind@yahoo.co.uk
Website: http://www.dharmamind.net
Find on:


Notes and Events:
Our meetings are held in the Meanwood area of Leeds every Thursday, from 7.00pm until 9.00pm for Buddhist Meditation and discussion. We gather promptly at 6.45pm before beginning a 40 minute period of meditation at 7.00pm. This is followed by a Dharma discussion initiated by the screening of a DVD, an audio recording or written material where we have the opportunity to discuss together issues relating to Dharma practice. Experienced mediators and complete beginners are all welcome. The DharmaMind Buddhist Group is led by Dharma Teacher Aloka who has over 35 years of experience. The simplicity of this practice offers a path to stillness and a means to rediscover a spaciousness and freedom in our lives. To view details of the group go to www.dharmamind.net. For further details please call Matthew on 07989282215, Tom on 07702565336 or email leedsdharmamind@yahoo.co.uk

---
Leeds University Union Buddhist Meditation Society
Address: Activities and Resources Centre Leeds Univeristy Union Lifton Place Leeds Leeds Leeds LS2 9JT
Tradition: Non-Sectarian
Affiliation: FWBO teachers but all traditions welcome
E-mail: luubuddhistmeditation@hotmail.co.uk
Website: https://www.luuonline.com/studentactivities/faithandculturegroups/buddhistmeditation
Find on:


Main Contact: President Email
Teacher: Dh. Uddyotani
Notes and Events:
We are for staff and students of any Higher Education Institution in Leeds. Our main session is every Wednesday 2-4 pm at Leeds Univeristy Union. Our teacher is from the Western Buddhist Order, but we welcome people from all traditions and can tell you about other Buddhist groups in Leeds. Most of our members probably do not consider themselves to be Buddhist. We also lend books on meditation and buddhism and run socials, retreats and events with other societies. You can find us on facebook.
---
Leicestershire Buddhist Vihara
Address: (East Midlands Buddhist Association) 9 Una Avenue, Narbourgh Road, South, Leicester LE3 2GS Braunstone Leicestershire
Tradition: Theravada, Sri Lankan
Phone: 0116 285 5003
E-mail: leicestervihara@googlemail.com
Website: http://www.leicesterbuddhistvihara.co.uk
Find on:


Chief Incumbent & Spiritual Director: Ven. D Rathanajoty Thero
Incumbent & Spiritual Director: Ven. T. Amita Thero
Notes and Events:
Regular meditation sessions in Theravada Buddhist tradition, and Soto Zen.

---
London Diamond Way Buddhist Centre
Address: 39 Black Prince Road, London SW11 6JJ London
Tradition: Vajrayana, Karma Kagyu, Diamond Way
E-mail: london@buddhism.org.uk
Website: http://www.buddhism-london.org/
Find on:


Spiritual Director: HH 17th Karmapa Trinley Thaye Dorje
Notes and Events:
The London Diamond Way Buddhist Centre offers meditation and teachings from the Karma Kagyu lineage of Tibetan Buddhism in a modern and accessible style. Please check our website for the latest opening times.
---
First Previous 9 10 11 12 13 14 15 16 17 18 19 20 21 22 Next