United Kingdom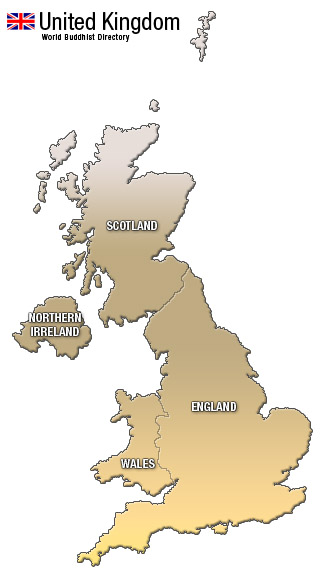 There were 531 results matching your query.
First Previous 13 14 15 16 17 18 19 20 21 22
Western Chan Fellowship
Address: c/o 24 Woodgate Avenue, Bury LANCS Lancashire BL9 7RU
Tradition: Mahayana, Chan
Phone: +44 (0) 1617611945
E-mail: teacher@westernchanfellowship.org
Website: http://www.westernchanfellowship.org
Find on:


Spiritual Director: Dr Simon Child Email
Teacher: Dr Simon Child
Contact: Simon Child (Teacher) Email (Phone: 0161 761 1945)
Notes and Events:
The Western Chan Fellowship provides a programme of intensive Chan (Chinese Zen) retreats in the UK. We are a lay organisation who have fully authorised teachers who have received Dharma Transmission from Chan Master Sheng-yen. Refer to our website for details of our current programme.

We also have a network of local Chan groups in the UK and in some parts of Europe. Our website gives contact details and locations.
Our website holds an extensive library of Dharma teachings and other literature such as retreat reports by past participants on our retreats.
---
Woking Awakened Heart Sangha
Address: Woking Surrey
Tradition: Mahayana, Tibetan Nyingma and Kagyu lineages
Affiliation: Awakened Heart Sangha
Phone: 007985 656014
E-mail: info.wokingahsgroup@gmail.com
Website: http://www.wokingahas.weebly.com
Find on:


Spiritual Director: Lama Shenpen Hookham
Main Contact: Jackie McGarry
Notes and Events:
We are a local group affiliated to the Awakened Heart Sangha founded in 1998 by Lama Shenpen Hookham. At present we meet monthly for meditation, study and discussion at St Columba Retreat Centre in Woking. Towards the end of 2012, we are offering a 3 day formless meditation course taking place on 23rd September, 3rd November and 8th December. For more information contact Jackie McGarry on the phone number or email address listed.
---
Wolfson College Meditation Society
Address: Wolfson College Linton Road Oxford Oxfordshire OX2 6UD
Tradition: Theravada, Teachers invited from Oxford Buddha Vihara on Wednesdays at 7 pm term time
Affiliation: Student-run non-sectarian Meditation Society.
Find on:


Main Contact: Zrenner, Michael Email (Phone: 07795414384)
Notes and Events:
Meeting during term times at 6.55 pm in front of Wolfson College Lodge.
Meditation takes part in the Wolfson College Annexe Library.
Teachings are completely free of charge, anybody welcome.
---
York Chan Group
Address: Jake Lyne or Jannie Mead 01904 628536 Yorkshire
Tradition: Mahayana, Chan (Zen)
Affiliation: Western Chan Fellowship
Phone: 01904 628536
E-mail: york@westernchanfellowship.org
Website: http://www.westernchanfellowship.org/york-chan-group.html
Find on:


Main Contact: Dr Jake Lyne (Phone: 01904 628536)
Spiritual Director: Dr John Crook
Notes and Events:
Chan (Zen) Meditation on Monday evenings, Thursday mornings and Day Retreats.
More details on: www.westernchanfellowship.org
---
Zen.nl
Address: 1 Chapter Cottages Shincliffe-Durham Durham DH1 2NE
Tradition: Mahayana, Rinzai Zen: Rients Ritskes, Rinzai, Rients Ritskes, Sokun Tsushimoto, Seiko Hirata.
Affiliation: zen.nl Rients Ritskes
Phone: 07917758612
E-mail: jan@zen.nl
Website: http://www.zen.nl/durham-uk
Find on:


Teacher: Jan de Ruiter, Osho
Spiritual Director: Rients Ritskes, Dai-Osho Email
Notes and Events:
Beginners courses Zen meditation starting 23 September. No prior knowledge or experience with meditation is required to follow these classes. The classes will provide everything that you will need to start practising meditation. It will also support you in establishing a regular practice. Classes are introduced with a talk providing background to the practice and the application of Zen in your daily life.
---
Zenways
Address: Zen Yoga Camberwell Grove London London SE5 8RE
Tradition: Mahayana, Mino branch of the Inzan line of Rinzai Zen
Affiliation: Rinzai Zen
Phone: 01698542677
E-mail: admin@zenways.org
Website: http://www.zenways.org
Find on:


Spiritual Director: Julian Daizan Skinner Roshi Email
Notes and Events:
Zenways is a Rinzai Zen Sangha based in Camberwell, London. Our guiding teacher is Julian Daizan Skinner Roshi. Twenty years ago, Daizan Roshi gave up a promising career as a scientist in the pharmaceuticals industry, sold his house, gave all the money away and entered a Zen monastery. Over many years of strict training, in Japan and the west, Daizan Roshi received Dharma Transmission in both the Rinzai and Soto lineages of Zen and received inka and permission to teach from Shinzan Miyamae Roshi of Gyokuryuji, with whom he continues to study.
---