United Kingdom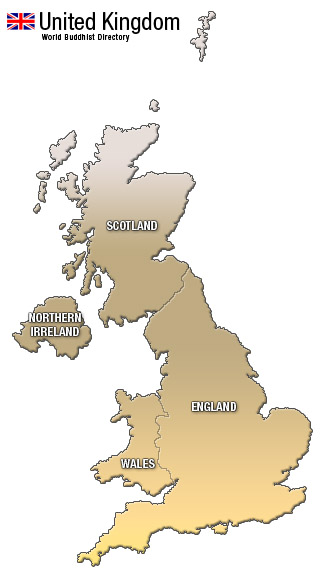 There were 617 results matching your query.
First Previous 15 16 17 18 19 20 21 22 23 24 25 Next
Sheffield Theravada Buddhism
Address: Sheffield Yorkshire S11 7HB
Tradition: Theravada, Thai Forest Tradition
Affiliation: Thai Forest Tradition
Phone: 07745106942
E-mail: breathingbuddha@hotmail.co.uk
Website: http://sheffieldmeditation.wordpress.com/
Find on:


Main Contact: Richard Email (Phone: 07745106942)
Notes and Events:
We offer a friendly group environment for formal sitting meditation.
We meet once a week to sit, listen to Dhamma from talks by senior teachers in the tradition and discussion of the practice.
The group is free and both beginners and advanced meditators are extremely welcome.
We have occasional group visits to Aruna Ratanagiri - Harnham Buddhist Monastery in Northumberland, UK.
For information on practice days visit the website.
---
Shuuriya Zen Sitting Group
Address: Grove Road,Rayleigh, Essex. SS6 8YF. Rayleigh Essex SS68YF
Tradition: Mahayana, all are welcome
Affiliation: Zen
Phone: 07527 656792
E-mail: daneko@sky.com
Website: www.shuuriya.co.uk
Find on:


Main Contact: Daniel Croucher Email (Phone: 07527 656792)
Notes and Events:
A small zen sitting group for absolute begginers and experienced sitters. Please contact me directly or visit the website for up to date information.
---
Sitting in the Middle
Address: 172 Merrivale Road Bearwood Birmingham B66 4EA
Tradition: Non-Sectarian
Affiliation: Gaia House
Phone: 0121 420 3268
E-mail: anantacitta@tiscali.co.uk
Website: http://www.sittinginthemiddle.org/
Find on:


Main Contact: Anantacitta Tunnell (Phone: 07794203539)
Buddhist meditation in Harborne on request: Anantacitta Tunnell Email (Phone: 0121 472 3712)
Notes and Events:
We are a small friendly group of meditation practitioners. We are a non-sectarian Secular Buddhist Group open to all who share our values. For more information on Secular Buddhism please click here.
---
South London Zen Group
Address: South London Zen Group 4a Park Street (across from Borough Market) Southwark London
Tradition: Mahayana, Soto Zen
Affiliation: International Zen Association (IZA)
Website: http://www.zeninlondon.org
Find on:


Main Contact: Alex le Fevre (Phone: 020 7582 0794)
Notes and Events:
The South London Zen Group meets each Monday night near London Bridge Station for Zazen meditation in the Soto Zen tradition. Affiliated to the International Zen Association, founded by Master Taisen Deshimaru, Our spiritual guidance is provided by Senior Dharma teachers of the International Zen Association (www.zen-azi.org).
Everybody is welcome to attend and beginners are invited to come to a short introduction to our practice each Monday at 19.00. Zazen begins at 19.30 sharp - more information can be found on our website at www.zeninlondon.org or on the IZAUK website at www.izauk.org
---
South Yorkshire Zen Group
Address: Quaker Meeting House 10 St James Street Sheffield Yorkshire S1 2EW
Tradition: Mahayana, Taizan Maezumi Roshi - Soto and Rinzai
Affiliation: Dana Sangha
Phone: 07789501928
E-mail: williams7477@tiscali.co.uk
Website: http://www.thezenmind.co.uk
Find on:


Main Contact: Scott Williams Email (Phone: 07789 501928)
Notes and Events:
We meet each Tuesday at the the Quaker Meeting House in the centre of Sheffield. Like our Facebook page https://www.facebook.com/SouthYorkshireZenGroup to stay up to date with meeting schedules. Each week there are two periods of sitting meditation with walking meditation in-between. There is full instruction available for beginners.
---
Southend Buddhist Group
Address: The Friends Meeting House 18 Dundonald Drive Leigh on Sea Southend Essex SS9 1NB
Tradition: Non-Sectarian, Triratna
Affiliation: Triratna Buddhist Community
Phone: 01702 601 360
E-mail: aryacitta@hotmail.com
Website: http://www.southendbuddhist.com/
Find on:


Teacher: Dharmachari Aryacitta
Notes and Events:
Beginners Courses twice a year or more
Meditation meetings in Leigh last Saturday of the month from March to November
Regular weekly meetings on a Thursday round people's houses to meditate and discuss Buddhism.

---
Sri Saddhatissa International Buddhist Centre
Address: SSIBC 309-311, Kingsbury Road Kingsbury London NW9 9PE
Tradition: Theravada,
Phone: +44 20 8204 3301
Fax: +44 20 8933 9395
E-mail: ssibc@live.co.uk
Website: http://www.ssibc.org.uk
Find on:


Main Contact: Ven. Galayaye Piyadassi MBE Email (Phone: +44 20 8204 3301)
Teacher: Ven. N Sumana
Spiritual Director: Ven. Galayaye Piyadassi MBE Email (Phone: +44 20 8204 3301)
Notes and Events:
Sri Saddhatissa International Buddhist Centre has two principal aims: to promote the understanding of Buddhism in the West, and to preserve the Buddhist culture among its supporters.
At the Sri Saddhatissa International Buddhist Centre you might find:
Dhamma and meditation classes
celebrations of important days in the Buddhist calendar – Vesak, Poson, Esala, Kathina, and Sangamitta Day
a daily religious service in the evening to the public [Buddhapuja] and Pirith chanting
Inter-faith seminars
visits to hospitals and homes for the sick
offering of alms to the poor and the destitute on Vesak Day
a reference and a lending library of valuable books
Distinguished personalities, academics, and Buddhist scholars, from both the clergy and the laity, deliver public lectures, speeches and Dhamma talks at different intervals throughout the year.
---
SriSambuddhaViharaya
Address: No:10, Grampian Court, Grampian Road,L7 0JX, Liverpool Liverpool Edge Lane Liverpool L70JX
Tradition: Theravada
Phone: 0044-1513529504
E-mail: viharasb@yahoo.com - info@srisambuddhaviharaya.com
Website: http://www.srisambuddhaviharaya.com
Find on:


Main Contact: Rev. B. Piyarathana Thero Email (Phone: 0044-7952933308)
Spiritual Director: Rev. K. Gunawansa Thero
Notes and Events:
THE DAILY ROUTINE OF THE SRI SAMBDDHA VIHARAYA IN LIVERPOOL
7.a.m. Morning Buddha Puja Chanting and Meditation
11. a.m. Buddha Puja & Blessing Service
7.p.m Evening Buddha Puja Chanting and meditation
Sundays 5-6 p.m. Meditation Class and Relaxation Class
During Vas Period (rainy Retreat) Special Buddha Puja Bodhi Puja and Dhamma sermons are held. ( From July Full moon Day to October Full moon Day
Meditation & Relaxing Yoga
Meditation sessions are held on Sundays at 5. p.m. You can get allocate convenient time for you to meditate by calling us.
---
StoneWater Zen Derbyshire
Address: Bolsover Assembly Hall, Hill Top Chesterfield S44 6NG bolsover Derbyshire S44 6NG
Tradition: Mahayana, Taizan Maezumi
Affiliation: stonewater zen
Phone: 07412563924
E-mail: shawcroft4@sky.com
Website: http://www.stonewaterzenderbyshire.com
Find on:


Main Contact: mark shawcroft (Phone: 07412563924)
Spiritual Director: Keizan Scott Sensei
Teacher: Keizan Scott Sensei
Notes and Events:
We are a Zen Buddhist organisation in the lineage of Taizan Maezumi Roshi. Stonewater Zen Derbyshire is a satellite sitting group under the guidance off Keizan Sensi. StoneWater Zen Derbyshire meets weekly in Bolsover Derbyhire.
We generally sit Zazen for 2 periods then have tea and a study period.
Beginners are most welcome
For more info please see
Stonewaterzen.org
Stonewaterzenderbyshire.com
Bolsover Assembly Hall, Hill To Chesterfield S44 6NG
THURSDAY EVENINGS 7:30 until 9:90.
---
StoneWater Zen Liverpool
Address: (Previously Liverpool Zen Group) The Dojo, Top Floor 13 Hope Street Liverpool Liverpool L1 9BH
Tradition: Mahayana, Soto / Rinzai Zen (Maezumi Roshi)
Affiliation: White Plum Asangha
E-mail: admin@stonewaterzen.org
Website: http://www.stonewaterzen.org
Find on:


Teacher: David Shoji Scott
Spiritual Director: Tenshin Fletcher Roshi
Notes and Events:
Sitting Monday & Wednesday evenings at 7.00pm - arrive 6.45 or earlier please. Beginners please see our website for details of introductory sessions.

We also hold regular monthly zazen days, occasional beginners courses, several weekend retreats in the Lake District and two annual week-long sesshins.

---
Sunshine Ross
Address: 3 Castleview Mark Street Glenarm BT44 0DA
Tradition: Vajrayana, Gelugpa
Affiliation: Asian Classics Institute, Limitless Health Institute
Phone: 1447955734321
E-mail: sunshine@rainbowlightyoga.com
Website: http://www.rainbowlightyoga.com
Find on:


Teacher: Sunshine Ross
Notes and Events:
in-person and online study of Tibetan Buddhism of the Gelugpa lineage and the works of Master Je Tsongkhapa. Gleaned from the 18 Courses taught by Gehse Michael Roach and the Asian Classics Institute.
One-day workshops are led on introduction to meditation and Lady Nigumas yoga. Donations are welcome. We are seeking generous sponsors who will help us provide these workshops for free to anyone who wants them. May all beings be happy!

What is it like? Informal talks on spirituality and just being around like-minded people and having a chat.

---
Swansea Buddhism
Address: Swansea Wales
Tradition: Nichiren Buddhism
Affiliation: Soka Gakkai International
E-mail: info@swanseabuddhism.org.uk
Website: http://www.swanseabuddhism.org.uk
Find on:


Main Contact: Swansea Buddhism Email
Notes and Events:
Nichiren Daishonins Buddhism in Swansea and Swansea Valley
From Bridgend to Swansea West and Swansea Valley
---
Tendai Buddhism UK
Address: Shikan-do Tendai Temple, Hythe, Southampton, Hampshire Hythe Hampshire
Tradition: Mahayana, Tendai Shu
Affiliation: Senzoji 天台宗泉倉寺
Phone: 07741483665
E-mail: tendai.uk@talktalk.net
Website: https://tendaiuk.com/
Find on:


Main Contact: Rev Seishin Clark Email (Phone: 07741483665)
Notes and Events:
We are small group of priests and lay people practicing Tendai Buddhism in Hampshire, UK.
---
Thames Buddhist Vihara meditation group
Address: Memorial Hall, Dulverton Road, Selsdon Surrey CR2 8PJ
Tradition: Theravada, Sri Lankan
Affiliation: Samatha-Vipassana
Phone: 0208 657 7120
Fax: 0208 651 3776
Website: http://www.geocities.com/thamesbuddhistvihara/
Find on:


Teacher: Matheesha Gunathilake
Notes and Events:
Sunday: Daham pasal (traditional dhamma teaching for children) & Sinhelese classes + Puja (chanting and traditional buddhist ceremony)
Tuesday 7pm - 9pm Meditation and discussion (English)
Wednesday 7pm- 9pm Meditation and discussion (Sinhalese)
Monthly full moon Sil programme
Monthly day retreat (please contact for more details)
Meditation is Samatha (jhana) and Vipassana, of the Ven Amathagavesi tradition
---
The Place of Peace Dharma House
Address: ABERYSTWYTH Wales
Tradition: Mahayana, Soto Zen, Order of Buddhist Contemplatives
Affiliation: Throssel Hole Buddhist Abbey
Phone: 01970 625402
Website: http://www.placeofpeacewales.org
Find on:


Founder: Rev. Master Jiyu-Kennett
Contact: Rev. Master Myoho Harris
Notes and Events:
We offer Meditation meetings, Dharma talks, retreats, services, spiritual counselling. We follow the Serene Reflection practice as passed on by Reverend Master Jiyu-Kennett.
Reverend Master Myoho was ordained by her in 1977 and is a Dharma Heir.
Visits are by arrangement (a telephone call) rather than on a 'drop in' basis.
More information is on our website. Thank you.
---
Tibetan Yoga Center
Address: Bangor, Gwynedd Wales LL57
Tradition: Vajrayana, Nyingma
Phone: +44-7527-908332
E-mail: tibetanyogainfo@gmail.com
Website: http://www.tibetanyogacenter.org
Find on:


Dr.: Dusana Dorjee
Teacher: Khenchen Lama Rinpoche
Spiritual Director: Khenchen Lama Rinpoche
Notes and Events:
Tibetan Yoga Centre provides a comprehensive program of study and practice focusing on core aspects of Tibetan yoga of body, speech and mind in order to realize the ultimate wisdom and compassion mind of Buddha. The program combines practices involving visualizations, yoga of channels, winds and drops, with contemplations and insight into the nature of the mind (rigpa) for efficient progress on the spiritual path. The core teachings of Tibetan Yoga Centre are The yogas of the six bardosof the Nyingma lineage of Tibetan Buddhism, presented in the form of eight courses, including yoga of dreams and yoga of dying. To help bring these teachings closer to the background of Western practitioners, the courses of Tibetan Yoga Centre also include information on Western neuroscientific research into changes in mind and brain resulting from meditation. Building on the tradition of enlightened householder yogis in Tibet, the program of the centre was developed for yogis of the current era - practitioners leading busy lives with work and family commitments who want to bring their spiritual practice to swift fruition to fully benefit sentient beings. Courses and retreats of Tibetan Yoga Centre are taught by Khenchen Lama Rinpoche and Dr. Dusana Dorjee.

---
Totnes Meditation Group
Address: 44 High Street Totnes Devon TQ9 5SQ
Tradition: Non-Sectarian
Affiliation: Gaia House
Phone: 01803 520798
E-mail: andrew@bodatcha.plus.com
Website: http://totnes-meditation-group.org/
Find on:


Notes and Events:
We are a friendly independent Buddhist meditation group meeting weekly on Thursday nights at 7:30pm in Birdwood House, Totnes.
---
Triratna Hereford
Address: Saxon Hall, Hoarwithy Road Hereford Herefordshire
Tradition: Non-Sectarian
Affiliation: Triratna Buddhist Community
E-mail: mhwesthope@yahoo.co.uk
Website: https://www.facebook.com/pg/triratna.hereford/about/?ref=page_internal
Find on:


Notes and Events:
Meditation and Buddhism in Herefordshire for beginners and those already practicing with Triratna.
---
Tumbleweed Zen
Address: 40 Ambleside Drive Headington Oxford OX3 0AQ
Tradition: Mahayana, Lin Chi (Rinzai) Zen, Hsu Yun branch
E-mail: pockley@gmail.com
Website: http://praguezen.blogspot.co.uk/
Find on:


Main Contact: Michael Pockley Email
Notes and Events:
We are a very informal group which meets in members' homes in and around Oxford.
We meet for meditation and friendship. If you are a beginner and would like to be taught to meditate, please feel free to ask - there's more than one ordained Zen priest available to help.
However, tuition is entirely voluntary and so long as you sit still on the cushion and breathe quietly, you are free to meditate with whichever technique you personally prefer.
For those going through a difficult period (i.e. life), Zen counselling is available. That's the same as normal counselling, only it's free.
If you seek a "religious" experience - rituals, special clothes, etc. - then you will find us rather dull. Fortunately Oxford is very well served by groups which can provide a "cultural" approach to Buddhism, from the rich colour of the Tibetans to the hardcore austerity of Japanese Zen. However, if you like the idea of sitting in peace on a black cushion for about half an hour, followed by tea, biscuits and friendly conversation, we should suit you well.
You will not see a schedule on our website - we don't have one. If someone says, "I can host next Thursday at 7 pm!" then all those on the mailing list will be informed. Newcomers are not expected to host - in fact, nothing is expected of anyone except turning up when they've said they will!
There is no charge for anything. If, after meditation, you drink a lot of tea and eat a lot of biscuits, then you can donate tea and biscuits. That's all.
---
UK Bodhi Association
Address:
Tradition: Vajrayana, Tibetan tradition, Nyingmapa school
E-mail: europebodhi@gmail.com
Website: http://www.buddhistweb.org/index.php/bodhi-institute/introducing-the-european-bodhicitta-society-ebs
Find on:


Main Contact: Sheng Lei Lei Email (Phone: +44 7912523582)
Notes and Events:
Introducing the European Bodhicitta Society (EBS)

The European Bodhicitta Society has been established under the guidance of Khenpo SoDargye from Serthar Buddhist Institute (Larung Gar) of Serthar district situated in the province of Sichuan. With the purpose of promoting the spirit of Mahayana Buddhism to benefit everyone in Europe, the European Bodhicitta Society was founded on the first of August in 2009. After two years of development, the number of members has increased from three to over 40 people living in different European countries.

The EBS promotes the Mahayana Buddhist teachings by integrating theories with practices. It plays a proactive role in advocating charity, such as environmental and animal conservation, popularising vegetarianism and in encouraging social cohesion and development.

Under the teachings of Buddha and the guidance of Khenpo SoDargye, the EBS, as well as all its members, strive to promote the theories and practices of Buddhism to everyone in Europe and to let everyone find true happiness.

Our study approaches

Based on Khenpo SoDargyes requirements, the European Bodhicitta Society has set up three study groups, namely: Preliminary practice of Great Perfection (Dzogchen) Study Group, Study Group B, which mainly study Shantidevas Bodhisattva way of life (Bodhicaryavatara) and a new class introduced in 2012. Beside this, each year, the European Bodhicitta Society will commence new study groups, these include the Preliminary practice of Great Perfection, Pure Land class, and Bodhicaryavatara study group. We also aim to initiate a study group focusing on Vajrayana practice such as Dzogchen, and other classes such as Madhyamika (Middleway) and Pramana (Buddhist Logic).

Our main study approach is by mean of online discussions, which takes place every week. In addition, occasionally, our UK Bodhicitta Socieity also holds some seminars physically. All our studies are managed by Serthar Buddhist Institute. Serthar Buddhist Institute provides learning materials, records our study performance and statistics, arranges lesson plans, organises exams and awards, evaluates the teaching achievements after the end of each semester and issues related certificates and prizes. Moreover, the European Bodhicitta Society is supervised by a specially appointed monastic from the Institute.

The reasons for creating the Bodhicitta Society

The European Bodhicitta Society was founded during the financial crisis. In the era of materialism and when our life highly depends on money, an economic downturn has been particularly detrimental to many people. This is also the proof that money cannot bring sustainable happiness and does not solve the spiritual emptiness within us. Money cannot help us in finding the true purpose of life but rather deviates us from doing so. Many people spend a large proportion of their time on things and activities, which become meaningless when facing the pain, anxiety and fear. That is why we believe that the way of Dharma is the only way to real happiness and fulfilment. In light of this need, Khenpo SoDargye has called for the establishment of Bodhicitta society of which the EBS is also part of it.

Joining us

Dear friends, if you understand Chinese, if you have a loving heart, and if you wish to understand more about life and Buddhism, the European Bodhicitta Society is the right place for you. We welcome anyone regardless of race, name, age, nationality, education or religion. We provide free opportunities to study Buddhism, and work together to promote philanthropy, and social harmony. Please join us in exploring the potentials of compassion, and bring enlightenment to all living beings.

---
Uma Buddhist Centre
Address: St Johns Close Upperby Carlisle Cumbria CA2 4JL
Tradition: Vajrayana, New Kadampa Tradition Tibetan
Affiliation: New Kadampa Tradition
Phone: 01228 594603
E-mail: info@uma.org.uk
Website: http://www.meditateincarlisle.org.uk
Find on:


Teacher: Kelsang Lhachog
Spiritual Director: Geshe Kelsang Gyatso
Notes and Events:
Uma Buddhist Centre offers a range of courses, study programmes and retreats. Offering both a basic introduction to meditation and Buddhism as well as a more in-depth study. We provide Educational talks to schools and groups and we also run weekly classes in Carlisle, Brampton, Penrith, Cockermouth and Whitehaven.
---
University of Birmingham Buddhist Meditation group
Address: University of Birmingham, Edgbaston Park Road Birmingham B15 2TU
Tradition: Non-Sectarian
Affiliation: Sessions are led by experienced Buddhists practising within the Triratna Buddhist Community
E-mail: buddhist@guild.bham.ac.uk
Website: https://www.guildofstudents.com/studentgroups/societies/buddhist/
Find on:


Notes and Events:
We meet every Wednesday 3-5pm - check our facebook page or email us for rooms.
---
University of Sunderland Samatha Group
Address: Postal contact:Kath Jones 15, North Terrace Oxhill Stanley Co. Durham DH9 7LD, UK Sunderland Tyne & Wear
Tradition: Theravada
Affiliation: Samatha Trust, UK National Organisation
Phone: 01207 283361
E-mail: kathannejones@gmail.com
Find on:


Notes and Events:
For details, see: http://www.samatha.org/what-we-offer/classes/sunderland
---
Varapunya Buddhist Society
Address: 92 Constitution Street Aberdeen Scotland AB24 5EX
Tradition: Theravada
Phone: 01224 632557
E-mail: varapunya@gmail.com
Website: http://www.varapunyabuddhistsociety.org
Find on:


Teacher: Ven. Sujan
Notes and Events:
Varapunya meditation centre was set up in September 2012 along with pious devotees Venerable Sujan set up as a centre for study and practice of Buddhist meditation in Aberdeen, Scotland. It is a centre for learning and sharing personal direct experiences of practicing meditation for a better understanding of its concept and practice in order to apply in daily life and enhancement of spiritual journey.
The guiding principles of the Centre's activities are primarily based on the teachings of the Buddha within the Theravada tradition of Buddhism. The centre also offers secular Mindfulness based courses to help you to build foundation for better understanding of personal life, relationships and professional work.
---
Vivekarama
Address: Mowbray Villa 16 St Bedes Terrace Sunderland Sunderland Tyne & Wear SR2 8HS
Tradition: Theravada, Burmese
E-mail: nandapala43@googlemail.com
Website: http://www.vivekarama.org.uk
Find on:


Main Contact: Venerable Dr Ashin Nandapala Email
Notes and Events:
Our aims:
To practise, propagate and perpetuate Buddhism and in particular Theravada Buddhism.

To make provision for religious ceremonies for Buddhists.

To provide facilities for training and education in regard to Buddhism.

To provide opportunities and accommodation for fellowship and debate in regard to Buddhism.

To establish or to secure the establishment of a centre for the above activities to be known as the Vivekarama Meditation Centre (hereinafter referred to as "V.M.C.") and of such centre or centres for the above activities as may from time to time be practicable and desireable.
Why Sunderland?
Sunderland does need a Buddhist Centre.
There has been no Buddhist monastery in Sunderland and the nearest one is approximately 30 miles away in Hexham. With great help from The Venerable Ashin Nandapala, Vivekarama Charity is established in Sunderland. It is going to be the first Buddhist Monastery founded in the city.
---