United Kingdom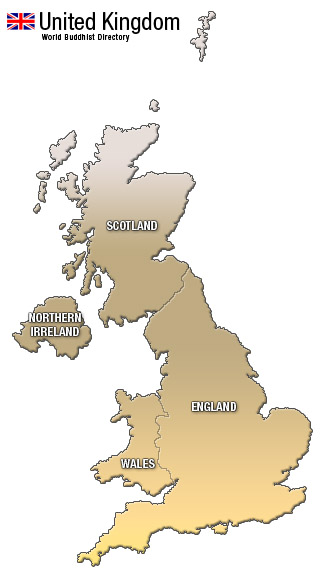 There were 617 results matching your query.
First Previous 2 3 4 5 6 7 8 9 10 11 12 13 14 15 16 17 18 19 20 Next Last
Mogok Vipassana Centre
Address: Beckton, London E6 5XB London
Tradition: Burmese Theravada, Satipatthana Vipassana
E-mail: meditate@mogok.org
Website: http://www.nibbana.com/mogoklon.htm
Find on:

---
Nagarjuna Buddhist Centre
Address: The Old Rectory Kelmarsh, Northants NN6 9LZ Northamptonshire
Tradition: Vajrayana, New Kadampa Tradition
Affiliation: NKT
Phone: 01604 686778
E-mail: info@meditation-nagarjuna.org
Website: http://www.meditation-nagarjuna.org
Find on:


Teacher: Kadam Bridget Heyes
Spiritual Director: Ven. Geshe Kelsang Gyatso
Contact: Reception

---
Nagarjuna Kadampa Meditation Centre
Address: Kelmarsh Northamptonshire NN6 9LZ
Affiliation: Kadampa
Phone: 01604 686 778
E-mail: info@meditateinnorthants.com
Website: http://meditateinnorthants.com
Find on:


Teacher: Kadam Bridget Heyes

---
Nailsworth Sitting Group
Address: Newmarket Road, Nailsworth, Gloucestershire Primrose Vale, Lower Street, Ruscombe, Gloucestershire Gloucester
Tradition: Non-Sectarian
Affiliation: Gaia House, Newton Abbot, Devon
Phone: 01453 751937 (Before 9pm)
Find on:


Contact: Sally Deacon

---
Newbury Chan Group
Address: Berkshire
Tradition: Mahayana, Chan (Chinese Zen)
Affiliation: Western Chan Fellowship
Phone: 01635 46139 or 07958 574524
E-mail: auridev@wildmail.com
Website: http://www.westernchanfellowship.org/local-groups.html
Find on:


Main Contact: Susan Millington Email
Spiritual Director: late Chan Master Sheng-yen
Contact: Dave or Aurie McKay
Teacher: Dr John Crook.
Notes and Events:
Meetings are on Tuesdays at 7:30pm.
---
Newcastle Buddhist Centre
Address: 3rd Floor, The New House, 12 Pilgrim Street, Newcastle-upon-Tyne Newcastle NE1 6QG
Tradition: Non-Sectarian
Affiliation: Triratna ( formerly Friends of the Western Buddhist Order)
Phone: 07444281890
E-mail: newcastlebuddhistcentre@gmail.com
Website: http://www.newcastlebuddhistcentre.org/
Find on:


Founder: Sangharakshita

---
Newcastle Theravadin Buddhist Group
Address: 221 Eastbourne Avenue, Gateshead, NE8 4NL Newcastle
Tradition: Theravada
Affiliation: Harnham Buddhist Monastery
Phone: 0191 478 2726
E-mail: andy@adaptrix.compulink.co.uk
Find on:


Contact: Andy Hunt

---
Newcastle Zen Group
Address: Public Library, 141/143 Main St. Newcastle Northern Ireland & Channel Islands
Tradition: Mahayana, Soto Zen, Shunryu Suzuki Lineage
Affiliation: Black Mountain Zen Centre
E-mail: contact@blackmountainzencentre.org
Website: http://www.blackmountainzencentre.org/7.html
Find on:


Spiritual Director: Ryushin Paul Haller Roshi
Main Contact: Korin Clare McFadden

---
Newport Zen Meditation Group
Address: Wales
Tradition: Mahayana, Order of Buddhist Contemplatives
Affiliation: Throssel Hole Buddhist Abbey
Phone: 07984-632103
E-mail: rev33chushin@hotmail.com
Find on:


Contact: Rev. Chushin Passmore

---
Nipponzan Myohoji Monastery
Address: Willen Lakeside Park Willen, Milton Keynes MK15 0BA Also Milton Keynes
Tradition: Mahayana, Japanese
Phone: Tel. / FAX: +44 (0) 1908 663652
Website: http://mkbuddhism.tripod.com
Find on:

---
North London Buddhist Centre
Address: 72 Holloway Road, London, N7 8JG UK London
Tradition: Non-Sectarian, Ecumenical
Affiliation: FWBO
Phone: 020 7700 1177
E-mail: info@northlondonbuddhistcentre.com
Website: http://www.northlondonbuddhistcentre.com
Find on:


Contact: Arthacarya (Centre Manager)
Spiritual Director: Manjudeva
Founder: Sangharakshita

---
Northumberland Vipassana Group
Address: Harnham Nr. Belsay, Northumberland GB-NE20 0HF Northumberland
Tradition: Theravada
Affiliation: Aruna Ratanagiri Buddhist Monastery
Phone: 661 881 612
Find on:

---
Norwich Serene Reflection Meditation Group
Address: Norwich
Tradition: Mahayana, Order of Buddhist Contemplatives, Soto Zen
Affiliation: Throssel Hole Buddhist Abbey
E-mail: contact@norwichserenereflection.org
Website: http://www.norwichserenereflection.org/
Find on:


Contact: contact@norwichserenereflection.org
Founder: Rev. Master Jiyu-Kennett

---
Nottingham and District Buddhist Society
Address: 26 Millicent Road, West Bridgford, Nottinghamshire Nottinghamshire
Tradition: Non-Sectarian
Find on:


Contact: A. C. Maccormick

---
Nottingham Buddhist Centre
Address: 9 St Marys Place, Lace Market Nottingham Nottinghamshire NG1 1PH
Tradition: Non-Sectarian, Western Buddhism/Triratna
Affiliation: Triratna Buddhist Community
Phone: 0115 956 1008
E-mail: info@nottinghambuddhistcentre.org
Website: http://www.nottinghambuddhistcentre.org/
Find on:


Founder: Sangharakshita

---
Nottingham Serene Reflection Meditation Group
Address: Nottingham Nottinghamshire
Tradition: Mahayana, Order of Buddhist Contemplatives, Soto Zen
Affiliation: Throssel Hole Buddhist Abbey
Phone: 0115 960 3450
Website: http://notts-serenereflection.org.uk/
Find on:


Contact: Ted Fullick
Founder: Rev. Master Jiyu-Kennett
Teacher: Rev Aiden

---
Nourishing Peace Sangha
Address: 22 Baylie Street Stourbridge Worcestershire DY8 1AZ
Tradition: Mahayana
Affiliation: Community of Interbeing
Website: https://www.coiuk.org/sangha-pages/nourishing-peace-sangha-stourbridge/
Find on:


Main Contact: Bernadette (Phone: 01384 873679)

---
Odiyana Buddhist Centre
Address: 163 Chester Rd, Northwich Cheshire CW8 4AQ
Tradition: Vajrayana, tibetan, Kadampa
Affiliation: New Kadampa Tradition
Phone: +44(0)160677034
E-mail: info@meditationincheshire.org
Website: http://www.meditationincheshire.org/
Find on:


Spiritual Director: Geshe Kelsang Gyatso
Teacher: Kelsang Chokyong - Resident teacher

---
Orkney Buddhists
Address: Meet at peoples houses, weekly, mostly in the East Mainland Orkney Scotland KW17
Tradition: Vajrayana, Tibetan, Kagyu, but all traditions are most welcome
Phone: 01856731269
E-mail: info@orkneybuddhists.org.uk
Website: http://www.orkneybuddhists.org.uk
Find on:


Spiritual Director: Venerable Gelong Karma Jiga

---
Oxford Buddhist Centre (Triratna)
Address: Peace House, 19 Paradise Street Oxford Oxfordshire OX1 1LD
Tradition: Mahayana, Non-Sectarian
Affiliation: Triratna Buddhist Community
Phone: 01865 613562
E-mail: oxfordtriratna@gmail.com
Website: http://thebuddhistcentre.com/oxford
Find on:

---
Oxford Diamond Way Buddhist Group
Address: Oxford Town Hall Judge's Room St Aldate's Oxford Oxfordshire OX1 1BX
Tradition: Vajrayana
Affiliation: Diamond Way
Phone: 07595 774756
E-mail: oxford@dwbuk.org
Website: https://www.buddhism.org.uk/diamondway-buddhism/oxford/
Find on:

---
Padma Ling Rigpa UK
Address: 2 CHURCH COURT, CHURCH ROAD LYMINGE, Folkestone Kent CT18 8FB
Tradition: Vajrayana, Tibetan Buddhism/Ripa Lineage
Affiliation: Tibetan Buddhism/ Nyingma school
Phone: +441303862877
E-mail: info@padmaling.org.uk
Website: www.padmaling.org.uk
Find on:


Main Contact: Jigme Choeying Dronkhar Email (Phone: +44 7969 408960)
Spiritual Director: Venerable Gyetrul Jigme Rinpoche

---
Padmaloka Buddhist Retreat Centre
Address: Lesingham House, Surlingham, Norwich NR14 7AL Norwich
Tradition: Non-Sectarian, Friends of the Western Buddhist Order
Phone: 01508 538 112
E-mail: info@padmaloka.org.uk
Website: http://www.padmaloka.org.uk
Find on:


Contact: Padmadaka

---
Pali Text Society
Address: 73 Lime Walk, Headington, Oxford OX3 7AD Oxfordshire
Tradition: Non-Sectarian
E-mail: pts@palitext.com
Website: http://www.palitext.com
Find on:


Contact: person: Mark

---
Plymouth Diamond Way Meditation Group
Address: The Quaker House, 74 Mutley Plain, Plymouth Devon PL4 6LF
Tradition: Vajrayana
E-mail: plymouth@diamondway-center.org
Website: https://www.buddhism.org.uk/diamondway-buddhism/plymouth/
Find on:


Teacher: Nic Briscoe

---
First Previous 2 3 4 5 6 7 8 9 10 11 12 13 14 15 16 17 18 19 20 Next Last