Australia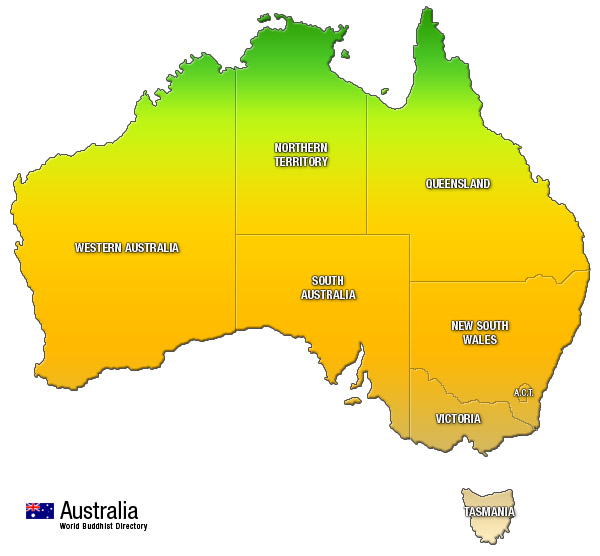 There were 522 results matching your query.
First Previous 2 3 4 5 6 7 8 9 10 11 12 13 14 15 16 17 18 19 20 Next Last
Thien Vien Van An
Address: 215-223 Redmayne Road, Horsley Park, NSW 2164 NSW
Tradition: Mahayana, Thien, Vietnamese, Zen
Phone: (02) 9260 1870
Find on:


Contact: Ven. Thich Quang Nghiem

---
Thubten Shedrup Ling Monastery
Address: 25 Sandhurst Town Road Myers Flat Vic 3556
Tradition: Vajrayana, Tibetan-Gelugpa
Affiliation: FPMT
Phone: +613 5446 3691
E-mail: monks@tslmonastery.org
Website: http://www.tslmonastery.org/
Find on:


Main Contact: Director Email
Spiritual Director: Lama Zopa Rinpoche
Notes and Events:
Getting to Thubten Shedrup Ling Monastery
The monastery is located at Myers Flat near Eaglehawk, north-west of Bendigo in central Victoria.
Trains run regularly between Melbourne and Bendigo.
A bus service is available from Melbourne airport to Bendigo.
If you are staying at the monastery we can arrange transport from Bendigo.

Visiting hours are on Saturday and Sunday afternoons between 2pm and 5pm.
Otherwise by appointment please.

We are happy to provide information regarding accommodation for retreats. Please call or email.
Private consultations may be arranged by appointment.
---
Tibetan Buddhist Society (Peaceful Land of Joy Meditation Centre )
Address: 1425 Mickleham Road (enter by Cookes Rd) Yuroke Vic 3063
Tradition: Vajrayana
Affiliation: Tibetan - Gelugpa
Phone: 03 9333 1770
E-mail: contact@tushita.org
Website: http://www.tibetanbuddhistsociety.org/
Find on:


Main Contact: Jean D Cruz Email (Phone: 03 9333 1770)

---
Tinh Xa Minh Dang Quang (Buddha Relics Vihara )
Address: 5 Coventry Road, Cabramatta, NSW 2166 NSW
Tradition: Mahayana, Mendicant Buddhist Order (Vietnamese)
Phone: (02) 9723 0668
Find on:


Teacher: Ven. Bhikkuni Thich Nu Thanh Lien
Spiritual Director: Ven. Bhikku Buddha Dhatu (Thich Minh Thien)

---
Toowoomba Buddhist Centre
Address: 4-6 Cress Street, Toowoomba 4350, QLD 4350 Qld
Tradition: Non-Sectarian
Affiliation: Triratna
Phone: 07 4564 9636 or 07 4634 4303
E-mail: tbc@toowoombabuddhistcentre.org
Website: http://www.toowoombabuddhistcentre.org/
Find on:


Contact: Roger Bastick
Spiritual Director: Sangharakshita
Notes and Events:
The basic aim of the Toowoomba Buddhist Centre (TBC) is to provide the opportunity for people in the Toowoomba region to explore the practices and tools available from the Buddha Dharma, for personal growth and coping with modern living. People at the Centre try to put the ideals of the Dharma into practice in their daily lives. The meditation techniques can be used by anyone regardless of their religion or background. The TBC draws upon the core Buddhist teachings to meet the spiritual needs of today's men and women.
Activities at the TBC include weekly Friend's Nights and Women's Meditation sessions, study courses in Buddhism and meditation, residential and day retreats and a monthly newsletter. To help meet the costs of the TBC, donations are encouraged when attending Friends Nights and other events. The fees for Introducing Buddhism and Introduction to Buddhist Meditation courses and for retreats are varied from time to time with the cost of living. For more information, see the Program and Events and Newsletter pages.
---
Truc Lam Temple
Address: 13 Winspear Avenue, Bankstown, NSW 2200 NSW
Tradition: Mahayana, Vietnamese
Phone: (02) 9708 6339
Find on:

---
Trung Tâm Pháp Âm
Address: (United Vietnamese Buddhist Congregation of Australia) Lot D, Angle Vale Road, Hillier, SA 5116 SA
Tradition: Mahayana, Vietnamese
Phone: (08) 8240 1758
Find on:


Contact: Ven. Thich Nu Nhu Thien

---
Tzu Chi Jing Si Hall
Address: 10 Blyth Street Arundel (Gold Coast) Qld 4214
Tradition: Mahayana, Charitable organisation, Chinese
Affiliation: Buddhist Compassion relief-Tzu Chi Foundation
Phone: 07 5571 7706
E-mail: gc@tzuchi.org.au
Website: http://www.tzuchi.org.au/en/index.php?option=com_content&view=article&id=776&Itemid=319&lang=en
Find on:


Spiritual Director: Dharma Master Cheng Yen

---
Unibodhi-University of Sydney Buddhist Society
Address: Box 100 Holme Building University of Sydney NSW 2006 Camperdown NSW
Tradition: Non-Sectarian, Student Society
E-mail: info@unibodhi.org.au
Website: http://www.unibodhi.org.au
Find on:

---
University of Wollongong Buddhist Society
Address: CSE Mail Box 39 Centre for Student Engagement Wollongong UniCentre P.O. Box U100 University of Wollongong, NSW 2500 NSW
Tradition: Non-Sectarian
E-mail: wd253@uow.edu.au
Find on:


Contact: Wen Dong (President)

---
UTS Buddhist Meditation Society
Address: c/- UTS Union University of Technology, Sydney PO Box 3210 Broadway, NSW 2007 NSW
Tradition: Non-sectarian student society
E-mail: utsbms@yahoo.com
Find on:


Contact: Megan - Mobile: 0412 454 313

---
Vajra Ling
Address: PO Box 230 Uralla NSW 2358 33 Rowbottoms Road, Rocky River 2358 NSW
Tradition: Vajrayana, Tibetal, Gelugpa
Affiliation: Gaden for the West
Phone: (02) 6778 5038
E-mail: maxine@bluepin.net.au
Website: http://www.gadenforthewest.org/centers.html
Find on:


Contact: Maxine Ross
Spiritual Teacher: Zasep Tulku
Spiritual Director: Zasep Tulku

---
Vajrayana Institute
Address: 9 Victoria Square PO Box 352 Summer Hill NSW 2130 Ashfield NSW 2131 NSW
Tradition: Vajrayana, Tibetan, Gelugpa FPMT
Affiliation: FPMT
Phone: 02 9798 9644
Fax: 02 9550 4966
E-mail: office@vajrayana.com.au
Website: http://www.vajrayana.com.au/
Find on:


Main Contact: Cheryl Gough
Teacher: Geshe Ngawang Samten

---
Vejjasala - Place of Healing
Address: 219 Forest Road Wingello, NSW 2579 NSW
Tradition: Non-Sectarian
Affiliation: Association of Engaged Buddhists/ Sangha Lodge
Phone: 02-4884 4443
E-mail: office@engagedbuddhists.org.au
Website: http://www.engagedbuddhists.org.au/index.php?cID=1
Find on:


Teacher: Venerable Tejadhammo

---
Vietnamese Australian Buddhist Womens Association of NSW
Address: PO Box 540, Cabramatta, NSW 2166 NSW
Tradition: Non-Sectarian, Vietnamese
Phone: (02) 9728 3741
Fax: (02) 9728 3741
Find on:

---
Vietnamese Buddhist Association
Address: United Vietnamese Buddhist Congregation of Australia P.O. Box 43162 Casurina, NT 0811 NT
Tradition: Mahayana
Phone: (08) 8927 0588
Find on:


Contact: Nguyen Thanh Buu
Non-Resident Teacher: Ven. Thich Quang Ba

---
Vimokkharam Forest Hermitage
Address: 29 Perrins Creek Rd, PO Box 152, Kallista VIC 3791 Vic
Tradition: Theravada, Ajahn Chah tradition, Thai Western
Affiliation: International branch monasteries of Wat Nong Pah Pong Thailand
Phone: (03) 9755 3378
Website: https://www.facebook.com/pages/Vimokkharam-Forest-Hermitage/196515614032184
Find on:

---
Vinh Nghiem Temple
Address: 177 John Street, Cabramatta, NSW 2166 NSW
Tradition: Mahayana, Vietnamese
Affiliation: Buddhist and Charitable Society Inc.
Phone: (02) 9723 3383 Mobile: 0402 614 060
Find on:


Teacher: Abbot Ven Thich Vien Chom

---
Virupa Retreat Centre
Address: 179 Douglas Close (off Captain's Flat Road) Carwoola via Queanbeyan, NSW NSW 2620
Tradition: Vajrayana, Tibetan, Sakya
Affiliation: Sakya Losal Choe Dzong (ACT)
Phone: (02) 6238 2088
E-mail: mail@sakya.com.au
Website: http://www.sakya.com.au/locations/virupa.html
Find on:


Spiritual Director: Lama Choedak

---
Wat Albury - Dhammakaya Meditation Centre
Address: 302 East Street East Albury NSW 2640
Tradition: Theravada, Thai
Affiliation: Dhammakaya Meditation Assiciation-Thailand
Website: https://watalbury.org/
Find on:


Teacher: Phra Satit
Main Contact: Enquiry call Barry 0459 727 316
Notes and Events:
FACEBOOK https://www.facebook.com/events/1001307106593893/
---
Wat Buddha Dhamma
Address: Ten Mile Hollow Wisemans Ferry NSW 2775
Tradition: Thai Forest Tradition
Phone: (02) 4323 3193
E-mail: office@wbd.org.au
Website: http://www.wbd.org.au/
Find on:


Spiritual Director: Ajahn Khemavaro (Abbot)

---
Wat Buddhalavarn Forest Monastery
Address: 103 Minerva Road Wedderburn NSW 2560
Tradition: Theravada, Laotian
Phone: (02) 4634 1200
E-mail: info@watbuddhalavarn.org.au
Website: http://www.watbuddhalavarn.org.au
Find on:

---
Wat Buddharangsee (Annandale)
Address: 49 Trafalgar Street, Annandale, NSW 2038 NSW
Tradition: Theravada, Thai
Phone: (02) 9557 2879
E-mail: watthai@ozemail.com.au
Website: http://www.watthai.net/watbuddharangsee
Find on:


Spiritual Director: Abbot: Ven. Phra Abhijaya Abhipunno

---
Wat Buddharangsee (Stanmore)
Address: 88 Stanmore Road, Stanmore, NSW 2048 NSW
Tradition: Theravada, Thai
Phone: (02) 9557 2879
Website: https://www.facebook.com/StanmoreWatbuddharangsee/
Find on:

---
Wat Buddharangsi
Address: 159-171 Clarke Road, Springvale South Vic 3172
Tradition: Theravada, Cambodian
Affiliation: Cambodian Buddhist Association of Victoria Inc.
Phone: (03) 9546 3466 or 9546 2432
Fax: (03) 9547 5868
E-mail: cbav.office@gmail.com
Website:
Find on:


Contact: Ven. Sovann Srey, Cambodian Mission: Mr Hue
Main Contact: Ven. Ol Sam Email (Phone: 0395462432)
Teacher: Ven. Ol Sam
Venerable. Ol Sam: Mr Cameron Sar

---
First Previous 2 3 4 5 6 7 8 9 10 11 12 13 14 15 16 17 18 19 20 Next Last