Australia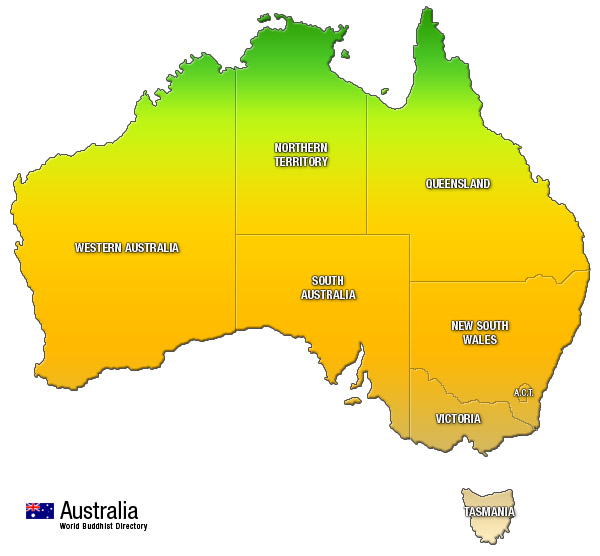 There were 578 results matching your query.
Previous 1 2 3 4 5 6 7 8 9 10 11 12 13 14 15 16 Next Last
Melbourne Zen Group
Address: Cnr Roberts and Stewart Streets Brunswick East Vic 3057
Tradition: Mahayana, Diamond Sangha
Affiliation: Diamond Sangha
Website: https://mzg.org.au
Find on:

---
Melbourne Zen Meditation
Address: 96a High St Glen Iris Vic 3146
Tradition: Mahayana
Affiliation: Japanese Zen
Website: http://www.zenmeditation.org.au
Find on:


Main Contact: Seikan (Phone: 0410827027)
Notes and Events:
MZM meetings will be held at the following location:

96A High Street, Glen Iris, Vic.3206

---
Metta Centre
Address: Shop 2, 7-9 Cross Street Bankstown NSW
Tradition: Theravada
E-mail: contact@mettacentre.com
Website: http://www.mettacentre.com
Find on:


Main Contact: Ms Tina Ng

---
Mettadipa Vihara
Address: 1360 Western Port Hwy Cranbourne South Vic 3977
Tradition: Theravada, Burmese
Phone: (03) 9775 7737
Website: http://mettadipa.org/
Find on:


Teacher: Sayadaw Dr. Ashin Zanita

---
Mettarama Nuns' Monastery
Address: private address, visitors by appointment Bankstown region Sydney NSW
Tradition: Theravada, Theravada and Early Buddhist
Affiliation: local monastery- no external affiliation
Phone: +61426727070
E-mail: mettarama.monastery[at]gmail[dot]com
Website: mettarama.org
Find on:


Teacher: Ayya Suvira
Main Contact: Tammy ( English/Vietnamese)
Spiritual Director: Bhante Sujato
Notes and Events:
Mettarama is a bhikkhuni monastery which operates under an auspicing arrangement with the Metta Centre, Bankstown.
We regularly offer opportunities for day visits and home visits by appointment in the Harris Park and wider Sydney area.
---
Mindfulness Practising Group
Address: c/- St Marys Church, corner of Peel and Merivale Sts South Brisbane Qld 4101
Tradition: Mahayana, Zen, Vietnamese Plum Villiage
Affiliation: Lotus Bud Sangha
Phone: 04223 78266
E-mail: lanthuan@hotmail.com
Find on:


Main Contact: Lan Ha
Spiritual Director: Ven.Thich Nhat Hanh

---
Mingalathukha Vihara
Address: 76 Templeton Crescent Girrawheen WA 6064
Tradition: Theravada, Burmese
Phone: (08) 6161 7980 0415 468 736
E-mail: info@mingalathukha.org
Website: https://www.facebook.com/mingalathukha.vihara.au/about/
Find on:

---
Mingyue Lay Buddhist Temple
Address: 654 Cabramatta Road Bonnyrigg NSW 2177
Tradition: Mahayana
Affiliation: Australian Chinese Buddhist Society
Phone: (02) 9823 3603 or 9823 3622 or 9823 3622 or (02) 9823 3603
Fax: 9823 3803
Website: https://www.facebook.com/pages/Ming-Yue-Lay-Buddhist-Temple/143264889068735
Find on:


Contact: Mr Dacco Ngo J.P. (President)

---
Minh Giac Temple - Cabramatta
Address: 42 St Johns Road, Cabramatta NSW 2166 NSW
Tradition: Mahayana, Vietnamese zen/pureland
Affiliation: Quang Duc Monastery Melbourne
Phone: (02) 9724 3480
E-mail: minhgiacmonastery@yahoo.com.au
Find on:


Spiritual Director: Abbot: Ven. Thich Hanh Hieu

---
Minh Giac Temple - Smithfield
Address: 564 The Horsley Drive, Smithfield, NSW 2164 NSW
Tradition: Mahayana, Vietnamese zen/ pureland
Affiliation: Quang Duc Melbourne
Phone: (02) 9726 1030
E-mail: anhtriminhgiac2007@yahoo.com
Find on:


Main Contact: Most Venerable Thich Hanh Tri

---
Minh Quang Monastery
Address: (Thien Vien Minh Quang) 30-32 Chadderton Street, Canley Vale, NSW 2166 NSW
Tradition: Mahayana, Vietnamese Zen
Affiliation: Quang Duc Melbourne
Phone: 03 9377 7547 02.97238700
E-mail: tminhhieu@yahoo.com
Website: https://minhquang.com.au/
Find on:


Teacher: Ven. Master Minh-Hieu
Spiritual Director: Master Thích Minh Hiếu

---
Minh Quang Monastery
Address: 50 David Terrace KILKENNY, SA 5009 SA
Tradition: Mahayana, Vietnamese Zen/Pureland
Affiliation: Quang Duc Melbourne
Phone: 08.71202670
Find on:


Main Contact: Most Venerable Thich Minh Hieu, Abbot

---
Minh Quang Nunnery
Address: 154 Harwoods Road Karrabin Qld 4306
Tradition: Mahayana, Vietnamese zen / pureland
Affiliation: Quang Duc Monastery Melbourne
Phone: 0435459989
Website: https://minhquang.com.au/
Find on:


Main Contact: Thich Nu Thao Lien (Phone: 0435459989)

---
MITRA Intervarsity Buddhist Network
Tradition: Non-Sectarian, MITRA Intervaristy Buddhist Network is a network of tertiary education institutions
E-mail: vp-external@mitra.org.au
Website: http://www.mitra.org.au
(Website Admin): Edward Tham (Phone: 0421 040 300)
Main Contact: Lawrence Ong (Secretary) (Phone: 0419 104 824)

---
Mogoke Meditation Temple
Address: 71 Clarke Road Hornsby NSW 2077
Tradition: Theravada, Burmese
Phone: 0294898636
Find on:


Teacher: Sayadaw U Ah Yee Ya Won Tha (Phone: 0422135991)

---
Monash Buddhist Society
Address: Monash University Clayton Campus, Melbourne Vic 3168 Vic
Tradition: Non-Sectarian
E-mail: buddhist@monashclubs.org
Website: http://www.buddhist.monashclubs.org/
Find on:

---
Nan Hai Pu Tuo Temple of Australia
Address: Lot 9, Main South Road, Myponga SA 5202 Office 7, First Floor 75-79 Grote Street, Adelaide SA 5000 SA
Tradition: Mahayana, Chinese
Phone: 08) 8558 6098 0412 198 138 08 8556 3168
Website: https://www.australia-buddhism.org.au/en/australia-temple/nanhai-putuo-temple.html?fbclid=IwAR2ZQqz0EF8vlJ9n8yAqCsnfggtgMOBOCtObx0M8MyNKxRAEP1Y1rSEnkOQ
Find on:


Contact: Ven. Miao Jing

---
Nan Hai Pu Tuo Temple of Australia ( Victoria)
Address: 71 Beaconsfield-Emerald Road Emerald 3782 Vic
Tradition: Mahayana, Chinese
Affiliation: Nan Hai Pu Tuo Temple of Australia (Adelaide)
Phone: 03 5968 2828
Fax: 03 9540 3888
Website: http://nanhaiputuotemple.com/contact.htm
Find on:

---
Nan Tien Vihara (Parramatta)
Address: 22 Cowper Street, Parramatta, NSW 2150 NSW
Tradition: Mahayana, Humanistic Buddhism, Chinese
Affiliation: Fo Kuang Shan
Phone: 02 9893 9390
E-mail: ibaap@fgs.org.au
Website: http://www.nantien.org.au/
Find on:


Spiritual Director: Reverend Jue Wu
Teacher: Reverend Miao Ee
Main Contact: Reverend Shin

---
Narrabundah Buddhist Temple
Address: (Buddhist Society of the ACT) 245 Goyder Street, Narrabundah, ACT 2604 P.O. Box 1149, Canberra City, ACT 2601 ACT
Tradition: Non-Sectarian
Phone: (02) 6239 7194
Website: https://www.facebook.com/Buddhist-Society-of-ACT-168891576522449/
Find on:


Teacher: Ven. U Vedhanyana

---
Newbury Buddhist Monastery
Address: 107 Beaches Lane, Newbury VIC 3458, Australia Vic
Tradition: Theravada, Thai forest in lineage of Ajahn Chah
Affiliation: Buddhist Society of Victoria
Phone: 03 5424 1812
E-mail: office@nbm.org.au
Website: http://bsv.net.au/monastery/newbury-buddhist-monastery/
Find on:

---
Nguyen Thieu Monastery
Address: 155 The Boulevarde Fairfield Heights NSW 2165
Tradition: Mahayana, Lin Chi Zen Lineage, Vietnamese
Affiliation: Sangha training / Quang Duc Monastery Melbourne
Phone: 02-97262661
Fax: 02-97262668
E-mail: vanphap0@yahoo.com.au thichdaohien@gmail.com
Find on:


Teacher: Thich Dao Hien
Spiritual Director: Thich Quang Ba Email (Phone: 0412224553)

---
Nhap Luu Monastery
Address: 530 Porcupine Ridge Rd Porcupine Ridge Vic 3461
Tradition: Mahayana, Zen Master Thich Nhat Hanh Vietnamese/ Western
Phone: Mobile phone: 0402 924 800 phone: 61 402924800 (2:30pm - 4pm and 6:30pm - 9pm)
E-mail: nhapluu@gmail.com
Website: http://nhapluu.blogspot.com.au/2011/03/how-to-get-to-nhap-luu.html
Find on:


Main Contact: The Sisters of Nhap Luu Email (Phone: +6153492678 )
Spiritual Director: Thich Nhat Hanh

---
Open Way Zen
Address: 22 Galaxy Street, Bridgeman Downs, Brisbane, QLD 4035 Qld
Tradition: Mahayana, Soto Zen. Western
Phone: 0421 010 167
E-mail: zenfo@openway.org.au
Website: http://www.openway.org.au/
Find on:


Contact: Peter Bruza
Teacher: Zen Master Daido Hogen Yamahata
Main Contact: Peter Bruza (Phone: 0421 010 167)

---
Ordinary Mind Zen Brisbane
Address: Paddington Qld 4064
Tradition: Non-Sectarian, Zen, Western
Affiliation: Ordinary Mind Zen School, Charlotte Joko Beck
E-mail: zen@ordinarymind.org.au
Website: http://www.ordinarymind.org.au/
Find on:


Teacher: Gregg Howard

---