Australia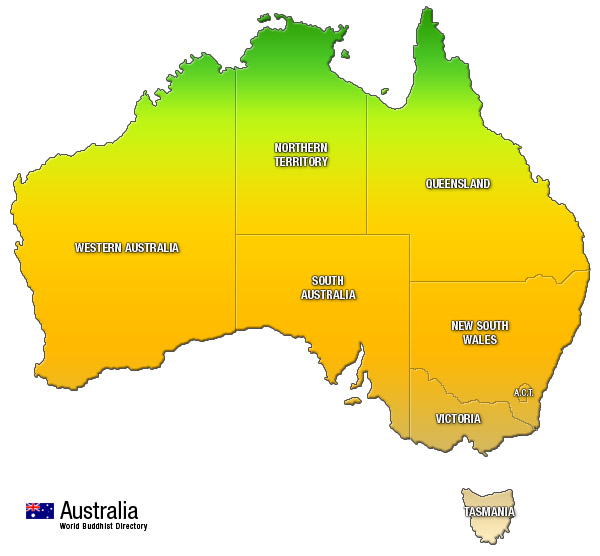 There were 567 results matching your query.
Previous 1 2 3 4 5 6 7 8 9 10 11 Next Last
Bangladesh Australia Buddhist Society ( Temple )
Address: 23 Haultain Street Minto, NSW NSW 2566
Tradition: Theravada
Phone: 02 87407391 or 0406208871 Bhante
E-mail: babs.australia@gmail.com
Website: https://www.facebook.com/Bangladesh-Australia-Buddhist-Society-BABS-264093910296302/
Find on:


President: Uday Shankar BARUA
General Secretary: Shadesh BARUA (Phone: 0425 222 131)

---
Bao An Temple
Address: 12 Church St CABRAMATTA NSW 2166
Tradition: Mahayana, Vietnamese zen / pureland
Affiliation: Quang Duc Monastery Melbourne
Phone: Mobile 0466.554929
E-mail: baoantemple@gmail.com
Find on:


Main Contact: Nun Thich Nu Hue Khiet

---
Bao Vuong Temple
Address: 2A Mc Laughlin St ARDEER, Vic 3032
Tradition: Mahayana, Vietnamese
Affiliation: The United Vietnamese Buddhist Congregation in Australia-New Zealand
Phone: 03.9266 1282 0435.242775
E-mail: hthuyenton@gmail.com
Find on:


Contact: Ven. Thich Huyen Ton
Main Contact: Nun Thich Female Body Member, Abbot Email
Teacher: Most Venerable Thich Huyen Ton, Phuong Truong

---
Barom Kagyu Chodak Drupju Chuling
Address: 50B Woods Road SEFTON NSW 2162
Tradition: Vajrayana, Barom Kagyu Lineage
Phone: (02) 9786 5513
E-mail: baromkagyu.syd@gmail.com
Website: http://baromkagyu.org/
Find on:


Teacher: Sonam Tenzin Rinpoche
Spiritual Director: His Eminence Chodrak Saljey Rinpoche

---
Bau Sen Buddha Ru Yi Temple
Address: 210 Burtons Road, Kinglake West, VIC Postal contact: PO BOX 1138 Doncaster East, Vic 3109 Vic
Tradition: Mahayana, Mix of Zen Chinese
Phone: 03 9842 5972
Fax: 03 9842 5972
Find on:


Teacher: Master Ming Quang

---
Bluegum Sangha
Address: Level 2, 118-124 Willoughby Road, Crows Nest (above the Crows Nest Club. NSW
Tradition: Theravada, Vipassana (Insight meditation)
Website: http://www.dharma.org.au/
Find on:


Main Contact: Paul Frischknecht
Teacher: Subhana Barzaghi

---
Bodhi Dhamma Vihara Bendigo
Address: 25 Sandhurst Town Rd Myers Flat Vic 3556
Tradition: Theravada, Sri Lankan
E-mail: bodhidhammabgo@gmail.com
Website: https://bodhidhammabgo.org.au/
Find on:


Main Contact: President: Deeptha Wickramaratna (Phone: 0430 712 788)
Notes and Events:
The Sri Lankan Community Club Bendigo which commenced about 7 years ago has steadily increased in numbers and more recently became an incorporated entity known as Bodhi Dhamma Buddhist Association (Bendigo)Inc, which has proudly commenced the building of a Buddhist temple - Bodhi Dhamma Vihara at The Great Stupa of Universal Compassion in Bendigo.
The temple will provide our expanding Sri Lankan Bendigo community, Buddhist, and non-Buddhist alike, an opportunity to fulfil their spiritual needs and showcase our cultural and religious traditions to others, as we participate in the social cohesion that is fostered at the Great Stupa.
Facebook : <<https://www.facebook.com/bodhidhammabendigo<<
---
Bodhi Tree Forest Monastery & Vipassana Retreat Centre
Address: 78 Bentley Road Tullerah NSW 2480
Tradition: Theravada, Western Vipassana Retreat Centre
Affiliation: Buddha Dharma Education Association Inc.
Phone: (02) 6628 2426
E-mail: webmaster@buddhanet.net
Website: http://www.bodhitreemonastery.org
Find on:


Teacher: Ven. Pannyavaro

---
Bodhinyana Great Southern
Address: PO Box 360 Albany DC WA 6331
Tradition: Theravada, Australian Forest tradition
Affiliation: Buddhist Society of Western Australia
Phone: (08)9844 6666
E-mail: greatsouthern@bswa.org
Website: https://bswa.org/location/bodhinyana-great-southern-project/
Find on:


Teacher: Venerable Mudu
Spiritual Director: Ajahn Brahm
Notes and Events:
We currently service the whole of the Great Southern region (best we can) including free weekly public Dhamma talks & meditation in:
Albany (Fridays 7-8pm, doors open 6:30pm) Manly 'Lions Club' Hall, 331 Ulster Road, Albany WA 6330;
Denmark Sundays 4-5pm); The Sanctuary, South Coast Highway, Denmark WA 6333;
Mount Barker (6:30-7:30pm, doors open 6pm) Mount Barker Community Resource Centre, 1 Lowood Road Mount Barker, WA 6324.
We also provide regular weekly spiritual guidance, Dhamma & meditation instruction at Albany Regional Prison, Pardelup Prison Farm, Albany Health Campus, & Albany Community Hospice.
Weekly pinbabaht (alms round) is held each week on Saturday morning on Stirling Terrace, Albany finishing at Thai Angel Hand Massage Shop at around 9am
Facebook: BSWA Great Southern
---
Bodhinyana Monastery
Address: 216 Kingsbury Drive Serpentine WA 6125
Tradition: Theravada, Forest Tradition, Thai
Affiliation: Buddhist Society of Western Australia
Phone: (08) 9525 2420
Fax: (08) 9525 3420
Website: http://cms.bodhinyana.org.au/
Find on:


Teacher: Abbot: Ven. Ajahn Brahmavamso
Notes and Events:
Bodhinyana monastery is nestled amidst the rolling hills of the Darling Range, near the small town of Serpentine, Western Australia.
The monastery began its growth in 1983. Named after the great teacher Ajahn Chah, Bodhinyana means the 'wisdom of enlightenment'. With the generous help and support of our dedicated lay community the monks have built Bodhinyana to establish a home beneath the trees, in harmony with nature.
The monastery is home to around twenty monks, residing in huts scattered over 242 acres. We have a large meditation hall, where members of the public are welcome to spend time enjoying the peace and tranquillity of the atmosphere here. There is also a kitchen & dining hall, and accommodation for anagarikas (white robed, long-term residents) and guests.
Bodhinyana provides an ideal environment of solitude and simplicity in which the Sangha and residents can dedicate their practice to the cultivation of virtue, meditation and wisdom.
---
Bodhipala Monastery
Address: 88 Stoney Banks Rd Mount Pleasant SA 5235
Tradition: Theravada, Ajahn Chah Thai / Western Forest Tradition
Phone: 0400 456 378
Website: https://www.facebook.com/bodhipalamonasteryadelaide/
Find on:

---
Bright Moon Buddhist Society
Address: 536-540 Springvale Road, Springvale South, VIC 3172 Vic
Tradition: Mahayana, Chinese
Phone: 03 9558 5487
Fax: 03 9558 5073
Website: http://www.brightmoon.org.au
Find on:

---
Buddha Mandala Monastery and Retreat Centre
Address: 8 Lewis Road Chittering WA 6084
Tradition: Mahayana, Vajrayana, integrated Chan (Zen) and Tibetan Esoteric teachings
Affiliation: Buddha Dharma Sangha Association and Nalanda Society
Phone: 61-8-95718286
Fax: 61-8-95718286
E-mail: sbaperth@yahoo.com.au
Website: http://nalandasociety.com/index.php/en/main-monastery-place-of-practice
Find on:


Spiritual Director: Ven Yuan Fan
Notes and Events:
other email contact : bmmoffice8@gmail.com
Opening Times:
Fridays to Sundays and Public Holidays in Western Australia
10.30 am to 4.30 pm
---
Buddha Shop Australia
Address: 12 High St Yackandandah Vic 3749
Tradition: Non-Sectarian
Phone: 0427 271 114 Text Please Phone (orders): 0427 271 114 Text Please
E-mail: gaz.buddhashopaus@gmail.com
Website: https://www.buddhashop.com.au/
Find on:


Notes and Events:
Follow us on Facebook https://www.facebook.com/BuddhaShopAlbury
Hi. I'm Gary Hayward, and I've been operating the Buddha Shop since 2003 (Originally with my partner Andy who has since passed away). During this time I have been supplying many of my items to Buddhist and Hindu Centres and Temples, as well as satisfying the personal needs of many individuals.
---
Buddha Vihara Temple
Address: 939 Canterbury Road, Box Hill, VIC 3128 Vic
Tradition: Theravada, Thai
Phone: (03) 9899 0638
E-mail: buddhist@vihara.org.au
Find on:


Teacher: Most Venerable Ajahn Viryananda
Contact: Kirsten Elliot (Secretary)

---
Buddhism & Australia
Address: 645 Wambyn Road Inkpen WA 6302
Tradition: Vajrayana, Nyingma
Affiliation: Buddhism & Australia Inc
Phone: 0405549923
E-mail: : info@buddhismandaustralia.com
Website: www.buddhismandaustralia.com
Find on:


Spiritual Director: Vello Vaartnou
Main Contact: Marju Broder Email
Notes and Events:
Buddhism and Australia is a non-for-profit organisation, whose main
activities are annual international academic conferences on Buddhism.
Since 2012, international conferences Buddhism and Australia bring
together scholars and Buddhists all over the world to reveal their
latest research about Buddhism. The idea of international conference
Buddhism and Australia originates from Buddhist scholar-monk Vello
Vaartnou, the author and organiser of similar conferences Buddhism and
Nordland in Europe. Papers from both conferences are available on the
websites for free to everybody.
---
Buddhist Association of Shinnyo-En
Address: 231 Longueville Road, Lane Cove, 2066 NSW NSW
Tradition: Mahayana, (Japanese Esoteric Buddhism)
Phone: (02) 9418 6688
Website: https://www.shinnyoen.org/
Find on:

---
Buddhist Bliss Voice Mission of Australia
Address: P.O. Box 101 Merrylands, NSW 2160 NSW
Tradition: Mahayana, (Jen Chen) chinese
Phone: (02) 9637 3172
Website: http://www.jenchen.org.sg/
Find on:


Contact: Ven. Jue Jin (President)

---
Buddhist Compassion Relief Tzu-Chi Foundation
Address: 247 Fitzgerald ST West Perth WA 6018 WA
Tradition: Mahayana, Charitable organisation
Phone: 08 9227-8228
E-mail: perth@tzuchi.org.au
Website: http://www.henryyong.com/2010/03/19/buddhist-compassion-relief-tzu-chi-foundation-australia-perth/
Find on:


Main Contact: Henry Yong Email (Phone: 61 413 488 312)

---
Buddhist Compassion Relief Tzu-Chi Foundation Australia
Address: 20-22 Glen Street, Eastwood, NSW 2122 NSW
Tradition: Mahayana, Charitable organisation Chinese
Phone: 02 9874 7666
E-mail: tzuchisyd@hotmail.com
Website: http://www.tzuchi.org.au/en/index.php?option=com_content&view=article&id=776&Itemid=319&lang=en
Find on:


Spiritual Director: Master Chen Yeng
Contact: Stephen Kan

---
Buddhist Compassion Relief- Tzu Chi Foundation
Address: 142 Wright St Adelaide SA
Tradition: Mahayana, Charity
Phone: 08 8231-9008
E-mail: adl@tzuchi.org.au
Website: http://www.tzuchi.org.au/en/index.php?option=com_content&view=article&id=776&Itemid=53&lang=en
Find on:

---
Buddhist Council of Queensland
Address: 65/60 Caseys Rd Hope Island Qld 4212
Tradition: Non-Sectarian
Affiliation: Federation of Australian Buddhist Councils
Phone: 0422819379
E-mail: buddhist_council@hotmail.com.
Website: http://www.buddhistcouncilofqueensland.org
Find on:


: Email (Phone: )
Main Contact: Mr.Kim Hollow Email (Phone: 0422 819 379)

---
Buddhist Foundation
Address: 10 Barry Street, Kew 3101 Vic
Tradition: Theravada, Sri Lanka
Phone: (03) 9465 8236,
Fax: 9489 5749
E-mail: W_Vajira@hotmail.com
Find on:


Spiritual Director: Venerable Bhikku Bodhi
Contact: Dr. Ranjith Hettiarachi

---
Buddhist Peace Fellowship
Address: 6, Hamilton Road, Warrandyte, VIC 3113 Vic
Tradition: Non-Sectarian
Affiliation: Buddhist Peace Fellowship USA and worldwide
Phone: (03) 9844 2289
E-mail: jamesonjg@bigpond.com
Website: http://www.bpf.org/
Find on:


Contact: Jill Jameson

---
Buddhist Peace Fellowship (Sydney Chapter)
Address: 31 Bonnefin Road, Hunters Hill, NSW 2110 NSW
Tradition: Non-sectarian
Website: http://www.bpf.org/html/home.html
Find on:


Main Contact: Mari Rhydwen Email

---