Australia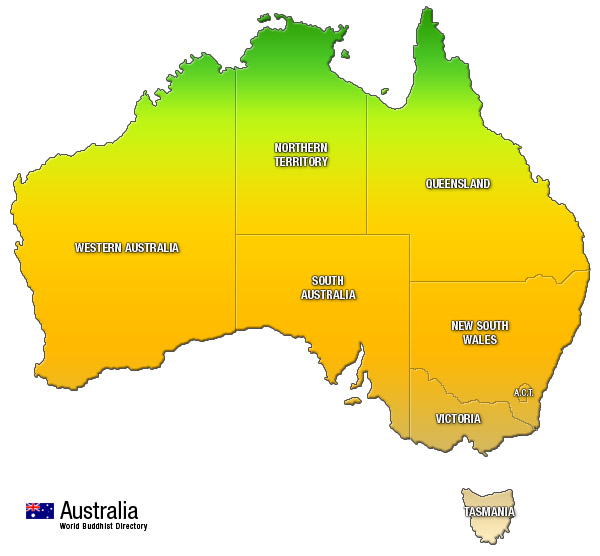 There were 517 results matching your query.
First Previous 10 11 12 13 14 15 16 17 18 19 20 21 Next
Rigpa (Newcastle)
Address: 47 James Street, Hamilton Newcastle NSW 2303
Tradition: Vajrayana, Tibetan, Nyingma
Phone: (02) 02 4911 1108
E-mail: newcastle@rigpa.org.au
Website: http://www.rigpanewcastle.org.au
Find on:


Spiritual Director: Sogyal Rinpoch
Notes and Events:
We are located at 47 James St, Hamilton, NSW 2303 (corner of James and Murray Streets, behind the Beaumont St clock tower. )
Opening Times
In addition to our evening classes and Friday drop-in session, we are open 12 noon – 1:30 on Tuesday, Wednesday and Fridays. Drop-in Meditation sessions are also held from 12:30 – 1:15 on on those days.
---
Rigpa Brisbane
Address: 2/19 Enoggera Terrace GPO Box 2658, Brisbane, 4001. Red Hill Qld
Tradition: Vajrayana, Tibetan, Dzogchen Longchen Nyingthik
Phone: (07) 3030 0649
E-mail: rigpa@rigpabrisbane.org
Website: http://www.rigpabrisbane.org
Find on:


Main Contact: Natalie Stuart (Phone: (07) 3630 4979)
Spiritual Director: Sogyal Rinpoche
Notes and Events:
Rigpa aims to present the Buddhist tradition of Tibet in a way that is both completely authentic, and as relevant as possible to the lives and needs of modern men and women.
Open to all schools and traditions of Buddhist wisdom, and with the guidance and gracious patronage of His Holiness the Dalai Lama, Rigpa offers those following the Buddhist teachings a complete path of study and practice, along with the environment they need to experience the teachings fully.
Under the Spiritual Direction of Sogyal Rinpoche, Rigpa has grown into an international network of over 100 centres in 23 countries. Rinpoche is a world renowned Buddhist teacher from Tibet and the author of the highly acclaimed book - the Tibetan Book of Living and Dying.
Rigpa Brisbane offers a number of courses and events which bring students together with the teachings in an interactive environment.
The centre is roughly a 10 minute drive from the CBD. Parking is available the lot accross the road (see map).
Entrance is via the gate on the right of Kids on the Terrace
---
Rigpa Canberra
Address: Level 1A, 27 Mulley Street Holder ACT 2611
Tradition: Vajrayana, Dzogchen tradition of the Nyingma School of Tibetan Buddhism
Affiliation: Rigpa Fellowship
Phone: 02 6181 7124
E-mail: canberra@rigpa.org.au
Website: http://canberra.rigpa.org.au/
Find on:


Spiritual Director: Sogyal Rinpoche
Notes and Events:
There is no resident teacher. We are all dedicated students of Sogyal Rinpoche who volunteer to provide a place and opportunity to study Buddhism.

We hold regular meditation sessions open to the public. Introductory courses are offered usually twice a year. On-going curriculum for deepening the path. Contact the centre for details for schedules.
How to find Rigpa Canberra
Rigpa Canberra is located at Level 1A, 27 Mulley Street, Holder, off either Streeton or Dixon Drives.
Note: the door to the Community Centre closes at 5.30 pm and so for attendance at evening meditation or courses or other events after hours, it is important to arrive on time so someone can be there to let you in. A mobile phone number will be provided for latecomers enrolled in particular courses.
---
Rongton Buddhist Centre Incorporated
Address: 55 Primrose Street Grange, Qld 4051
Tradition: Vajrayana, Sakya
Affiliation: Sakya Losal Choe Dzong (Canberra)
Phone: 07 33115532 Mob. 0439 992 312
E-mail: rongtonbrisbane@gmail.com
Website: http://www.rongtonbuddhistcentre.org
Find on:


President: Robin Mathieson Email (Phone: (07) 33568791)
Main Contact: Ven. Tsultim Email (Phone: (07) 33524730)
Teacher: Ven. Lekshe Tsultim
Spiritual Director: Lama Choedak Rinpoche
Notes and Events:

Location: north Brisbane

Weekly Practice Schedule:

Wednesday evenings at 7.30pm: Refuge prayers & Calm Abiding Meditation practice followed by Chenrezig practice and tea & chat.

Tuesdays evenings at 7.30pm: Introduction to Calm Abiding Meditation (8 week course)

Weekly Vajrayana practice:

Saturday morning at 7.00am: Green Tara Puja (All welcome)

Calm Abiding Meditation at 8am. with Refuge Prayers and some prostrations (recommended but optional) suitable for all.


Sunday morning at 9.30am: White Tara (uncommon version)

White Soor Offering for the Deceased by request

Check our new website for up and coming events http://www.buddhanet.info/%22http://www.rongtonbuddhistcentre.org//%22
---
Sakyamuni Sambuddha Vihara & Buddhist Vihara Victora
Address: 125 Homestead Road Berwick Vic 3806
Tradition: Theravada, Sri Lankan
Affiliation: Siri Vajiragnana Dharmayathanaya (Sri Lanka)
Phone: 61 3 9702 6275
Fax: 61 3 9702 6274
E-mail: committee@vihara.org.au
Website: http://www.vihara.org.au/
Find on:


Main Contact: Ven. Digamadulle Wimalananda Thera
Teacher: Ven. Digamadulle Wimalananda Thera
Spiritual Director: Ven. Gangodawilla Soma Thera
Notes and Events:
Teachers: Ven. Digamadulle Wimalananda and Thera Ven. Kalyanadhamma Thero
About Buddhist Vihara Victoria
Buddhist Vihara Victoria Inc. (BVV) was established in 1994 under the guidance of the late Venerable Gangodawila Soma Thero. The association is affiliated to the Siri Vajiragnana Dharmayathanaya in Sri Lanka. From its inception, there were three major objectives for setting up this Vihara:
1) Setting up an education, research and Information centre to make the Buddha's teaching (Dhamma) available to all who come in search of it
2) To be a focal point for the next generation of Australians to learn and follow the Buddhist way of life including practices of Dana (letting go), Seela (virtue) and Bhavana (meditation).
3) To safeguard and protect the welfare of all living beings and promote inter-communal peace, harmony and amity.
The Vihara, which started at Noble Park grew in numbers until, the pressing need for more space made it necessary to move to more spacious premises.
A residence for the monks was built on a five acre property in Berwick and the Vihara moved there in March 2001 and was named Sakyamuni Sambuddha Vihara.
Plans are underway to construct a hall to provide space for all those benefiting from the services provided by the Vihara.
These include; the Dhamma school, meditation programs, public discourses, cultural and religious festivals. This will also house the library and research facility.
---
Samadhi Buddhist Vihâra (Meditation Centre)
Address: 39, Malcolm Place, Campbellfield, VIC 3061 Vic
Tradition: Theravada, Sri Lankan
Phone: (03) 9357 7266
E-mail: samadhi.buddhist@bigpond.com
Website: http://www.samadhivihara.org.au/
Find on:


Contact: Ven. Horowpothane Sathindriya
Notes and Events:
Location: North Melbourne, east of Melbourne Airport
Conducting Meditation programmes for Chilldern and adults in English and Sinhala.
Daily Buddha pooja and Vandaria programme in the evening.
Monthly spiritual day ( Sil Programme )
For more details please contact on (03)9357 7266
Samadhi Buddhist Meditation Centre was established in 2002 by the Samadhi Buddhist Meditation Association Inc. under the guidance and leadership of Venerable Horowpothane Sathindriya Thera.
We are happy to welcome all. The objective of Samadhi Buddhist Meditation Centre is to provide a place for those who prefer to practice meditation and study the teaching of the Buddha.
We conduct monthly meditation programmes for adults and children in both Sinhala and English languages.
Information on our regular religious and spiritual activities can be viewed under the programme/event list.
We encourage everyone to practice mindfulness, meditation and spiritual values.
PRACTICE IS MORE IMPORTANT THAN CONSTANT PREACHING.
---
Samyasling The Dzogchen Community in Melbourne
Address: call to enquire Melbourne Vic
Tradition: Vajrayana, Dzogchen
Affiliation: Dzogchen Community of Namgyalgar
Phone: 041-028-8487
E-mail: melbourne@dzogchen.org.au
Website: http://www.dzogchen.org.au/melbourne---samyasling.html
Find on:


Spiritual Director: Chögyal Namkhai Norbu
Main Contact: Sean Read (Phone: 0414610243)
Notes and Events:
Regular practice sessions including:

Video Webcast teachings of Chögyal Namkhai Norbu held throughout the year.
Regular courses in Tibetan Yantra Yoga, Vajra Dance and Buddhist philosophy and application.
please see http://www.buddhanet.info/wbd/\ under the Melbourne page for further details
or contact Sam on 0448387710 or at melbourne@dzogchen.org.au
---
Sangha bilong Groim Klia Save
Address: Kali Island Buddhist Centre, Western Manus,Manus Province, Papua New Guinea Western Manus Papua New Guinea
Tradition: Mahayana, Non-Sectarian, Zen - Soto lineage
Affiliation: Open Way Zen, Brisbane Australia
E-mail: quentingenshu@gmail.com
Find on:


Spiritual Director: Quentin Genshu Email
Notes and Events:
Regular meditation meetings of Sangha at Kalis Island and Lessau village.
Retreat Centres at Herma, near Kali Island and at Karanas near Lessau.
Retreats held six monthly at both centres. Introductory retreats based on the four foundations of Mindfulness.

---
Santi Forest Monastery
Address: 100 Coalmines Road, Bundanoon, NSW 2578 Bundanoon NSW 2578
Tradition: Theravada, Bhikkhuni
Affiliation: Australian Sangha Association http://australiansangha.org/
Phone: +612 4883 6331
E-mail: santioffice@gmail.com
Website: http://www.santifm.org
Find on:


Spiritual Director: Ajahn Brahm
Founding Abbot (Now Retired): Bhante Sujato
Notes and Events:
Santi Forest Monastery is a Buddhist Nuns' Monastery with facilities for people to visit, study and practice the teachings of the Buddha.
Located in Bundanoon, NSW bordering on Morton National Park.
Postal Address: PO Box 132, Bundanoon, NSW 2578
Telephone +612 4883 6331
---
Shambhala Melbourne Meditation
Address: Ceres Community Environment Park Brunswick East Vic 3057
Tradition: Vajrayana, Shambhala straddles 3 lineages, Kagyu, Nyingma and Shambhala , the latter coming from the terma teachings of Chogyam Trungpa Rinpoche.
Affiliation: Shambhala International
Phone: 0457056601
Fax: 03 9701 2315
E-mail: melbourne@shambhala.info
Website: https://melbourne.shambhala.info/
Find on:


Practice & Study: Rick Dawe Email
Spiritual Director: Sakyong Mipham Rinpoche
Centre Director: Aine Marron Email (Phone: 03 9700 2587)
Main Contact: Aine Marron Email (Phone: 03 9700 2587)
Teacher: Pema Chodron
Notes and Events:
Regular weekly events are offered at our inner city location – mostly on Tuesday evenings 7:00pm – 9:00pm.
Ceres Community Environment Park in the Eco House – the first house on the right as you go through the gates at the end of Lee St, which runs off Roberts St, Brunswick East (VIC 3057).
---
Shen Phen Ling Study Group
Address: PO Box 178, Wodonga, VIC 3690 , Vic
Tradition: Vajrayana, Tibetan, Gelugpa FPMT
Affiliation: FPMT
Phone: (02) 6059 8104 AH
E-mail: shenpenling@hotmail.com
Website: https://www.facebook.com/permalink.php?story_fbid=1103010469783468&id=127159787368546
Find on:


Main Contact: Coordinator Gary Townsend
Spiritual Director: Lama Zopa Rinpoche
Notes and Events:
Our group meet at the Border College of Natural Therapies, 24 Brockley Street, Wodonga, on the 1st and 3rd Tuesday of each month from 7 p.m. to 9 p.m
---
Shenpen Australia
Address:
Tradition: Vajrayana, Nyingma Tibetan
Affiliation: Dzogchen Monastery, South India
Phone: 0416 404 826
E-mail: shenpen@shenpenaustralia.org
Website: http://www.shenpenaustralia.org
Find on:


Spiritual Director: H.E. the 7th Dzogchen Rinpoche, Jigme Losel Wangpo
Notes and Events:
Shenpen is a world-wide network of volunteer organisations that support the work of Dzogchen Shri Senha Charitable Society (DSSCS), an Indian registered charity. DSSCS specialises in healthcare, educational and social welfare projects for the Dhondenling Tibetan settlement and the local Indian community in Karnataka state, South India. Guided by Dzogchen Rinpoche, the internationalsangha have established Shenpen in America, Australia, France, Germany, Holland, Switzerland and the United Kingdom.
Shenpen also helps preserve the unique cultural and spiritual heritage of Tibet and hosts Dzogchen Rinpoches international teaching tours every year.
The word shenpen comes from the Tibetan shen la phenpa, which literally means to bring benefit to others. Dzogchen Rinpoche has dedicated his life to charitable service and works tirelessly to improve the quality of life of so many people. As an example of wisdom in action, Dzogchen Rinpoche guides his students so that their lives can make a positive difference and bring lasting benefit to all.
---
SIBA - Sakya International Buddhist Academy
Address: 2592 Gelantipy Road, W Tree (near Buchan Caves ) East Gippsland, Victoria W-Tree Vic 3885
Tradition: Vajrayana, Tibetan, Sakya,Tsarpa Lineage
Affiliation: Tibetan Buddhist Society of Canberra
Phone: 03 5155 0329
Fax: (03) 5155 0359
E-mail: siba@sakya.com.au
Website: http://www.sakya.com.au/siba/
Find on:


Main Contact: Jampal or Pam Gray (Phone: 03 5155 0329)
Teacher: Lama Choedak Rinpoche
Spiritual Director: Lama Choedak Rinpoche
Notes and Events:
http:///www.sakya.com.au/siba/
This centre also called Tsarchen Choeling
Tel - (03) 5155 0329

Variety of retreats . . . some are weekends, some are long weekends, some are 5 or 10 days long, some are Calm Abiding meditation, some are specifically Buddhist eg Medicine Buddha, White Tara, Ngung-Nye, Hevajra, Ngondro.
Then theres Easter Health & Wellness Retreat, Tai Chi & Meditation (April), Essential Recipes for a Great Life (with Gabriel Gate in Nov 09), Family Retreat (Dec/Jan) and Yoga Retreats (see website for details).

Accommodation is in motel-styled rooms with ensuites - 4 beds in a room, singles, twins & doubles are available. Organic food garden, abundant wild-life; "beautiful & serene - ideal for contemplation."

Beautiful rural setting in Snowy River High Country in East Gippsland Victoria, the Centre was formally known as ONTOS; 1 hour from Bairnsdale, Lakes Entrance, 5 hrs from Melb or Canberra; public transport available. (see details on website).
Buddhist nuns & monks & celebrant to officiate at weddings, funerals.

---
Siddhartha's Intent Australia
Address: Unit 22/450 Elizabeth St Surry Hills NSW 2010
Tradition: Vajrayana
Affiliation: Siddharthas Intent
Phone: We no longer have a landline number
E-mail: office@si.org.au
Website: http://www.siddharthasintent.org/centres/urban-centres/si-australia/index.html
Find on:


Main Contact: Donna. (SIA Secretary) Email
Spiritual Director: Dzongsar Khyentse Rinpoche
Notes and Events:
see website for contacts in several regional centers
---
South Australian Zhu-Lin Buddhist Association
Address: 151-155 May Terrace, Ottoway SA 5013 SA
Tradition: Mahayana, Pure Land, Chinese
Phone: 08) 8447 4022
E-mail: cwzhulin@yahoo.com.au
Website: http://www.zhulinsa.org/en/
Find on:


Contact: Ms Caren Wong (Phone: 0401 011 931)
Teacher: Ven. Master Shi Jiewen
Notes and Events:
Mandarin language classes for children aged 7-10, Sun 9am - 12 noon
Practice Buddhism in the Chinese tradition. Phone temple for yearly activities program
Tai Chi classes Sat am all ages
For general inquiries, please call us at 08 84474022 during the Temple's Opening Times, or send a fax to 08 83411435.
If you are interested in the organised Temple Tours for School children or other community groups, please contact Samantha Chua at 08 84684144 or 0430382407, or email samantha.chua@roh.com.au
---
Sri Lanka Buddhist Vihara
Address: 78, Austin Avenue, Kenwick, WA 6107 WA
Tradition: Theravada, Sri Lankan
Affiliation: Sri Lanka Buddhist Vihara - Canberra
Phone: (08) 9493 0040
E-mail: info@srilankanvihara.org.au
Website: http://srilankanvihara.org.au/
Find on:


Teacher: Resident monk: Ven. Beruwala Siri Sobhitha Thero
Notes and Events:
Perth Sri Lanka Buddhist Vihara was established as an incorporated Body in 1998. It is situated at 78, Austin Avenue, Kenwick, about 17 km south of Perth. It is easily accessed via Albany Highway by car and the closest train station is Kenwick station.
The Temple serves the needs of the Sri Lankan Buddhist Community and is also open to anyone interested in the study of Lord Buddha's Teachings and Meditation, including Meditation techniques.
The Temple conducts a Dhamma School for children between the ages of 4 and 15 on Sundays. The premises are also used on Sunday afternoons by Perth Sinhala School to conduct the Sinhala Language classes.
A number of programs are run at our temple; and currently the premises have developed into a cultural centre for the Sri Lankan Sinhalese community of WA. The Venerable Resident Monks also make themselves available for counselling, Bodhi puja, and Bana and Dana at residences on invitation. They also visit the sick and provide blessings Blessing (seth pirith) at special occasions.
Main objectives of the Temple:
* To facilitate the Buddhist way of life, as practiced in Sri Lanka
* To facilitate the teaching of Dhamma for the betterment of all
* To conduct guided Meditation classes and teach meditation techniques
* To conduct a school for moral education for children based on Buddhist Philosophy

---
Sri Lanka Buddhist Vihara
Address: 30 Jenke Circuit Kambah (Canberra) ACT 2902
Tradition: Theravada, Sri Lankan
Affiliation: Australia Sri Lanka Buddhist Association of Canberra
Phone: +61 2 6296 2503
E-mail: info@slbvc.org
Website: http://slbvcn.org/
Find on:


Secretary: Dr. Tala Talgaswatta
President: Mr. Jayantha Kottege
Notes and Events:
A regular mediation class (Vipassana Mediation) is conducted in English at the Temple on every Wednessday at 7.30 pm. The class is conducted by Dr Lalith Ranatunga and supported by resident Bhanthe. All are welcome.

---
Sri Lanka Dhamma Vihara Association of Canberra
Address: 379 Gundaroo Drive Gunghalin ACT 2912
Tradition: Theravada
Phone: (02) 6166 2604
E-mail: info@dhammavihara.org.au
Website: http://www.dhammavihara.org.au/
Find on:


Notes and Events:
Sri Lanka Dhamma Vihara of Canberra (SLDVAC) is a Buddhist Association. Established in 2007, it provides services to its community through promotion of Buddhist philosophy and Buddhist way of life. It also offers Weekend Daham School too. Dhamma Vihara welcomes Buddhists and all well-wishers.

---
Sun Mountain Zen Community
Address: St Paul\'s Anglican Church Hall 554 Vulture Street East Brisbane Qld Qld
Tradition: Mahayana, Rinzai and Soto Zen,Sanbokyodan (school of Zen, Roselyn Stone Roshi.
Phone: (07) 3298 5094
Fax: 07) 3298 5883
E-mail: info@sunmountainzen.org
Website: http://www.sunmountainzen.org.au/
Find on:


Teacher: : Dr. Rev. Mervyn Lander and Dr. Rev Cecilie Lander
Main Contact: Arno Hess
Notes and Events:
Notes and Events:
Welcome to the Brisbane based Sun Mountain Zen Community. Sun Mountain Zen is an intentional community of Zen practitioners guided by Mervyn and Cecilie Lander. They are authorized teachers of the Sanbokyodan (school of Zen), Kamakura, Japan and are Dharma heirs of Roselyn Stone Roshi.

Our practice combines elements of both Rinzai and Soto traditions of training.
Zen practice is appropriate to all who seek the contemplative way, irrespective of whether they have a specific religious affiliation or none.

No previous experience of Zen or meditation is required to participate in this Brisbane Zen community.

We sit every Monday from 7PM to 8:30 PM. Individual Zen insturctions are provided.
---
Sunnatarama Forest Monastery
Address: Lot 13 Teudts Road, Bundanoon NSW 2578 NSW
Tradition: Theravada, Thai Forest
Phone: (02) 4884 4262 (am - best to ring before 11.00 meal.)
Fax: (02) 4884 4496
E-mail: sunnata@bigpond.com
Website: http://www.sunnataram.org/
Find on:


Main Contact: Ven. Ajahn Noom
Notes and Events:
The monastery situated on 99 acres, 9 kms from Bundanoon along the road to Goulburn, borders a national park stretching 30kms to Jervis Bay. Few monastic sites are its equal in terms of breathtaking views, a dozen friendly, accommodating monks, vegetarian food, pristine air and water, idyllic forest setting, wildlife - woodducks, peacocks, lyre birds, wombats and wallabies - tranquility and opportunity for meditation practice. Abbot, Ven. Noom, though only about 5th or 6th in line of seniority, presides with a balance between strictness and liberality, drawing on skills learned from Thai forest masters and as a successful businessman.

Visitors or welcome to apply for permission to stay. A list of the precepts and monastic traditions is available on arrival. As there is a lot of free time, the Wat is ideal for experienced meditators or those not requiring structured meditation.
---
Sunyata Community and Meditation Centre
Address: 7 Lichfield Street, Victoria Park, WA 6100 P.O.BOX 204, Victoria Park, WA 6100 WA
Tradition: Mahayana, Thien, Vietnamese Zen
Phone: (08) 9470 1251
E-mail: thienvientuecan@yahoo.com.au
Website: http://thientutuecan.com/
Find on:


Contact: Thich Nu Hue Can
Main Contact: Ven. Tri Dinh Email
Notes and Events:
Venue: 7 Lichfield Streetr, Victoria Park, WA, 6100

Thursdays: Meditation 9:30 am - 11:00 am

Saturdays: Beginner Meditation 2:30 pm - 4:00 pm

The centre offers a one day retreat every first Sunday of the month.

Thien Tu Tue Can
---
Sydney Shambhala Buddhist Meditation Group
Address: 35-39 Dickson Street Newtown NSW 2042
Tradition: Mahayana, Kagyu and Nyingma
E-mail: sydney.shambhala@gmail.com
Website: http://sydney.shambhala.org/
Find on:


Main Contact: Louise Melov Email
Spiritual Director: Sakyong Miphan Rinpoche
Notes and Events:
Mindfulness/awareness meditation is the foundation of all that we do at the Shambhala meditation group. This ancient practice of self-discovery is rooted in the simple but revolutionary premise that every human being has the ability to cultivate the mind's inherent stability, clarity and strength in order to be more awake and to develop the compassion and insight necessary to care for oneself and the world genuinely.
The Sydney Group meets every Tuesday nite 5.45pm -7pm for sitting and walking meditation practise, dharma discussions and contemplation meditations. Instruction is provided to all new participants.
Please contact Louise for instructions to get to the room.
Public Transport Access
Bus no.s 422 & 370 stop in King St Opp. Dickson St
Bus no.s 423, 426 & 428 stop at Newtown Station
Newtown Station – 10 minute walk
St Peter's Station – 5 minute walk
---
Sydney Zen Centre
Address: 251 Young Street, Annandale NSW 2038 NSW
Tradition: Mahayana, Diamond Sangha, Zen
Affiliation: Gorricks Run (Sydney Zen Centre Meditation Retreat)
Phone: 02) 9660 2993
Website: http://www.szc.org.au/
Find on:


Teacher: Subhana Barzaghi, Roshi
Notes and Events:
Zazen from 7:00 pm - 9:00 pm is scheduled for Monday and Wednesday. Beginners should come on either Wednesday or Thursday evenings, arrive by 6.45pm and arrange to have a personal orientation during the evening with one of the senior students. After zazen, join the group for a cup of tea, and ask any questions that may have arisen for you during the evening. You can be sure that people before you have felt the same things, and had the same doubts.

• Zazenkai and Dharma talk (zazen from 8.30 until noon) takes place on the third Sunday of each month at Annandale. There is usually a Dharma talk at 10 am and personal interviews with a senior student when available.

• Samu Weekend: 4th weekend at Gorricks Run Centre.

Gorricks Run (Sydney Zen Centre Meditation Retreat)
A zen retreat facility, open during retreat times, set on rural land near St. Albans.

• Sesshin occurs several times a year, and offers the opportunity for intensive practice with a teacher, often including the ceremony of jukai, when students formally take the Precepts. Shorter retreats without the teacher are also held and a wide range of other activities. A calendar of coming events comes out every second month and is available free at the Zendo. Our journal, Mind, Moon, Circle, is published quarterly. Annual subscriptions are available or you can pick up a copy at the Zendo
---
Tara Institute
Address: 3 Mavis Avenue East Brighton Vic 3187 Vic
Tradition: Vajrayana, Tibetan, Gelugpa (FPMT)
Affiliation: FPMT
E-mail: admin@tarainstitute.org.au
Website: http://www.tarainstitute.org.au/
Find on:


Main Contact: Llysse Velez Email
Teacher: Ven. Geshe Doga
Spiritual Director: Ani Rigsal Email (Phone: 03 9596 7410)
Notes and Events:
Notes and Events:
At Tara Institute, it is taught that by first listening to, then contemplating, meditating and putting into practice the Buddhas teachings, we can begin to generate a genuine sense of loving-kindness and further develop our positive inner qualities and wisdom, thereby equipping us to be of benefit to others and live more peaceful and meaningful lives.

Tara Institute is a Tibetan Buddhist centre providing classes in Buddhist philosophy and meditation for both beginners and more advanced students. We are affiliated with the Foundation for the Preservation of the Mahayana Tradition (FPMT), a network of Buddhist centres in Australia and worldwide. The FPMT was founded under the spiritual guidance of Lama Yeshe and Kyabje Thubten Zopa Rinpoche. Tara Institute is a not-for-profit, religious, educational and charitable institute dedicated to preserving the Buddhas teachings. It supports itself through membership, benefactors, donations, residential rent and fundraising.

Downloadable newsletter outlining the monthly schedule, is available from their web site or can be posted to you for free for 4 months. Please contact the office on 03 9596 8900 for further details.

Monday 8pm
Introductory classes on meditation and Buddhist philosophy run in monthly blocks, beginning the first Monday of each month and led by senior students. A modest facility fee is requested.

Tuesday 8pm to 9.30pm
Study Group. Classes are taught by our resident Tibetan Lama, the Venerable Geshe Doga, and are divided into six-week segments throughout the year. Each segment includes four weeks of teachings, a discussion evening, and finally an exam or meditation on one of the subjects studied. Students make a commitment to attend a whole six-week series of classes. No facility fee.

Wednesday 8pm
General teachings by our resident Tibetan lama, the Venerable Geshe Doga, with practical advice on how to apply the Buddhas teachings to everyday life. No facility fee.

Weekend Courses
Generally run from 9am-5pm Saturday and Sunday; advertised via the Tara Institute newsletter which is downloadable from the web site. Fees apply. Some dormitory accommodation is available for people attending weekend courses.

Bookshop
Tara Institute has a well-stocked bookshop containing a wide range of titles covering Buddhist teachings from the introductory to the advanced, as well as Tibet-related and pictorial. There is a large selection of cards, malas (rosaries), ritual objects, candles and incense. A discount is offered to members of Tara Institute.

Pujas
Traditional ceremonies that combine Tibetan chanting and English meditation. Dates and times are published in TIs newsletter. Offerings of food, flowers, lights and incense are welcome.

Healing Support
People with serious illnesses, and their carers or friends, meet on Wednesdays from 10am to 12.30pm at TI for meditation and advice-sharing as part of a Healing Support Group. The group is led by Bob Sharples and Venerable Carolyn Lawler. Open to people of all faiths and backgrounds.

Dining Room
Low cost 3-course vegetarian meals are available Monday to Wednesday from 6.30pm to 7.30pm. Please book through the Office by 3pm and pay at the kitchen on arrival.

Childrens Dharma Club
Held once a month on a Sunday from 10.30am-12pm. Stories, drawings, games.
---
Tara Kadampa Buddhist Centre
Address: 24 Hampstead Road Highgate Hill, Brisbane Qld 4101
Tradition: Vajrayana, New Kadampa
Affiliation: Heruka Centre, Melbourne SA, Khedrubje Centre, Central Coast, Maitreya Centre, Adeleide., Bodhisattva Centre, Canberra, NSW., Dharmapala Centre, Perth W.A., Kadampa Meditation Centre Australia, Melbou
Phone: (07) 3217 2888
E-mail: info@meditateinbrisbane.org
Website: http://www.meditateinbrisbane.org/
Find on:


Teacher: Kelsang Tsalden
Spiritual Director: Venerable Geshe Kelsang Gyatso
Notes and Events:
Tara Kadampa Buddhist Centre is based in a large old Queenslander at Highgate Hill. The Centre provides a facility where people can learn about meditation and the Buddhist way of life. We offer a full programme of classes and events suitable for everyone.

Our drop in classes are held in the City, New Farm, Paddington, West end and Highgate Hill. Please see www.meditateinbrisbane.org for more details on these classes and all our centre events. Everyone is welcome!
---