United States of America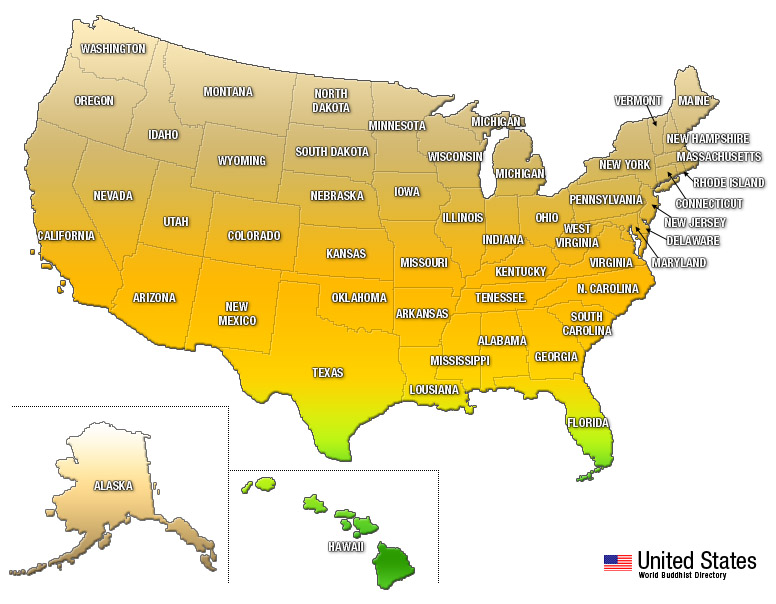 There were 2616 results matching your query.
First Previous 92 93 94 95 96 97 98 99 100 101 102 103 104 105 Next
The Tibet Center
Address: 25 Washington Street, Suite 304 Brooklyn NY 11201
Tradition: Vajrayana, Tibetan - Everyone welcome
Affiliation: Gelugpa
Phone: 718-222-0007
Fax: 718-222-0087
E-mail: info@thetibetcenter.org
Website: www.thetibetcenter.org
Find on:


Main Contact: Darren J. Smith Email (Phone: 718-222-0007)
Spiritual Director: Rev Khyongla Rato Rinpoche Email (Phone: 718-222-0007)
Teacher: Ven Nicholas Vreeland
Notes and Events:
Mondays 7pm
Beginners Buddhism Class. Basic concepts and precepts of Tibetan Buddhist Philosophy.
Tuesdays 7pm
Tibetan Buddhist Philosophy w/Khyongla Rato Rinpoche and Geshe Nicholas Vreeland
Saturdays 2pm to 4:30pm
White Tara Meditation
Monday - Friday 2pm to 7pm
Open Temple
---
The Way of Silent Mind-Open Heart
Address: 200 E. Parkway Dr. Columbia MO 65203
Tradition: Theravada
Phone: 573-874-0881
E-mail: phil@silentmindopenheart.org
Website: http://silentmindopenheart.org
Find on:


Teacher: Philip Jones

---
The Woodlands Buddhist Fellowship
Address: The Woodlands TX 77380-2758
Tradition: Mahayana
Affiliation: North American Shin Buddhist Association (NASBA)
Phone: (281) 465 - 9434
E-mail: woodlands@bffct.net
Website: http://www.buddhistfaith.tripod.com/woodlands
Find on:


Main Contact: Joe Frechette
Notes and Events:
We are engaged in the study of the whole of Buddhism but place more focus on Shin Buddhism, which is designed for ordinary working people with busy schedules. Open to all.
---
Theravadan Buddhist Dhamma Study Center
Address: 58 Hampton Street Concord, NH U.S.A. Concord, Merimac County NH 03301
Tradition: Theravada
Phone: (603) 568-4861
E-mail: rjchiodi@hotmail.com
Find on:


Contact: Ronald J. Chiodi (Ron-the-Elder)
Spiritual Director: R. J. Chiodi
Notes and Events:
This is a Study Group for Theravadan Buddhist Students & Practitioners of The Dhamma (Buddha\'s Teachings) as documented in The Tipitaka / Pali Canon.
Study daily translations from Bhikkhu Samahita of Sri Lanka
http://www.dhammawiki.com/index.php?title=Bhikkhu_Samahita
Discussions & study of Theravadan Suttas / Pali Canon from Access to Insight
http://www.accesstoinsight.org/index-subject.html
And from "What the Buddha Said in Plain English
http://what-buddha-said.net/index.htm
Weekly Ecuminical Meditation at The Unitarian Universalist Church of Concord, NH
Tuesdays at 07:00 p.m.
---
Three Jewels Dhamma Hall
Address: 31791 Johnson Lane Fort Bragg CA 95437
Tradition: Theravada
Affiliation: Abhayagiri Monastery
Phone: 707-964-4606
E-mail: cindyho@mcn.org
Website: http://www.threejewelsfortbragg.org
Find on:


Spiritual Director: Cindy Mettika Hoffman Email (Phone: 707-964-4606)
Main Contact: Cindy Mettika Hoffman Email (Phone: 707-964-4606)
webmaster: John Gilmore Email (Phone: 707-964-4038)
Notes and Events:
Weekly teaching and meditation. Workshops, books, recordings, and other Buddhist resources for the northern California coast.
Weekly Events
Sangha Meeting
Every Monday
7:00-8:30 p.m.
On the third Monday of each month, April through December, a senior monk from Abhayagiri Monastery visits to teach, guide meditation, and answer questions.
On other Mondays the teaching is a recorded talk usually by a monk associated with the Monastery followed by meditation and discussion with tea.
All are welcome—the teachings are helpful to both beginners and longtime practitioners. Cushions, blankets, stools, and chairs are provided. There is no charge, though donations are always appreciated.
Guided Meditation
Every Wednesday
8:00-9:00 a.m.
Open to all: experienced, beginners, those with beginners mind, those with religion, those without, those unsure.
Each session includes instruction in basic meditation techniques and time for questions and answers. To sustain continuity of practice, participants are asked to commit to attend at least six consecutive sessions.
Freewill donations are accepted for use of the Hall.
The guide, Cindy Mettika Hoffman, was ordained as a lay minister in the Thai Forest Tradition of Buddhism at Abhayagiri Monastery. She was also given authorization to teach meditation by Spirit Rock Meditation Center.
---
Threefold Lotus Kwoon
Address: 189 CR 455 Shannon MS 38868
Tradition: Mahayana, Nagarjuna, Vassubandhu, Chih-Che, Saicho, Miao-Lo, Nichiren
Affiliation: Quantum Life Buddhism
E-mail: threefoldlotus@hotmail.com
Website: http://threefoldlotus.com
Find on:


Spiritual Director: Sifu Sylvain Chamberlain-Nyudo Email
Notes and Events:
As we have recently moved from our downtown Tupelo building to a 15 acre parcel in rural Old Union area just north of Shannon, MS, we are currently operating out of our residence as we build our new temple.
We can take appointments for those in need of practice and guidance. Please email to threefoldlotus@hotmail.com
For our intended schedule of classes and the teachings we provide, please see our main website at http://threefoldlotus.com/kwoon
Please also research our resources for study and practice at the main site http://threefoldlotus.com where also a brief description of the school and mission statement.
---
Thu Vien Phat Giao .ORG
Address:
Website: http://www.thuvienphatgiao.org
Find on:


Notes and Events:
Thu Vien Phat Giao is an online Buddhism media library for Buddhism teaching materials in the form of Videos, Audios, and Photos. Thu Viện Phật Giáo là một ...
---
Thubten Norbu Ling Tibetan Buddhist Center
Address: 149 E. Alameda St Santa Fe NM 87501
Tradition: Vajrayana, Tibetan, Gelugpa (FPMT)
Phone: (505) 660-7056
E-mail: info@tnlsf.org
Website: http://www.tnlsf.org
Find on:


Director: Rowena Mayer
Teacher: Don Handrick
Notes and Events:
Thubten Norbu Ling is a Tibetan Buddhist study group which offers teachings in the lineage of Lama Je Tsongkhapa (1357-1419) and his followers, the fourteen Dalai Lamas of Tibet. Our name, Thubten Norbu Ling, is Tibetan for "Land of the Jewel of the Buddhas Teachings." We are associated with the Foundation for the Preservation of the Mahayana Tradition, a worldwide organization with over 130 centers. Lama Thubten Zopa is the Spiritual Director of the Foundation for the Preservation of the Mahayana Tradition.
---
Tibet Lama Dawa
Address: 9452 Dewey Dr., Garden Grove Garden Grove 92841
Tradition: Vajrayana, Tibetan Karma Kagyu
Phone: 714 369 0702
E-mail: tuyetnguyen927@yahoo.com
Website: https://tuyetnguyen927.wixsite.com/dawa
Find on:


Teacher: Lama Dawa
Main Contact: Victoria Email (Phone: 714 369 0702)
Spiritual Director: Lama Dawa Email (Phone: 510 604 9177)
Notes and Events:
Invitation to TIBETAN LAMA DAWA Dharma Teaching:
We need to develop Compassion and Wisdom to get the enlightenment. Lama Dawa performs Buddha Dharma Teaching in English, Tibetan, and Vietnamese, every Saturday & Sunday: 1 PM - 3 PM
Address: Light of Buddha Temple: 9452 Dewey Dr., Garden Grove, USACA 92841, USA. (Please park on Gilbert Street)
Subject: Blessing Ceremony and Initiation, Dharma teaching and Practice praying Medicine , Buddha, Green Tara, Chenrezig, SakyaMuni Buddha, Yellow Zambala, Amitaba Buddha
LOPPON LAMA DAWA BIOGRAPHY
Loppon Lama Dawa is a Karma Kagyu Lineage holder born in Kham, eastern Tibet. His root guru is Vajradhara Tai Situpa Rinpoche. Tai Situpa Rinpoche is one of the highest ranking Lama of the Karma Kagyu Lineages of tulkus (reincarnated Lamas) in the Kagyu school of Tibetan Buddhism and was instrumental in recognizing Ogyen Trinley Dorje (H.H. Karmapa 17th). As a youth, Lama Dawa lived at the first Kalu Rinpoche's monastery. He then lived at Tai Situpa Rinpoche's monastery, Palpang Sherab Ling, for 22 years. During this time he studied Buddhadharma for 22 years, and completed his three-year retreat. In 1998, Lama was asked to come to the Bodhisattva Institute, one of Kalu Rinpoche's dharma centers, in Tucson, Arizona. A few years later, Lama opened a meditation center called Chokor Ling on the outskirts of Tucson. Currently, Lama is the Director of The Nimbus Compassion Foundation based in Orange County, California. Lama speaks fluent Tibetan, Chinese and English and has regular dharma activities in Taiwan, Hong Kong and Tibet as well as in Los Angeles county and Orange County, California . Lama Dawa earned the Khenpo title equivalent of a PhD in Buddhism. He is qualified to teach Phowa to help people to go to the Pure Land fast in one life. He is available to give prayers and Empowerment blessings to individuals and families, Lama Dawa can be reached at 510.604.9177
or call Victoria: (714) 369 0702 Moi Thuyet Giang Phat Pháp
Hien cu ngu tai Hoa Ky tu năm 1998, Tien Si Phat hoc Lama Dawa đen Little Saigon đe ban pháp cho Phat tu nguoi Viet dành cho cong đong. Đai Su Lama DAWA thuc ve dòng Truyen thua KARMA KAGYU là mot trong nhung dòng truyen thua chính cua nhánh Kagyu. Ngài Karmapa đoi thu 17 hien nay là Pháp Vuong dòng truyen thua Karma Kagyu.
Kagyu là dòng Khau Truyen (hoc có khi còn đuoc gio là Nhĩ Truyen),

Kính moi phat tu đen tham du buoi giang Phat pháp hàng tuan Đai Su Lama Dawa voi phan thông dich tieng Vite chùa Phat Quang. Có Sách Kinh tieng Anh & Viet.

Thoi gian: Moi Thu 7 và chu nhat: 1 PM - 3 PM
Đia điem: Chùa Phat Quang 9452 Dewey Dr., Garden Grove, CA 92841, USA

Lama Dawa giang day, tung kinh, Thuyet giang ve:
* Đuc Phat Duoc Su Luu Ly,
* Đuc Luc Đo Mau đe tránh nan và gap may man
· Đuc Than Tài Yellow Zambala
* Đuc Bach Đo Mau Truong Tho,
* Đuc Quan The Âm Bo Tát,
* Đuc Kim Cang Tát Đóa, Sám Hoi Kim Cang Tát Đoa và Thanh Tinh Hóa Nghiep,
* Hành trì quán tuong Kim Cang Tát Đoa,
* Đuc Pho Hien Bo Tát,
* Đuc Thích Ca Mâu Ni Phat,
* Thuyet giang ve Đuc Phat A Di Đà.
* Thuc tap quán tuong Đuc Phat A Di Đà,
* Gioi Thieu ve pháp tu siêu viet Phowa (Phowa giúp di chuyen than thuc đuoc chuyen vào cõi Tây Phuong Cuc Lac khi chet, vào lúc Lâm Chung)

* và ban Le Quán Đnh , ban phep lanh, may man, giai tru nghiep chuong theo su thinh cau ca Phat Tu.

Thoi gian: Moi Thu 7 và chu nhat: 1 PM - 3 PM -

Điađiem: Chùa Phat Quang 9452 Dewey Dr., Garden Grove, CA 92841, USA

​Lien Lac: Tinh Dung (714) 369 0702
---
Tibetan Aid Project
Address: 2210 Harold Way Berkeley CA 94704
Tradition: Vajrayana
Phone: 510.848.4238 or 800.338.4238
E-mail: tap@tibetanaidproject.org
Website: http://www.tibetanaidproject.org/
Find on:


Main Contact: Rosalyn White, Executive Director Email (Phone: 510-848-4238)
Notes and Events:
MISSION STATEMENT
Tibetan Aid Project rebuilds, preserves, strengthens, and perpetuates Tibet's cultural and spiritual heritage for the benefit of the Tibetan people and all humanity.
PROGRAMS
Our primary program:
Funding the production, shipment, and distribution of sacred texts, art, and prayer wheels for donation to institutions and individuals in the Himalayan region.
Other program activities:
Sponsoring ceremonies important to sustaining the lineages of all Tibetan Buddhist schools.
Providing financial support for monastic centers, lamas, monks, nuns, and lay people.
Promoting awareness of Tibet\\\'s heritage in the West through publications, presentations, exhibits, and the production and sale of culturally significant items.
---
Tibetan Gelug Society Of Denver
Tradition: Vajrayana, Gelugpa, Non-NKT
E-mail: BuddhaMind97@aol.com
Main Contact: Sempa Dachen Email
Spiritual Director: H.H. 14th Dalai Lama
Teacher: Tenzin Senge
Notes and Events:
Daily meditation 4:00am to 6:00am
5:00pm to 7:15pm
This is a grass root sangha in the heart of Denver, CO. Consisting of two monks from the lineage of H.H. the 14th Dalai Lama. We are a non-NKT sangha. As a quiet sangha we have only basic needs. Please feel free to contact us via email until we become established. Our website will be up soon.
TASHI DELEK!
Tenzin Senge
BuddhaMind97@aol.com -email

---
Tibetan Language Institute
Address: P.O. Box 2037 Hamilton MT 59840
Tradition: Vajrayana
Affiliation: Independent
Phone: 406/ 961-5131
Fax: 406/ 961-0031
E-mail: info@tibetanlanguage.org
Website: www.tibetanlanguage.org
Find on:


Teacher: Lama David Curtis
Spiritual Director: Lama David Curtis Email (Phone: 406/ 961-5131)
Notes and Events:
Learning materials and instruction for Tibetan language and Tibetan Buddhism
---
Timpanogos Mountain Buddhist Hermitage
Address: 9091 Mill Creek Cove Cedar Hills UT 84062
Tradition: Theravada, Following the lineage of Forest Monk tradition spearheaded by the late Phra Ajhan Chah of Wat PaPhong, Ubon, Thailand.
Affiliation: Monastere Bodhinyanarama, Tournon sur Rhones, France
Phone: (801) 785-5757
Fax: (801) 785-5757
E-mail: tranvtlaw@gmail.com
Website: http://www.dharmacloudstimpmountain.spaces.live.com
Find on:


Main Contact: Dr. Thuan Tran, JD, PharmD Email (Phone: (801)785-5757)
Teacher: Phra Ajhan Bodhinyanadharo Maha Thera
Notes and Events:
During the Sangkhakam period (July thru October) the resident head master will conduct meditation session, an all-night meditation practice on half-moon and full moon days. Students are required to take the eight precepts on the practice days and stay overnight at the hermitage.
---
Tinh Tam Buddhist Meditation Temple
Address: 1602 Lane Street. Kannapolis NC
Tradition: Mahayana, Vietnamese, but all are welcome!
Phone: 203-524-5527
Find on:


Teacher: Abbot, Bhikku Thich Tam Khanh.
Notes and Events:
The temple holds services every Sunday, from 11 a.m.-3 p.m. Services include Sutra chanting and meditation, as well as a message from the abbot.
To meditate is to try to understand the nature of the mind and to use it effectively in daily lives," Thi Thi says. "The mind is the key to happiness and also the key to suffering."
---
Touching Earth Sangha- Gathering Clouds Temple
Address: 6126 NE 12th Ave Portland OR 97211
Tradition: Non-Sectarian
E-mail: touchingearth@riseup.net
Website: touchingearth.wordpress.com
Find on:


Notes and Events:
We offer a full daily schedule of meditation, chanting, and work practice based in the zen tradition, with other innovations and influences. In addition we have several talks weekly, instruction in Tai Chi and Indian raga, and one, three, and seven day silent retreats. All our offerings are free, on a purely donation basis. We emphasize ecological and social responsibility in the spirit of the traditional yogic lifestyle. Please see our website for further info.

---
Tranquil Waters Sangha
Tradition: Mahayana, open to all
Phone: 717-880-5397
E-mail: robert@tranquilwaterssangha.org
Website: http://www.tranquilwaterssangha.org/index.htm
Main Contact: Robert Hess Email (Phone: 717-880-5397)
Notes and Events:
Information at www.tranquilwaterssangha.org
---
Treasure Root Sangha
Tradition: Mahayana, Practice in the Tradition of Zen Master Thich Nhat Hanh
Affiliation: Community of Mindful Living
Main Contact: Brian Kimmel Email (Phone: (702) 461-8422)
Notes and Events:
We meet every Tuesday Night for sitting, walking, lying down, deep listening meditation and a short evening program in the style of Zen Master Thich Nhat Hanh. We also hold several events for deepening in mindfulness in your daily life including days of rest, weekend retreats, evening talks, presentations, guest teachers and ceremonies. Our programs are by donation and are welcome to beginners and anyone interested in engaged practice, not pertaining to any one, particular religious belief or ideology.

---
Treetop Zen Center
Address: 293 Country Club Road Oakland, ME ME 04963
Tradition: Mahayana, Soto Zen
Affiliation: Soto Zen - White Plum Asanga
Phone: (207) 619-1156
E-mail: info@treetopzencenter.org
Website: http://www.treetopzencenter.org
Find on:


Teacher: Peter Seishin Wohl
Notes and Events:
Treetop Zen Center offers meditation instruction on Wednesdays at 7 p.m., and Saturdays 9 a.m.
Practices: Zazen (meditation), morning services, dharma talks, Buddhist studies classes, daisan (one-on-one meetings with the teacher). Weeklong and weekend retreats are offered throughout the year.

No experience is necessary. Beginning meditation instruction is provided as necessary.
---
Tri-State Dharma
Address: Cincinnati OH 45236
Tradition: Mahayana
Phone: (513) 921-5377
E-mail: Sangha@tristatedharma.org
Website: http://tristatedharma.org/
Find on:


Contact: Pat Dolan
Notes and Events:
Tri-State Dharma is an organization designed to promote the study and practice of Insight Meditation in the Buddhist Theravadin tradition in the geographic areas of Ohio, Kentucky and Indiana. As such, it is actively engaged in facilitating the existing Sangha (community of practitioners) in both study and practice. The organization sponsors retreats and other related activities throughout each calendar year in an effort to bring the teachings to the public.
Mailing address: PO Box 36528 Cincinnati, OH 45236
---
Tri-State Dharma's Northern Kentucky Meditation Group
Address: 12383 US 41 Baraga MI 49958
Tradition: Theravada,
Affiliation: Tri-State Dharma, Cincinnati, OH
E-mail: weisner5@gmail.com
Website: http://larosewellnessretreat.com/introduction-to-meditation/
Find on:


Teacher: Wendy Eisner
Notes and Events:
Starting on June 29, 2016, Eisner, an experienced teacher of Insight Meditation, will offer an Introduction to Meditation at the LaRose Wellness Retreat in Baraga, MI. We will meet Wednesday evenings from 7:30 to 9pm for 5 weeks. We use simple meditation techniques which are healthy and beneficial for everyone. This course is appropriate for beginners as well as more experienced meditators. All are welcome!
---
Triratna Buddhist Community New York City
Address: Tournesol Wellness, 26 E 36th Street New York NY 10016
Tradition: Non-Sectarian, Western (Triratna Buddhist Community)
Affiliation: Triratna Buddhist Community
Phone: (212) 749-0942
E-mail: Vajramati@triratna-nyc.org, info@triratna-nyc.org
Website: http://www.triratna-nyc.org
Find on:


Founder: Sangharakshita
Contact: Vajramati
Teacher: Vajramati
Notes and Events:
We run ongoing introductions to meditation and Buddhism in near Union Square. The courses are four weeks long and held on Thursdays from 7-9pm. Monday Evenings, Sangha Night is a weekly class open to all that provides regular support for anyone who has an established Buddhist practice.
---
Truc Lam (Vietnamese) Buddhist Temple)
Address: 1521 W. Wilson Avenue, Chicago, IL 60640 IL
Tradition: Mahayana, Vietnamese
Phone: (773) 506-0749
E-mail: thichhanhtuan@yahoo.com
Website: http://www.chuatruclamchicago.org
Find on:


Main Contact: Ven. Thich Hanh Tuan Email (Phone: 773-641-4336)
Spiritual Director: Ven. Thich Hanh Tuan Email (Phone: 773-641-4336)
Notes and Events:
We teach Vietnamese Buddhism or Mahayana Vietnamese Buddhism, the combination of two traditions of Buddhism, Pure Land and Chan (Thien) Buddhism.
---
True Dharma International Buddhist Mission
Address: 11319 93rd Street Largo FL 33773-4614
Tradition: Mahayana, Korean
Phone: 727-512-4805
E-mail: truedharma108@gmail.org
Website: http://www.truedharmaworks.org
Find on:


Teacher: Frank Tedesco
Notes and Events:
The True Dharma International Buddhist Mission is focused on spreading the teachings and practices of loving-kindness, compassion, joy, and giving that leads to equanimity as taught by the Buddha. TDIBM followers have studied in many different lineages or none. Our concern is the heart-essence of the teachings and freeing ourselves from inner bondage as we serve others. We are socially engaged and committed to kindness for all sentient beings without discrimination. We teach and work in animal shelters and sanctuaries, jails and prisons, hospitals and hospices, and among homeless, wherever there is need. One major project was organizing a visit of the Maitreya Project Heart Shrine Relic Tour to Clearwater, Florida 10/31-11/2008.
Our meetings consist of chanting, meditation, study and fellowship. We also schedule Buddhist films and field trips to Buddhist sites as well as retreats. Much time is spent introducing dharma to newcomers and healing those in need, We share end-of-life moments at homes and hospices perform funerals for humans and animals, including prayers and burial for road-kill. Rev.Dr. Tedesco is Certified in Thanatology (CT) from ADEC, Association for Death Education and Counseling.

---
Tsem Rinpoche Foundation
Address: Unit #5 Soledad Plaza 20655 Soledad Canyon Road Santa Clarita CA 91351
Tradition: Vajrayana
Affiliation: KECHARA - A Tsem Rinpoche Organisation
E-mail: foundation@tsemrinpoche.com
Website: http://www.tsemrinpoche.com/foundation
Find on:


Main Contact: Pastor Loh Seng Piow
Teacher: Pastor Khong Jean Ai
Spiritual Director: H.E. Tsem Tulku Rinpoche
Notes and Events:
Tsem Rinpoche Foundation, Inc. is a non-profit charitable institution dedicated to encouraging the growth, development and study of Buddhism, Buddhist philosophy and various spiritual paths. Also to provide the public with Buddhist-related and spiritual services and educational content.
Incorporated officially on 19th February 2014 in the USA, Tsem Rinpoche Foundation, Inc. operates a global group of Buddhist associations and social enterprises. This includes Kechara House, a non-profit Buddhist association in Malaysia, and Kechara Soup Kitchen, a charitable project whose primary goal is to feed and empower the homeless and underprivileged in Malaysia, Indonesia and Shanghai to become independent and self-sustaining.
---
Tubten Kunga Center for the Study of Tibetan Buddhism
Address: 201 SE 15th Terrace Cove Plaza Deerfield Beach FL 33441
Tradition: Mahayana, Tibetan, Gelupa tradition of His Holiness the Dalai Lama
Affiliation: FPMT
Phone: 954-421-6224
E-mail: TubtenKunga-subscribe@yahoogroup.com
Website: http://www.tubtenkunga.org/
Find on:


Resident Geshe/Teacher: Geshe Konchog Kyab
Main Contact: Elaine B. Email (Phone: 954-421-6224)
Teacher: Residnet Teacher Geshe Konchog K
Spiritual Director: Alex S. Email
Notes and Events:
Our Mission – Authentic Teachings with a Modern Perspective
Our goal at Tubten Kunga Center ("TKC") is to help students achieve their maximum potential for wisdom, happiness, and compassion. Our programs present Buddhist teachings in an authentic and traditional manner, without compromising their integrity. At the same time, we attempt to adapt the presentation of these teachings to modern mentalities, sensibilities, and situations. Our resident teacher, Geshe Konchog Kyab, has spent many years teaching to western students in the United States and Europe, following his extensive training in the Tibetan monastic system. We are also fortunate to be a part of the Foundation for the Preservation of the Mahayana Tradition, which has been teaching Buddhism in the West for several decades.
Our Students – Ordinary People from All Backgrounds
At TKC, you will find students from all walks of life. Most people who attend classes and events at our center are not Buddhists, but are attracted to Buddhism's message of peace, compassion, and wisdom. Our students are young and old, married and single, and from all religious and ethnic backgrounds. We provide an engaging selection of classes to suit all levels of interest and effort. We also attempt to foster a community atmosphere, where people can come when they need support during difficult times. We invite you to become a part of our Dharma family, or just drop in as you please!
Our Method – Education, Meditation, Community Service
We follow the inspiration of Lama Zopa Rinpoche , spiritual director of the FPMT, and present a variety of courses and programs aimed at improving the hearts and minds of all people. We believe that a combination of study, practice, ritual, and community service is the optimal method for progressing towards enlightenment. Students are encouraged to participate in a variety of classes and projects, to suit their schedules and interests. Most importantly, we expect students to take what they learn into their hearts, and carry it into their every-day lives. At work, at home, in traffic – we help our students cultivate the tools for a happier lifestyle, and a more peaceful environment.
Our Lineage – The FPMT and the Gelugpa Tradition
At Tubten Kunga Center, we have been handed down one of the most authentic and unbroken lineages in Buddhism. We adhere to the Gelugpa tradition of Tibetan Buddhism, which is the main lineage kept by His Holiness the XIV Dalai Lama. Gelugpa Buddhism began in Tibet with the great scholar and practitioner Je Tsongkhapa (1357-1453), who personally founded many of the great Tibetan monasteries, and was tutor to the first Dalai Lama. The Foundation for the Preservation of the Mahayana Tradition (FPMT) has helped share this tradition with the rest of the world, through their network of monasteries, centers, and study groups. The FPMT was founded by Lama Thubten Yeshe and Lama Zopa Rinpoche. We are pending re-affiliation with the FPMT, and are honored to serve south Florida.
Our Heart – His Holiness the XIV Dalai Lama
We are supporters of His Holiness the XIV Dalai Lama, and the Tibetan government-in-exile. Our resident teacher, Geshe Konchog Kyab, is a lifetime student of His Holiness, and we derive many of our teachings from the Dalai Lama's commentaries and teachings. We strongly believe in the Dalai Lama's mission of peace, harmony, and freedom for all people.
Our Organization – Volunteer Staff, Donor Supported
We are a non-for-profit organization, and we have been serving South Florida for over 10 years. Our "staff" is comprised 100% of volunteers, who give their time to serve TKC's students. Even our resident teacher, Geshe Konchog Kyab is a volunteer. Geshe la does not receive a salary from TKC, although we do cover his living expenses and provide him with a very modest stipend for his daily needs. We rely 100% on donations and purchases from our shop to support our expenses. This is truly your center!
Our History – From Study Group to Center
Tubten Kunga Center was founded in 1994, under the spiritual direction of Lama Zopa Rinpoche, by Jacqueline Keeley. For many years, the group was composed of a core cluster of interested people, who met in public venues and at private homes. In 1999, thanks to the generosity of our donors, students and practitioners, the Center moved into a physical facility. Since May of 2000, we are grateful to host Lama Geshe Konchog Kyab as resident teacher.
---
First Previous 92 93 94 95 96 97 98 99 100 101 102 103 104 105 Next