Europe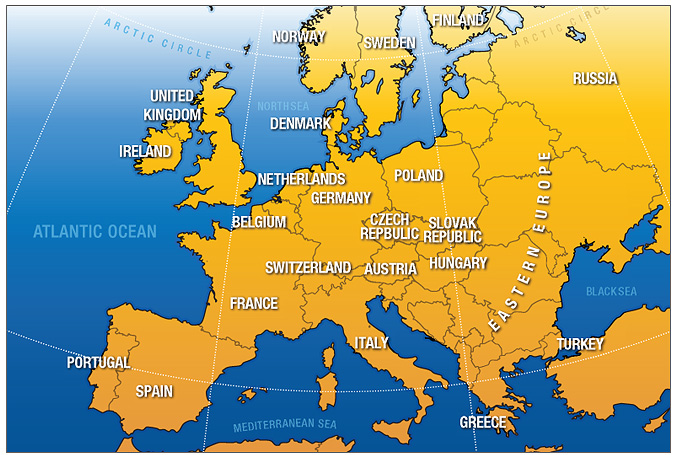 There were 2756 results matching your query.
First Previous 20 21 22 23 24 25 26 27 28 29 30 31 32 33 34 35 36 37 38 Next Last
Chùa Linh Thứu
Address: Heidereuter Str. 30 13597 Berlin Germany Berlin 13597
Tradition: Mahayana, Vietnamese
Phone: +49-30- 36711287 / 88
Fax: +49-30-36711289
E-mail: pagodelinhthuu@yahoo.com
Website: http://www.linhthuu.de/ go to: Liên Lạc
Find on:

---
Chua Phat To Thich Ca
Address: 6048 Horw, Kantonsstrasse 53
Tradition: Vietnamese Mahayana
Find on:


Contact: Chua Linh Phong, Ecublens

---
Cirencester SRMG Group (Soto Zen)
Address: Friends Meeting House 53 Thomas Street Cirencester Gloucester GL7 2BA
Tradition: Mahayana
Affiliation: Order Buddhist Contemplatives
Website: http://www.obcon.org
Find on:


Contact: Allie McLeod Email (Phone: 01451 861146)
Notes and Events:
Cirencester SRMG (Serene Reflection Meditation Group) meets Thursday evenings, fortnightly at the Quaker Friends Meeting House. Meditation instruction is offered. There are two periods of seated meditation, and a short walking meditation. There are two ceremonies, to begin and end the evening, with an optional quiet tea afterwards, and opportunity for questions. The Cirencester group is affiliated to the Order of Buddhist Contemplatives, who practice in the Soto Zen tradition.
---
Colchester Buddhist Centre
Address: 11 Manor Road, Colchester, Essex. UK. CO3 3LX Essex
Tradition: Non-Sectarian, Friends of the Western Buddhist Order
Affiliation: FWBO
Phone: 01206 576330
E-mail: colchester.buddhist@tiscal.co.uk
Website: http://www.colchesterbuddhistcentre.com/
Find on:


Founder: Sangharakshita

---
Colchester Insight Meditation Sitting Group
Address: 6 Church Street (Friends Meeting House) Colchester Essex CO1 1NF
Tradition: Theravada
Affiliation: London Insight Meditation
Phone: +44 (0)7540116558
E-mail: mmckcol@gmail.com
Website: http://www.essexinfo.net/colchester-insight-meditation-sitting-group/
Find on:


Main Contact: Mike McKenna Email (Phone: +44(0)7540116558)

---
Cologne Zen Group
Address: c/o Gisla Blankenburg Lindenburger Allee 24 50931 Koeln, Germany Koln
Tradition: Mahayana, Kwan Um School of Zen (Korean)
Phone: (49) 221-40 98 96
E-mail: koeln@kwanumzen.de
Find on:


Founding Teacher: Zen Master Seung Sah
Teacher: Roland Wöhrle-Chon JDPSN (Mukyong JDPSN)

---
Community of Interbeing - Kent
Address: 17 Regent Street, Whitstable, Kent CT5 1JD Kent
Tradition: Mahayana
Affiliation: Community of Interbeing, UK
Phone: 01227 273608
E-mail: mk/p@compuserve.com
Find on:


Contact: Michael Page

---
Community of Interbeing - King\'s Lynn
Address: 125 Gaywood Road, King\'s Lynn, Norfolk PE30 2QA Norfolk
Tradition: Mahayana, Follows teachings of Thich Nhat Hanh
Affiliation: Community of Interbeing
Phone: 01553 772778
E-mail: dmartin@foodtrak.co.uk
Find on:


Contact: Diana Martin

---
Community of Interbeing - North Yorkshire,
Address: 12, The Mount, Thornton-Le-Dale Pickering, North Yorkshire, Y018 7TF Yorkshire
Tradition: Mahayana, Zen, Vietnamese
Phone: 1751 477 246
Find on:


Contact: Val Philpott

---
Community of Interbeing - Northampton
Address: c/o Samantha East Flat 1, Willow Court, 108 Adnitt Road, Northhampton NN14NLK Northamptonshire
Tradition: Mahayana, Follows teachings of Thich Nhat Hanh
Affiliation: Community of Interbeing
Phone: 01604 622017
Find on:

---
Community of Interbeing - Norwich
Address: c/o Andrew Boswell 23 Havelock Road, Norwich, NR2 3HQ Norwich
Tradition: Mahayana, Teachings of Thich Nhat Hanh
Affiliation: Community of Interbeing
Phone: 01603 613798
E-mail: a.boswell@uea.ac.uk
Website: http://www.interbeing.org.uk
Find on:

---
Community of Interbeing - Oxford
Address: 3 Apsley Road, Oxford OX2 7QX Oxfordshire
Tradition: Mahayana, Follows teachings of Thich Nhat Hanh
Affiliation: Community of Interbeing
Phone: 01865 552833
Find on:


Contact: James Dowley

---
Community of Interbeings
Address: Water Meadows, High Street, Stockbridge Hants SO20 6HB Hampshire
Tradition: Mahayana, Teachings of Thich Nhat Hanh
Affiliation: Community of Interbeing, UK
Phone: 01264 810021 (Rob Burnfield)
Find on:


Contact: Rob Burnfield

---
Community of Interbeings
Address: \"Coedcae\" Rockhouse Road, Llandrindod Wells, Powys LD1 6AF Wales
Tradition: Mahayana, Thich Nhat Hanh
Affiliation: Community of Interbeings, UK
Phone: 01597 823672
E-mail: mlowe@new-leaf.demon.co.uk
Find on:


Contact: Moke Lowe

---
Community of Interbeings - Cambridgeshire
Address: 1 Dingle Dell, Sawston Road, Stapleford, Cambs. CB2 5DY and the Order of Interbeing. Cambridgeshire
Tradition: Mahayana, Zen Buddhist Master Thich Nhat Hahn
Affiliation: Community of Mindful Living
Phone: 01223 842941 (Jane) or Murry Corke 01223 872776
E-mail: mjc56@cam.ac.uk
Find on:


Contact: Jane Coatesworth

---
Compassion Buddhist Centre
Address: 15 Station Road, Gosforth, Newcastle-upon-Tyne Tyne and Wear, NE15 1QD England Ulverston & Madhyamaka Centre, York. Newcastle
Tradition: Vajrayana, Tibetan, New Kadampa Tradition
Affiliation: Manjushri Kadampa Meditation Centre,
Phone: 0191 284 3501
Website: http://www.meditation-newcastle.org
Find on:


Contact: Tim Allan
Teacher: Kelsang Sherab
Spiritual Director: Geshe Kelsang Gyatso

---
Comunidad Budista Soto Zen (A.Z.E.)
Address: Centro Zen De Valencia--Doyo \"Terra De Llum\" Oficina Central Valencia 46001 Spain
Tradition: Mahayana, Soto Zen
Phone: (6) 391 38 68
Find on:


Contact: Moro Zeit, No.11 Pta. 6

---
Comunità Bodhidharma
Address: Monti San Lorenzo 26 19032 Lerici (SP)
Tradition: Korean Zen
Website: http://www.bodhidharma.it
Find on:


Founder: Tae Hye Sunim

---
Congregation Dachang Vajradhara-Ling
Address: Domaine du Château d\'Osmont 61120 Aubry-le-Panthou 61120 Aubry-le-Panthou
Tradition: Vajrayana
Phone: 02 33 39 00 44
Website: http://translate.googleusercontent.com/translate_c?hl=en&prev=/search%3Fq%3Dkagyu%2Bdzong%2Bparis%26hl%3Den%26biw%3D1152%26bih%3D556%26prmd%3Divnsm&rurl=translate.google.com.au&sl=fr&u=http://www.templepourlapaix.org/index.php%3Foption%3Dcom_content%
Find on:


Notes and Events:
Location: Dachang Vajradhara Ling is located in the Normandy countryside near Lisieux in Normandy
---
Congrégation Dachang Vajrahara ling
Address: Domaine du Château d\\\'Osmont Aubry-le-Panthou Orne 61120
Tradition: Vajrayana, Kagyu
Phone: 02 33 39 00 44
E-mail: contact@vajradharaling.org
Website: http://www.vajradharaling.org/index.php
Find on:


Spiritual Director: vénérable Lama Gyourmé

---
Congrégation Ganden Ling
Address: Chemin De La Passerelle 77250 Veneux-Les-Sablons
Tradition: Vajrayana
Website: http://gandenling.free.fr/fr/index.html
Find on:

---
Congregation Vajra Dhara Ling
Address: Domaine Du Chateau D osmont Aubry-Le-Panthou 61120 Vimoutiers
Tradition: Vajrayana, Tibetan
Phone: 02 33 39 00 44
Website: http://www.vajradhara-ling.com/
Find on:

---
Copenhagen Buddhist Vihara
Address: Gammelgårds Alle 17,1,11 Vallensbæk Strand Kobenhavn (Copenhagen) 2665
Tradition: Theravada
Phone: 0045 32843343
Fax: 0045 32843343
E-mail: buddhistviharadenmark@gmail.com
Website: http://www.daham.dk
Find on:


Spiritual Director: Dhammaratana (Phone: 0046 858031323)
sangha nayake: Dhammaratana Email (Phone: 0046858031323)
Teacher: Kirindigalle Gnanaratana
Main Contact: Kirindigalle Gnanaratana (Phone: 0045 50472005)

---
Copenhagen Meditation Centre
Address: Copenhagen, Denmark Kobenhavn (Copenhagen)
Tradition: Vajrayana, Tibetan, New Kadampa Tradition
E-mail: whynot@meditateincopenhagen.org
Website: http://www.meditateincopenhagen.org
Find on:


Main Contact: Venerable Gen Lodro
Spiritual Director: Geshe Kelsang Gyatso

---
Copper Pipe Zen Group Of Dublin
Address: 32 Collins Avenue, Killester, Dublin 5
Tradition: Mahayana, Korean Chogye Order
Affiliation: Kwan Um School Of Zen
Find on:


Contact: Brendan Breen

---
First Previous 20 21 22 23 24 25 26 27 28 29 30 31 32 33 34 35 36 37 38 Next Last