Thailand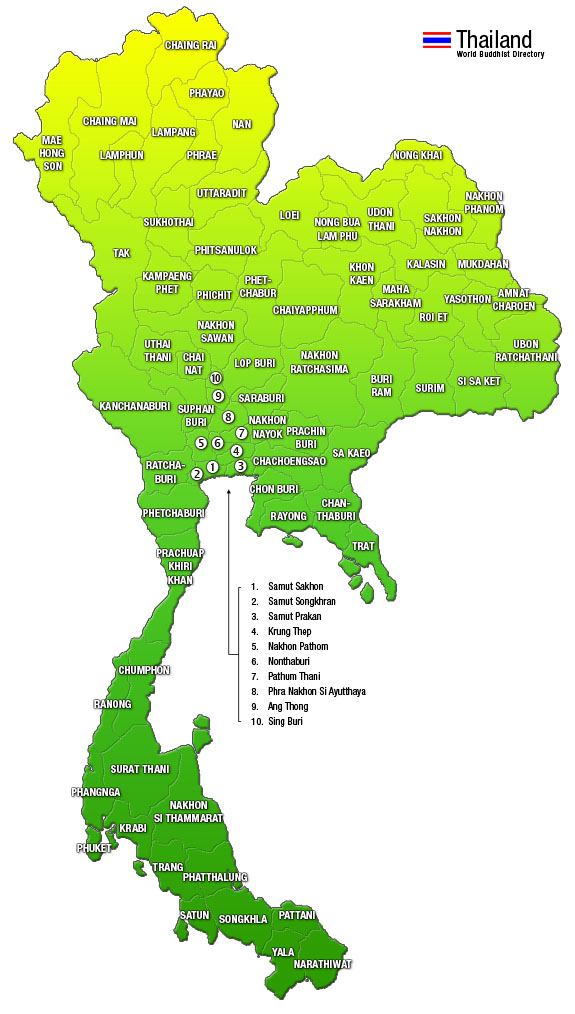 There were 89 results matching your query.
Buddhadasa Indapanno Archives (Suan Mokkh Bangkok)
Address: Vachirabenjatas Park (Rot Fai Park) Chatuchak Bangkok Bangkok 10900
Tradition: Theravada
Phone: +66 2936 2800
Fax: +66 2936 2900
E-mail: suanmokkhbkk@gmail.com
Website: http://www.bia.or.th
Find on:


Notes and Events:
Established in 2010, the Buddhadāsa Indapañño Archives collect, maintain, and present the original works of Buddhadāsa Bhikkhu. Also known as Suan Mokkh Bangkok, it is an innovative place for fostering mutual understanding between traditions, studying and practicing Dhamma.
---
Chiang Rai Buddhist Group
Address: Chiang Rai Sangha College, Rittiprasath Road, T.Wiang A.Muang, Chiang Rai 57000
Tradition: Theravada
Affiliation: Chiang Rai Sangha College
Phone: +6653021421
E-mail: tony.macgregor@gmail.com
Website: https://chiangraibuddhistgroup.wordpress
Find on:


Spiritual Director: Phrakhru Suthee Email (Phone: +6653601070)
Main Contact: Tony Macgregor Email (Phone: +6653021421)
Notes and Events:
Chiang Rai Buddhist Group is an English-language largely expat group that meets regularly for meditation and Buddhist study. We organize meditation retreat and hold Dhamma discussion.

---
Dhamma Garden
Address: Saen Tung Trat
Tradition: Theravada, Vipassana Insight Practice as taught by the late Achan Naeb Mahaniranon
Affiliation: http://www.wiwatta.org
E-mail: round.free@gmail.com
Website: http://www.dhammagarden.jimdo.com
Find on:


Main Contact: Rodrigo Aldana Email
Teacher: Phra Achan Maha Bunchu Sukhumalo
Spiritual Director: Achan Prani Samreungrat
Notes and Events:
Satipaṭṭhāna Vipassanā Insight Practice as taught by the late Achan Naeb Mahaniranon.
Please check our web-sites and contact us by email.
Thank you.

---
Dhamma Kañcana
Address: Mooban Wang Kayai, Tambon Prangpley, Sangklaburi District,Kanchanaburi Province, Thailand
Tradition: Theravada, Vipassana meditation as taught by S.N.Goenka
E-mail: info@kancana.dhamma.org
Find on:


Notes and Events:
Dhamma Kañcana, meaning 'Gold of Dhamma' , is located in Kanchanaburi Province,
approximately 300 kilometres west of Bangkok and 60 kilometres from the Myanmar border.
Kanchanaburi is famous not only for its historical railway bridge built the River Kwai built by
prisoners of war during World War II but also for its picturesque landscape of hills, waterfalls and
rivers.
Donated by old students, Dhamma Kañcana is situated at the foot of a hill surrounded by a
sparse forest and close to a vast water reservoir behind the Vajiralongkorn Dam. The weather is
generally pleasant all year long: warm in summer, fresh during the rainy season from June to
October, and rather cold from November to February. Both the weather and the natural
environment make the site an ideal place for meditation.
The Centre is under construction. The meditation hall, the teacher's residence and the kitchen
have been almost complete. The construction of a male residential building has just begun.
Dhamma Kañcana is expected to be ready in 2007, when ten-day, twenty-day and thirty-day
courses will be regularly offered.
---
Dhammakaya Foundation
Address: Wat Luang Phor Sodh Dhammakayaram Dammnoen Saduak District, Rajburi Province 70130, Thailand.
Tradition: Theravada
Phone: 66-81-837-8457;
Fax: 66) 32-740-170
E-mail: bmi@dhammacenter.org
Website: http://www.dhammacenter.org/home
Find on:


Notes and Events:
Introduction to Dhammakaya Meditation

About five hundred years after the Great Decease of Lord Buddha, there remained no evidence of the Dhammakaya meditation technique. After devoted practice, the Venerable Chao Khun Phra Mongkol-Thepmuni restored the principles of Dhammakaya meditation and taught them. Today the approach has become well-known once again.
The Venerable Chao Khun Phra Mongkol-Thepmuni once said that Dhammakaya meditation would be known all over the country, primarily because it penetrates right to the heart of the practice of purification. Defilements such as greed, hatred, delusion, conceit, wrongview, doubt, sloth, restlessness, shamelessness, and lack of moral dread are uprooted naturally and effectively. Avijja or ignorance becomes Vijja or knowledge.
Dhammakaya meditation is not a new practice, as many believe. It is the original Buddha-Teaching. Dhammakaya meditation is the exact path that the Buddha practiced. It is cited many times in the Tipitaka (Buddhist Canon), and directly follows the Noble Eightfold Path which is classified into the three categories of Sila or morality, Samatha or Right Concentration, and Vipassana or Right Wisdom. In combination with the four Satipatthana or Foundations of Mindfulness, the Samatha (concentration) and Vipassana (insight) will advance to Right Wisdom pertaining to the Sankhara or compounds and Visankhara or non-compounds. The Right Wisdom of the Four Noble Truths will be unfolded. Nirvana or freedom from all conditioning and suffering will, thus, be attained.
Without Lord Buddha, this teaching would never have been known and practiced. Without the Venerable Phra Mongkol-Thepmuni, Dhammakaya meditation would never have been well known again. Various benefits will be gained even at the beginning of Dhammakaya meditation practice.
This is for all who seek to understand reality or the true meaning of life as well as those who seek inner purification. Wisdom and virtue develop hand-in-hand. As the meditator progresses beyond the distortions of the passions, insight sharpens and understanding deepens.
Dhammakaya Meditation does not require blind faith. You do not have to believe in Buddhism to benefit from it. It is a method for training the mind to become concentrated and keenly aware, focused inward at the center of the body. With practice, you will encounter new experiences for yourself and will develop confidence.
In 1916, Luang Phor Sodh Candasaro (Chao Khun Phra Mongkol-Thepmuni) rediscovered the Dhammakaya approach to meditation which had been lost sometime during the first five hundred years following the passing away of Lord Buddha. The technique leads the meditator directly along the path to enlightenment and emancipation by combining concentration (Samatha) and insight (Vipassana) meditation techniques. It is, thus, extremely focused and effective.
Dhammakaya Meditation practice has become popular and widespread throughout Thailand. This is intended to make the method more widely available to English speakers.
Meditation begins with turning the powers of observation and awareness inward. We are accustomed to perceiving the outside world, but introspection requires special effort. Steeped in science, we have prided ourselves on "objectivity" while remaining largely unaware of inner biases.
Traditional scientific objectivity required isolation from the object observed. Since quantum mechanics was introduced, science has recognized that we are part of the world we perceive and what we see depends on how we look at it. Meditation is like polishing a lens to enable us to see more clearly. Skill in meditation develops the ability to perceive experience directly without the distortions implicit in conceptualization.
Many seekers turn to meditation because of dissatisfaction with life. This is the universally experienced sadness / suffering / tension (Dukkha) on which Lord Buddha based the Four Noble Truths. But, this motivation to ease tensions or cope with anxieties is only a starting point. Many meditation techniques will provide relief on this worldly level, but the beauty of Dhammakaya Meditation is that it leads directly upwards from this plane to more and more refined, purer and purer levels of awareness.
The effectiveness of the Dhammakaya Meditation derives from focusing attention at the center of the body and combining three meditation techniques simultaneously. Meditators often debate the efficacy of concentration (Samatha) versus insight (Vipassana). Dhammakaya Meditation employs elements of both. Higher and higher levels of concentration enable personal insight to progress from a more worldly view to Right Understanding and ultimately to Supra-mundane Right Wisdom.
---
Dhammodaya Meditation Centre
Address: 45/1 Mu 4 Tambol Tanoun-krat Ampur Muang. Nakhon Pathom 73000
Tradition: Theravada, Vipassana meditation, Mahasi Sayadaw
Phone: (0) 1-810-9632
E-mail: dhammodaya@yahoo.ca
Find on:


Contact: Ms Khun Nay
Notes and Events:
Dhammodaya is a Mahasi Sayadaw based practise Centre with various English speaking teachers, both Burmese and Western, trained in Burma under Sayadaw U Janaka.It is located just outside Bangkok and conducts retreats frequently throughout the year as and when the teachers are available. U Janaka was a disciple of Mahasi Sayadaw himself, and has numerous centres around the world. The approach focuses much on Metta meditation as an aid to Insight. Most of the teachers speak fluent English, which is translated for Thais.
Dhammodaya does not have a website of its own, relying instead on phone and email contact, and the extensive network of the YBAT organisation of Bangkok, and other contacts. The retreats are almost always in English, or English + Thai, with experienced teachers under the tutelage of Sayadaw U Janaka.
---
Huseyin Turkkan
Address: Chiang Mai Chiang Mai
Tradition: Theravada
Affiliation: International Meditation Center, Chom Thong, Chiang Mai
E-mail: h_turkkan@yahoo.com
Website: http://vipassanameditasyonu.blogspot.com
Find on:


Teacher: Thanat Chindaporn
Spiritual Director: Ajarn Thong
Notes and Events:
Vipasana Meditasyonu (Retreat yada temel Eğitim), Thravada Budizmi, ve Geleneksel Çin Tıbbı ile ilgili olarak yolunuz Thailand a düştüğünde herhangi bir yardım gereksinmeniz olduğunda seve seve yardıma hazırım.
Sevgi ve saygıyla.
---
International Buddhist College
Address: 88, Mu 2, Thung Mo Subdistrict, Khuan Sato, Amphoe Sadao Songkhla 90240
Tradition: Non-Sectarian
Phone: 66-74-268754 or 66-74-268755
Fax: 66-74-268756
E-mail: enquire@ibc.ac.th
Website: http://ibc.ac.th/
Find on:


Teacher: Dr. FaQing
Spiritual Director: Rev. Wei Wu
Notes and Events:
IBC offers students a unique opportunity of experiencing a comprehensive and in-depth study of Buddhism from a non-sectarian point of view, while promoting knowledge and understanding of the different schools and traditions within Buddhism.
---
International Dhammadayada Ordination Program (IDOP)
Address: 23/2 Moo7 Tambol Klong Sarm Klong Luang, Pathumthani province Pathum Thani 12120
Tradition: Theravada
Affiliation: Dhammakaya Temple
Phone: 66 944947649
Fax: None
E-mail: english@ordinationrthai.org, govito@ymail.com
Website: http://www.ordinationthai.org
Find on:


Teacher: Phra Rajbhavanajahn
Main Contact: Ven. Samarth Govito Email (Phone: 66 944947649)
Notes and Events:
The main purpose of ordaining is to free yourself from worldly commitments and worries so that you may have the opportunity to fully commit yourself to meditation and break away from the shackles of desire so that you may find true happiness.
Monks manage to free themselves from worldly desire by fulfilling the daily routine required of them by the tenets laid down by the Lord Buddha. In this case, the word 'duty' (kicavatra) is a compound made up of two words: 'kica' and 'vatra'.
'Kica' means duties that are so important that they are considered compulsory. 'Vatra' means things that are advisable do, although not required. If you choose not do these latter, the consequences may not be disastrous – they do not break the monastic discipline – but they could result in the lessening of respect by those who support the monks out of faith. However, if you comply with these activities, the level of respect accorded on you will only improve and strengthen. These items of daily routine will also help to free you from worldly desire.
---
Karuna Meditation Center
Address: 82/3 Moo 4 Kamala Phuket 83120
Tradition: Non-Sectarian
Affiliation: Summit Dharma Center
Phone: +066-076-278-134
E-mail: info@meditate-thailand.com
Website: http://meditate-thailand.com
Find on:


Teacher: Michael Gregory
Notes and Events:
Karuna Meditation Center is dedicated to the meditations and teachings of the Buddha, with special emphasis on mindfulness and compassion practices.

The center hosts a full program of practice and Buddhist retreats available to students wanting to learn meditation in Thailand, including residential retreats, intensive retreat sessions, and yoga retreats. We have a wide variety of meditation instructors with backgrounds ranging from the Theravadan Buddhist tradition, Zen Buddhist, and Indo-Tibetan Buddhist lineages. Weekly Dharma talks are given as well as personal meditation instruction and interviews in English by native English speakers.
---
Little Bangkok Sangha
Address: Various locations in Bangkok Bangkok Bangkok
Tradition: Non-Sectarian, All Dhamma in English, in Bangkok
Phone: 085 060 7386
E-mail: little.bang@live.com
Website: http://www.littlebang.wordpress.com
Find on:


Notes and Events:
Littlebang, short for The Little Bangkok Sangha aims to be an up-to-date resource for Dhamma events in Bangkok that are in English. We invite speakers who are passing through Bangkok to stop and give a talk (or two), or lead workshops in meditation. Many events are arranged by Littlebang directly, others are of different organisations in Bangkok. Occasionally weekend retreats are arranged outside of Bangkok too. Emphasis is on Theravada Buddhism, but all good Dhamma (that is for free) is listed.
---
Mahapali Vijjalaya - Pali Language Institute of Thailand
Address: Wat Moli Lokayaram Bangkok Bangkok 10600
Tradition: Theravada
Phone: 66992468986
Fax: 6624085749
E-mail: maha@mahapali.com
Website: http://www.mahapali.com
Find on:


MR.: Dhrinyadecha Libha Email (Phone: 66992468986)
Notes and Events:
Mahapali Vijjalaya was founded on April 4, 2012 to organize Pali study for lay people. The aim was to make Pali study a tradition for Thai people from all walks of life who may pursue the study at their convenience.
Objectives of the Institute
1. To investigate, design and develop Pali curricula for lay people.
2. To organize Pali study for lay people.
3. To develop a Pali test center with international standard.
4. To develop various information technologies that promote Pali study.
---
Mahapanya Vidayalai College
Address: 635/1 Thammanoonviti Road Hat Yai Songkhla 90110
Tradition: Non-Sectarian
Affiliation: Mahachulalongkornrajavidayalai University
Phone: 66-74-243558
Fax: 66-74-235307
E-mail: mpvvidayalai@gmail.com
Website: http://www.mahapanya.ac.th
Find on:


Main Contact: Ven. Gyanandra Dewan Email (Phone: 0891845462)
Notes and Events:
Mahapanya Vidayalai University (MPV) is a affiliated institute under Mahachulalongkornrajavidayalai University and was founded by the chief patriarch of Anamnikaya, in Collabration with both Mahayana and Theravada Schools of Buddhism in international language for all the students from all over the world those who are interested in studying Buddhism.

---
MCU, Chiang Rai Centre, Thailand
Address: Mahachulalongkorn Buddhist University, Chiang Rai Centre, Ritthiprasath Road, T.Wiang A.Muang Chiang Rai, North Thailand. Chaing Rai 57000
Tradition: Theravada
Phone: +66 53 717055
Fax: +66 53 715876
E-mail: pongpara2003@hotmail.com
Website: http://www.mcucr.com
Find on:


Spiritual Director: P.Suthee Email (Phone: 053-717034)
Notes and Events:
We are a branch of Mahachulalongkornrajavidyalaya University, situated at the heart of Chiang Rai City, Northern Thailand. We have 200 monk students studying in Buddhism, Political Science and education. Monk Chat is one of the programme to enhance the monk students to speak English. Anyone visiting Chiang Rai is most welcome.
---
meditationplace.org
Address: Bangkok
Tradition: Theravada
Website: https://meditationplace.org
Find on:


Notes and Events:
Guide to the Meditation Places around the World.
---
METTA (Meditation Education Training Treatment Academy)
Address: 73/412, MOO. 5, MUANG EK, SOI EK BURAPHA 5, LAK HOK Pathum Thani 12000
Tradition: Non-Sectarian
Affiliation: METTA (Meditation Education Training Treatment Academy) INDIA
Phone: 02-9972059
E-mail: mettaindia@gmail.com
Website: http://www.mettaindia.org
Find on:


Spiritual Director: Ven. Abhaya Putra Bhikkhu Email (Phone: 02-9972059)
Notes and Events:
METTA is carrying METTA 2020 PROGRAM to revive Buddhism in India
METTA 2020 is a program to create 2,000 well trained monks for India during 15 years. Initially it was aimed to reach the target in 2020, starting in 2005. Due to the setback faced in 2009 the program may be extended for the period of five more years. METTA 2020 will carry rigorous training of each Novice to be monk for length of ten years.
---
Middle Way Retreats
Address: 40 Mu 8 Khlong Song Khlong Luang Pathum Thani 21210
Tradition: Theravada, Mahanikaya
Affiliation: Luang Pu Wat Paknam
Phone: +66-85-6951660
Fax: +66-2-8312512
E-mail: info@meditationthai.org
Website: http://www.meditationthai.org
Find on:


Ven.: Dhammajayo Bhikkhu
Main Contact: Khemadhammo Bhikkhu Email (Phone: +66-81-5734372)
Teacher: Thitakusalo Bhikkhu
Spiritual Director: Phra Rajbhavanavisudh
Notes and Events:
At our retreat centers, we teach meditation courses monthly, using the Dhammakaya Meditation Technique, an ancient technique of meditation, which was revived and taught by the well-know Thai meditation master Phra Mongkoltepmuni (Sod Candasaro, 1884- 1959).
Our staff can speak good English. At our Retreat Centers, you will find and learn a simple and effective method of meditation in a beautiful, comfortable environment. You will also receive guidance on meditation from experienced teaching monks.
---
New Life Foundation
Address: No. 49 Moo 1, Don Sila, Wiang Chai Wiang Chai Chiang Rai 57210
Tradition: Theravada
Phone: +66 85 714 2834
E-mail: info@newlifethaifoundation.com
Website: http://www.newlifethaifoundation.com/
Find on:


Notes and Events:
New Life Foundation is a mindful therapeutic community in northern Thailand. We offer a rich and supportive learning space for anyone interested in gaining a deeper understanding of themselves, or who has struggled with stress, burnout, anxiety, depression, trauma, or addiction. We practice mindfulness, meditation, and yoga, and offer various healing modalities such as cognitive behavioral therapy (CBT), Enneagram, trauma release exercises (TRE), mindfulness-based relapse prevention (MBRP), mindfulness-based cognitive therapy (MBCT), non-violent communication (NVC), creative and dance therapy, and more.
---
Open Mind Centre - Pai
Address: 66 moo 3 Ban Tapai Mae Hi Pai Mae Hong Son
Tradition: Theravada, Mahayana, Vajrayana, Non-Sectarian, Karma Kagyu and mixed
Phone: 053 065 733/ +66 53 065 733 (English) 0807 366 406/ +66 807 366 406 (English) Asami 09 0674 3260 (Th
Website: http://www.openmindcentre.asia
Find on:


Teacher: Dr Mana Waite
Spiritual Director: Lama Jetsun Yeshe
Notes and Events:
Pai is a delightful 2.5 hour drive from Chiang Mai through mountains and forests. Or you can fly from Chiang Mai, which has an international airport.
Open Mind Centre is a centre for exploration, healing, creativity and growth. We are right on the Pai River, overlooking the lovely Pai valley and mountains. We have 12 cabins, meditation/ teaching / yoga rooms, treatment/ session room, natural hot spring water baths on site
We offer healing sessions, scheduled and individual retreats, a quiet place to stay for some reflection or chill time, and a venue for visiting teachers and healers to offer workshops, residential retreats, sessions etc
• Meditation Retreats - for beginners and all levels - we can put together programs for 3-14 days - or more!
• Healing Retreats – we can put together a program to suit you - popular programs are 2-7 days
• Personal time for quiet, healing, creativity etc – you don't have to be part of our programs - many people come just to have some quiet time in nature - & we are close enough to Pai to drop in to see friends, walking street, a waterfall.
---
Phuket Meditation
Address: Soi Chaofah 5 Moo 1 Chalong / Nabon Phuket 83130
Tradition: Non-Sectarian, Thai Forest Tradition,
Affiliation: Heaven Man Earth International
Phone: +66 (0) 87 2797655
E-mail: info@phuket-meditation.com
Website: http://phuket-meditation.com
Find on:


Secretary: Mrs. Parn Sakda Email (Phone: +66 (0) 87 2797655)
Main Contact: Tobias Warzinek Email (Phone: +66 (0) 87 2797655)
Spiritual Director: Tobias Warzinek Email (Phone: +66 (0) 87 2797655)
Notes and Events:
Dharana Meditation Center in Phuket

Come and deeply relax your body and mind with our unique and lifechanging Meditation retreats here on the beautiful Island of Phuket. We are known as one of the best Meditation and Retreat Centers in the South of Thailand and combine relaxing holidays with authentic Mindfulness Retreats. Our Program is ideal for beginners and everyone who loves simplicity, warmth and comfort.
Retreats are running throughout the year. Our classic 4 Night Retreats start every Monday and finish every Friday. You can click here to see all the dates for 2015 and see all upcoming retreats.
Some Important Links:

What we do...

We combine relaxing holidays & mindfulness retreats
We offer a profound and meaningful experience
Learn Buddhist Meditation, Switch off, Let go and rest on all levels
Find a new perspective, start over and center yourself
Heal your wounds & find strength for a new life-chapter
We look forward to welcome you at Dharana...
Sincerely,
Tobi and Parn

---
Thaimeditationcenter
Address: 150/195 rama2 bangkok 10150
Tradition: Mahayana
E-mail: manjarb4@gmail.com
Website: https://thaimeditationcenter.com/
Find on:


Notes and Events:
Finding Buddhist meditation classes in Thailand - in local Temples.
---
Thanyapura Mind Centre
Address: Thanyapura Mind Centre 120 Moo 7 Thepkasattri Road, Thepkasattri, Thalang Phuket 83110
Tradition: Non-Sectarian
Phone: +66 (0)76 336 000
Fax: +66 (0)76 336 069
E-mail: info@thanyapura.com
Website: http://www.thanyapura.com/tmc/home
Find on:


Notes and Events:
Offering daily meditation instruction and ongoing Shamatha and Vipassana retreats.
---
The College of Religious Studies, Mahidol University
Address: Salaya, Phutthamonthol 4, Nakhorn Prathom,73170 , Thailand Tel. (662) 800 - 2630 - 39 Fax. (662) 800 - 2659 Nakhorn Prathom Nakhon Pathom 73170
Tradition: Non-Sectarian
Phone: 02-8002630
Fax: 02-8002659
E-mail: crwww@mahidol.ac.th
Website: http://www.crs.mahidol.ac.th
Find on:


Teacher: Dr.Pinit Ratanakul
Main Contact: Phramaha Boonmee Poungpet Email (Phone: 02-8002630 ex 216)
Spiritual Director: Dr.Pinit Ratanakul Email (Phone: 02-8002630)
Notes and Events:
The College of Religious Studies, Mahidol University, was founded in 1999 and is located at the Namthong Building, just opposite the Faculty of Veterinary Science at Salaya, Nakhorn Prathom, Thailand.

The College is dedicated to the study and research in the field of religious studies and fosters mutual understanding, cooperation, and respect among people of different religious traditions both in Thailand and throughout the world, so that common concerns might be creatively addressed. In teaching and research, the College also strives to nurture global ethical values and promote peace and human well-being.

The 21st Century has come with all its promise and potential. Southeast Asia and the rest of the world are entering a new and challenging historical stage. Accordingly the College has designed its program to meet these challenges.

Continuing in its mission, the College advances the academic study of religion among members of the monastic and lay communities with special emphasis on Buddhism. Its academic programs address emerging issues that are new challenges to religion such as those which concern globalization, women's rights, new scientific discoveries, and the use of modern technology in medicine. Other dimensions of the programs include training students in modern languages, computer, and critical thinking, along with religious studies, to enable them to live meaningfully in the globalized world.

The College of Religious Studies is currently offering Bachelor\\\'s and post graduate degrees to produce competent teachers and scholars of religion as well as chaplains/ counselors to serve modern needs of Thailand and the wider global community.
Job Opportunities
In a globalized world the broad inter-cultural studies of our students prepares them for careers in multicultural settings such as government and multinational corporations. Many of our graduates go on to study in such areas as law, education, management, psychology, political science etc, and then move on to careers in academics, law, counseling, media, banking, teaching, the airline industry etc.

For the graduate monks, they often go on to hold high positions within the Thai sangha serving as abbots, temple administrators, heads of meditation centers and as missionaries in many parts of the world.
---
Wat Bhaddanta Asabha Theravada
Address: 118/1 Moo 1 , Baan Nong Pru, Nong Pai, Kaiw Baan Bung Chon Buri 20220
Tradition: Theravada, Intensive Insight Meditation (Mahasi Sayadaw)
Phone: 038 292- 361
Fax: 038-292-361
E-mail: wat_asabha@yahoo.com
Website: http://www.bhaddanta.com
Find on:


Teacher: Ajahn Somsak Sorado
Spiritual Director: Ajahn Dr. Bhaddanta Asabha
Notes and Events:
Ajahn Somsak Sorado, a disciple of Ajahn Dr Bhaddanta Asabha, has been teaching vipassana meditation at Vivek Asom Meditation Center for over 5 years. He was in the
United States on Buddhist missionary duties for 2 years and has been teaching meditation at Wat Bhaddanta Asabha Theravada for 5 years now.

The retreat is widely open for both beginner and experienced meditators. On the retreat, all meditators are expected to keep silence at all times except when
giving meditation reports. All meditators must keep the eight training precepts.

Meditators need only bring conservative clothing (preferably white colored clothing), personal hygiene accessories and essential medication.
---
Wat Botworadit (Home for the underprivileged)
Address: 210, Pamok District, Ang Thong Province 14130, Thailand. Pamok District Ang Thong 14130
Tradition: Theravada
Phone: 035 - 661134
E-mail: daun50@hotmail.com
Website: http://watbotworadit.weebly.com/index.html
Find on:


Spiritual Director: Phra Khru Whutthithammathon (Phone: 035 - 661134)
Notes and Events:
Wat Botworadit is a typical Thai Buddhist temple in Ang Thong province, home and boarding school for nearly 450 unfortunate and orphans children from northern part of Thailand. It was during the civil war in neighboring countries, where the first batches of underprivileged and orphans children was settle and accommodated in the temple

Being a voluntary and non-profit organization and in the spirit of compassion and kindness to both serve and provide shelter, education and care to the underprivileged members of the community. Wat Botworadit depends of the continuous generosity and kind contributions of volunteers and donors to sustain the operation of our various activities and programs.
---