United States of America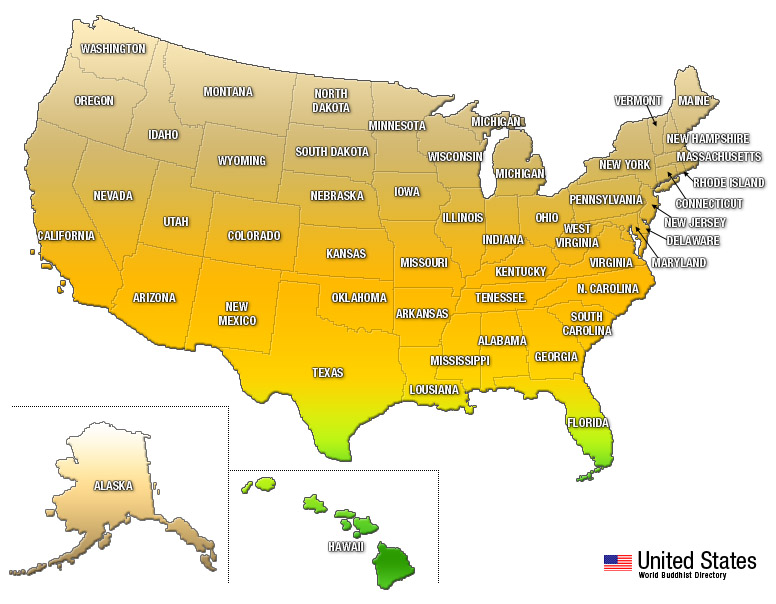 There were 2596 results matching your query.
Previous 1 2 3 4 5 6 7 8 9 10 11 12 Next Last
Asian Classics Institute
Address: 61 4th Avenue at 9th Street, New York, NY 10009 NY
Tradition: Vajrayana, Tibetan
Phone: (212) 475-6650
E-mail: threejewels.nyc@gmail.com
Website: http://www.world-view.org/
Find on:


Main Contact: Micheal Wick
Spiritual Director: Geshe Micheal Roach and Khen Rinpoche Geshe Lobsang Tharchin
Teachers: James Conner, John Bradey, Camillo Cerro, Micheal Wick, Nancy Carin, Rob Kresh, Bob Chilton, Al Kaufman

---
Asian Classics Institute, Los Angeles (ACI-LA)
Address: CA
Tradition: Vajrayana, Tibetan, Gelugpa
Affiliation: Asian Classics Institute
E-mail: briansmith@aci-la.org
Website: http://www.aci-la.org/
Find on:


Teachers: Brian K. Smith, Summer Moore
Spiritual Director: Geshe Michael Roach
Contact: Brian Smith

---
Asian-American Meditation Center
Address: State Road 30 Mile Post 66 Park Valley UT 84436
Tradition: Non-Sectarian, Practice Group
Phone: (801) 394-3744
E-mail: bacoou@msn.com
Find on:


Contact: Malcolm and Eleanor Duvall
Notes and Events:
Mail to : P.O. Box 725 , Snowville UT 84436

---
Athens Zen Group
Address: Rubber Soul Yoga Revolution Suite 1400 675 Pulaski St. Athens, GA GA
Tradition: Mahayana, Soto Zen
Affiliation: Atlanta Soto Zen Center
Phone: (706) 583-9582
E-mail: info@athenszen.org
Website: http://www.athenszen.org
Find on:


Teacher: Hakushi Tom Edwards

---
Ati Ling - Petaluma C.A.
Address: P.O. Box 2972 Petaluma CA 94953
Tradition: Vajrayana, Tibetan, Nyingmapa
Affiliation: Chagdud Gonpa Foundation
Phone: (707) 824 0291
E-mail: office@atiling.org
Website: http://www.atiling.org
Find on:


Main Contact: Kerstin Hall Email (Phone: 707 632 5629)
Teacher: Jigme Tromge Rinpoche
Spiritual Director: Chagdud Tulku Rinpoche

---
Atlanta Amitabha Society
Address: 4450 Business Park Court Lilburn GA 30047
Tradition: Mahayana, Pure Land Buddhism
Affiliation: Pure Land Learning College (www.amtb.org)
Phone: (770) 925-1459, (770) 923-8955
Fax: (770) 925-0618
E-mail: mietoville@bellsouth.net
Website: http://www.amtb-atl.org
Find on:


Main Contact: Paul Hsu
Spiritual Director: Ven. Master Ching Kung

---
Atlanta Buddhist Association
Address: 5383-D New Peachtree Road, Chamblee, GA 30341 GA
Tradition: Mahayana, Chinese
Phone: (770) 414-0485 or (770) 972-6553
Find on:

---
Atlanta Soto Zen Center
Address: 1167C Zonolite Place, Atlanta, GA 30306 GA
Tradition: Mahayana, Soto Zen
Phone: (404) 659-4749
E-mail: aszc@mindspring.com
Website: http://www.aszc.org/
Find on:


Head Teacher: Dr. Soyu Matsuoka, Roshi
Teacher: Michael (Zenkai Taiun) Elliston

---
Aung Mangalar Buddhist Temple
Address: 369 Saint Francis Blvd Daly City CA 94015
Tradition: Theravada, Burmese
Phone: (650)994-2039 (650) 868-6960
E-mail: acaraung@gmail.com
Find on:


Venerable : Nagasena Email (Phone: (650)994-2039)
Spiritual Director: Sayadaw Acara Email (Phone: (650) 868-6960)
Main Contact: Ashin Acara (sayadaw) Email (Phone: (650) 868-6960)
Teacher: Dmmacara

---
Austin Buddhist Vihara
Address: 1500 Mangrum Street Pflugerville TX 78660
Tradition: Theravada
Phone: 512- 990 -5501
E-mail: secretary@austintemple.org
Website: http://www.austintemple.org
Find on:


Spiritual Director: Panditha Yatagama Sumanajothi Thero Email (Phone: 512- 990 -5501)

---
Austin Shambhala Meditation Center
Address: 1702 S 5th Street, Austin TX 78704
Tradition: Vajrayana, Tibetan Kagyu and Nyigma
Affiliation: Shambhala International
Phone: (512) 463-3263
E-mail: austxshambhala@yahoo.com
Website: http://www.shambhala.org/
Find on:


Founder: Chogyam Trungpa Rinpoche
Contact: Jake Lorfing (Center Director)
Spiritual Director: Sakyong Mipham Rinpoche

---
Austin Zen Center
Address: 3014 Washington Square, Austin TX 78703
Tradition: Mahayana, Soto Zen
Phone: (512) 452-5777
E-mail: info@austinzencenter.org
Website: http://www.austinzencenter.org
Find on:


Practice Leaders: Barbara Kohn, John Grimes, Kojin Dinsmore
Spiritual Director: Barbara Kohn

---
Avalokiteshvara - Buddhist Study Center
Address: 321 Lamont Road Fort Pierce FL 34947-1541
Tradition: Non-Sectarian
Affiliation: World Fellowship of Buddhists
E-mail: lemaudao@msn.com
Find on:


Main Contact: Ven. Dr. Tenzin Oedok
Teacher: Ven. Dr. Tenzin Oedok
Spiritual Director: Ven. Dr. Tenzin Oedok

---
Avalokiteshvara Buddhist Center
Address: 1081 Marion Street Denver CO 80218
Tradition: Vajrayana, New Kadampa Tradition Tibetan
Phone: (303) 813 9551
E-mail: abc@meditationincolorado.org
Website: http://www.meditationincolorado.org
Find on:


Resident Teacher: Gen Kelsang Losel
Spiritual Director: Ven. Geshe Kelsang Gyatso
Contact: Ruth Borri

---
Avatamsaka Buddhist Lotus Society
Address: 50 South Main St, Milpitas, CA 95035 Milpitas CA 95035
Tradition: Mahayana
Affiliation: Huayen Lotus Association, Taipei, Taiwan
Phone: (408) 942-0874
E-mail: info@HuaYenUSA.org
Website: http://www.huayenusa.org/
Find on:


Teacher: Ven. Tien Inn, Abbess
Spiritual Director: Ven. Hsien Du, President of ABLS
Main Contact: Ven. Tien Yung, Secretary-Treasurer

---
Avatamsaka Hermitage
Address: 11721 Beall Mountain Road Potomac MD 20854-1128
Tradition: Mahayana, Chan (Zen)
Website: http://www.drba.org
Find on:


Founder: Ven. Master Hsuan Hua

---
Awakened Heart Sangha of Fredericksburg
Address: Fredericksburg, Virginia VI 22407
Tradition: Vajrayana, Tibetan Kagyu and Nyingma
Affiliation: Awakened Heart Sangha
Phone: 540-300-LAMA
E-mail: ahs.fbg@gmail.com
Website: http://www.facebook.com/FredericksburgBuddhism
Find on:

---
Awakened Mind Meditation Center
Address: 3628 N Westnedge, Kalamazoo, MI 49004 MI
Tradition: Non-Sectarian
Phone: (269) 344-1370
E-mail: davidlgreeley@mei.net
Website: http://www.awakenedmindcenter.org
Find on:


Teachers: Huyente, Thai Tue
Contact: David Greeley

---
Awakening Valley Sangha
Address: 936 E 450 N Provo UT 84606
Tradition: Mahayana, Zen Buddhist Master Thich Nhat Hahn
Affiliation: Unified Buddhist Church
E-mail: info@awakeningvalleysangha.org
Website: http://www.awakeningvalleysangha.org
Find on:

---
Back Porch Zendo
Address: 3533 Hillcrest Avenue Sebastopol CA 95472
Tradition: Mahayana, Soto Zen lineage of Suzuki-roshi
Affiliation: San Francisco Zen Center
E-mail: ESAWYER@ev1.net
Website: http://www.Cuke.com/backporchzendo-recent.html
Find on:


Spiritual Directors: Ken and Elizabeth Sawyer
Contact: Elizabeth Sawyer

---
Bakersfield Meditation Society
Address: 2681 Calloway Drive Bakersfield CA 93312
Tradition: Vajrayana, Tibetan and Zen Buddhist
Affiliation: Rae Chorze-Fwaz
Phone: (661) 809-2540
E-mail: info@bakemed.com
Website: http://www.bakemed.com
Find on:


Contact Person: Michael

---
Baltimore Dharma Group
Address: Homewood Friends Meeting House 3107 N. Charles Street Baltimore MD 21218
Tradition: Mahayana, Soto Zen
Phone: (410) 429-0219
E-mail: BaltimoreDharmaGroup@gmail.com
Website: https://www.sites.google.com/a/bdgzendo.net/baltimore-dharma-group
Find on:

---
Baltimore Shambhala Meditation Center
Address: 3501 St. Paul Street Baltimore MD 21218
Tradition: Vajrayana, Tibetan, Kagyü & Nyingma Lineages
Phone: (410) 560-1812
Fax: (410) 560-1876
E-mail: director@baltimoreshambhala.org
Website: http://www.baltimoreshambhala.org
Find on:


Founder: Chogyam Trungpa Rinpoche (deceased)
Spiritual Director: Sakyong Mipham Rinpoche
Contact: Julie Heegaard (Center Director)
Notes and Events:
Venue: (At the Marylander)

---
Baltimore Zen Center
Address: 913 Reece Road Severn MD 21144
Tradition: Mahayana, Patriarchal Koan Zen
E-mail: zengate1@yahoo.com
Website: http://www.worldzen.org
Find on:


Teachers: John Bly, Philip Regas, Wisdom Moon
Contact: Z.M. Pohwa Sunim
Spiritual Director: Zen Master Pohwa Sunim

---
Bangla-America Buddhist Fellowship (Sambodhi Vihara)
Address: 1346 Elm Avenue Long Beach CA CA 90813
Tradition: Theravada, Bangla-America Buddhist Fellowship is a regional center of the World Fellowship of Buddhists.
Phone: (562) 394-3739
E-mail: lbhikkhu@gmail.com
Find on:


Main Contact: Ven. Dr. Lokananda C. Bhikkhu Email (Phone: (562)394-3739)

---