United States of America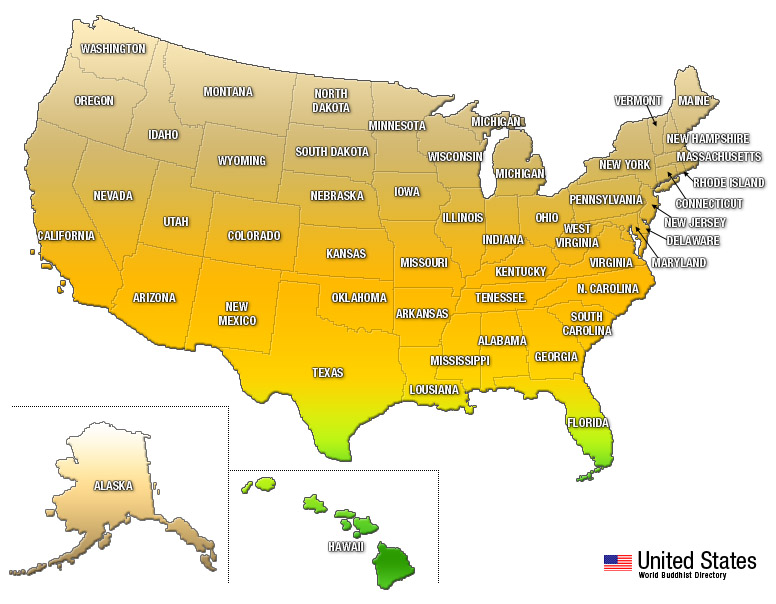 There were 2369 results matching your query.
Previous 1 2 3 4 5 6 7 8 9 10 11 12 13 14 15 Next Last
BodhiHeart
Address: 2538 N.55th Street Phoenix AZ 85008
Tradition: Vajrayana, Tibetan, Gelugpa lineage
Phone: (602) 808-9820
E-mail: bodhiheart@cox.net
Website: http://www.bodhiheart.org
Find on:


Contact: Lynda Perlman
Spiritual Director: Ven. Lama Nurbu

---
BodhiPath Buddhist Center, San Luis Obispo
Address: 1945 Solano Street Los Osos CA 93402
Tradition: Tibetan, Kagyu
Phone: (805) 528-138
E-mail: slo@bodhipath-west.org
Website: http://www.bodhipath-west.org
Find on:


Teachers: Lama Khedrub, Lama Tsonyi, Bart Mendel
Spiritual Director: Shamar Rinpoche
Contact: Andrew Schaffner

---
Bodhisattva Institute
Address: 714 N. Desert Avenue Tucson AZ 85711
Tradition: Vajrayana, Tibetan, Kagyu
Affiliation: His Eminence Kalu Rinpoche centers
E-mail: bitucson@bblabs.net
Website: http://www.bodhisattvainstitute.org
Find on:


Resident Teacher: Lama Jinpa Tharchen

---
Bohyunsah: Samantabhadra Zen Center & The Temple of Universal Virtue
Address: 1932 Highland Blvd Hayward CA 94542
Tradition: Mahayana, Dharma-Vinaya Zen (Korean/American)
Affiliation: Korean Chogye-jong (Tsao-Chi Tradition)
E-mail: Jsakya@cs.com
Find on:


Contact: Ven. Yeo Kwang Sunim
Teacher: Ven. Hyun Mook Sunim

---
Bong Boolsa, Korean Buddhist Temple
Address: 5114 North Elston Avenue, Chicago, IL 60630 IL
Tradition: Mahayana, Chogye Buddhist order of Korea
Phone: (773) 286-0307
Find on:


Teacher: Ven. Young Joo Lee

---
Boonville One Drop Zendo
Address: 623 E. High Street, Boonville, MO 65233 MO
Tradition: Mahayana, Rinzai Zen
Affiliation: Sogenji, Okayama, Japan
Phone: (660) 882-3930
E-mail: odz@sbcglobal.net
Website: http://zen.columbia.missouri.org
Find on:


Contact: Tim Williams

---
Border Zen Center
Address: 4425 Byron Street (Unitarian Universalist Community) El Paso TX 79930
Tradition: Mahayana, Zen, Sanbo Kyodan
Affiliation: Maria Kannon Zen Center, Dallas
Phone: (915) 562-4001
E-mail: wcturner@utep.edu
Find on:


Contact: Bill Turner Email

---
Boston Buddhist Culture Center
Address: 950 Massachusetts Ave., # C-1 Cambridge, MA 02139 MA
Tradition: Mahayana, Humanistic Buddhism
Affiliation: Fo Guang Shan
Phone: (617) 547-6670, (617) 547-9984
Fax: (617) 886-1189
E-mail: fgsamus4r@fgs.org.tw
Website: http://www.ibps.org/boston/
Find on:


Spiritual Director: Ven. Master Hsing Yun

---
Boston Old Path Sangha
Address: Boston MA
Tradition: Mahayana, Rooted in the practice of Thich Nhat Hanh and Plum Village
E-mail: info@bostonoldpath.org
Website: http://www.bostonoldpath.org
Find on:


Notes and Events:
You are welcome to join us at any of our sittings and do not need to contact us in advance. We have cushions, and some benches available. If you have any questions please write to: info@bostonoldpath.org. We look forward to meeting you.
Weekly Sittings:
Monday Mornings: Newton Highlands
9:00-10:30 am
close to MBTA Green D Line (Newton Highlands T-stop)
please email yenkuei@alum.mit.edu for address and more info
Tuesday evenings: Beacon Hill:
7:00-9:00 pm
Beacon Hill Friends Meeting House
6 Chestnut Street, Boston
Directions: http://www.bhfh.org/Bhfh-Directions.html
Wednesday mornings: Jamaica Plain: temporarily suspended
10 am - 12 noon
Eliot Street
please contact us for address


Wednesday evenings: Coolidge Corner
7:30-9:30 pm 2nd, 3rd, 4th, (and 5th when applicable)
Wednesdays of the month
Please bring your own cushion or use one of our chairs.
We are easily accessible by both the C (Kent/Powell) and D (Longwood) lines and bus 66 which stops 2 blocks from here. Please call 617.738.5917 for address and information.

Thursday mornings: Brookline Village
6:30-8 am
Brookline Village
please contact us for address

Thursday evenings: Jamaica Plain
7-9 pm
Hope Central Church
85 Seaverns Avenue
Corner of Seaverns and Elm Streets (rear entrance)
Jamaica Plain
Map, close to MBTA Orange Line (Green Street Station)
Friday afternoons: Mindful Parenting
Sitting and walking meditation and mindful support of each other as parents. Some of our other practices include reading, (right now from Creating True Peace), deep listening, and exercises from Dan Siegel\'s work (Parenting from The Inside Out). Any parents are welcome to join us.
Fridays 12:45 - 2:15 pm
Brookline
Please contact us for directions.
Saturday mornings: Chua Vietnam
9:30-11:30 am
Chua Vietnam
68 Bradeen Street
Roslindale (map)

Occasionally this sitting may be moved or cancelled if other activities are scheduled at the temple. Please contact us at least 24 hours in advance if you are planning to attend. You may also request to join the email list to receive a monthly schedule of Saturday sittings.

Reading:Old Path, White Cloud by Thich Nhat Hanh
Sunday evenings: WakeUpBoston
4:00pm - 5:30pm
Harvard Humanist Center
12 Eliot Street
Cambridge (map)
This group of young practitioners meet in places around the Boston area to practice the art of mindful living inspired by the teachings of Zen master Thich Nhat Hanh.
Location and time may change see Facebook for up-to-date information.
3rd Sundays Study Group for the 14 Mindfulness Trainings

7-9pm
please contact us for address
---
Boulder Bodhisattva District- SGI USA
Tradition: Mahayana, Nichiren
Affiliation: Soka Gakkai International
E-mail: boulderbodhisattvas@gmail.com
Website: http://www.boulderbodhisattvas.weebly.com
Main Contact: Janey Harper
Spiritual Director: Daisaku Ikeda

---
Boulder Kadampa Meditation Group
Address: 1904 Pearl Street Boulder CO 80302
Tradition: Vajrayana, Tibetan, New Kadampa
Phone: (970) 482 7613
E-mail: hbc@meditationincolorado.org
Website: http://www.meditationincolorado.org
Find on:


Teacher: Gen Kelsang Losel
Spiritual Director: Venerable Geshe Kelsang Gyatso
Contact: Kelsang Jangchub
Notes and Events:
Venue: The Boulder Co-op

---
Boulder Shambhala Center
Address: 1345 Spruce Street Boulder CO 80302
Tradition: Vajrayana, Tibetan, Kagyü lineage
E-mail: sc@indra.com
Website: http://www.boulder.shambhala.org/index.php
Find on:


Founder: Chögyam Trungpa Rinpoche

---
Boulder Zen Center
Address: Boulder CO
Tradition: Mahayana, Soto Zen
Phone: (303) 442-8095
E-mail: boulder_zen@yahoo.com
Website: http://www.boulderzen.org
Find on:


Teachers: Richard Baker-Roshi and others.
Contact: Brian Decamp

---
Bozeman Zen Group
Address: P.O. Box 1951 Bozeman MT 59771
Tradition: Mahayana, Zen
Phone: (406) 586-7044
E-mail: bzg@bozemanzengroup.org
Website: http://www.bozemanzengroup.org
Find on:


Contact: Jenny McCune
Notes and Events:
Mail to: P.O. Box 1951, Bozeman MT 59771
---
Brahma-Vihara Foundation
Address: 69 Pleasant Street Amherst MA 01002
Tradition: Theravada, Vipassana (Insight Meditation)
E-mail: info@brahmaviharas.org
Website: http://brahamaviharas.org
Find on:


Spiritual Director: DaeJa Napier Email

---
Brazos Buddhist Association
Address: 305 Wellborn Road (Unitarian Church) College Station TX 77840
Tradition: Non-Sectarian, Meditation practice group
Phone: (979) 739-1645
E-mail: Davidkalil@gmail.com
Website: http://www.brazosbuddhist.org
Find on:

---
Breath of the Heart Sangha
Address: P.O. Box 1813 Belfair WA 98528
Tradition: Mahayana, Zen Buddhist Master Thich Nhat Hahn
Affiliation: Community of Mindful Living
Phone: (360) 275-5088
E-mail: katienwalt@earthlink.net
Find on:


Contact: Katie Kendrick
Notes and Events:
Mail to : P.O. Box 1813, Belfair, WA 98528
---
Breathing Heart Sangha
Tradition: Mahayana, Zen Buddhist Master Thich Nhat Hahn
Affiliation: Community of Mindful Living
E-mail: SanghaRus@Yahoo.com

---
Brevard Zen Center
Address: 1261 Range Road, Cocoa FL (On the Grounds of the Unitarian-Universalist Fellowship) of Taizan Maezumi Roshi and Louis Mitsunen Nordstrom Roshi FL
Tradition: Mahayana, White Plum Soto Zen lineage
Phone: (321) 795-6570
E-mail: chonen_gallagher@hotmail.com
Website: http://www.brevardzen.org
Find on:


Teacher: Louis Mitsunen Nordstrom Roshi
Spiritual Director: Jim Gallagher

---
Bright Dawn Institute for American Buddhism
Address: 28372 Margaret Road Coarsegold CA 93614
Tradition: Mahayana, Non-Sectarian, Follows the approach of the Venerable Gyomay M. Kubose
Affiliation: independent
Phone: 559-642-4285
E-mail: brightdawn@kubose.com
Website: http://brightdawn.org
Find on:

---
Bright Way Zen
Address: 12755 NW Dogwood Street Portland OR 97214
Tradition: Mahayana, Soto Zen
Phone: 971-207-1843
E-mail: info@brightwayzen.org
Website: http://www.brightwayzen.org
Find on:


Main Contact: Domyo Burk
Teacher: Domyo Burk

---
Brooklyn Buddhist Association International Zen Dojo
Address: 211 Smith Street, Brooklyn, New York, NY 11201 NY
Tradition: Mahayana, Zen/Pure Land
Phone: 718 488-9511
E-mail: bbajsk1@aol.com
Find on:

---
Brooklyn Zen Urban Temple
Address: 21 South Elliott Place, Brooklyn, NY 11217-1207 NY
Tradition: Mahayana, Zen
E-mail: DaiGedatsu@aol.com
Find on:


Contact: Angel Williams

---
Brooks Branch Zendo of North Carolina Zen Center
Address: 387 Ironwood Road, Pittsboro, NC 27312 NC
Tradition: Mahayana, Rinzai-Ji/Joshu Sasaki Roshi
Phone: (919) 742-7411
E-mail: info@nczencenter.org
Website: http://www.nczencenter.org
Find on:


Spiritual Director: Rev. Sandy Stewart

---
Broward Lotus Sangha
Address: 7185 Pembroke Road Pembroke Pines FL 33023
Tradition: Mahayana, Vietnamese Tien (Zen/Chan) Lin Chi
Affiliation: Thich Nhat Hanh / Community of Mindful Living / Order of Interbeing
Phone: 954-665-4325
E-mail: info@browardlotussangha.org
Website: http://www.browardlotussangha.org
Find on:


Main Contact: Dr. Martha Martinez Email (Phone: 954-665-4325)
Spiritual Director: Zen Master Thich Nhat Hanh Email

---