Italy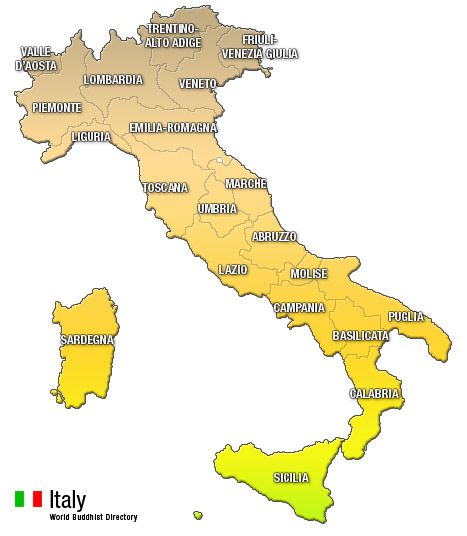 There were 130 results matching your query.
Shaolin Wuseng Houbeidui - Italy
Address: Milano, Italy Milano, Italy Lombardia
Affiliation: Chinese Buddhist Association
Phone: +39 3332381754 | +39 3805236721
E-mail: contact@culturashaolin.it
Website: http://www.culturashaolin.it
Find on:


Teacher: Shi Xing Cang, Shi Xing Mi
Spiritual Director: Shi De Yang
Notes and Events:
Shaolin cultural center: Chan, Wugong, Qigong.
---
UniDharma
Address: Via Cairoli, 11 (4° piano) Genova Liguria 16123
Tradition: Mahayana, Chinese Zen (Chan)
E-mail: info@unidharma.it
Website: http://www.unidharma.it
Find on:


Teacher: Da Xing Fa Shi
Spiritual Director: Da Xing Fa Shi Email (Phone: +39 3331413195)
Notes and Events:
Buddhist meditation (Chan) with Buddhist monks. Study and traditions of Buddhist texts. Dharma talks and Buddhist ceremonies.

---
Valdarno International Meditation Group
Address: Piazza G. Pascoli 1 Cancelli Toscana 50066
Tradition: Theravada
Affiliation: Samadhe Viharaya Firenze
Phone: +39 338 3429115
E-mail: anapanasatibhavana@aol.com
Find on:


Teacher: Upasaka Stefano
Notes and Events:
Siamo un gruppo di meditazione e studio del Dhamma. Pratichiamo la meditazione Samatha Vipassana Yuganaddha. Spediamo libri di molte tradizioni Buddhiste in molte lingue gratuitamente previa Dana per coprire le spese di spedizione dei libri e aiutare nel nostro progetto.
Offriamo corsi di meditazione per la tranquillità interiore (Samatha Bhavana) nella vostra associazione o palestra. Per meditare non devi aderire a una specifica tradizione o religione. Solo nelle zone di Firenze/Reggello/Pontassieve.
Il nostro progetto è quello di creare un centro residenziale di studio e meditazione non settario nell'alto Valdarno Toscano. Per coloro che fossero interessati al nostro progetto ci possono contattare per ulteriori informazioni.
---
Veneto International Buddhist Meditation Centre
Address: Via Aquileia 21, Verona verona Veneto 37135
Tradition: Theravada
Phone: 0039 0452587886
Fax: 0039 0452587886
E-mail: veronatemple@gmail.com
Website: http://www.veronatemple.com
Find on:


Treasurer: Ms Renata Pasi. (Phone: 0039 3394850164)
secretary: Mr.Lesli Asoka Vedamuhandiram (Phone: 0039 3287665276)
Main Contact: Mr Ivano Galeotti Email (Phone: 0039 3929635700)
Teacher: Rev Franz Zampiero
Spiritual Director: Rev Gammedagama Piyadassi Thero Email (Phone: 0039 3277786511)

---
Yeshe Norbu-Appello per it Tibet
Address: Via Poggiberna 9 56040 Pomaia (Pisa) Pomaia Toscana 56040
Tradition: Vajrayana, Tibetan, Gelugpa (FPMT)
Affiliation: FPMT
Phone: +39 050 685 033
E-mail: info@adozionitibet.it
Website: http://www.adozionitibet.it
Find on:


Notes and Events:
The association aims to protect and preserve the ethical and social values ​​of the people of Tibet and other Buddhist countries which have undergone invasion or cultural and religious repression, through the material, moral, cultural and religious support to the population.
https://www.youtube.com/watch?v=Pa9bJd9cMoc
Activities:
- Management of a program of "distance adoption";
- Participate in or manage projects for schools, clinics, sanitation programs, etc..;
- Contribute to the preservation and development of cultural and artistic heritage of the Buddhist countries.
---