Africa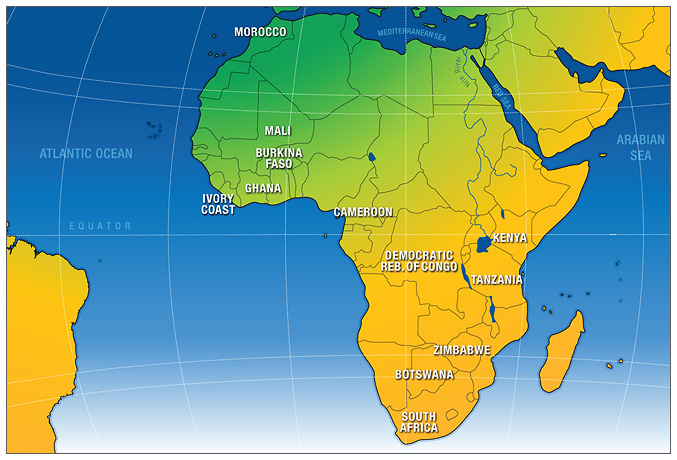 There were 65 results matching your query.
African Buddhist Seminary
Address: 1 Wen Shu Crecent, Bronkhorstspriut Gauteng 1020 South Africa
Tradition: Mahayana, Humanistic Buddhism
Affiliation: Fo Guan Shan (Taiwan)
E-mail: hussein@nanhua.co.za
Website: http://www.nanhua.co.za/fgsabs/
Find on:


Teachers: Ven. Huei Shiang, Ven. Huei Shang,
Spiritual Director: Ven. Master Hsing Yun

---
Amitofo Care Centre - Buddhist orphanage
Address: Blantyre
Tradition: Mahayana
Affiliation: Nan Hua Temple (South Africa) Fo Guang Shan, Taiwan
Website: http://amitofocare.blogspot.com/2009/08/about-acc.html
Find on:


Teacher: Venerable Hui Re
Spiritual Director: Ven. Hui Li (Founder)
Notes and Events:
Amitofo Care Centre (ACC) is a non profit, Non Government Organization (NGO), working in the district of Chiradzulu and the Mapanga areas.
---
Association de Developpement des Valeurs Humaines
Address: Rue 547 Porte 202 Quinzambougou Bamako Mali Banliex Est de Bamako Titibougou. Bamako Mali Bamako, B.P.E.2040, Republic of Mali
Tradition: Mahayana, Les Pratiquants du Bouddhisme de Nichiren
Affiliation: Soka Gakkai International Organisations
Phone: 277-19-66 221-31-91 264-15-24
E-mail: cbspeaceculture@yahoo.fr
Find on:


Vice-President: Mrs Valkova Alevtina
President: Mr Konate Adama
Spiritual Director: Mr Konate Adama

---
Benoni Cultural Centre
Address: 134 Busschau Rd., Vlei Rd. Benoni, J.H.B. 5003 R.S.A. P.O. Box 7132 PETIT 1512 R.S.A.
Tradition: Mahayana, Humanistic Buddhism
Affiliation: Fo Guang Shan
E-mail: yunt@telkomsa.net, yung_chia_shih@hotmail.com
Find on:


Spiritual Director: Ven. Master Hsing Yun

---
Bloemfontein Meditation Centre
Address: P.O. Box 13085 Noordstad Bloemfontein 9305, R.S.A.
Tradition: Mahayana, Pureland, using Zen meditation
Affiliation: Fo Guang Shan (Taiwan)
E-mail: fgsafsa69@fgs.org.tw
Find on:


Spiritual Director: Ven. Master Hsing Yun

---
Botswana Buddhist Association
Address: P.O. Box 272 Gaborone North Plot 31330 Gaborone, Botswana
Tradition: Theravada, but open to all Buddhists
Phone: 00267 395 3494
Fax: 00267 397 1294
E-mail: david.matthews@arup.com
Website: http://www.BotswanaBA.org
Find on:


Teachers: Visiting Buddhist Monks
President: David Matthews

---
Buddhist Retreat Centre
Address: P.O. Box 131 Ixopo, KwaZulu Natal 3276
Tradition: Theravada / Non-sectarian
E-mail: brcixopo@sos.co.za
Website: http://www.brcixopo.co.za
Find on:


Teachers: Ven. Thanissara and Ven. Kittisaro

---
Buddhist Temple and Meditation Center
Address: Plot No 606, P.O.Box 6665, Mindu Street, West Upanga Dar es Salaam, Ilala 255 Tanzania, East Africa
Tradition: Theravada, but welcome to all religions and traditions
Phone: + 255 22 2150422
Fax: + 255 22 2150422
E-mail: revpannasekara@yahoo.com
Website: http://www.pannasekara.com
Find on:


Spiritual Director: Rev. Ilukpitiye Pannasekara - The Chief monk for the African continent Email (Phone: + 255 741 451745)

---
Cape Town Cultural Centre
Address: 43 Sandpiper Crescent, Flamingo Vlei Tableview, Cape Town 7441 R.S.A.
Tradition: Mahayana, Humanistic Buddhism
Affiliation: Fo Guang Shan
E-mail: fgsafsa6a@fgs.org.tw
Find on:


Spiritual Director: Ven. Master Hsing Yun

---
Cape Town Meditation Centre (CMC)
Address: 49 Balers Way, Sunset Beach, Milnerton 7441, Malmesbury, Western Cape, South Africa
Tradition: Theravada, Thai - everyone is welcome!
Affiliation: Dhammakaya International
Phone: +(27)-21-5529333 Mobile:+27-79-3790245, +27-72-3230060
E-mail: capetownmeditation@hotmail.com
Website: http://www.capetownmeditation.com/
Find on:

---
Cape Town Samye Dzong
Address: 6 Morgenrood Road Kenilworth Western Cape 7708
Tradition: Vajrayana, Karma Kagyu Lineage under HH Gyalwa Karmapa
Affiliation: Samye Ling Scotland
Phone: +27 (0)21 761 2978
Fax: +27 (0)21 761 7416
E-mail: capetown@kagyu.org.za
Website: http://www.kagyu.org.za
Find on:


Spiritual Director: Akong Rinpoche

---
Diamond Way Buddhist Centre
Address: 4 Alamein Road Milnerton Western Cape 7441
Tradition: Vajrayana, Karma Kagyu Lineage
Affiliation: Diamond Way
E-mail: capetown@buddhism-southafrica.org
Website: http://www.buddhism-southafrica.org
Find on:


Teacher: Lama Ole Nydahl
Spiritual Director: Thaye Dorje His Holiness the 17th Gyalwa Karmapa
Main Contact: Nicole Email

---
Diamond Way Buddhist Centre Cape Town
Address: 4 Alamein Road Milnerton Western Cape 7441
Tradition: Vajrayana, Karma Kagyu Lineage
Affiliation: Diamond Way
E-mail: capetown@buddhism-southafrica.org
Website: http://www.buddhism-southafrica.org
Find on:


Main Contact: Nicole Email
Teacher: Lama Ole Nydahl
Spiritual Director: Thaye Dorje, His Holiness the 17th Gyalwa Karmapa

---
Durban Mahasiddha Kadampa Buddhist Centre
Address: 2 Hollings Road, Durban/ Malvern, KwaZulu-Natal 4093 South Africa
Tradition: Vajrayana, Tibetan, New Kadampa
Affiliation: New Kadampa Tradition
E-mail: info@meditateindurban.org
Website: http://www.meditateindurban.org
Find on:


Teacher: Gen Kelsang Sangdak
Spiritual Director: Geshe Kelsang Gyatso
Contact: Robbie Mawson

---
Durban Meditation Centre
Address: 91 Fairway Drive Durban North 4051 R.S.A.
Tradition: Mahayana, Humanistic Buddhism
Affiliation: Fo Guang Shan
E-mail: fgsafsa6b@fgs.org.tw
Find on:


Spiritual Director: Ven. Master Hsing Yun

---
Durban Zen Group
Address: Durban, South Africa
Tradition: Mahayana, Korean Chogye Order
Affiliation: Kwan Um School of Zen
Phone: (27) 31-261-318
Find on:


Guiding Teacher: Heila Downey, JDPSN
Contact: Ani Wolmarans

---
Emoyeni Retreat Centre
Address: P.O. Box 190, Mooinooi Rustenburg/Brits North West 0325 South Africa
Tradition: Non-Sectarian, Eclectic
Phone: (014) 574-3662
E-mail: emoyeni@xsinet.co.za
Website: http://www.emoyeni-retreat.com
Find on:


Teacher: Mervyn Croft and affiliated teachers

---
Goenka Vipassana
Address: NCWSTI UNIN; Private Bag X1106 Sovenga 0727, South Africa in South Africa PO Box 27566 Greenacres, Port Elizabeth, Eastern Cape 6057
Tradition: Theravada, Vipassana meditation as taught by S.N.Goenka
E-mail: dhammaza@iii-world.com
Find on:


Contact person: James O\'Donovan
Contact person: Girish Daya

---
Good Heart Dharma Group
Address: Durban Durban KwaZulu-Natal
Tradition: Vajrayana, Gelugpa
Phone: 031-7014307
E-mail: cormkt@mweb.co.za
Find on:


Contact: Elizabeth Gaywood
Spiritual Director: Geshe Damch Yonten

---
Grahamstown Zen Group
Address: Bamboo Grove Zen Centre 9 Mount Street, Grahamstown 6140 South Africa
Tradition: Mahayana, Korean Chogye Order
Affiliation: Kwan Um School of Zen
Phone: (27) 461-26163
E-mail: ascj@warthog.ru.ac.za
Find on:


Contact: Charlotte Jefferay
Teacher: Heila Downey, JDPSN

---
Groupe Zen Abidjan (AZI)
Address: ENS 08, BP 10 Abidjan, Ivory Coast
Tradition: Mahayana, Soto Zen
Affiliation: Association Zen Internationale
Find on:


Contact: Michel Ostorero
Founder: Master Taisen Deshimaru

---
Hoi Phat Giao
Address: 08 BP 1302 Abidlan Cote d\'lvoire, Africa
Tradition: Mahayana, Vietnamese Temple
Find on:

---
Johannesburg Zen Group
Address: P.O. Box 1080, Bucchleuch Johannesburg 2066 South Africa
Tradition: Mahayana, Korean Chogye Order
Affiliation: Kwan Um School of Zen
E-mail: olivier@icon.co.za
Find on:


Contact: Neil Muir and Fanus Olivier
Guiding Teacher: Heila Downey, JDPSN

---
Kagyu Buddhist Centre
Address: 6 Morgenrood Road Kenilworth Cape Town Western Cape 7708
Tradition: Vajrayana, Tibetan, Kagyu Lineage
Phone: 021 761 2978
Fax: 021 762 7416
E-mail: captown@kagyu.org.za
Website: http://www.kagyu.org.za
Find on:

---
Kagyu Samye Dzong - Capetown
Address: 5 Auburn Road, Kenilworth, Capetown 7700 International
Tradition: Vajrayana, Tibetan, Karma Kagyu
Phone: (27) 21 761 3583
E-mail: Karmapa@Iafrica.com
Website: http://www.samyeling.org/
Find on:

---