Africa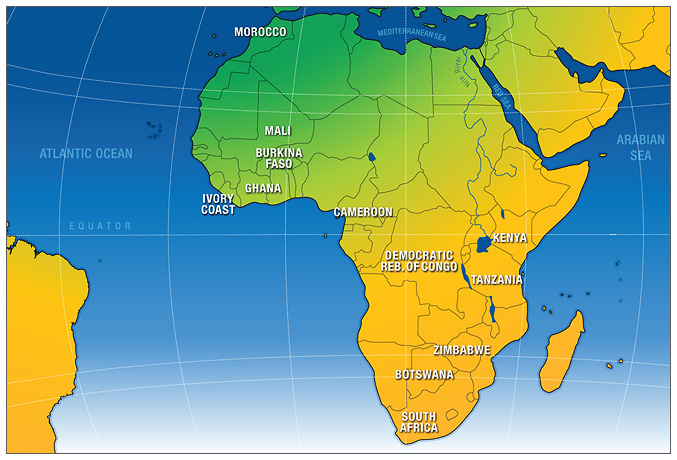 There were 63 results matching your query.
Nichiren Shoshu Hokkeko South Africa
Address: Western Cape
Tradition: Mahayana, Nichiren Shoshu
Affiliation: Nichiren Shoshu
Find on:


Notes and Events:
Regular Nichiren Shoshu activities are starting to be held with greater frequency.
---
Nichiren Shu South Africa
Address: Fourways Gauteng
Tradition: Mahayana
Affiliation: Nichiren Shu
Phone: 0828557801
Fax: 0866107640
E-mail: Buddhabrat@me.com
Find on:


Notes and Events:
Nichiren Shu, means the teaching of Nichiren, who was a great sage and appeared in Japan the 13th Century. We believe Shakyamuni Buddha, (Siddharta Guatama) is the original Buddha. He taught the Lotus Sutra which is the primary teaching of the of Nichiren Shu. By chanting Namu Myoho Renge Kyo as Nichiren taught we are able to attain Buddhahood. We hold meetings twice a month. They are small and intimate. One may attend as an observer and guest. There is no pressure to participate in the ceremonies or join our group. You are most welcome.
In Nichiren Shu there is no discrimination against class, race, belief or sexual orientation. Nichiren Shu is dedicated to all beings achieving their potential and happiness. Please be well and happy.
PO BOX 787167
Sandton 2146

---
Rissho Kosei-kai South Africa
Address: 53 Ravenshill, Turley Road, Lonehill, Johannesburg Sandton 2146
Tradition: Mahayana
Affiliation: Rissho Kosei-kai Japan/International
Phone: (082) 8557801
E-mail: vudumanx@gmail.com
Website: http:www.rk-world.org/
Find on:


Main Contact: Andrew Christie Email (Phone: 0828557801)
Spiritual Director: Nichiko Niwano
Teacher: Nichiko Niwano
Notes and Events:
Rissho Kosei-kai is a worldwide Buddhist organization founded in Japan in 1938 by Nikkyo Niwano and Myoko Naganuma. It combines the wisdom of both the Lotus Sutra and the foundational teachings of Shakyamuni Buddha. Its purpose is to bring these transformative teachings to the modern world.
The Lotus Sutra is a teaching of human respect, both the study and practice of a spiritual path that develops human potential, and a way of living that seeks peace for all people. By studying, understanding, integrating, and practicing the teachings, human beings can gradually approach a state of mind free from delusions, thereby enriching their own lives and those of others around them. Because everything is interconnected, when people devote themselves to benefitting all beings through harmony, they create awareness and develop a better world. This is the ideal for practitioners of the Lotus Sutra.
---
Rondebosch Dharma Centre
Address: 6 Lulworth Mansions, Saint Andrews Road Rondebosch, Cape Town 7700 South Africa
Tradition: Mahayana, Kwan Um School of Zen (Korean)
Phone: (27) 21-686-3698
E-mail: rons@iafrica.com
Website: http://www.dharmacentre.org.za/dc/contact.htm
Find on:


Main Contact: Abbot: (Phone: 082 344 2683)
Guiding Teacher: Heila Downey, JDPSN
Founding Teacher: Zen Master Seung Sahn
Notes and Events:
This centre offers regular practice and meditation instruction on Tuesday evenings. We do chanting, 2 rounds of sitting meditation (30 minutes each) with a short walking meditation in between followed by a teaching reading.
Practice starts at 7:00 pm and concludes at about 9:00 pm.
Every month we offer one non-residential Sunday retreat, starting at 8:30 am, concluding at 3:45 pm. Tea/coffee is provided, and it is suggested that each participant brings her/his own light lunch. There is also an opportunity to have interviews with Rodney Downey (Senior Dharma Teacher) or Heila Downey (Master Dharma Teacher), as well as a dharma talk, followed by a question/answer period and a discussion session.
---
Sat Chit Anand
Address: 16 Great Basses Road Plettenberg Bay Western Cape 6600
Tradition: Non-Sectarian
Phone: +27 (0)44 533 0453
E-mail: satchitanand@global.co.za
Website: http://www.satchitanand.co.za/
Find on:


Notes and Events:
SAT CHIT ANAND is a Sanskrit expression, which means truth – consciousness – bliss. Get in touch with the truth of your being. Live consciously and mindfully. Let go of all worldly cares and concerns and experience the bliss of being here and now.
Situated in Plettenberg Bay, jewel of the Garden Route, 200 metres from the sea, SCA is located in an ideal place to relax, reflect on life and get in touch with your true nature. Enjoy privacy, peace and tranquility. Indulge your soul with a healthy holiday. Make space in your life for spirit.
HEALING CENTRE has a holistic nature. It offers various treatments and therapies to restore and enhance health and healing of body and mind.

BUDDHIST CENTRE was established in 2000. It offers teachings and retreats on different aspects of Buddhist philosophy, psychology and practice.
INTERFAITH SCA has grown into an Interfaith Spiritual Retreat Centre. Yoga, meditation and teachings on self-knowledge help those of all faiths.
---
Shambhala Cape Town
Address: c/o Ralph Berold, 207 Victoria Court, 301 Long Street Cape Town 8001
Tradition: Vajrayana, Karma Kagyu
Affiliation: Shambhala International
Phone: 021 426
E-mail: ralphberold@gmail.com
Website: http://capetown.shambhala.info
Find on:


Main Contact: Ralph Berold Email (Phone: 021 426 6862)
Teacher: Jennifer Woodhull
Spiritual Director: Sakyong Mipham Rinpoche
Notes and Events:
Observatory Dharma Study Group
Meditation, teachings and discussion on Thursday evenings at the Observatory Community and Recreation Centre, corner of Lower Main and Station Roads (Room 1, upstairs). Sitting meditation begins at 6:10 pm sharp. Please arrive by 5:45 if you require meditation instruction. No charge. Enquiries: Johann, 021 683 8233 or johannverster@telkomsa.net.

South Peninsula Dharma Study Group
Meditation, teachings and discussion the second and fourth Tuesday of every month, in a private home in the Muizenberg–Fish Hoek area. Sitting meditation begins at 7:10 pm sharp. Individual meditation instruction available. No charge. For venue and directions, please call Carole at 021 782 5435 or email her at peward.fh@abasamail.co.za.
Monthly nyinthun
"Nyinthun" is a Tibetan word that refers to an extended period of meditation practice. A three-hour meditation session is held at a private home in the Kenilworth area on the last Sunday of each month, from 9 am to noon. Enquiries: Johann, 021 683 8233 or johannverster@telkomsa.net. Instruction available; no charge.

Shambhala Training
Shambhala Training is a secular path of meditation that emphasises social interactions based on enlightened principles. The foundational course, The Heart of Warriorship, comprises five weekend levels. The entire cycle is offered every year in Cape Town. You can find out more about Shambhala Training at http://www.shambhala.org/shambhala-training.php. For information about the South African schedule, contact Mary Anne Botha at 023 541 1821 or mabvisul@iafrica.com.
---
Theravada Buddhist Centre
Address: Loresho Ridge Road, Loresho P.O. Box 69563 Nairobi Kenya
Tradition: Theravada
Phone: 254-20-4183409
Website: http://nairobibuddhisttemple.org/
Find on:


Main Contact: Ven. Vicitta Sara
Spiritual Director: Bhante Wimala
Notes and Events:
Since 1999 Bhante Wimala has been the head monk of the Theravada Buddhist Center in Nairobi, Kenya. The Center is located in a beautiful suburb of Nairobi called Loresho, just a few miles away from the city center. The center was built by the George Phylnormel Foundation in memory of Mr. George and Mrs. Norma Perera. The premises consist of a residence for monks, a Meditation hall and a traditional Stupa. The center is open everyday from 8am to 8pm. People of all faiths are welcome to use the facility as a sanctuary for peace and quiet. Ongoing programs include: Meditation sessions every Sunday at 4pm and Wednesday at 9am. There is an Introduction to Meditation class every Sunday at 3pm. There are two weekly Dhamma Study Groups on Wednesday at 2:30 and 7:30pm as well as Monthly Full Moon Services at 7:30pm. A well stocked library is also open every day
Bhante Wimala travels to Nairobi several times a year to conduct classes and give Dhamma talks. Bhante also uses this Center as his base while doing his humanitarian projects in Africa. The resident monk of the Theravada Buddhist Center is Vicitta Sara Bhikku who looks after the day to day activities and programs.
---
Triratna Johannesburg (Shantikula)
Address: 4 Levubu Road Emmarentia Johannesburg Gauteng 2195
Tradition: Non-Sectarian
Affiliation: Triratna
Phone: 0827750136
E-mail: waynespace@icon.co.za
Website: http://www.shantikula.co.za/
Find on:


Main Contact: Acalaraja Email (Phone: 0827750136)
Teacher: Acalaraja
Spiritual Director: Sangharakshita
Notes and Events:
The main meditation practices are Metta Bhavana and Mindfulness of Breathing. Monday nights there is a group meditation that is normally followed by either puja, or a lecture, or discussion. Details about this can be found in the programme section of our website.
---
Tushita Buddhist Centre
Address: 21 Loch Road Rondebosch Western Cape 7700
Tradition: Mahayana, Vajrayana, Kadampa
Affiliation: NKT-IKBU
Phone: +27 21 685 3428
E-mail: info@meditateincapetown.org
Website: http://www.meditateincapetown.org
Find on:


Main Contact: Kelsang Pagpa (Phone: 021 685 3428)
Spiritual Director: Gen-la Khyenrab
Teacher: Kelsang Pagpa
Notes and Events:
Tushita Buddhist Centre offers weekly meditation classes in & around Cape Town for both beginners and advanced practitioners of Buddhist meditation.

More in depth classes, the Foundation Programme, are on Saturdays from 8.00am - 12.15pm
There are also regular half day meditation courses in and around Cape Town.
Please visit the website for more info.
---
Uganda Buddhist Centre
Address: Off-Entebbe Road, Plot 31 Bulega, Garuga PO BOX 898 Entebbe – Uganda
Tradition: Theravada
Phone: +256 (0) 392 – 000926
E-mail: ugandabuddhistcentre@gmail.com
Website: http://www.ugandabuddhistcentre.com
Find on:


Main Contact: Andrew Mukomazi (Phone: +256 (0) 775 – 019180)
Teacher: Ven.Bhikkhu Buddharakkhita
Notes and Events:
The Uganda Buddhist Centre aims to create an enduring home for the preservation and transmission of the Buddha's teachings by venerable and respectful teachers or masters established in Dhamma, and to continue to develop a landmark of Buddhist culture and teaching in Uganda and Africa as a whole.
---
Vajrapani Kadampa Buddhist Centre
Address: 345 Jan Smuts Avenue, The Colony Shopping Centre. Craighall Park, Gauteng 2194
Tradition: Vajrayana, New Kadampa Tradition
Affiliation: New Kadampa Tradition - IKBU
Phone: 011 447 2746, 083 678 5956
Fax: +27 11 447 2746
E-mail: info@meditation.org.za
Website: http://www.meditation.org.za
Find on:


Teacher: Gen Kelsang Mila
Main Contact: Gen Kelsang Mila Email (Phone: +27 11 447 2746)
Notes and Events:
The Vajrapani Buddhist Centre offers weekly meditation classes in Craighall Park, as well as classes and half-day courses on Sundays. The latter covers meditation as well as Buddhist principles. Please see www.meditation.org.za for updated information.
General Information - info@meditation.org.za
Admin Director - admin@meditation.org.za
Education Programme Co-ordinator - epc@meditation.org.za
---
Vipassana Meditation in Kenya
Address: P.O. Box 18583 Nairobi 00500
Tradition: Non-Sectarian, Vipassana meditation taught by S.N.Goenka and his assistant teachers in the tradition of Sayagyi U Ba Khin
Affiliation: Vipassana Research Institute
Phone: [254](0)722-702 359
E-mail: info@ke.dhamma.org
Website: http://www.ke.dhamma.org
Find on:


Spiritual Director: S.N.Goenka
Notes and Events:
The Kenya Vipassana Association is one of numerous centers and non-center sites worldwide offering courses in Vipassana Meditation, taught by S.N.Goenka and his assistant teachers in the tradition of Sayagyi U Ba Khin

The courses are held at the Adolph Kolping Centre which is located about 10 km away from the center of Nairobi City and around 40 minutes car-ride from the Jomo Kenyatta International Airport. The center is situated opposite the Nairobi National Park and Bomas of Kenya Cultural Center, in a serene and quiet environment. It has 28 double rooms with self-contained bathrooms which can comfortably accommodate around a total of 50 students.
Approximately three 10-day courses are offered in Kenya each year, along with 3-day courses and children and teenagers 1-day course. The courses are conducted in English and Kiswahili. Approximately 120 students from around East Africa complete our courses annually.

There is now a growing community of Vipassana meditators living in Nairobi who have given invaluable Dhamma service to the running of courses as well as establishing outreach activities amongst local communities. Future plans for the acquisition of land for the construction of a permanent center are underway which would make Kenya the second Dhamma center after Dhamma Pataka in South Africa.

For more information about our courses in Kenya, please visit our website at http://www.ke.dhamma.org or email us at info@ke.dhamma.org.

---
Zen Kenya
Address: visit our website for address Nairobi 00606
Tradition: Mahayana, Soto Zen
Affiliation: http://www.abzen.eu/
E-mail: zenkenya@gmail.com
Website: http://sites.google.com/site/zenkenya/
Find on:


Notes and Events:
This is an informal group of practitioners of the Zen meditation.
Visit the website to contact us. http://sites.google.com/site/zenkenya/

---