United States of America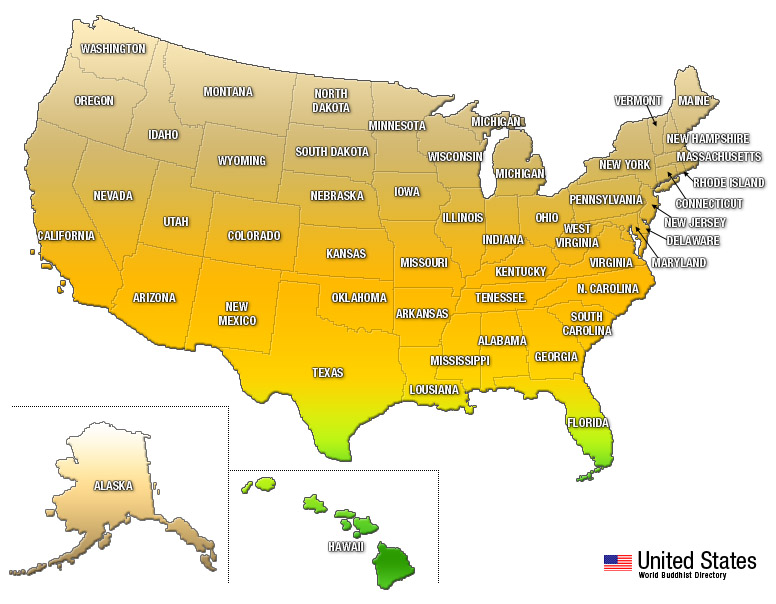 There were 2420 results matching your query.
First Previous 13 14 15 16 17 18 19 20 21 22 23 24 25 26 27 28 29 30 31 Next Last
Early Morning Zen
Address: Salem OR 97304
Tradition: Mahayana
Affiliation: Mahayana, Zen Buddhist
Phone: (503) 949-3188
E-mail: heronlodge@aol.com
Find on:


Main Contact: Lee Ann Nail Email (Phone: (503) 949-3188)

---
Earth and Sky Sangha
Address: 60 Harding Avenue North Adams MA 01247
Tradition: Mahayana, Zen Buddhist Master Thich Nhat Hahn
Affiliation: Community of Mindful Living-and the Order of Interbeing
Phone: (413) 633-5205
E-mail: gassho48@hotmail.cm
Find on:


Contact: Ann Leonesio Email (Phone: 413-663-5205)

---
Earth Sanctuary
Address: 6144 Wahl Road Freeland WA 98249
Tradition: Vajrayana, sakya
Phone: (360) 321-5465
E-mail: celia@earthsanctuary.org
Website: http://www.earthsanctuary.org/
Find on:


Spiritual Director: H. H. Jigdal Dagchen Sakya
Main Contact: Founder: Chuck Pettis
Notes and Events:
Earth Sanctuary combines exemplary ecology with art and spirit to create a sanctuary for birds and wildlife and a peaceful place for personal renewal and spiritual connection
Earth Sanctuary is open every day of the year, rain or shine, during daylight hours. $7/person fee. No dogs and no fires please.
---
East Bay Shambhala Meditation Group
Address: 15 Juniper Street, Barrington, RI 02806 RI
Tradition: Vajrayana, Tibetan, Shambhala Buddhist
Affiliation: Shambhala International
E-mail: josephc637@aol.com
Find on:


Spiritual Director: Sakyong Mipham Rinpoche

---
Eastside Sangha
Address: Meeting at Grailville Oratory every Tuesday evening 931 O\'Bannonville Road, Loveland, OH 45140 Contact:Paul Davis (513) 943-9230 or Blake Helms (513) 459-9152 OH
Tradition: Mahayana, Thich Nhat Hanh
Affiliation: Community of Mindful Living
E-mail: behelms@cinci.rr.com
Website: http://www.eastsidesangha.org
Find on:

---
Eau Claire Shambhala Meditation Group
Address: 126 Gilbert Avenue, Eau Claire, WI 54701 WI
Tradition: Vajrayana, Tibetan, Kagyü lineage
E-mail: grossrm@uwec.edu
Find on:


Founder: Chögyam Trungpa Rinpoche

---
Ecumenical Buddhist Society
Address: 1010 West 3rd Street Little Rock AS 72201
Tradition: Non-Sectarian, all Buddhist traditions and everyone welcome
Phone: (501) 376-7056
E-mail: ebs@aristotle.net
Website: http://www.ebslr.org
Find on:


Contact: Ellis Widner
Teachers: Lama Tharchin Rinpoche, Lama Yeshe Wangmo, Tulku Thupten Rinpoche,
Notes and Events:
The Buddhist Center Gans Place Carriage House
---
Ekoji Buddhist Sangha
Address: 3411 Grove Avenue, Richmond VA 23221 VI
Tradition: Mahayana, Pureland
Phone: (804) 355-6657
E-mail: pureland@ekojirichmond.org
Website: http://www.ekojirichmond.org
Find on:


Teacher: Rev. K.T. Tsuji (Pure Land)

---
Ekoji Buddhist Temple
Address: 6500 Lake Haven Lane, Fairfax Station, VA 22039 VI
Tradition: Mahayana, Jodo Shinshu Buddhism
Affiliation: Buddhist Churches of America (BCA)
Phone: (703) 239-0500
E-mail: webmaster@ekoji.org
Website: http://www.ekoji.org
Find on:


Contact: Ron and Nora Nagatani

---
Elberon Zen Circle
Address: Elberon, NJ 07740 NJ
Tradition: Mahayana, Soto Zen
Affiliation: San Francisco Zen Center
Phone: (732) 870-9065
E-mail: brianshozen@yahoo.com
Website: http://www.zencircle.org
Find on:


Contact: Brian Unger

---
Emaho Foundation
Address: 4111 E Phelps Road Phoenix AZ 85032
Tradition: Vajrayana, Tibetan Buddhism
Phone: 1-(480)-704-4169
E-mail: mail@emahofoundation.org
Website: http://www.emahofoundation.org
Find on:


Teacher: Geshe Jampa
Spiritual Director: ZaChoeje Rinpoche
Notes and Events:
Mailing Address: (Please use this address only for mailings)
Emaho Foundation, Inc.
P.O. Box 3014 Scottsdale, AZ 85271
---
Embracing Simplicity Buddhist Hermitage
Address: 41 Wisdom Lane Hendersonville 28739
Tradition: Theravada, Offers western monastic bhikkhu/bhikkhuni ordination program
Phone: 828 338-2665
Fax: 919 387-2473
E-mail: embracingsimplicity@yahoo.com
Website: www.embracingsimplicityhermitage.org
Find on:


Teacher: Bhikkhu Pannadipa
Main Contact: Kaye Meckley, Administrator Email (Phone: same)
Spiritual Director: Bhikkhuni Pannavati Email (Phone: 828 338-2665)

---
Embracing Simplicity Hermitate & Meditation Center
Address: 138 Joel Wright Drive South Park Plaza Hendersonville NC 28792
Tradition: Non-Sectarian, Primarily and Zen Peacemaker
Affiliation: Theravadan Western Sangha and White Plum Asanga
Phone: 828 338 2665
E-mail: pannavati2@yahoo.com
Website: http://www.pannavati.org
Find on:


Teacher: Ven. Pannadipa Bhikkhu
Main Contact: Administrator Email
Spiritual Director: Ven. Pannavati Bhikkhuni Email

---
Empty Bowl Zendo
Address: Church of the Redeemer 36 South St., Morristown N.J 07960 NJ
Tradition: Mahayana, Soto Zen
Affiliation: White Plum Asanga
Phone: (973) 984-6343
E-mail: senseiray@emptybowlzendo.org
Website: http://www.emptybowlzendo.org
Find on:


Contact: Ray Ryuzan Cicetti, sensei
Teachers: Ray Ryuzan Cicetti sensei

---
Empty Gate Zen Center
Address: 2200 Parker Street Berkeley CA 94704
Tradition: Mahayana, Kwan Um School of Zen
Phone: 510-845-8565
E-mail: info@emptygatezen.com
Website: http://www.emptygatezen.com
Find on:


Founding Teacher: Zen Master Seung Sahn
Guiding Teacher: Zen Master Bon Soeng

---
Empty Hand Zendo
Address: Interim site: Community Unitarian Church 468 Rosedale Ave., White Plains, NY 10605 (914) 381-0118 NY
Tradition: Mahayana, Western Zen
E-mail: SusanJion@aol.com
Website: http://www.emptyhandzen.org/
Find on:

---
Empty Nest Zendo
Address: Wyle Ranch North Fork CA 93643
Tradition: Mahayana, Soto Zen, Suzuki-Roshi Lineage
E-mail: grace@emptynestzendo.org
Website: http://www.emptynestzendo.org
Find on:


Teacher: Grace Schireson
Contact: Grace

---
Empty Sky
Address: 313 Sunset Terrace Amarillo TX 79106
Tradition: Mahayana, Soto/Rinzai Zen
Affiliation: Diamond Sangha
Phone: (806) 373-6740
E-mail: JBEvans@TCAC.net
Find on:


Teacher: Pat Hawke
Spiritual Director: Robert Aitken Roshi
Contact: Judith Evans

---
Endless Mountain Zendo
Address: 104 Hollow Road Stillwater PA 17878
Tradition: Mahayana, Rinzai Zen
Phone: (570) 925-5077
E-mail: endless@epix.net
Website: http://www.endlessmountainzendo.org
Find on:


Contact: Genro Lee Milton
Spiritual Director: Genro Lee Milton

---
Engaged Zen Foundation
Address: Post Office Box 213 Sedgwick ME 04676-0213
Tradition: Mahayana, Rinzai Zen, Prison and Social Justice Activism
Affiliation: Sogen-Ji Monastery
Phone: 207 359-2555
E-mail: webmaster@engaged-zen.org
Website: http://www.engaged-zen.org
Find on:


Rev.: Ryushin Malone Email (Phone: 207 359-2555)
Spiritual Director: Ven. Kobutsu Malone, Osho Email (Phone: 207 359-2555)

---
Englewood Kadampa Meditation Group
Address: Suite #1, 3501S Corona St Englewood CO 80110
Tradition: Vajrayana, Tibetan, New Kadampa
Phone: (303) 813 9551
E-mail: abc@meditationincolorado.org
Website: http://www.meditationincolorado.org
Find on:


Spiritual Director: Ven. Geshe Kelsang Gyatso
Contact: Ruth Borri
Teacher: Gen Kelsang Losel

---
Enmanji Buddhist Temple
Address: 1200 Gravenstein Hwy Sebastopol CA 95472
Tradition: Mahayana, Jodo Shinshu Buddhism
Affiliation: Buddhist Churches of America (BCA)
Phone: (707) 823-2252
E-mail: enmanji@sonic.net
Website: http://www.sonic.net/~enmanji/
Find on:

---
Eno River Buddhist Community
Address: c/o Eno River Unitarian Universalist Fellowship 4907 Garrett Road, Durham NC 27707 NC
Tradition: Theravada, Insight Meditation
Affiliation: Associated with the Eno River Unitarian Universalist Fellowship,
E-mail: sseiber@email.unc.edu
Website: http://www.pgacon.com/erbc/
Find on:


Contact: Steve Seiberling
Teacher: Peer-led

---
Eugene Buddhist Priory
Address: 85415 Teague Loop Eugene OR 97405
Tradition: Mahayana, Soto Zen, Serene Reflection Meditation
Affiliation: Order of Buddhist Contemplatives
Phone: (541) 344-7377
E-mail: ebpriory@efn.org
Website: http://www.eugenebuddhistpriory.org
Find on:


Contact: Rev. Oswin Hollenbeck, Prior
Founder: Rev. Master Jiyu-Kennett

---
Eugene Zendo
Address: 2190 Garfield Street Eugene OR 97405
Tradition: Mahayana, Soto Zen
Phone: (541) 302-4576
E-mail: ejo@eugenezendo.org
Website: http://www.eugenezendo.org
Find on:


Contact: Rev. Ejo McMullen

---
First Previous 13 14 15 16 17 18 19 20 21 22 23 24 25 26 27 28 29 30 31 Next Last