Oceania
Australia, New Zealand and Pacific Islands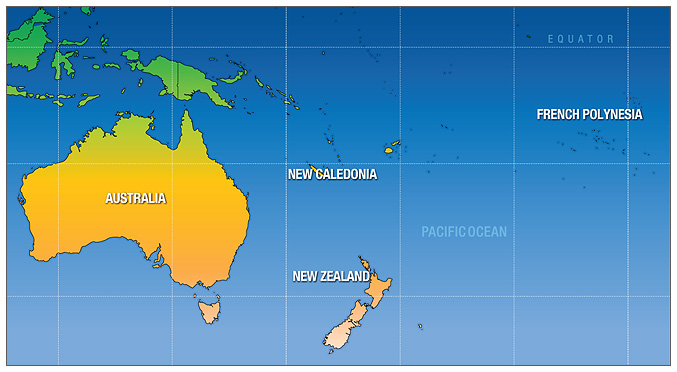 There were 663 results matching your query.
First Previous 7 8 9 10 11 12 13 14 15 16 17 18 19 20 21 22 23 24 25 Next Last
Wat Yarnprateep
Address: 99 Sabulite Road, Kelston, Waitakere, Auckland 1077 NZ Auckland
Tradition: Theravada, Thai
Affiliation: (Mahamakut Thai Buddhist Trust)
Phone: Phone: +09 813 1055 Fax: +09 813 1066
E-mail: watyarn@hotmail.com
Website: http://www.watyarn.net.nz
Find on:


Contact: Phra Kaveewarayarn

---
Wellington Shambhala Meditation Centre
Address: Level 6, 75 Ghuznee Street, Wellington Wellington
Tradition: Vajrayana, Tibetan, Shambhala
Phone: (64 4) 475 9223
E-mail: wellington@shambhala.info
Website: http://wellington.shambhala.info/index.php?id=1000
Find on:


Spiritual Director: Sakyong Mipham Rinpoche

---
Wishfulfilling Thought Transformation Study Group
Address: 29 Dodgin Street Wynyard Tas 7325 TAS
Tradition: Vajrayana
Affiliation: fpmt
E-mail: wishfulfillingmind@gmail.com
Find on:


Main Contact: Coordinator Wy Ostenfeld
Spiritual Director:

---
Won Buddhism of Australia
Address: 474 Burwood Road, Belmore, NSW 2192 NSW
Tradition: Mahayana, (Korean Won Bulkyo)
Phone: (02) 9750 5669
E-mail: ybj7383@naver.com
Find on:


Spiritual Director: Founder: Venerable Master Sotaesan
Teacher: Ven. Hissook Lee

---
Zhyisil Chokyi Ghatsal Trust
Address: 23 Sturdee Road Manurewa Auckland NZ Auckland
Tradition: Vajrayana, Tibetan, Karma Kagyu
Affiliation: official branch of Palpung Sherab Ling Monastery of Tai Situ Rinpoche
Phone: Ph/Fax: +64 9 268 0786
E-mail: inquiries@greatliberation.org
Website: http://www.greatliberation.org/
Find on:


Contact: Sonam Rinchen Email (Phone: 09 268 0786)
Teachers: Ven. Lama Karma Shedrup and Lama Sotten
Spiritual Director: His Eminence Tai Situ Rinpoche
Teacher: Ven. Choje Lama Shedrup

---
An Lac Hanh Temple
Address: 80 Cyprus Street Lalor Vic 3075
Tradition: Mahayana, Vietnamese Zen /Pureland
Phone: (03) 9402 6274
E-mail: thanhnguyenau@yahoo.com.au
Find on:


Main Contact: English Language Secretary; Chris Dunk Email (Phone: (03) 9478 9769 )
Teacher:
Spiritual Director: Abbess; Thanh Nguyen
Notes and Events:
An Lac Hahn Temple serves primarily serves the Vietnamese community but all are welcome to visit and participate in its practices of the Pureland Mahayana Vietnamese Buddhist tradition. The temple has a meditation/chanting teaching program, and provides a week-end childrens group that focusing on Buddhist moral teachings, maintaining Vietnamese language and traditions and family values for a more harmonious life experience.

Spiritual/community events are pinned to the Vietnamese Buddhist ceremonial calender. We also run Vietnamese vegeterian cooking courses periodically. We raise money from such events for charitable works here and overseas including assistance to a school in Vietnam assisting the disabled and provide support to others experiencing life difficulties in our local community and elsewhere.
---
Bodhi Chan International Association
Address: 223 Dennis Road Springwood Qld 4127
Tradition: Mahayana, Zen Buddhism
Phone: 07-38085661 Mob: 0469858163
E-mail: info@bodhichan.com
Website: http://bodhichan.weebly.com/
Find on:


Teacher: Hui-Chyuan
Spiritual Director: Hui-Chyuan Email (Phone: 07-38085661)
Notes and Events:
Free Class in English: Every Saturday from 9:00am to 12:30pm

Including: Buddhism teachings, meditation and Tai Chi.
Set amidst the natural surrounds of native gum trees and Aussie wallabies, an oasis of tranquillity and crisp luminosity awaits the visitor to Bodhi Chan - a contemporary meditation centre nestled just minutes away from the cosmopolitan hub of Brisbane city. Far away enough from the hustle and bustle of modern stress-filled cities, yet near enough to be accessed by one and all, Bodhi Chan offers a sanctuary and practice-ground for those who seek peace, wholeness, like-minded friendship in the Dharma, and immersion into the depth of Buddhist meditative training.
Brisbane city bus 578 stops within a 15 minute walk of the Centre.

---
Buddha Bodhivana Monastery
Address: 780 Woods Point Road East Warburton Vic 3799
Tradition: Theravada, Western based on Thai Forest tradition
Affiliation: Ajahn Chah lineage
Phone: 03 59 665 999
Fax: 03 59 665 998
Website: https://buddhabodhivana.org/
Find on:


Spiritual Director: Ajahn Kalyano
Notes and Events:
Buddha Bodhivana Monastery is primarily a training monastery for Buddhist monks (bhikkhus), novices (samaneras) and postulants (anagarikas), but it also provides a supportive environment in which individuals, families, visitors and residents are given the opportunity to be in contact with the principles of the Buddha's teachings and to cultivate those same qualities in their own lives. The monastery is a place to study, practice and cultivate the central elements of the Buddha's Path: generosity, virtue, mental cultivation, wisdom, and compassion.
As our principal function as a monastery is to train monastics we wish to minimize time attending to administrative duties. Email is therefore reserved solely for making requests to stay at the monastery. We are unable to respond to general questions about Buddhism whether these concern school projects, college research or are of general interest.
---
Buddhist Temple Trisikkha Inc
Address: 7 Mount Kulburn Drive (PO Box 589, Derragun Townsville) Jensen Qld 4818
Tradition: Theravada, Thai
Phone: (07) 4751 6038 (07) 4751 6258
E-mail: nipa@bro.com.au
Website: https://www.facebook.com/BuddhaTempleTownsville/
Find on:


Main Contact: Mrs. Nippa Brown Email (Phone: 0432 387 909)
Teacher: Phra Kanokphan Sukkhum
Notes and Events:
Opens the temple from 09.00 AM - 19.00 PM from Monday - Friday and 09.00 AM - 20.00 PM from Saturday - Sunday.
Meditation
Chanting
Offering food to monks...
Thai New Year
Loy krathong festival
Wesak Day Festival
Dhamma classes
All Buddhist festivals
---
Samadhi Buddhist Meditation Centre
Address: 39, Malcolm Place, Campbellfield, VIC 3061 Vic
Tradition: Theravada, Sri Lankan
Phone: (03) 9357 7266
E-mail: samadhi.buddhist@bigpond.com
Website: http://www.samadhivihara.org.au/
Find on:


Spiritual Director: Venerable Horowpothane Sathindriya Thera.
Contact: Ven. Horowpothane Sathindriya
Notes and Events:
Location: North Melbourne, east of Melbourne Airport
Conducting Meditation programmes for Chilldern and adults in English and Sinhala.
Daily Buddha pooja and Vandaria programme in the evening.
Monthly spiritual day ( Sil Programme )
For more details please contact on (03)9357 7266
Samadhi Buddhist Meditation Centre was established in 2002 by the Samadhi Buddhist Meditation Association Inc. under the guidance and leadership of Venerable Horowpothane Sathindriya Thera.
We are happy to welcome all. The objective of Samadhi Buddhist Meditation Centre is to provide a place for those who prefer to practice meditation and study the teaching of the Buddha.
We conduct monthly meditation programmes for adults and children in both Sinhala and English languages.
Information on our regular religious and spiritual activities can be viewed under the programme/event list.
We encourage everyone to practice mindfulness, meditation and spiritual values.
PRACTICE IS MORE IMPORTANT THAN CONSTANT PREACHING.
---
Tara Meditation Centre
Address: 18 Clifton Street, Bunbury WA 6230 WA
Tradition: Vajrayana, Tibetan, Gelugpa
Affiliation: FPMT
Phone: 08 9791 9798
E-mail: welcome@hmt.org.au
Website: http://www.hmt.org.au
Find on:


Main Contact: Director Julie Halse
Teacher: Thubten Dondrub
Spiritual Director: Glenda Lee
Contact: Jim Aherne
Notes and Events:
( previously known as Hospice of Mother Tara)
We are on the corner of Wittenoom and Clifton St's.
Plenty of parking available on Wittenoom St.
Please do not park on site
---
Adelaide Shambhala Meditation Group
Address: 40A Pennington Terrace, Friends Meeting House SA
Tradition: Vajrayana, Tibetan, Karma Kagyu/Nyingma, Shambhala Teachings
Phone: 08 8294 6434
E-mail: adelaide@shambhala.info
Website: http://adelaide.shambhala.info/
Find on:


Teacher: Sakyong Mipham Rinpoche, Ani Pema Chodron
Main Contact: Loretta Geuenich Email (Phone: (Phone: (08) 8294 6234))
Spiritual Director: Chogyam Trungpa
Notes and Events:

Weekly Open House including sitting and walking meditation. Monday evenings at the Friends Meeting House in North Adelaide. Please call Loretta for further details or information.

Visiting teachers and Shambhala Training Levels
---
Adelaide Shin Buddhist Dojo
Address: Welland SA 5007
Tradition: Mahayana, Pure Land
Affiliation: Jodo Shinshu Hongwanji-ha (Hongwanji Buddhist Mission of Australia)
Website: http://www.jokyo-an.info
Find on:


Teacher: Rev George Gatenby (deceased)
Notes and Events:
Postal contact: PO Box 170 Welland SA 5007
Monthly dharma talks; daily dawn chanting service.
---
Adelaide Sunyata Meditation
Address: Kilburn Community Centre (Hall 3), 59 Gladstone Avenue, Kilburn SA 5084
Tradition: Non-Sectarian, Sunyata Meditation
E-mail: ttkadelaide@gmail.com
Website: https://ttkadelaide.wordpress.com
Find on:


Teacher: Thich Nu Triet Nu
Main Contact: Nhu Uyen Email (Phone: 0411 367 116)
Notes and Events:
Adelaide Sunyata Meditation provides free classes on meditation practice, Qi Gong exercise and Dharma sharing in a positive, caring, harmonious atmosphere to achieve a total body & mind wellbeing to all participants.
Time: Meet every Sunday
from 9:15am to 12:30pm
Nhu Uyen 0411 367 116
Nhu Huong 0438 629 281
Hoang Lien 0401 138 393
---
Adelaide Zen Group
Address: SA
Tradition: Mahayana, Zen, Diamond Sangha Western
E-mail: via website
Website: http://www.azg.org.au/
Find on:


Teacher: Bob Joyner, Roshi
Notes and Events:
The Adelaide Zen Group meets Zazen meetings every Sunday at 172 Hutt Street, Adelaide, (The Hatha Yoga Centre). Apart from zazen(seated meditation), the meetings can also include an encouragement talk or dokusan (one-to-one meeting) by our teacher, Bob Joyner, Roshi.
The Adelaide Zen Group is formally affiliated with the Diamond Sangha in Hawaii and follows the form of practice originating there.

---
Amawatura Buddhist Centre Inc.
Address: 31 Jenkins Road Carlingford NSW 2118
Tradition: Theravada, Sri Lankan
Phone: 02)8819-2907
Find on:


Main Contact: Dr Gamani Goonetilleka Email
Teacher: Ven Ratmalane
Notes and Events:
note: temporary address, updated details to be added later
Amawatura Buddhist Centre was set up in 2015 by Dr Gamani Goonetilleka, Ven Ratmalane' Sirisumana Nayake' Thero, Ven Hapugoda Buddhadatta Nayake' Thero with overseeing advice from Ven Dr Ratmalane' Somaloka Thero, in Sydney Australia. We were Incorporated in March 2016 and subsequently registered as a 'not for profit' charity in Australia.

Australia is a very successful multicultural nation and we are proud to be a part of it. Access to Sri Lankan Buddhist monks in the Sydney region is limited as the small numbers of monks present at the Sri Lankan Buddhist temples in Sydney region are extremely hard pressed to find the time to engage in various Buddhist cultural aspects to help the Sri Lankan Buddhists and other interested persons in the diverse community. Amawatura Buddhist Centre (Inc) is proceeding to develop a 'Sri Lankan Buddhist Cultural Centre' involving establishment of a Buddhist monks' residence, a 'place of Buddhist worship', and a Buddhist Library. We hope to have a complete Buddhist cultural programme, much more than we offer now. Till we secure a permanent 'Place of Worship', all our functions such as 'Poya' Full moon day 'Sil' programs, Vesak and Katina celebrations, other significant events in the Buddhist Calendar which attract a reasonable number of devotees are held in Halls hired for the purpose. As of now our resident monks are available to visit households for Almsgivings, Buddhist blessing ceremonies, accept invitations for Buddhist sermons, Pirith Chanting and other necessary Buddhist Cultural activities to help the Sinhala speaking Buddhists and others in the Australian, Chinese, Cambodian, Vietnamese, Burmese, Indian and other communities. The idea is to offer spiritually essential Buddhist cultural support, teach Mindfulness, Insight Meditation, and interact with devotees in brotherhood. Our Committee has Sinhalese, Tamil, Chinese, Vietnamese, and Indian persons, all working together with the wider Buddhist community to enrich each other's lives in a manner of 'UNITY IN DIVERSITY'.

We are a small but Incorporated and registered charity in Australia and actively seek donations to complete this project towards establishment of a permanent 'Place of worship' to better serve the Buddhist public and others in necessitous circumstances in Sydney NSW Australia.
---
Amitabha Buddhist Association of NSW Inc
Address: 82-84 Restwell Street Bankstown NSW 2200
Tradition: Mahayana, Chinese, Pure Land
Phone: +61297083555
E-mail: amitabha.nsw@gmail.com
Website: http://www.amitabha.org.au
Find on:


Teacher: President: Ven Wu Shin
Main Contact: Vice-President, James Cheng, Email (Phone: +61297083555)
Mr : Peter Choi Email (Phone: 0297083555)
Notes and Events:
Established in Feb, 1999, the Amitabha Buddhist Association of New South Wales Inc ("The Association") is located at 82-84 Restwell Street, Bankstown (opposite Bankstown Public School). The Association is affiliated with the Pure Land Learning College Association Inc ("PLLC") and Pure Land Centres/the Amitabha Buddhist Associations throughout the world. The association's normal hours of operation is Monday to Friday 9:30am to 3:30pm, Saturday and Sunday 9:00am to 4:30pm.
---
Amitabha Foundation Australia
Address: 79 Edgeworth David Ave (the former Uniting Church at the cornerof Edgeworth David Ave and Palmerston Rd Waitara NSW 2077
Tradition: Vajrayana, Drikung Kagyu
Affiliation: Amitabha Foundation (International)
Phone: 02 8250 5213
E-mail: amitabhafoundationau@gmail.com
Website: http://www.amitabhafoundation.org.au
Find on:


Main Contact: Jane Crancher Email (Phone: 02 8250 5213)
Spiritual Director: H.E. Ayang Rinpoche
Notes and Events:
Regular teaching visits by His Eminence Ayang Rinpoche, Driking Kagyu Phowa master.
Besides Phowa, Rinpoche also teaches Amitabha Buddha, Vajrasattva, Wrathful Guru Rinpoche, Achi Chokyi Drolma and other traditional Tibetan Buddhist practices. He also bestows the pointing out instructions on qualified students.
Regular weekly year-round meditation sessions and courses in Buddhism - all welcome.
Courses and teachings in English.
All activities free or by donation.

---
Amitabha Hospice Service
Address: 44 Powell Street Avondale Auckland 1026
Tradition: Non-Sectarian, Gelugpa
Affiliation: FPMT
Phone: 9-8283321
E-mail: amitabha.hospice@gmail.com
Website: http://www.amitabhahospice.org/
Find on:


Spiritual Director: Lama Zopa Rinpoche
Main Contact: Christine Murphy Email (Phone: 9-8283321)
Managing Director: Ecie Hursthouse Email (Phone: 64211212481)
Notes and Events:
A free weekly service for elderly or terminally ill, non-Buddhists and Buddhists all over Auckland, providing practical support and compassionate companionship. Counselling for patients and families /carers also provided.
---
Ananda Buddhist Centre
Address: Cnr Hinchliff & Munro Streets North Rockhampton Qld
Tradition: Vajrayana, Tibetan Sakya and other Buddhist Traditions
Affiliation: Sakya Losal Choe Dzong (Canberra)
Phone: 0429 940 472 0448005807
E-mail: enquiries@meditationcq.org
Website: https://www.facebook.com/Ananda-Buddhist-Centre-223771664351669/
Find on:


Main Contact: Dan Waterhouse (Phone: 0409 631124)
Spiritual Director: Lama Choedak
Notes and Events:
The Ananda Buddhist Centre has secured a suitable, permanent location from where we can conduct our activities from. The new Dharma centre is situated upstairs from the MOUNT ARCHER LION\'S CLUB HALL on the corner of Hinchliff and Munro Streets (Farm Street end of Alexandra Street), North Rockhampton.
From The beginning of September, 2011, all of our Sunday meditation sessions, 8 week CAM classes and non-residential retreats will be held here. The new centre will also house our library of books, CD's, DVD's and magazines.
---
Armidale Community Buddhist Centre
Address: 211 Beardy Street PO Box 25 Armidale NSW 2350 NSW NSW
Tradition: Vajrayana, various Tibetan teachers of different traditions
Phone: 02 67713016 or 0478 008 840
E-mail: release@exemail.com.au
Find on:


Main Contact: Pedro Sousa Email (Phone: (Phone: 02 67713016) )
Notes and Events:
Schedule:
Mondays 6-7pm - Beginners Meditation classes
Tuesdays 7-8.30pm Union of Sutra and Tantra Course
Wednesdays -Zen Meditation - 5.30 - 6.30pm and Intro to Buddhism - 7- 8pm
LOCATION: (white door above the Mandarin Chinese Restaurant)
---
Asoka Vihara Buddhist Monastery
Address: 38 Valencia Cres, Toongabbie NSW 2146 Toongabbie NSW 2146
Tradition: Theravada, Burmese
Phone: +61 (02) 9636 8392
E-mail: admin@asokakyaung.com
Website: http://www.asokakyaung.com/
Find on:


Notes and Events:
Asoka Vihara is a traditional Burmese Buddhist Monastery established in Sydney that promotes Dhamma and teachings of Buddha in Australia. Regularly conducting Dhamma sermons in Burmese and English fulfilling religious requirements of the Buddhist community.
---
Association of Engaged Buddhists
Address: Sangha Lodge" 20 Victoria Street Lewisham NSW 2049 NSW
Tradition: Theravada, Western
Phone: Ph/Fax: (02) 9590 3617
E-mail: sanghalodge@bigpond.com.au
Website: http://www.engagedbuddhists.org.au/
Find on:


Teacher: Ven. Tejadhammo
Notes and Events:
Programme:
Monday evening at 7.30 pm Silent Sitting Meditation
Wednesday Evening at 7.30 pm Dhamma Talk and Meditation/Discussion/ Cup of Tea + a visiting teacher once per month.
1st Sunday of the Month Dana Day begins at 10.30 am with Chanting, Dhamma Talk and meditation then offering of food to Sangha and shared lunch together. Followed by an open committee meeting at 1 pm.
3rd Sunday of the month a One Day Retreat 9.30 am to 4pm (bring your own lunch)
Teaching programme varies throughout the year but usually in 6 week blocks on a Thursday evening at 7 pm (telephone first to be sure)
Every second month a long weekend retreat for those who are seriously ill (residential available)
Weekend Workshops throughout the year (Telephone to enquire)
From June 2005 Tuesday Mornings from 10 am to Noon - Meditation practice for those dealing with illness.
---
Auckland Centre for Buddhist Learning
Address: 64 Banks Road, Mt. Wellington Auckland Auckland
Tradition: Theravada, Sri Lankan
Phone: 0064 9 579 1574
E-mail: dhamma.auckland@gmail.com
Website: http://nzbuddhistcentre.org/about.shtml
Find on:


Teacher: Ven Amandoluwe Dhammaratana Thero
Spiritual Director: Ven. Elle Chandawimala Thera, the Viharadhipathi of the Welikala Bodhirathanaramaya, Pokuniwita
Notes and Events:
http://www.lakehouse.lk/mihintalava/gaya12.htm
more info link
The Auckland Centre for Buddhist Learning (ACBL) provides facilities for learning, practising, studying and researching Theravada Buddhism in New Zealand and abroad.

The objectives of the ACBL are:


Provide opportunities and a conducive environment for the practice of Lord Buddha's teachings of Moral Conduct (Sila), Mental Discipline (Samadhi) and Wisdom (Panna);
Provide facilities for the study, research and learning of Lord Buddha's teachings – the Dhamma through a Centre for Buddhist Learning equipped with appropriate teaching methods;
Provide and manage places of Buddhist worship to pay homage to Buddha, Dhamma and Sangha – the Buddhist priesthood;
Promote and facilitate propagation of Buddhist practices of higher moral conduct through observance of "Seela", Dhamma discourses, discussions and seminars.
Promote and facilitate the development of mental discipline and concentration through Buddhist Meditation
Publish books, magazines and other writings and disseminate information about Buddhist philosophy, Buddhist teachings and the Buddhist way of life.
Provide guidance and counselling services based on Buddhist principles relating to individual and community welfare to improve quality of life, especially in times of difficulties, grief and crisis.
Provide assistance by engaging in charitable activities in response to human disasters and community needs.
---
Auckland Centre for Buddhist Learning
Address: 43A, Fairfax Avenue Penrose Auckland 1061
Tradition: Theravada
E-mail: temple@acbl.org.nz
Website: http://www.acbl.org.nz
Find on:


Notes and Events:
Auckland Centre for Buddhist Learning is a learning/teaching centre for any interested person to study Buddhism. We aim at helping individuals develop their character, morality and mental development through realisation of the Buddhism. Also, we help the people who need our services in religious activities and perform counselling.
---
First Previous 7 8 9 10 11 12 13 14 15 16 17 18 19 20 21 22 23 24 25 Next Last