Oceania
Australia, New Zealand and Pacific Islands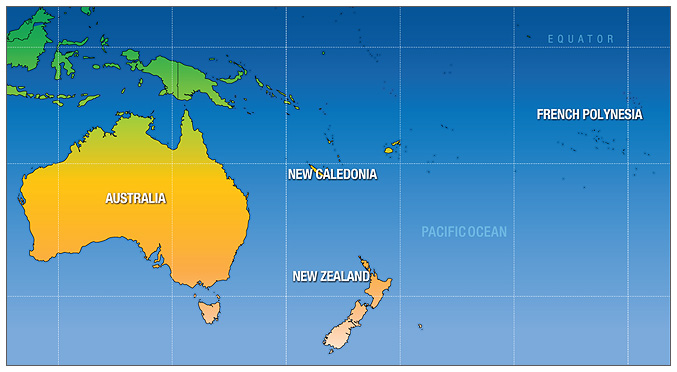 There were 633 results matching your query.
Previous 1 2 3 4 5 6 7 8 9 10 11 Next Last
Bangladesh Australia Buddhist Society ( Temple )
Address: 23 Haultain Street Minto, NSW NSW 2566
Tradition: Theravada
Phone: 02 87407391 or 0406208871 Bhante
E-mail: babs.australia@gmail.com
Website: https://www.facebook.com/Bangladesh-Australia-Buddhist-Society-BABS-264093910296302/
Find on:


President: Uday Shankar BARUA
General Secretary: Shadesh BARUA (Phone: 0425 222 131)

---
Bao Vuong Temple
Address: 60 McPherson Street, Essendon, VIC 3040 Vic
Tradition: Mahayana, Vietnamese
Phone: (03) 9326 0428 or 9181 4078
Find on:


Contact: Ven. Thich Huyen Ton

---
Barom Kagyu Chodak Drupju Chuling
Address: 50B Woods Road SEFTON NSW 2162
Tradition: Vajrayana, Barom Kagyu Lineage
Phone: (02) 9786 5513
E-mail: baromkagyu.syd@gmail.com
Website: http://baromkagyu.org/
Find on:


Teacher: Sonam Tenzin Rinpoche
Spiritual Director: His Eminence Chodrak Saljey Rinpoche

---
Bau Sen Buddha Ru Yi Temple
Address: 210 Burtons Road, Kinglake West, VIC Postal contact: PO BOX 1138 Doncaster East, Vic 3109 Vic
Tradition: Mahayana, Mix of Zen Chinese
Phone: 03 9842 5972
Fax: 03 9842 5972
Find on:


Teacher: Master Ming Quang

---
Bluegum Sangha
Address: Level 2, 118-124 Willoughby Road, Crows Nest (above the Crows Nest Club. NSW
Tradition: Theravada, Vipassana (Insight meditation)
Website: http://www.dharma.org.au/
Find on:


Main Contact: Paul Frischknecht
Teacher: Subhana Barzaghi

---
Bodh Gaya Buddhist Centre
Address: 94 Derwent Street Island Bay Wellington Wellington 6023
Tradition: Vajrayana, New Kadampa Tradition
Affiliation: NKT-IKBU
Phone: 64 4 383 5213
E-mail: info@meditateinwellington.org
Website: http://www.meditateinwellington.org
Find on:


Main Contact: Kelsang Lachpa Email (Phone: 64 4 383 5213)
Spiritual Director: Geshe Kelsang Gyatso
Teacher: Kelsang Pagma

---
Bodhi Tree Forest Monastery & Vipassana Retreat Centre
Address: 78 Bentley Road Tullerah NSW 2480
Tradition: Theravada, Western Vipassana Retreat Centre
Affiliation: Buddha Dharma Education Association Inc.
Phone: (02) 6628 2426
E-mail: webmaster@buddhanet.net
Website: http://www.bodhitreemonastery.org
Find on:


Teacher: Ven. Pannyavaro

---
Bodhinyana Monastery
Address: 216 Kingsbury Drive Serpentine WA 6125
Tradition: Theravada, Forest Tradition, Thai
Affiliation: Buddhist Society of Western Australia
Phone: (08) 9525 2420
Fax: (08) 9525 3420
Website: http://cms.bodhinyana.org.au/
Find on:


Teacher: Abbot: Ven. Ajahn Brahmavamso
Notes and Events:
Bodhinyana monastery is nestled amidst the rolling hills of the Darling Range, near the small town of Serpentine, Western Australia.
The monastery began its growth in 1983. Named after the great teacher Ajahn Chah, Bodhinyana means the 'wisdom of enlightenment'. With the generous help and support of our dedicated lay community the monks have built Bodhinyana to establish a home beneath the trees, in harmony with nature.
The monastery is home to around twenty monks, residing in huts scattered over 242 acres. We have a large meditation hall, where members of the public are welcome to spend time enjoying the peace and tranquillity of the atmosphere here. There is also a kitchen & dining hall, and accommodation for anagarikas (white robed, long-term residents) and guests.
Bodhinyana provides an ideal environment of solitude and simplicity in which the Sangha and residents can dedicate their practice to the cultivation of virtue, meditation and wisdom.
---
Bodhinyanarama Forest Monastery
Address: 17 Rakau Grove, Stokes Valley, Wellington Wellington Wellington
Tradition: Theravada, Forest meditation tradition - Venerable Ajahn Chah
Phone: 04) 563 7193
Fax: 04) 563 5125
E-mail: sangha.nz@gmail.com
Website: http://www.bodhinyanarama.net.nz/
Find on:

---
Bodhivana Monastery
Address: 780 Woods Point Road East Warburton Vic 3799
Tradition: Theravada, Western
Affiliation: Ajahn Chah lineage
Phone: 03 59 665 999
Fax: 03 59 665 998
Website: http://www.thummansala.com/flvproduction/Bodhivana_Monastery/index.html
Find on:


Spiritual Director: Ajahn Kalyano

---
Bright Moon Buddhist Society
Address: 536-540 Springvale Road, Springvale South, VIC 3172 Vic
Tradition: Mahayana, Chinese
Phone: 03 9558 5487
Fax: 03 9558 5073
Website: http://www.brightmoon.org.au
Find on:

---
Buddha Mandala Monastery and Retreat Centre
Address: 8 Lewis Road Chittering WA 6084
Tradition: Mahayana, Vajrayana, integrated Chan (Zen) and Tibetan Esoteric teachings
Affiliation: Buddha Dharma Sangha Association and Nalanda Society
Phone: 61-8-95718286
Fax: 61-8-95718286
E-mail: sbaperth@yahoo.com.au
Website: http://nalandasociety.com/index.php/en/main-monastery-place-of-practice
Find on:


Spiritual Director: Ven Yuan Fan
Notes and Events:
other email contact : bmmoffice8@gmail.com
Opening Times:
Fridays to Sundays and Public Holidays in Western Australia
10.30 am to 4.30 pm
---
Buddha Vihara Temple
Address: 939 Canterbury Road, Box Hill, VIC 3128 Vic
Tradition: Theravada, Thai
Phone: (03) 9899 0638
E-mail: buddhist@vihara.org.au
Find on:


Teacher: Most Venerable Ajahn Viryananda
Contact: Kirsten Elliot (Secretary)

---
Buddhism Today Association
Address: 3 Samuel Lewis Ave Underdale SA 5032
Tradition: Mahayana, Vietnamese
Affiliation: Giac Ngo Temple
Phone: (61) 0417 804 357
Fax: (08) 8268 8482
E-mail: buddhismtodayinc@yahoo.com
Website: http://www.daophatngaynay.com/en
Find on:


Public Officer: Giac Dinh Email (Phone: (61) 417 804 357)
Main Contact: Hai Hanh (President) Email (Phone: (61) 401 672 988)
Spiritual Director: Ven Dr. Thich Nhat Tu Email (Phone: (84) 908 153 160)

---
Buddhist Association (Christchurch)
Address: 154b Main Road, South Sockburn, Christchurch NZ Christchurch Christchurch
Tradition: Theravada
Affiliation: Open to all traditions
Phone: (03) 343 9839
E-mail: don_weerasiri@mail.tait.co.nz
Find on:


Main Contact: Don Weerasiri

---
Buddhist Association of Shinnyo-En
Address: 231 Longueville Road, Lane Cove, 2066 NSW NSW
Tradition: Mahayana, (Japanese Esoteric Buddhism)
Phone: (02) 9418 6688
Website: https://www.shinnyoen.org/
Find on:

---
Buddhist Bliss Voice Mission of Australia
Address: P.O. Box 101 Merrylands, NSW 2160 NSW
Tradition: Mahayana, (Jen Chen) chinese
Phone: (02) 9637 3172
Website: http://www.jenchen.org.sg/
Find on:


Contact: Ven. Jue Jin (President)

---
Buddhist Compassion Relief Tzu-Chi Foundation
Address: 247 Fitzgerald ST West Perth WA 6018 WA
Tradition: Mahayana, Charitable organisation
Phone: 08 9227-8228
E-mail: perth@tzuchi.org.au
Website: http://www.henryyong.com/2010/03/19/buddhist-compassion-relief-tzu-chi-foundation-australia-perth/
Find on:


Main Contact: Henry Yong Email (Phone: 61 413 488 312)

---
Buddhist Compassion Relief Tzu-Chi Foundation Australia
Address: 20-22 Glen Street, Eastwood, NSW 2122 NSW
Tradition: Mahayana, Charitable organisation Chinese
Phone: 02 9874 7666
E-mail: tzuchisyd@hotmail.com
Website: http://www.tzuchi.org.au/en/index.php?option=com_content&view=article&id=776&Itemid=319&lang=en
Find on:


Spiritual Director: Master Chen Yeng
Contact: Stephen Kan

---
Buddhist Compassion Relief- Tzu Chi Foundation
Address: 142 Wright St Adelaide SA
Tradition: Mahayana, Charity
Phone: 08 8231-9008
E-mail: adl@tzuchi.org.au
Website: http://www.tzuchi.org.au/en/index.php?option=com_content&view=article&id=776&Itemid=53&lang=en
Find on:

---
Buddhist Council of Queensland
Address: 65/60 Caseys Rd Hope Island Qld 4212
Tradition: Non-Sectarian
Affiliation: Federation of Australian Buddhist Councils
Phone: 0422819379
E-mail: buddhist_council@hotmail.com.
Website: http://www.buddhistcouncilofqueensland.org
Find on:


: Email (Phone: )
Main Contact: Mr.Kim Hollow Email (Phone: 0422 819 379)

---
Buddhist Foundation
Address: 10 Barry Street, Kew 3101 Vic
Tradition: Theravada, Sri Lanka
Phone: (03) 9465 8236,
Fax: 9489 5749
E-mail: W_Vajira@hotmail.com
Find on:


Spiritual Director: Venerable Bhikku Bodhi
Contact: Dr. Ranjith Hettiarachi

---
Buddhist Peace Fellowship
Address: 6, Hamilton Road, Warrandyte, VIC 3113 Vic
Tradition: Non-Sectarian
Affiliation: Buddhist Peace Fellowship USA and worldwide
Phone: (03) 9844 2289
E-mail: jamesonjg@bigpond.com
Website: http://www.bpf.org/
Find on:


Contact: Jill Jameson

---
Buddhist Peace Fellowship (Sydney Chapter)
Address: 31 Bonnefin Road, Hunters Hill, NSW 2110 NSW
Tradition: Non-sectarian
Website: http://www.bpf.org/html/home.html
Find on:


Main Contact: Mari Rhydwen Email

---
Buddhist Society of Queensland
Address: PO Box 536, Toowong, QLD 4066 Qld
Tradition: Theravada, Pali Buddhism, Western
Phone: (07) 5559 4160 (President), (07) 3371 3787 (Secretary)
E-mail: slsoc@uq.net.au
Website: http://www.vgweb.org/bsq/
Find on:


Spiritual Director: Western (Phone: estern)
Contact: Dr. Victor Gunasekara (Secretary)

---