Asia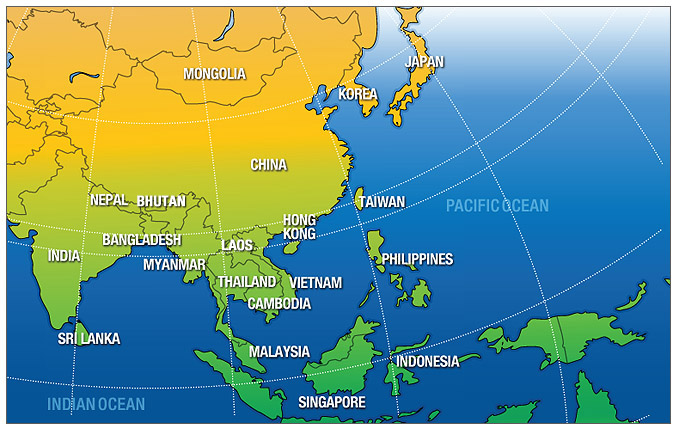 There were 1735 results matching your query.
First Previous 38 39 40 41 42 43 44 45 46 47 48 49 50 51 52 53 54 55 56 Next Last
Van Hanh Buddhist University
Address: (Thien Vien Van Vanh) 716 Duong Nguyen Kiem Quan Phu Nhuyan T.P. Ho Chi Minh  Group meditation takes place at 7 a.m. on Sundays, and is well worth attending, even if you don\'t speak Vietnamese. Visitors are also always welcome to go at other times, meet monks and use the meditation hall. Some monks speak English.
Tradition: Mahayana
Find on:

---
Van Phat Temple
Address: PO Box 100- 5300 Palawan, Phillippines
Tradition: Mahayana, Vietnamese
Find on:


Contact: Ms. Le Thi Khoe

---
Ven Dr Sumedh Thero Foundation
Address: 1 Baudhraj Compaund, 702 Masihaganj, Sipri Bazar, Jhansi 284 003 India Deogarah Uttar Pradesh 284403
Tradition: Theravada
Affiliation: MBSI, AIBS
Phone: 919415945895
E-mail: vensumedh12@gmail.com
Website: http://www.facebook.com/ven.sumedh
Find on:


:
Main Contact: Ven Dr Sumedh Thero Email (Phone: 919415945895)
Spiritual Director: Ven Dr Sumedh Thero Email (Phone: 919415945895)
Notes and Events:
Publishing Ancient Buddhism every Year in April 5th International conference and dhamma yatra April 7-8, 2018 Lalitpur & Devgarah, India
Dear Dhamma Sisters & Brothers Namo Buddhay - Jai Bhim
We, invite you to take part in the 5th International conference and dhamma yatra Buddhist Teachings for Justice and World Peace
SUBJECTS FOR DISCUSSION:
Philosophical Buddhism and contemporary socio-cultural practices
Buddhism and Environmental Degradation
Meditation methods and development of a person's
Historical background of Buddhism as tool for Teerthatan (Dhammayatra)
Cultural and traditional History of Bundelkhand Buddhist
The conference will include panel discussions on topics: "Monks, yogis, lay practitioners (transformation of cultural and social status)", Submit your text to be publish in Vol 5 of Ancient Buddhism ISSN 2395-471X by February 15, 2018 on A 4 size paper up to 3 pages i.e. < 1500 words in 14 font Time New Roman. Also contribute publication cost Rs 500/page.
We are unable to provide any kind of financial support. The whole programme will be based on the donation that contribute by individuals. Thus contribute one part of income and ensure goodwill (punyaparmi).
---
Ven. Pa Auk Sayadaw Rangoon Contact:
Address: U Thet Tin 30 Myananda Lane Kyank Grove Quarter Yankin Township, Yangon.  Yangon
Tradition: Theravada, Pak Auk method
Find on:

---
Vidarsan Siksha Kendra
Address: 50t/1c,Pandit Dharmadhar Sarani,Pottery Road, Kolkata-700015 Kolkata Bangla 700015
Tradition: Theravada
Affiliation: Bharatiya Sangharaj Bhikkhu Mahasabha
Phone: 091-33-23297571&0919433210505
Find on:


Main Contact: Same (Phone: Same)
Teacher: Same
Spiritual Director: Buddharaksit Thero (Phone: 091-33-23297571&0919433210505)

---
Vidumina Piriven Vidyayatanaya
Address: (Sri Lanka Development,Educational and Welfare Foundation) Maratugoda, Pujapitiya, Kandy, Sri Lanka
Tradition: Theravada
Phone: 94 8 461 204/ 8 461 418
E-mail: viduminamaratugoda@yahoo.uk
Find on:


Teacher: Ven. Yatadolawatte Sumanaratana Thera
Spiritual Director: Bhante K Dhammaratana Nayaka Maha Thera

---
Vidyakara Pirivena
Address: 136, Bandarabatawala, Bemmulla Gampaha 11040 Sri Lanka
Tradition: Theravada
Affiliation: The Department of Education, Sri Lanka
E-mail: vidukara@sltnet.lk
Find on:


Spiritual Director: Rev. Henpitagedara Wimalananda Thero

---
Vidyarannya Vinayakrama Sabha
Address: Polwatta Maha Temple Kollupitiya, Colombo 03 Sri Lanka
Tradition: Theravada
Find on:


Spiritual Director: Ven. D. Sugathabandu Maha Thera

---
Vien Giac Institute
Address: P.O. Bodh Gaya, Gaya, Bihar 824231 India (Near Kalachakra Maidan) Bodhgaya
Tradition: Mahayana (Vietnamese)
Phone: (0631) 2200 237/252
Fax: (0631) 2200 248
E-mail: viengiacins@vsnl.net
Find on:


Contact: Ven. Thich Hanh Nguyen

---
Viet Nam Phat Quoc Tu
Address: (Viet Nam Buddha Bhumi Vihara) P.O. Box 31, Bodh Gaya, Dist Gaya, 824231 India Bodhgaya
Tradition: Mahayana, Vietnamese tradition
Phone: +91 631 2200733;2201023
E-mail: phatquoc@yahoo.com.au
Website: http://www.vietnamphatquoctu.net
Find on:


Spiritual Director: Ven. Thay Huyen Dieu
Contact: Thay Huyen Dieu

---
Vietnam Buddhist Monastery
Address: P.O. Buddha Gaya, P.C. 824231 Gaya District, Bihar, India
Tradition: Mahayana
Phone: 200733
E-mail: hoasen@jps.net
Website: http://www.saigon.com/~hoasen/
Find on:


Main Contact: Ven Thich Huyen Dieu

---
Vietnam Lumbini Buddha Bhumi Vihara
Address: P.O. Box 4 Siddhartha Nagar (Bhairawa) Lumbini Zone, Nepal Lumbini
Tradition: Mahayana
Phone: Tel/Fax: 00-977-71-80178
E-mail: hoasen@jps.net
Website:
Find on:


Main Contact: Rev. Dr. Lam Trung Quoc
Contact: Rev. Dr. Lam Trung Quoc

---
Vietnamese Buddhist Temple
Address: Khajuhi, Sarnath, Varanasi Uttar Pradesh
Tradition: Mahayana
Phone: 0091-9936630292
E-mail: sutuonggnang@yahoo.com
Find on:


Main Contact: Founder and Head monk: Ven. Doan Lam Tan

---
Vihar Foundation
Address: 989 sujata nagar, binaki layout, Nagpur Nagpur Maharashtra 440017
Tradition: Theravada
Phone: 9595569769
E-mail: harishankar_bagde@yahoo.co.in
Find on:


Teacher: Vishranti Bagde
Spiritual Director: Harish Bagde Email (Phone: 9595569769)

---
Vihara Bodhi Pundharika
Address: Jl.Raya Kudus - Purwodadi KM.15 Desa Kalirejo RT 02, RW V Kecamatan Undaan Kudus Central Java
Tradition: Non-Sectarian, Buddhayana
E-mail: pengurus@sanggar.org
Website: http://www.sanggar.org
Find on:

---
Vihara Buddhagaya Watugong
Address: Jl. Raya Pudakpayung, Watugong Semarang Central Java
Tradition: Theravada
Affiliation: Sangha Theravada Indonesia
Phone: 024-7473590-7601995-8500589
Fax: 024-7602220
E-mail: vihara_watugong@yahoo.com
Find on:


Main Contact: Anny Kartikasari Email (Phone: 024-7601995)

---
Vihara Buddhayana Surabaya
Address: JL. Raya Putat Gede No. 1 Surabaya - Jawa Timur, Indonesia - 60189
Tradition: Theravada
Phone: 62- 031- 7321249, 7345837-8
E-mail: pmvbs@hotmail.com
Find on:


Main Contact: Susanto Wijaya

---
Vihara Chennai
Address: 154, FIRST STREET, YESHWANTH NAGAR, SELAIYUR, CHENNAI Chennai Tamil Nadu 600073
Tradition: Non-Sectarian
Phone: 914422282199
E-mail: viharaindia@gmail.com
Find on:


Bhikkhu : Pannadipa
Bhikkhuni: Pannavati
Main Contact: Gauthama Prabhu Email (Phone: 919791239333)

---
Vihara Dhamma Jaya
Address: Jl. Bulu Jaya II No. 19 Surabaya East Java
Tradition: Theravada
Phone: 62-31-7349600
E-mail: dhammajaya@gmail.com
Website: http://dhammajaya.org/blog
Find on:


Teacher: Widya Kusuma
Spiritual Director: YM. Uttamo Mahathera
Main Contact: Wiyanto

---
Vihara Grha Buddha Manggala
Address: Kepulauan Riau Kompleks Baloi Mas Permai Block B, No. 21 RT 003 IRW 006 BATAM Sumatra
Tradition: Theravada
Phone: 0778431028
Website: http://buddhamanggala.blogspot.com.au/
Find on:

---
Vihara Jakarta Dhammacakka Jaya
Address: Jalan Agung Permai XV/12, Jakarta Utara 14350
Tradition: Theravada
Phone: (021) 686739
Fax: (021) 6450206
E-mail: ivjdj@dnet.net.id
Website: http://www.dhammacakka.org
Find on:


Abbot: Venerable Sukhemo

---
Vihara Mendut
Address: Kota Mungkid, Magelang (Near Borobudur Monument) Postal Address: Kotak Pos No.7 Muntilan 56401
Tradition: Theravada
Phone: 0293-8236
Fax: 0293-8236
Find on:


Abbot: Ven. Paññavaro

---
Vihara Sakyamuni
Address: Jl. Sudirman, Pasar Aceh, Aceh Barat Meulaboh - NAD Sumatra 23612
Tradition: Non-Sectarian
E-mail: visaka_mbo@yahoo.com
Find on:


Main Contact: Bodhisurya Ansani Email (Phone: +6281533326500)
Spiritual Director: Most. Ven. Jinadhammo Mahathera (Phone: +6261 4528515)

---
Vihara Samaggi Jaya
Address: Jl. Slamet Riyadi No.21 Blitar East Java 66113
Tradition: Theravada
Affiliation: Sangha Theravada Indonesia
Phone: 0342-802616
Fax: 0342-802616
E-mail: samaggi_jaya@yahoo.com
Website: http://www.samaggi-phala.or.id/
Find on:


Resident Monk: Ven. Uttamo Bhikkhu Email

---
Vihara Vajra Bhumi Sriwijaya
Address: Jalan sayangan, Lrg Rumah Kuningan Lama NO: 619, Palembang 30125, Indonesia Palembang 30124
Tradition: Non-Sectarian, Grand Master Lu
Affiliation: True Buddha School
E-mail: contactus@shenlun.org
Website: http://www.shenlun.org
Find on:


Teacher: Vajra Master Lian Yuan
Spiritual Director: Grand Master Sheng Yen Lu

---
First Previous 38 39 40 41 42 43 44 45 46 47 48 49 50 51 52 53 54 55 56 Next Last