United States of America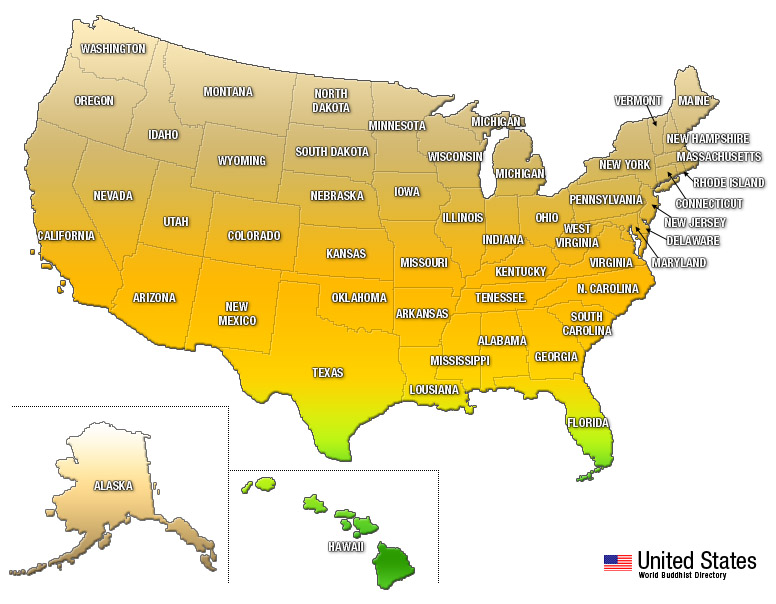 There were 2615 results matching your query.
First Previous 42 43 44 45 46 47 48 49 50 51 52 53 54 55 56 57 58 59 60 Next Last
Rocky Mountain Buddhist Center
Address: 540 South 1st St West Missoula MT 59801
Tradition: Non-Sectarian, Ecumenical
Affiliation: Friends of the Western Buddhist Order
Phone: (406) 728-9232
Website: http://www.fwbomissoula.org
Find on:


Founder: Sangharakshita
Spiritual Director: Dharmachari Satyaloka
Contact: Shrijnana

---
Rocky Mountain Dharma Association
Address: 720 Third Street Fort Lupton CO 80621
Tradition: Non-Sectarian
Find on:


Contact: Ven. Sen Thompson

---
Rocky Mountain Ecodharma Retreat Center
Address: 8941 Overland Road. Ward 80481
Tradition: Non-Sectarian
E-mail: info@rmerc.org
Website: http://www.rmerc.org
Find on:


Director: David Loy Email
Main Contact: Johann Robbins Email
Notes and Events:
Rocky Mountain Ecodharma Retreat Center offers a variety of meditation retreats and related workshops. It is available for rental as well, sleeping up to 30 people, with modern full kitchen, dining room, and meditation hall. The land has amazing views of the Rocky Mountains, a river, forests and meadows, yet is just half an hour from Boulder and just over an hour from DEN airport. Our rates are very affordable as well.
---
Rocky Mountain Insight, Dhamma Dena of the Rockies
Address: 2525 W.Pikes Peak Ave Colorado Springs CO 80904
Tradition: Theravada, Burmese, Sri Lankan
Affiliation: Theravada
Phone: 719 634-0566
E-mail: rminsight@msn.com
Website: http://www.rockymountaininsight.org
Find on:


Dharma Teacher: Beth Chorpenning
Dharma Teacher: Michele Sneath
Teacher: Lucinda Green, Ph.D.
Spiritual Director: Lucinda Green, Ph.D. Email (Phone: 719 634-0566)

---
ROKPA USA
Address: 6501 Gretna Green Way, Alexandria VA 22312 VI
Tradition: Vajrayana, Charitable organisation / Tibetan, Kagyu
Phone: 703 642 2248
E-mail: usa@rokpa.org
Website: http://www.rokpa.org/us
Find on:


Founder: Dr. Akong Tulku Rinpoche
Contact: Edith Irwin, Virginia Dempsey

---
Rutland Shambhala Meditation Group
Address: 71 Allen Street Rutland VT 05702
Tradition: Vajrayana, Tibetan, Kagyü lineage
Phone: (802) 775-5282
E-mail: JNewman@sover.net
Find on:


Founder: Chögyam Trungpa Rinpoche
Contact: Kenlan Reiber

---
Sacramento Zen
Address: address on request Sacramento CA 95817
Tradition: Mahayana
Affiliation: Mahayana
E-mail: admin@saczen.org
Website: http://www.saczen.org
Find on:


Teacher: Desmond Gando Gilna

---
Sacred Lakes Buddha Sangha
Address: 2254 Monroe Street, Madison, WI 53711 WI
Tradition: Mahayana, Zen Buddhist Master Thich Nhat Hahn
Affiliation: Community of Mindful Living
Find on:


Contact: Larry Mandt

---
Sae Taw Win II Dhamma Foundation
Address: 8769 Bower Street Sebastopol CA 95472
Tradition: Theravada, Burmese
Affiliation: Tradition of the late Ven. Shwe Baw Gyun Sayadaw
Phone: (707) 824-4456
E-mail: stw2@saetawwin2.org
Website: http://www.saetawwin2.org
Find on:


Teacher: Dr. Thynn Thynn

---
Sakya Center for Buddhist Studies
Address: P.O. Box 391042, Cambridge, MA 02139 MA
Tradition: Vajrayana, Tibetan, Sakya
E-mail: postmaster@sakya.net
Website: http://www.sakya.net
Find on:


Contact: Lama Migmar Tseten

---
Sakya Dechen Ling
Address: 1709 Myrtle Street Oakland CA 94607
Tradition: Vajrayana, Tibetan, Sakya Lineage
Phone: (510) 465-2202
E-mail: info@sakyadechenling.org
Website: http://www.sakyadechenling.org
Find on:


Spiritual Director: Her Eminence Jetsun Kusho Chime Luding
Contact: Ms Katherine Pfaff

---
Sakya Dokho Choling
Address: 5713 Pontiac Street Berwyn Heights MD 20740
Tradition: Vajrayana, Tibetan, Sakya
Affiliation: Sakya and Nyingma traditions
Phone: 202) 368-9842
E-mail: sakya_dokho_choling@yahoo.com
Website: http://www.sakyadokhocholing.org
Find on:


Contact: Kanaya Chevli
Spiritual Director: Tulku Nyima Rinpoche

---
Sakya Monastery of Tibetan Buddhism
Address: 108 N W 83rd Avenue Seattle WA 98100
Tradition: Vajrayana, Tibetan, Sakya Lineage
Phone: (206) 789-2573
E-mail: monastery@sakya.org
Website: http://www.sakya.org/
Find on:

---
Sakya Phuntsok Ling
Address: 354 Prelude Drive Silver Spring MD 20901
Tradition: Vajrayana, Tibetan, Sakya Lineage
Phone: 301 592 9286
E-mail: sakya@sakyatemple.org
Website: http://www.sakyatemple.org/spl
Find on:


Spiritual Director: Ven. Lama Kalsang Gyaltsen

---
Sakya Samten Ling
Address: Apartment 7 1240 Franklin Street Santa Monica CA 90404
Tradition: Vajrayana, Sakya
Affiliation: Dechen Foundation
Phone: + 1 310 310 5565
E-mail: santamonica@dechen.org
Website: http://www.dechenfoundation.org
Find on:


Spiritual Director: Lama Jampa Thaye

---
Salt Lake Buddhist Temple
Address: 211 West First South Salt Lake City UT 84101
Tradition: Mahayana, Jodo Shinshu Buddhism
Affiliation: Buddhist Churches of America (BCA)
E-mail: jhirano@slbuddhist.org
Website: http://www.slbuddhist.org/
Find on:

---
Salt Lake Sangha
Address: 1411 Utah Street Salt Lake City UT 84104
Tradition: Mahayana, Vietnamese Zen
Affiliation: Community of Mindful Living, Berkeley
Phone: (801) 974-0328
Find on:


Contact: Vaughn and Joanne Lovejoy

---
Sam Bao Temple- American Buddhist Cultural Society
Address: 1750 Van Ness Ave. San Francisco CA 94109
Tradition: Mahayana, Humanistic Buddhism
Affiliation: Fo Guang Shan
Phone: (510) 818-0077
E-mail: buddhism@pacbell.com
Find on:


Spiritual Director: Ven. Master Hsing Yun

---
Samatha Buddhist Meditation in Northern California
Address: 2138 Cedar Street Berkeley CA 94709
Tradition: Theravada
Affiliation: Samatha Trust, UK
Phone: (510) 595-7228
E-mail: samatha_meditation@earthlink.ne
Website: http://www.samatha.org/
Find on:


Contact: David Steinsaltz

---
San Antonio Shambhala Center
Address: 1114 South St. Marys, Bldg. 2. San Antonio TX 78210
Tradition: Vajrayana, Tibetan; Kagyü and Nyingma lineages
Affiliation: Shambhala International
Phone: (210) 222-9309
E-mail: dsanor@satx.rr.com
Website: http://www.shambhala.org/center/san-antonio
Find on:


Spiritual Director: Sakyong Mipham

---
San Diego Buddhist Military Fellowship
Address: 3670 Surface Navy Blvd. Bldg. 330 San Diego CA
Tradition: Non-Sectarian, This is a informal fellowship for American Buddhists of any tradition currently serving in the US Armed Forces in San Diego/Miramar areas.
E-mail: jeanette.shin@navy.mil
Find on:


Main Contact: Chaplain Jeanette Shin Email (Phone: 619-221-9268)

---
San Diego Shambhala Meditation Group
Address: 4060 Adams Ave San Diego CA 92116
Tradition: Vajrayana, Tibetan, Kagyü lineage
Phone: (619) 692-2148
E-mail: info@shambhalasandiego.org
Website: http://www.shambhalasandiego.org
Find on:


Founder: Chögyam Trungpa Rinpoche
Main Contact: Eric Heinz
Spiritual Director: Mipham Rinpoche

---
San Fernando Valley Hongwanji Buddhist Temple
Address: 9450 Remick Avenue Pacoima CA 91331
Tradition: Mahayana, Jodo Shinshu Buddhism
Affiliation: Buddhist Churches of America (BCA)
E-mail: sfvhbtds@yahoo.com
Website: http://www.sfvhbt.org/
Find on:

---
San Francisco Buddhist Center
Address: 37 Bartlett Street San Francisco CA 94110
Tradition: Non-Sectarian
Affiliation: Triratna Buddhist Order
Phone: (415) 282-2018
E-mail: info@sfbuddhistcenter.org
Website: http://www.sfbuddhistcenter.org
Find on:


Contact: Viveka, Padmatara, Suvarnaprabha (Phone: 415-282-2018)
Notes and Events:
Location: between 21st & 22nd Streets & between Valencia & Mission Streets (in the Mission)
---
San Francisco Myoshinji Temple
Address: 2631 Appian Way Pinole CA 94564
Tradition: Mahayana, Nichiren Shoshu
Affiliation: Head Temple Taisekiji, Japan
Phone: (510) 222-8372
E-mail: contact@nichirenshoshumyoshinji.org
Website: http://nichirenshoshumyoshinji.org/
Find on:

---
First Previous 42 43 44 45 46 47 48 49 50 51 52 53 54 55 56 57 58 59 60 Next Last